Wedding floral arrangements play an important role in the overall feel and look of your special day, which makes choosing the right floral pieces one of the most crucial steps in planning your wedding. And we understand how it can get overwhelming, especially when there are a lot of factors that go into the selection of a wedding floral arrangement.
That said, in this article, we share some wedding flower decoration ideas to make things easier. Here's a guide on flower arrangements that'll help make your big day just as you envisioned!
Types of Wedding Flower Arrangements
To help you determine which ones you want to use on your wedding day, I've organized the floral arrangements into different types. These are some types of wedding flower decorations you should keep in mind:
Bride and Groom Flower Arrangements
Whether you're planning a rustic-themed wedding or a gothic wedding theme, these floral arrangements can help you as a couple express your love and devotion to one another during your wedding ceremony.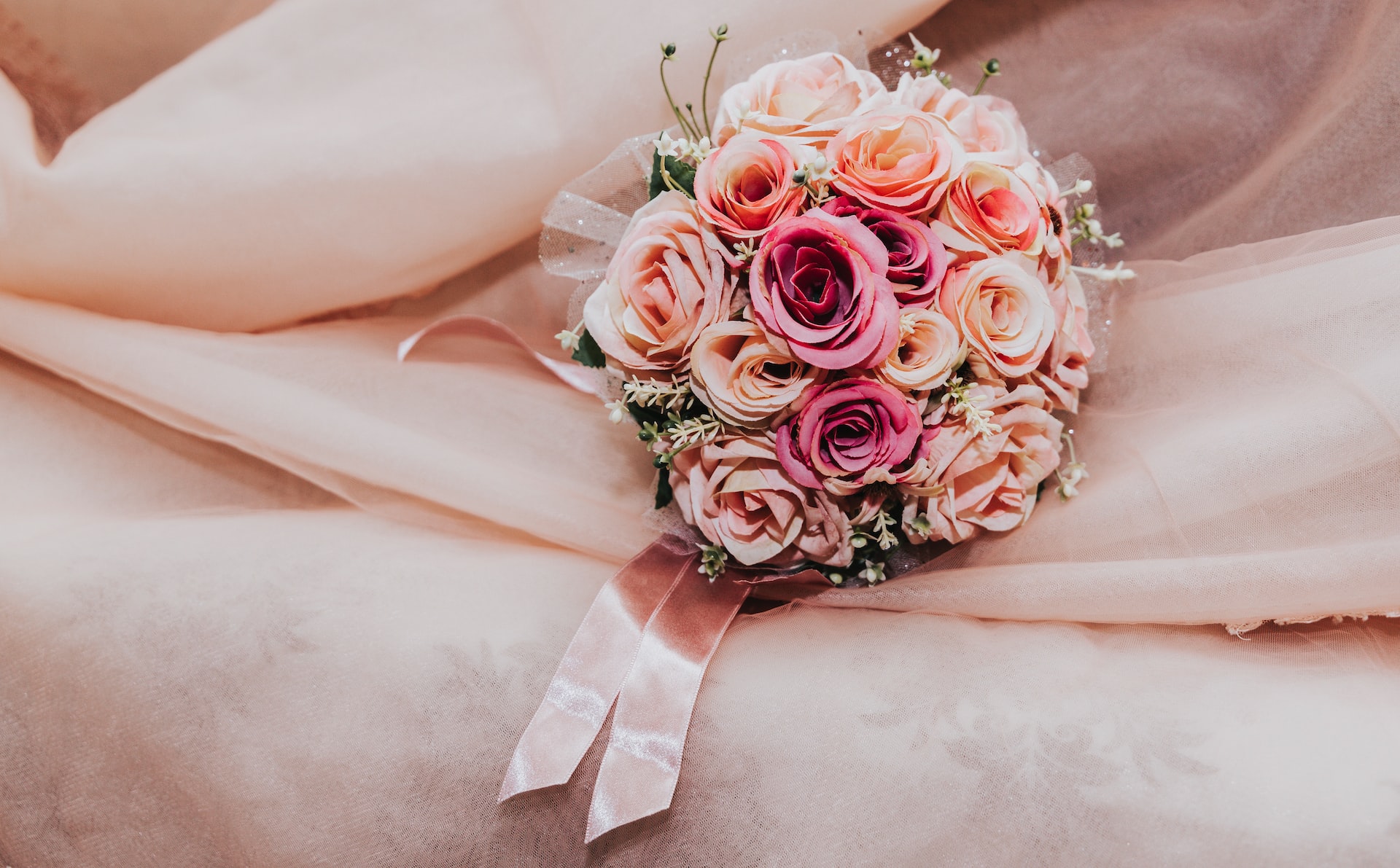 Wedding Bouquet
Creating a wedding bouquet is personal. You need to choose what kind of bouquet to make, how big it is, and which flowers to put in. And given how there are a lot of bouquet styles to choose from, it can be challenging to choose, so it helps to pick flowers that have a personal meaning to you and your partner.
Go for a round bouquet filled with one type of bloom, like a bouquet of long-stemmed red roses wrapped in lace. Try an assortment of flowers such as daisies, peonies, and lavender tied together using ribbons. Or choose a cascading bouquet with orchids, calla lilies, stephanotises, and trailing greenery.
Personalize your bridal bouquet with flowers representing milestones in your relationship and blooms that symbolize precious memories in your love story.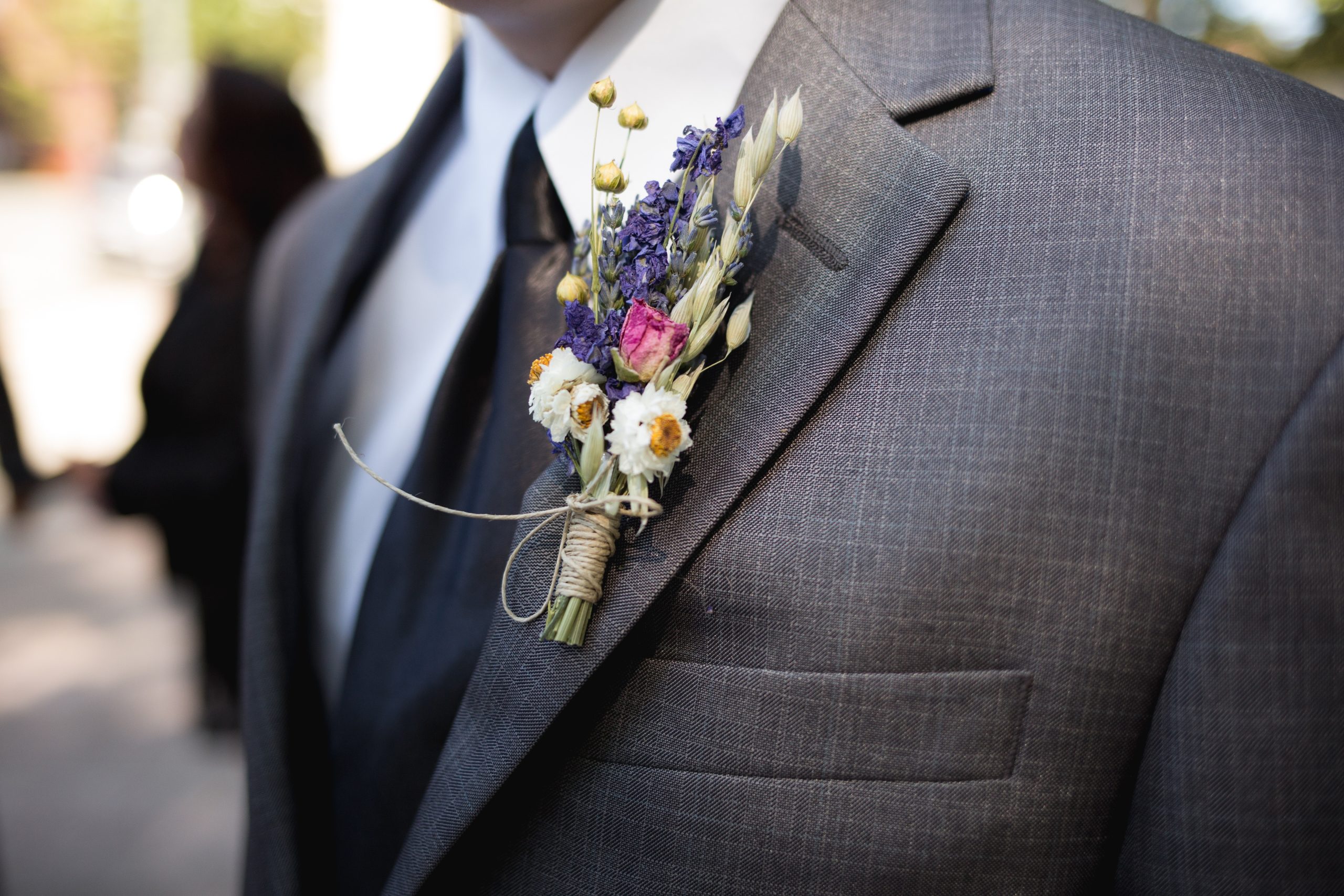 Groom's Boutonniere
The groom's boutonniere is a bundle of flowers, greenery, and other elements pinned to the left lapel of the groom's tuxedo or suit jacket. And while other male members of the wedding party also wear a boutonniere, the groom wears a different design most of the time.
Use flowers and greenery from the bridal bouquet to make a matching design. Have a floral arrangement that matches the wedding theme. Or go for a single white or solid-colored flower.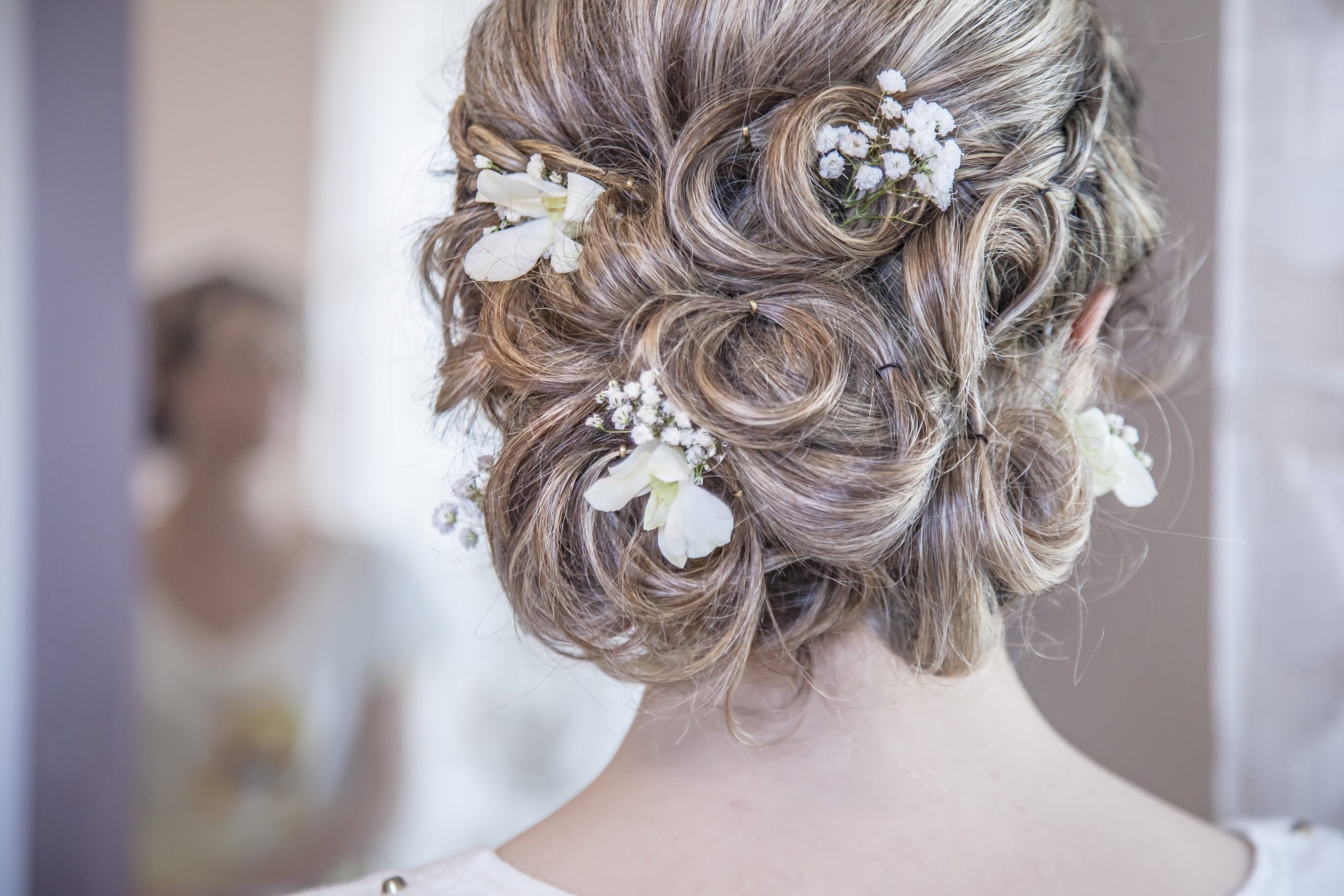 Floral Wedding Hair Accessory
Whether you plan to wear a veil or not, incorporating fresh flowers in your wedding hairstyle can give you a distinct bridal look.
Weave small flowers like baby's breath, forget-me-not, or freesia into your half-do or long braids. Orchids, lilies, roses, or other large flowers can be pinned to your low bun, waterfall braids, or French twist. Or place a wedding flower crown made of lavender, daisies, and rosemary over your loose curls.
No matter your theme and style, floral wedding hair accessories can accentuate your beauty as you walk down the aisle toward your forever.
Entourage Flower Arrangements
Another type of wedding flowers, these floral arrangements for your entourage can complement and highlight you as the bride and groom.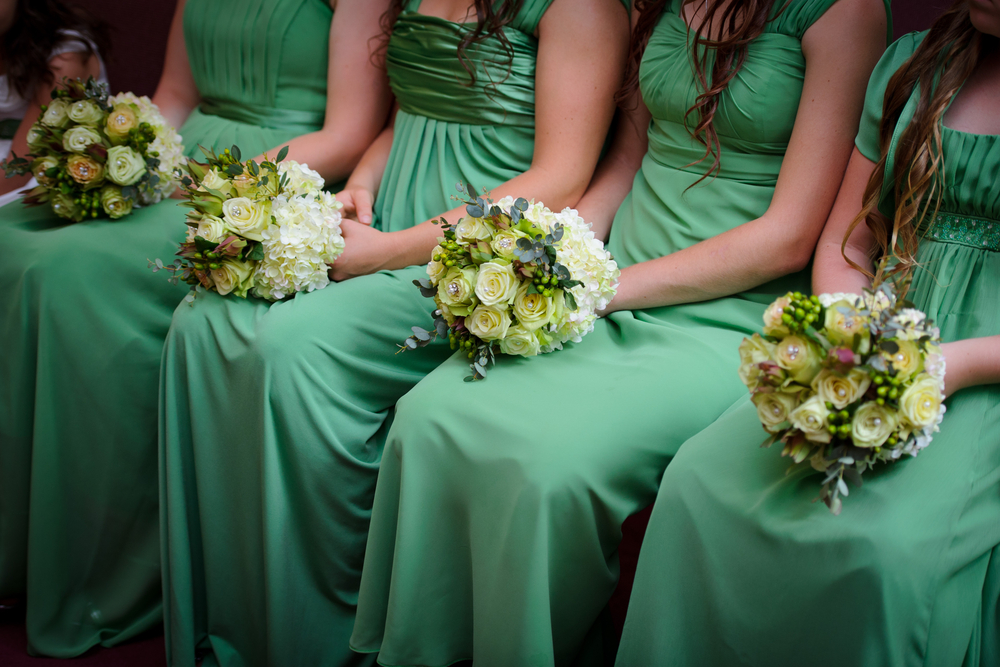 Maid of Honor and Bridesmaids' Bouquets
For your maid of honor and bridesmaids, you can have traditional bouquets or look for more creative options.
Traditional bridesmaid floral arrangements are variations and smaller versions of the bridal bouquet. They can be posy or nosegay bouquets with the same or similar flower varieties and a matching color palette.
If you want creative flower arrangements, try a single-stem bouquet made from one large bloom surrounded by foliage, a composite bouquet with individual petals arranged to resemble a large flower or a pomander bouquet wherein flowers are shaped into a ball and held using a ribbon.
You can also choose to eliminate floral arrangements. Have your bridesmaids carry alternative bouquets. Some things bridesmaids can carry besides flowers include books, balloons, and parasols.
Male Entourage's Boutonnieres
The best man, groomsmen, father of the bride, father of the groom, male principal sponsors, and occasionally the ringbearer, also have a boutonniere pinned to their left lapel. It can be a similar or less elaborate version of the one worn by the groom.
Boutonnieres of the male entourage can match the bouquets and corsages of the female entourage to give the spotlight to the bride and groom.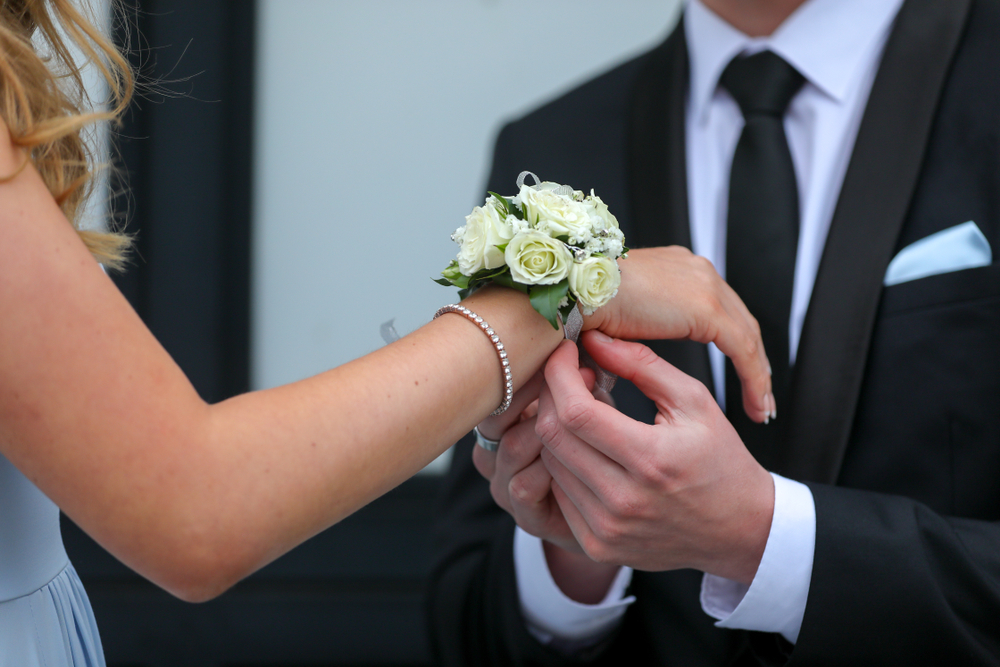 Wedding Corsages
Female wedding guests like the mother of the bride, mother of the groom, grandmothers of the couple, and principal sponsors usually wear corsages during the procession.
Have a combination of flowers matching the bridesmaids' bouquets and the boutonnieres or try experimenting with variety and design.
Use fresh flowers of the same color to create a monochrome look. Make the same design with several flowers and foliage or mix and match flowers and textures to fit your theme.
Let the important women in your lives feel special with corsages that perfectly adorn their wrists.
Wedding Venue Decorations
And finally, spruce up the venue with wedding flower decorations to feel romance in the air during your ceremony.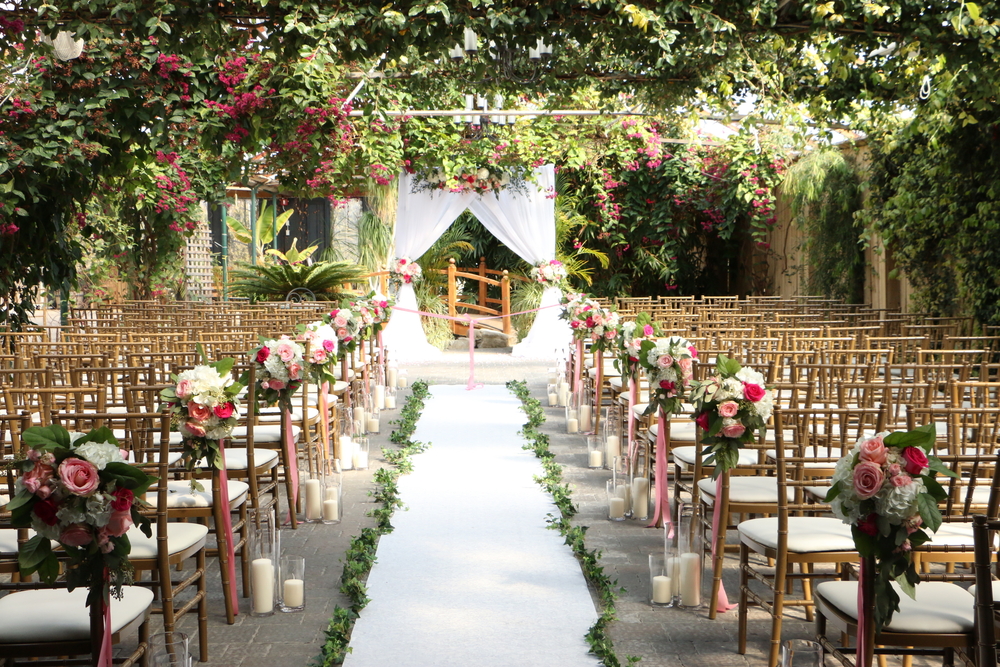 Aisle Markers
With the aisle being the center of attention at least twice in the ceremony, floral aisle markers enhance the ambiance and showcase your wedding theme.
Fresh flower arrangements in pots, atop stands, and beside pews or chairs are some aisle markers to try for a church wedding.
For outdoor weddings, tie flower arrangements like bundles of fresh lavender or rose pomanders to chairs. You can also drape garlands around chalkboards or over chairs.
Whether simple or fancy, aisle markers personalize the space and celebrate your love with your family and friends.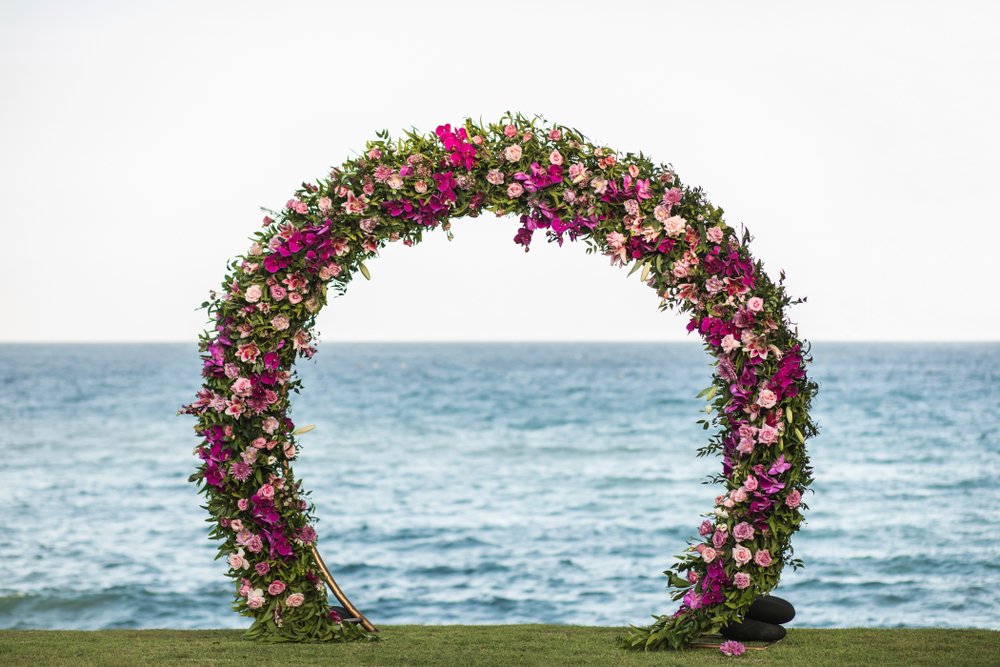 Flower Arch
You can also set a picturesque scene for when you say "I do" with a flower arch.
Make a statement with the flowers, foliage, and drapery you use. Get a pre-designed arch or customize one according to your theme and color palette.
A white arch filled with flowers like carnations, hydrangeas, dahlias, and poppies, a wisteria arch made purely of white or purple flowers, and a moongate filled with luscious greenery are just some pre-designed arches you can use as a backdrop for your ceremony.
Reception Venue Decorations
And don't forget the reception as well! You can accentuate the beauty of your reception venue using some of these wedding flower decoration ideas.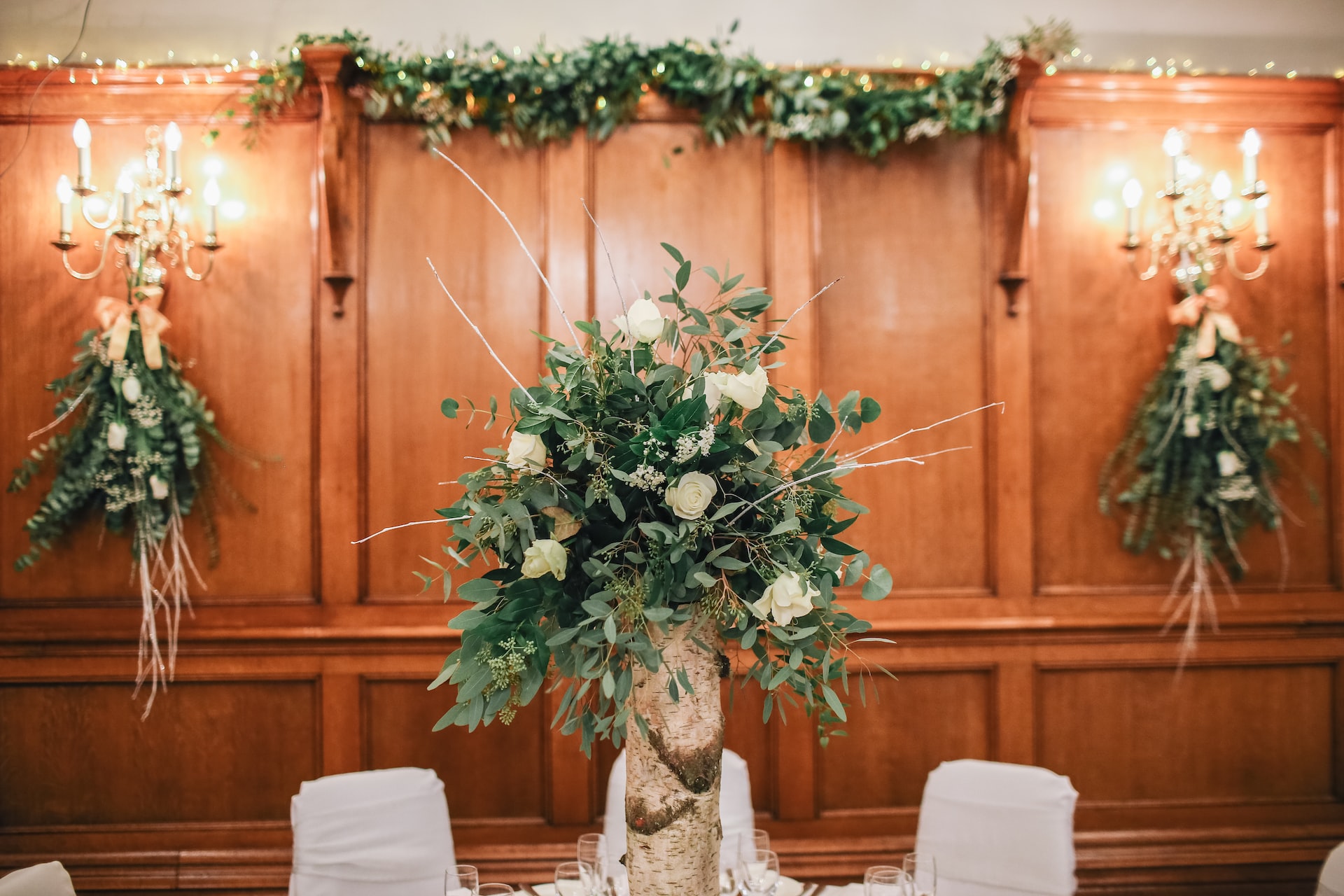 Floral Centerpieces
Floral centerpieces are traditional wedding table decorations. Depending on your wedding motif, your centerpieces can be simple, elegant, whimsical, or as creative as you want them to be.
For season-themed centerpieces, try to include colorful flowers like petunias, zinnias, and sunflowers to evoke summer. While a fruit-inspired centerpiece can blend oranges with greenery and light-colored flowers.
Make your centerpiece more intimate by putting flowers and foliage in vessels meaningful to you, such as bottles of your favorite drinks.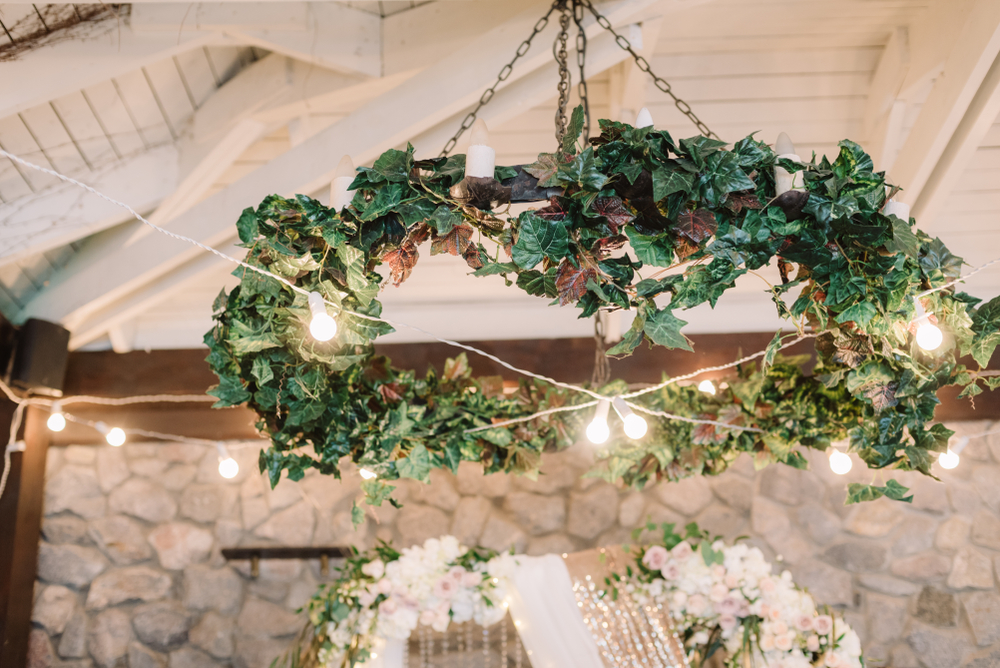 Floral Chandelier
A hanging floral arrangement in your reception venue adds drama to your special day. Have one hang above the dance floor, the head table, or the reception tables.
Covering decorative lighting with garlands and wreaths is a modern yet elegant way to hide cords and cables.
Suspending greenery, like monstera leaves, above your reception venue adds a tropical vibe to the space.
Hanging white flowers with leaves and simple green elements can elevate your space while complementing your theme.
Other Floral Arrangements
All things considered, there are flower arrangements that don't fit the other categories, but you might be interested in adding your personal touch to them on your wedding day.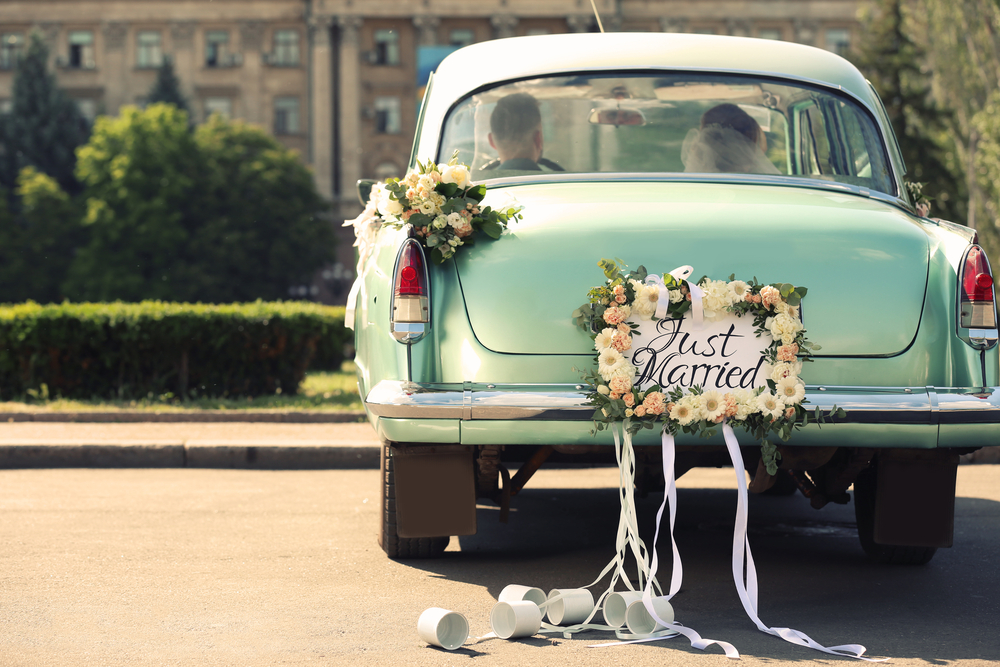 Wedding Car Floral Decorations
The happy couple riding into the sunset after the wedding is a classic ending scene in romantic comedy movies. In real life, the couple driving away signals the beginning of their journey together.
The couple going off also puts the bridal car in the spotlight, so it's essential to consider the decorations of the wedding car.
Deck the hood of your car with a wreath that matches your bridal bouquet or drape tulle topped with different colored flowers. While a chalkboard surrounded by leaves or a floral garland completes the boot.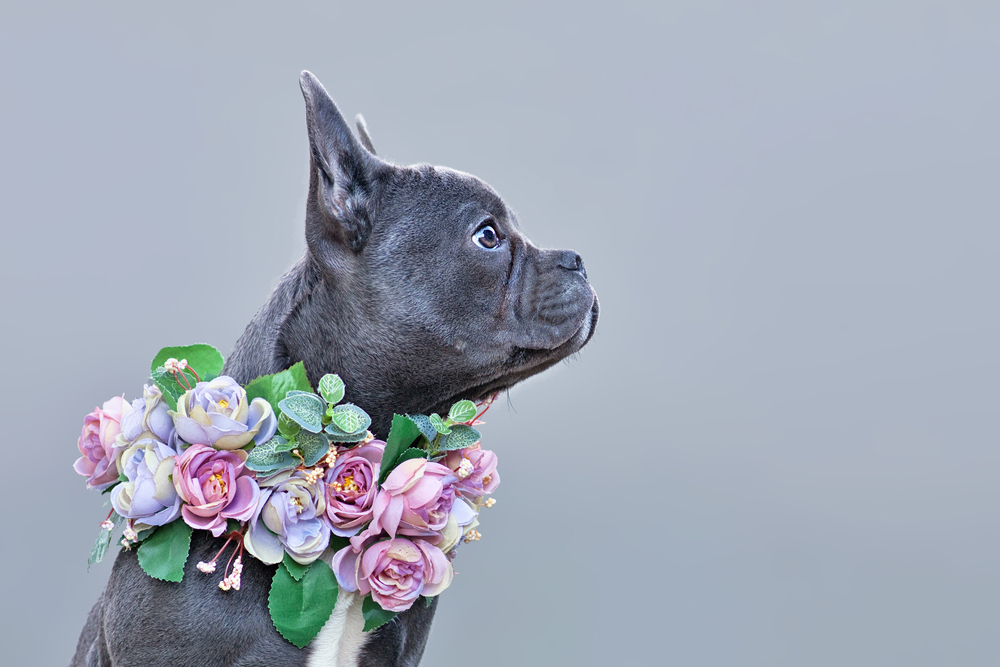 Floral Pet Collar
For fur moms and dads, have a fun way of including your pets in the wedding party by making them flower girls or ring bearers.
You can make them look their best with floral pet collars! Match their collars with your wedding motif, contrast the collar with their fur, or let them walk down the aisle with monochrome flower collars.
Let your fur babies charm your guests with an orchid floral collar, a single sunflower collar, or a collar filled with daisies and zinnias.
After learning about the different types of wedding flower arrangements, it's time to figure out how much of your budget you should allot for floral arrangements.
Wedding Flower Arrangement Costs
The total cost of your flower budget will depend on factors like how many bridesmaids, groomsmen, sponsors, and flower girls you have; how many and how big your arrangements will be; how many guest tables you have; how expensive your flowers are; and more. It is possible to recycle your flowers by using your church decorations at your reception.
Cost of Floral Packages
Given the many floral pieces you'll be procuring, it's no surprise that plenty of florists and flower vendors provide package rates for floral pieces. I found a few florists who offer packages ranging between P5,000 to P8,000, but they're not very descriptive about what's included in these packages. So, I'm basing pricing from GoForFlowers, a florist based in Dangwa in Manila.
Their most affordable package is at P6,000. There is a set type of flowers to be used for each piece, with no substitutions allowed though upgrades are possible. This package includes pieces for the bride, maid of honor, two bridesmaids, seven female sponsors, the bride's mother, the groom's mother, and two flower girls.
There's also the choice of freebies. Additional pieces have their own corresponding prices. Their more expensive packages include higher-end flowers and more pieces for other members of the bridal party.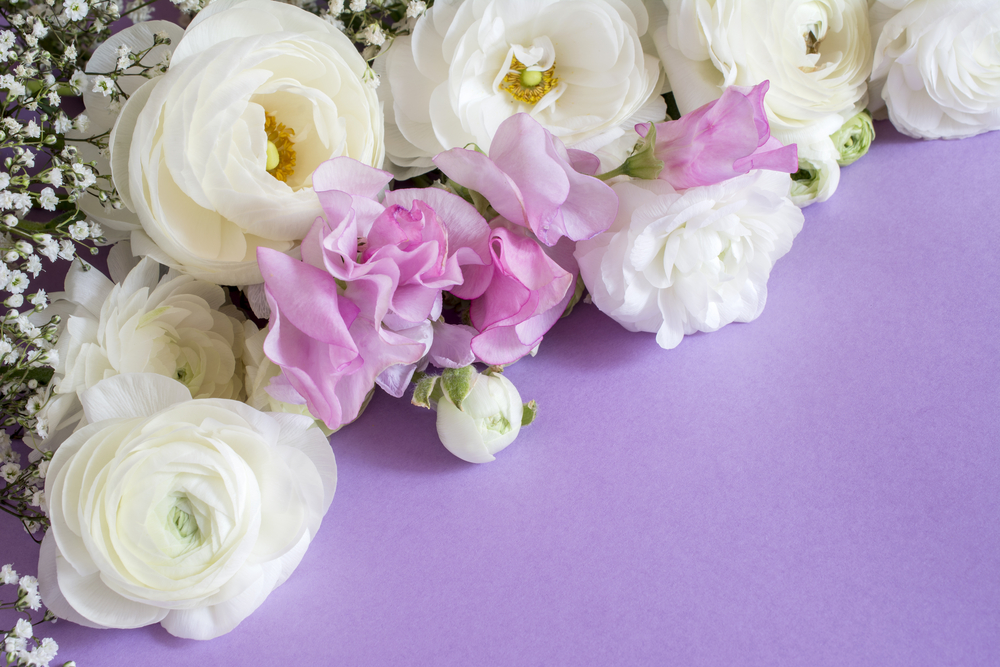 Cost of Individual Floral Pieces
A bridal bouquet on its own can range depending on the type of flowers used. GoForFlowers, for example, charges P2,500 for a bouquet of Holland roses. On the other hand, a Lily of the Valley bouquet costs P15,000. The middle-point between the two is a hand-tied bouquet of peonies at P6,000.
In contrast, the rest of the wedding entourages' floral pieces range from P200 to P600. However, GoForFlowers uses low to mid-range flowers for these pieces.
Cost of Floral Decorations
A basic church decoration package starts at P10,000. This includes arrangements for the pews, main altar, side altar, and by the altar candles. These use low to mid-range flower types like Malaysian Mums and Holland Roses.
Basic reception décor starts at P12,000. This includes arrangements for the tables, entrance, and arrangements. However, if you're already hiring a venue stylist, the cost of their services may already include floral arrangements. This is why it's necessary to coordinate with both to see if you still have to opt for this service.
Take note that some florists charge out-of-town fees for orders that do not meet a certain amount. This is because flower pieces may require special care when transporting them long distances.
Places Where You Can Buy Wedding Floral Arrangements
Once you decide on your flower budget, the next step is to make your vision come to life. Here are some ways to do it:
Visit Flower Markets
For brides who want to DIY their floral arrangements, try to visit flower markets to look for suppliers. These are some flower markets that offer a wide array of choices suitable to different styles and budgets: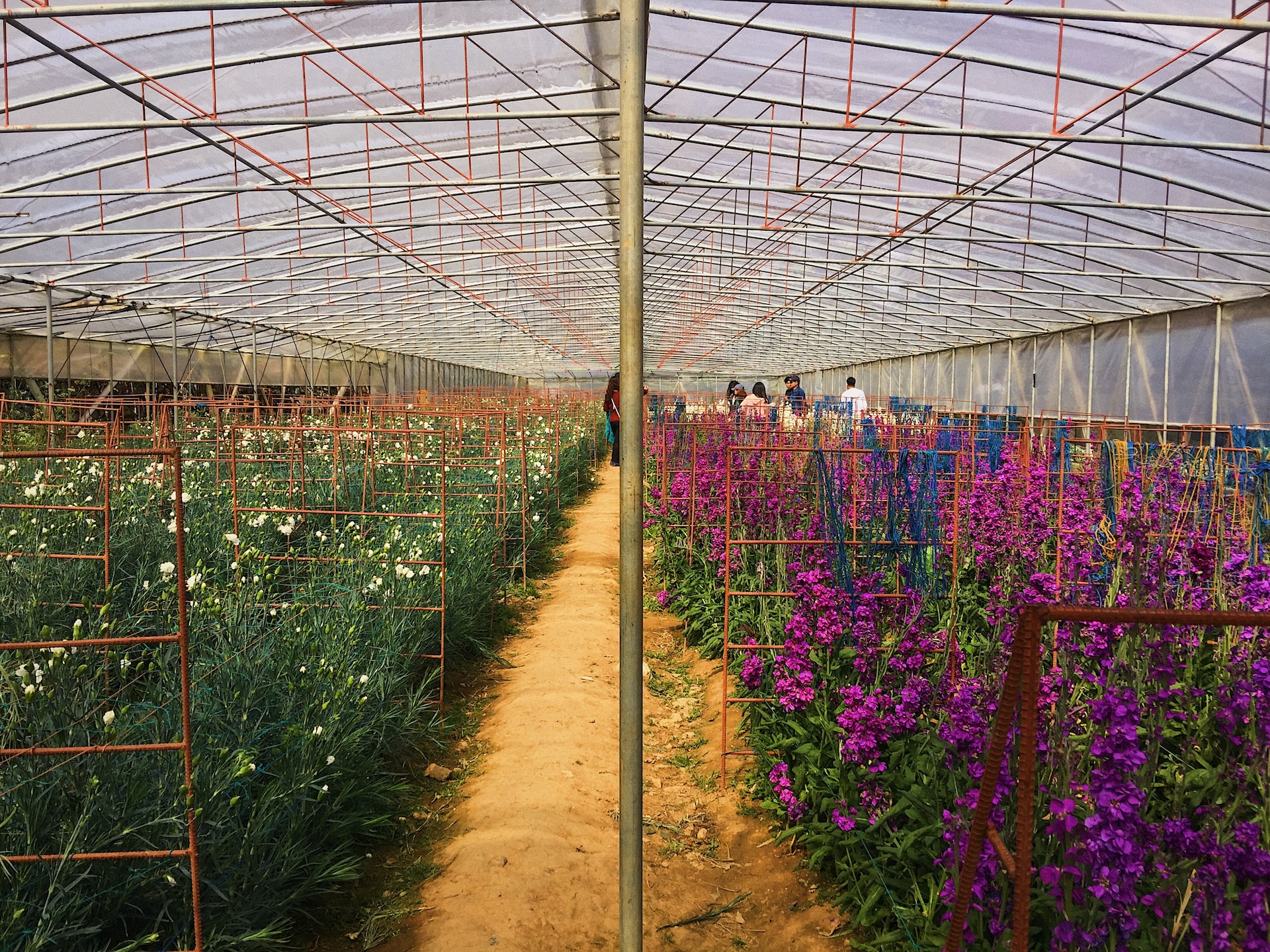 Baguio Flower Markets
If you live up North, drop by the country's flower capital and select from the abundance of fresh flowers Baguio boasts.
Dangwa Flower Market
With supplies from Baguio and Tagaytay, Dangwa is a popular destination within Metro Manila that you can go to.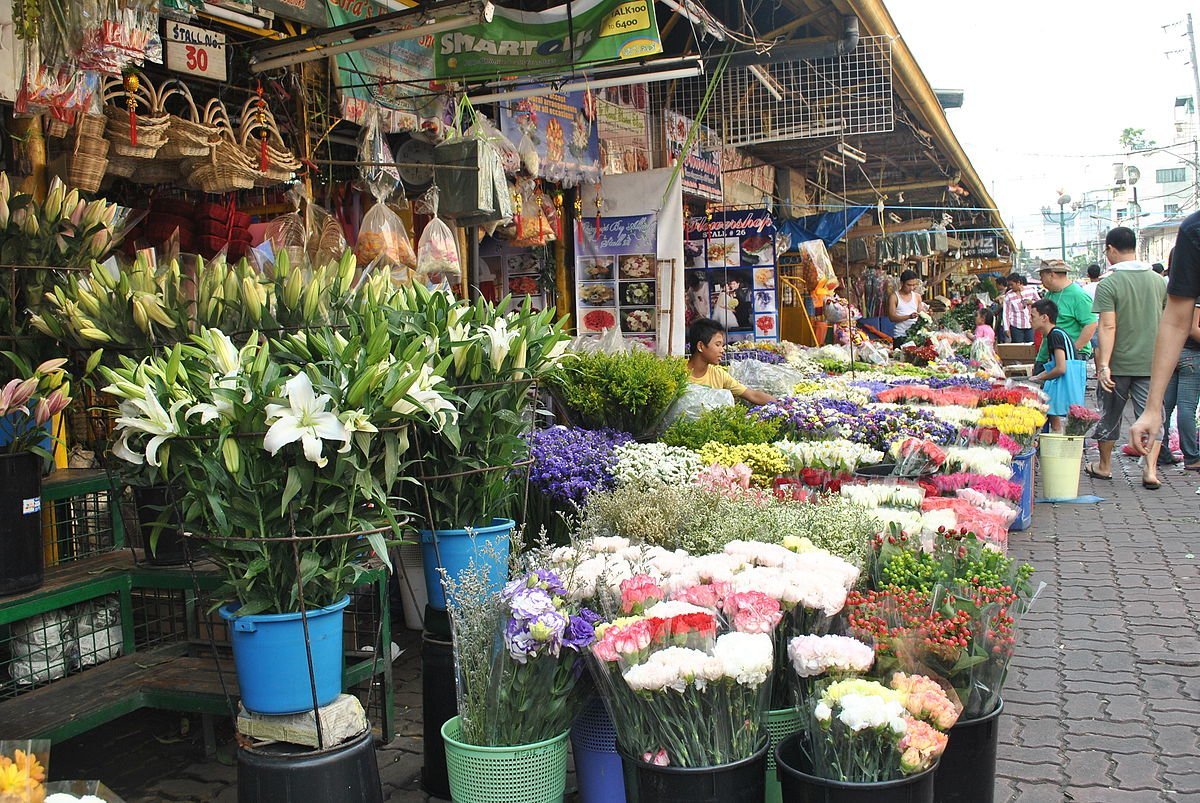 Tagaytay Flower Market
With Tagaytay being another well-known supplier of flowers, you can find fresh and beautiful blooms at reasonable prices in this flower market.
Many shops in these flower markets know the basics of wedding floral arrangements and can give you a helping hand.
Hire a Professional Florist
If you don't have the time to shop and arrange your flowers, you can hire a professional florist to help you execute your vision. The following are some of the wedding florists you can contact:
Flowers and Events by Teddy Manuel
This floral design and events styling company offers simple yet elegant wedding flower arrangements for bouquets, ceremony venues, and reception venues.
Address: Sy-Quia Apartment Unit 114, 2021 M. H. Del Pilar Street, Malate Manila
Email: tmflowersandevents@gmail.com, flowersandevents@yahoo.com
Numbers: (02) 354-1676 / (02) 480-1719, +63916-554-8993
Instagram: @teddymanuel
Loi Floral Sense by Serge Igonia
Serge Igonia makes gorgeous floral arrangements for the bridal entourage, the bridal bouquets, the church decorations, and the reception.
Address: F. IgoniaSt. San Vicente, San Pedro, San Pedro, Philippines, 4023
Email: sergeigonia@yahoo.com
Number: +63 2 847 0027
Instagram: @sergeigonia
The Events Studio by Gideon Hermosa
Flower arrangements by Gideon Hermosa focus on the tiniest details with the belief that every detail contributes to the wedding ambiance. Gideon also has the House of Hermosa that showcases
prearranged themes.
Email: info@houseofhermosa.com
Number: +63 927 795 9465
Instagram: @gideonhermosa, @houseofhermosaph
Order from Online Flower Shops
You can opt for pre-made floral arrangements by ordering from online flower shops that offer delivery services. These are some of the online shops you can order from:
Flower Chimp Philippines
This online flower shop offers pre-made hand bouquets and other floral arrangements for delivery nationwide.
Website: https://www.flowerchimp.com.ph/
FNP
While FNP is known for impressive gifts fit for different occasions, they have a selection of flower arrangements you can use for your big day.
Website: https://www.fnp.ph/
Le Fleur Boutique by Ontopp Trading
Le Fleur Boutique has bridal bouquets and a collection of flowers you can use as wedding décor. They let you personalize your order with a vast list of flowers you can choose from.
Website: https://lefleurboutiqueph.com/
Before deciding what to do about your floral arrangements, talk to your wedding venue. Some churches offer flower arrangement services, making you one step closer to your dream wedding without as much hassle.
Remember that when planning for your big day, you need wedding flower decorations that fit your theme, style, and budget.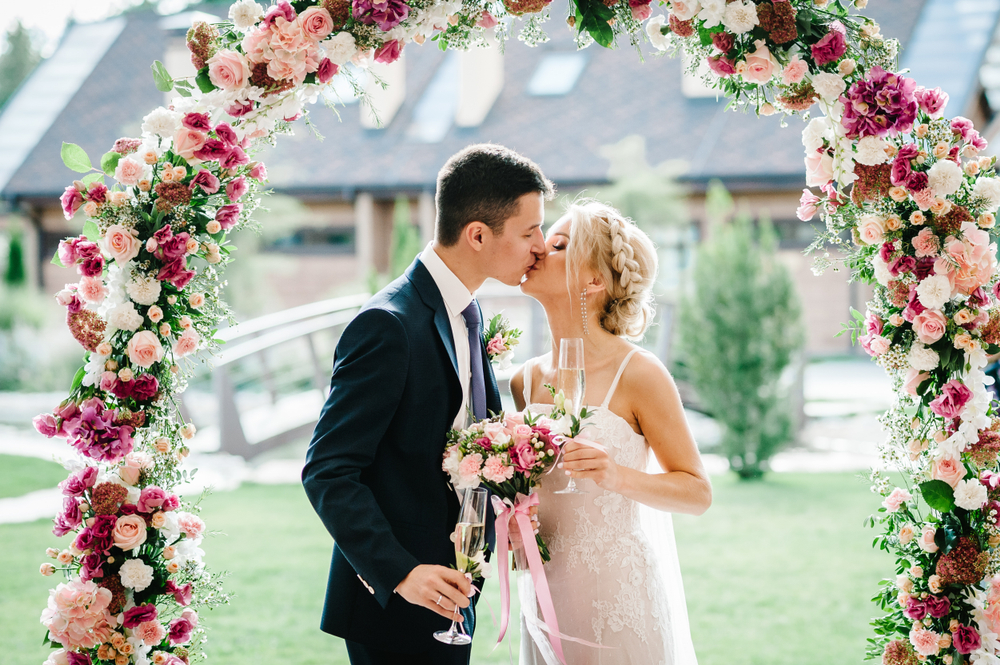 Wedding Flower Arrangements for Your Special Day
Your wedding is a declaration of your commitment to one another in front of your family and friends. While wedding floral arrangements capture the wonder and romance of the moment, it's only one element of your special day. When you finally live your lives together, love and devotion are what matter most.
So, learn more about flower arrangements and other preferences to get to know yourself and your partner better.
What are your thoughts about wedding flower arrangements? Let us know in the comments below!