You now have a beautiful wedding dress for your special day — but you know that's not the only thing that will make you look picture-perfect. Beauty is in the details and your wedding bouquet is one you shouldn't overlook.
At first glance, all wedding bouquets in the Philippines appear the same: an arrangement of flowers tied with a pretty ribbon. But actually, not all bridal bouquets are created equal! There are various styles, shapes, and wedding flowers used to complement the bride's gown and the ceremony style.
Below, we've outlined the most popular wedding bouquet types in the Philippines, how much one costs, and how to make your own.
Popular types of wedding bouquets
Hand-tied
As the name suggests, this simple wedding bouquet is a bunch of flowers with the stems grouped together and tied using ribbon, twine, or fabric. Hand-tied bouquets include a wide assortment of flowers and greenery, making them ideal for rustic and bohemian weddings because of their "fresh-picked" feel.

Posy
A timeless classic, posy bouquets look almost the same as hand-tied bouquets except they feature mostly flowers with as little greenery as possible. This type of wedding bouquet typically has a rounded shape with the stems wrapped in ribbon.

Round
Perhaps the most popular type of wedding bouquets in the Philippines, round bouquets are formed into perfect domes, using a single type of flower-like peonies or roses. Often monochromatic, this style works best for traditional church weddings.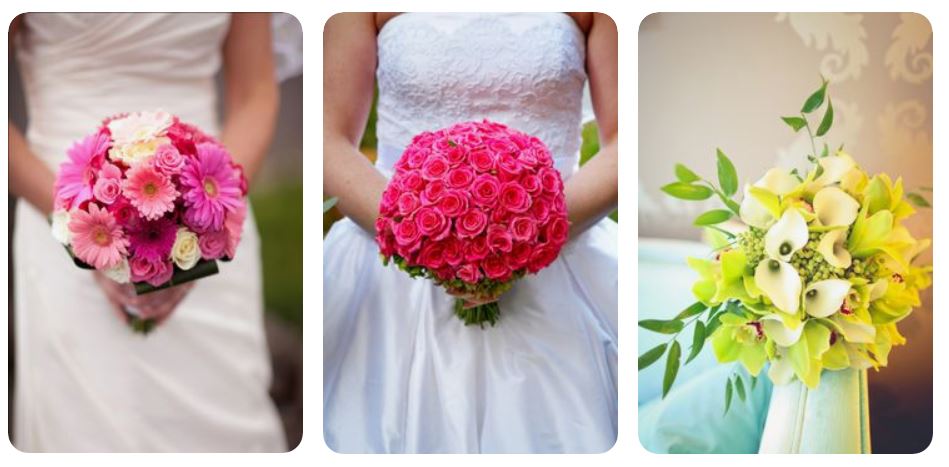 Cascade
Cascade wedding bouquets in the Philippines showcase a waterfall of choice blooms and greenery. The bouquet is meant to drop down or hang in front of the hand, forming an upside-down teardrop shape. It starts rounded at the top and forms a point at the bottom. This type of wedding bouquet is a fantastic choice for garden weddings or high-end, elegant ceremonies.

Crescent
The crescent style is a unique wedding bouquet shaped in a soft arch. The flowers tend to be more compact in the center before extending out of each side into a more tapered shape, like a quarter moon. Depending on your style, the wedding flowers and greenery can be symmetrical or asymmetrical. A crescent bouquet is a wonderful choice for brides who like a little more creativity. It can be used in whimsical, modern, or rustic settings.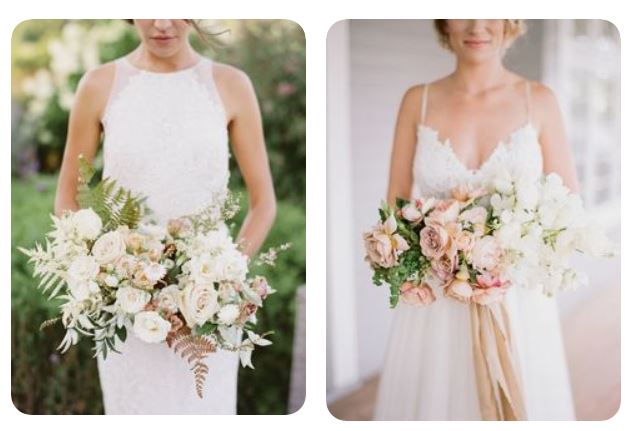 Pomander
While this wedding bouquet is generally for flower girls and bridesmaids, pomander bouquets can be a unique and fun addition to your wedding. Pomander bouquets are worn on the wrist and they feature a round ball of wedding flowers suspended from twine or ribbon. It is typically paired with a matching flower crown, perfect for whimsical and fantasy-like weddings.

Presentation
For a glamorous bride, the presentation bouquet is a striking alternative to traditional wedding bouquets in the Philippines. If you choose this style, you'll be carrying a number of long-stemmed wedding flowers such as roses, orchids, or calla lilies, cradled in your arms. These wedding bouquets can either be detailed or elaborate for a regal look, or chic and simple for a crisp yet elegant feel.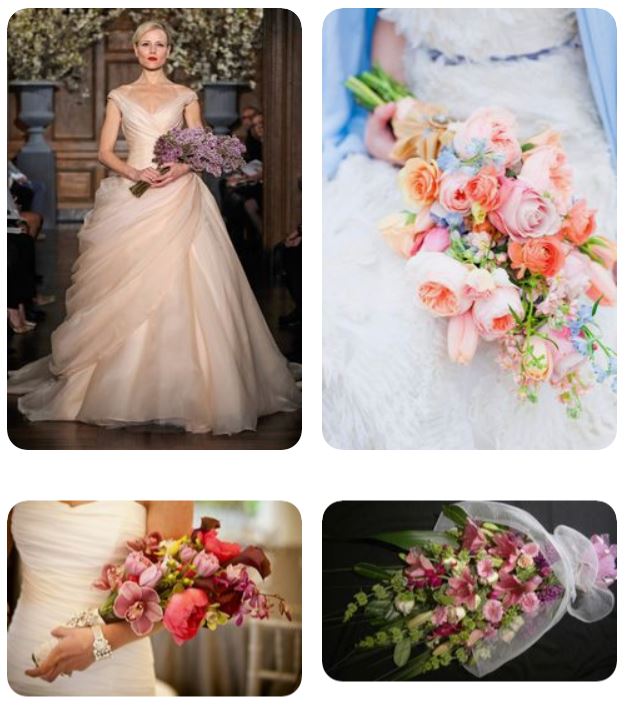 Common wedding flowers used in bouquets
Having trouble choosing your wedding flowers? Start with these beautiful and timeless favorites for wedding bouquets in the Philippines:
Roses
Long considered to symbolize love and passion, roses are the all-star flowers in the world of the Philippines. However, they're far from being basic or boring. Roses are available in various colors – in both bicolor varieties and solid hues. You can even find color-tipped roses in the Philippines. The most popular types of roses as wedding flowers include hybrid tea roses (the classic ones you see at your local florist), garden roses (expensive varieties with bushy, open heads), and spray roses (roses with 5-10 small heads on each stem that give off a natural, garden-grown look).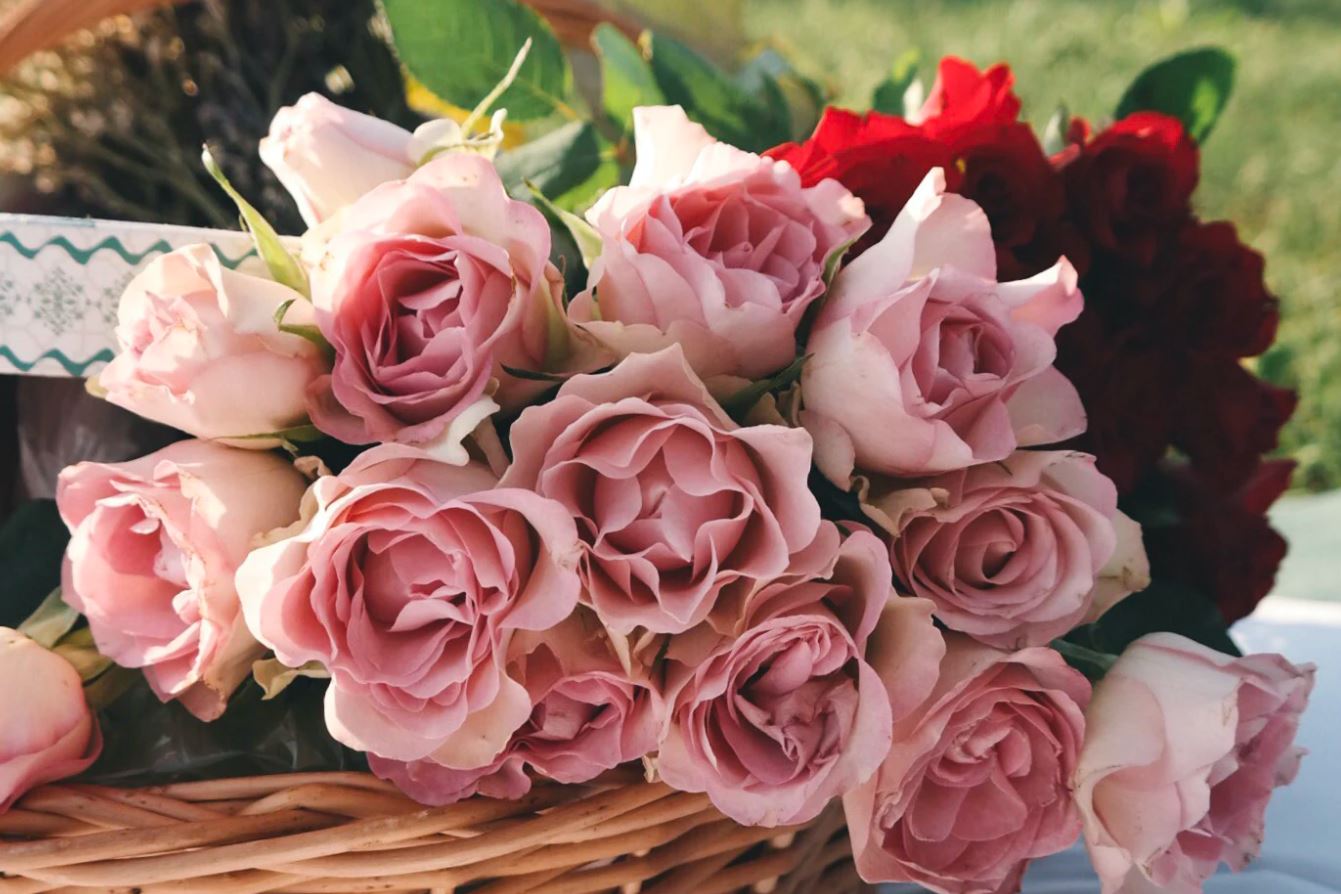 Tulips
Tulips are a meaningful bouquet flower choice for Philippine weddings as they represent "happy years" and "consuming love." They're grown in a wide range of hues, including white and cream, pastels (yellow, peach, and pink), and vibrant shades (red, magenta, purple, and orange). Three main varieties are commonly used as wedding flowers: Dutch tulips, French tulips, and parrot tulips.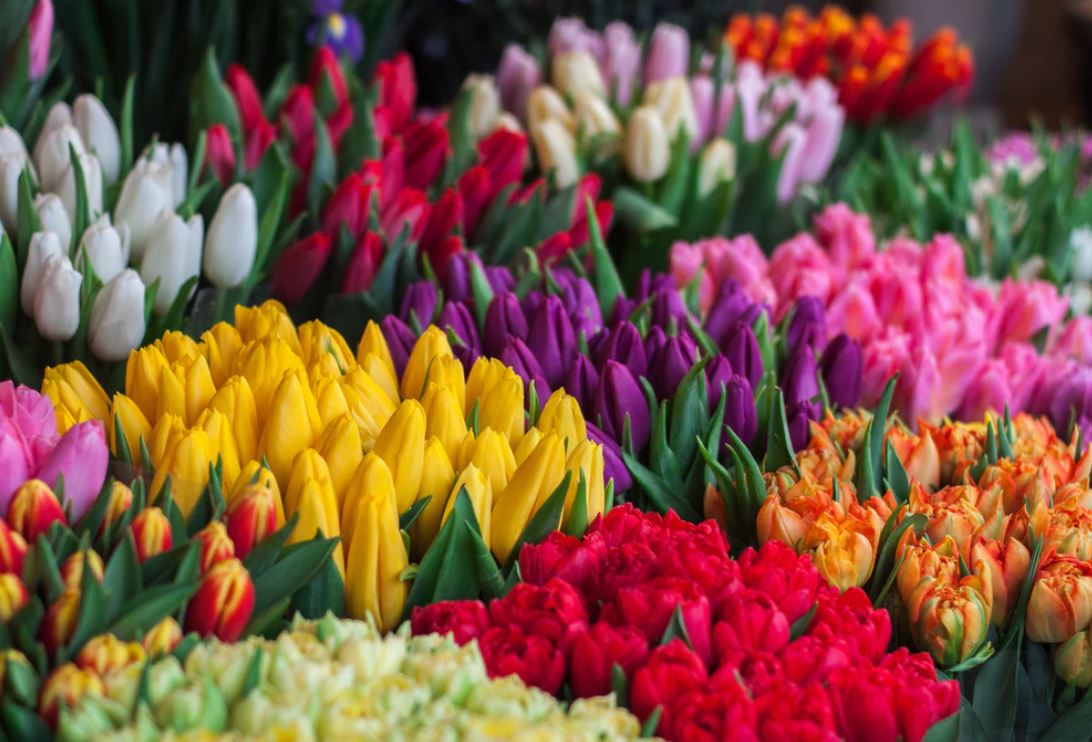 Gerberas
A Gerbera bouquet is a beautiful and versatile option for Filipino wedding. It can be used alone as a lovely and natural-looking bouquet, or the blooms can be mixed with other wedding flowers, greenery, and accents for more formal arrangements.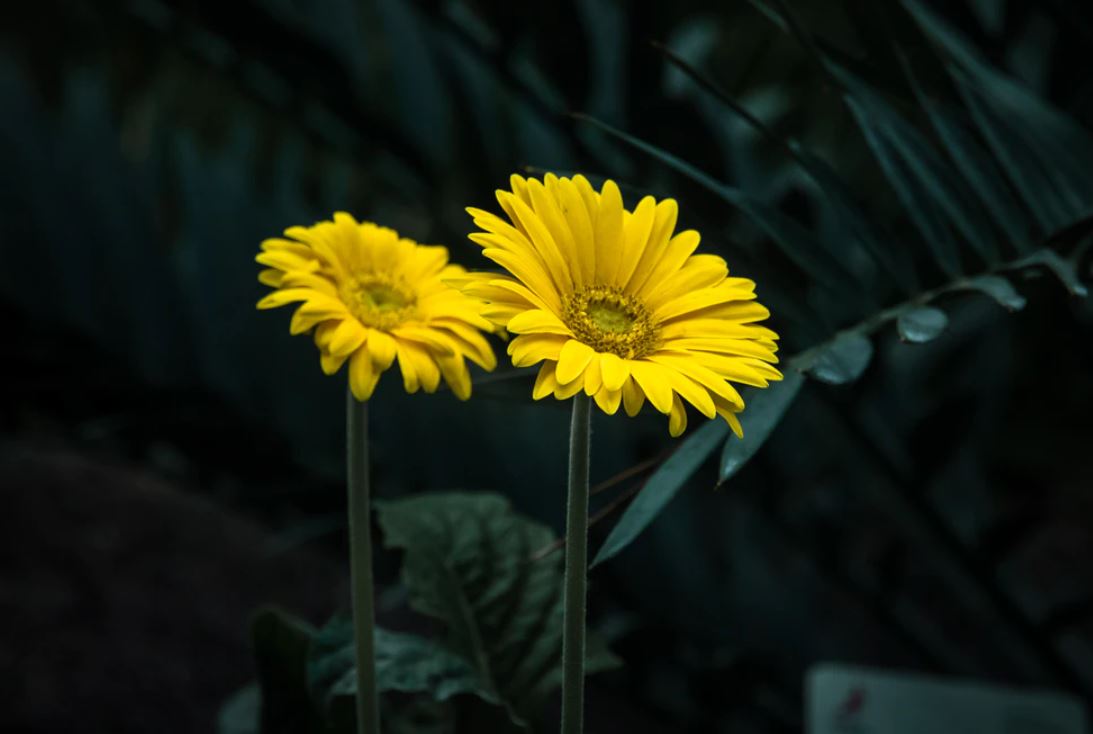 Peonies
Prized for its beauty and delicateness, peony wedding bouquets are all-time favorites of brides in the Philippines thanks to the flower's soft, romantic petals and lush shape. The flowers are also believed to bring prosperity and good luck to newlyweds, making them naturally nuptial-worthy.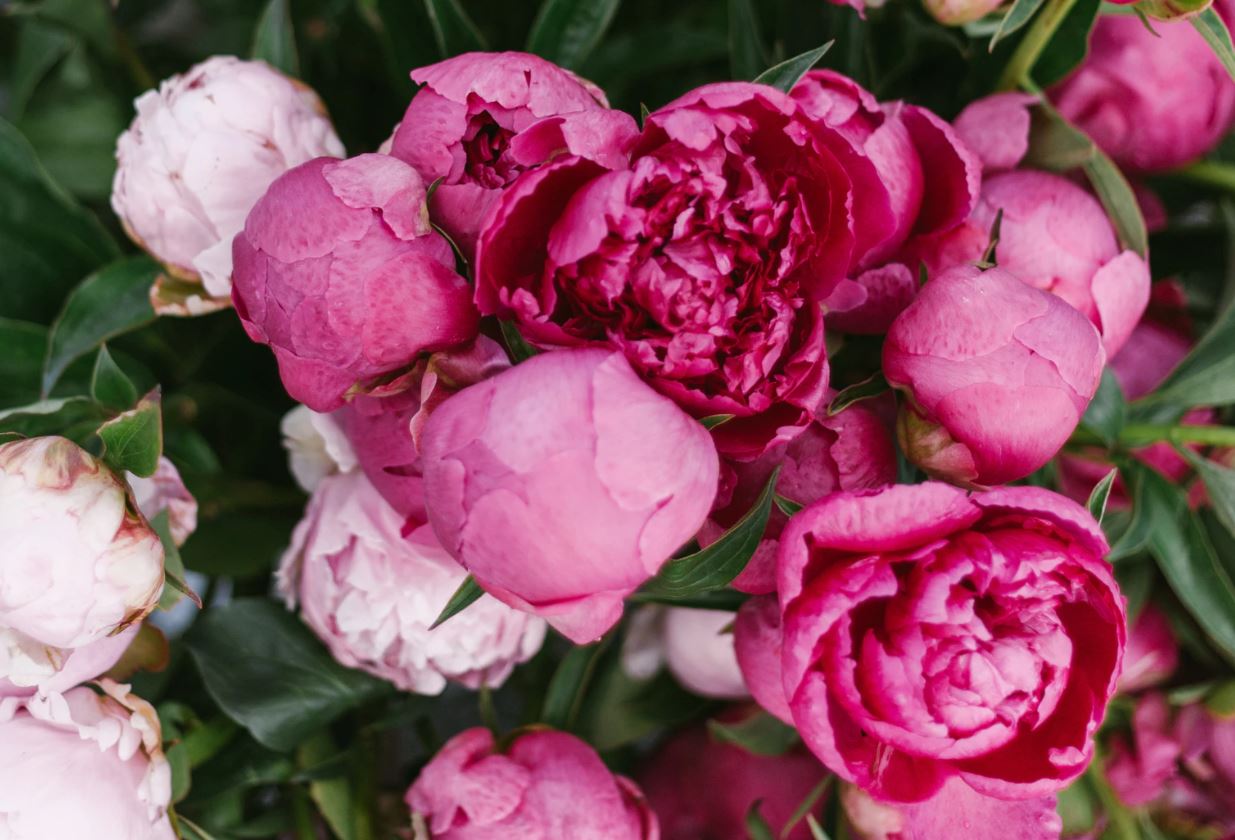 Carnations
This vintage classic is just as sweet and romantic as your love. A couple of white, soft yellow or powder pink carnations combined with lush greenery is all you need for a photogenic bridal bouquet. If you want more body in your wedding bouquet, carnations mix beautifully with peonies, chrysanthemums, and Baby's Breath.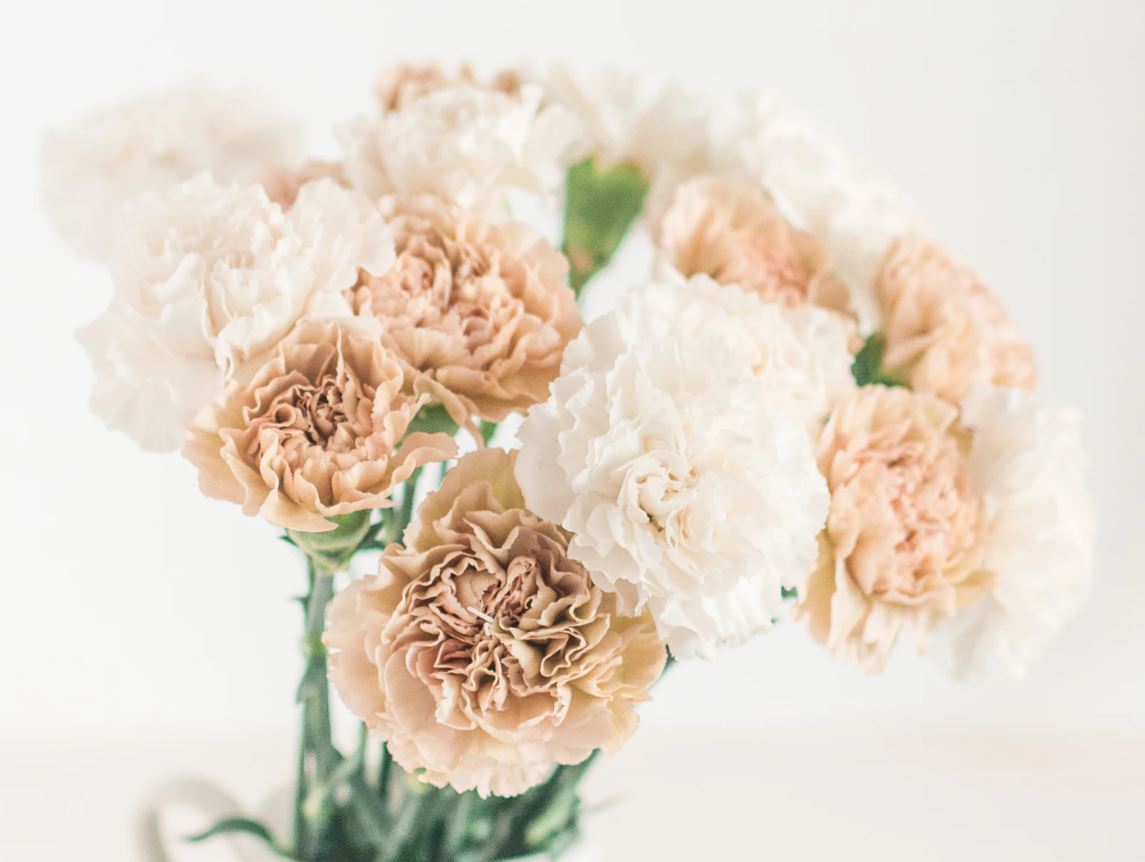 How much do wedding bouquets cost in the Philippines?
On a normal range, wedding bouquets in the Philippines are usually part of a package when you inquire with a florist. For instance, Full Blooms by Inah offers a bridal bouquet and entourage package that starts at Php19,000. Other more renowned events and floral stylists like Gideon Hermosa have bridal bouquet and entourage packages that start at Php55,000.
However, if you choose to order a wedding bouquet individually, prepare to spend anywhere from Php5,000 to Php15,000. The cost of a wedding bouquet in the Philippines ultimately depends on the florist and the bouquet type. Easier types like the Presentation Bouquet and Hand-Tied ones are generally cheaper than say, a Cascade or a Round Bouquet. The cost of a wedding bouquet in the Philippines also depends on the type of flowers used. For example, Amante Fleurs offers the following prices for their bridal bouquets:
Bridal Bouquet (Local flowers only): Php4,000+
Bridal Bouquet (Imported flowers): Php 9,000+
Bridal Bouquet (All Peonies only): Php 12,000+
There are also more affordable options like the wedding bouquets from Flora Portico. Their bridal bouquets cost anywhere from Php2,950 (roses and alstroemeria with Queen Ann lace as fillers) to Php12,000 (round bouquet of Ecuadorian roses). They have a wide variety of wedding flowers including carnations, tulips, and hydrangea.
How to make wedding bouquets with fresh flowers
Thinking of going the DIY route with your wedding bouquet? That's a fantastic idea! Not only is it a more practical choice, it also adds a personal touch to your special day. Plus, DIY wedding bouquets in the Philippines are quickly becoming a trend.
Here's a basic yet comprehensive guide on how to make your DIY wedding bouquet in the Philippines:
Step 1: Find flowers and greenery
You can buy your wedding flowers from your local florist, an online seller, Dangwa, or Tagaytay Flower Market. We recommend the latter as wedding flowers tend to be more affordable and fresher there!
When choosing your main flowers or "anchor" flowers for your DIY wedding bouquet, make sure it matches your color scheme and the theme of your wedding. For instance, roses, peonies, and carnations will complement a traditional church wedding while sunflowers, orchids, and gerberas are better for rustic-themed or garden weddings.
Also, don't forget about your filler flowers and greenery! Popular fillers for wedding bouquets include Baby's Breath, Leyland Cedar, myrtle, Queen Ann's lace, ferns, dusty miller, and honey bracelet.
Step 2: Set up your workspace
To be honest, anywhere can be a workspace when making your DIY wedding bouquet: your kitchen, an outdoor table, or even the bathroom sink of your hotel room if you're making your bridal bouquet the night before your big day (to keep it as fresh as possible, of course!). The important thing is that you have all these things ready:
Flowers and fillers of your choice
Flower shears
Floral tape
Bouquet pins
Ribbon or twine
A bucket
Water
Step 3: Prep your flowers
Use a knife or your hands to make sure you remove all the foliage from the steps.
If you have roses, de-thorn them.
Make sure all the lengths of the stems are approximately the same. You can use your flower shears for this.
Step 4: Put together your flowers
Choose 4-6 anchor flowers to be your bouquet's base.
Bunch the stems together and wrap them with floral tape.
When wrapping the stems, ensure that there are at least 304 inches of exposed stem at the bottom.
Step 5: Build up your DIY wedding bouquet
Add filler flowers and greenery around your anchor flowers.
Mix different colors and textures to create an interesting composition. If you prefer a monochromatic bouquet, play around with the shapes and sizes of your fillers.
As you add flowers, continuously wrap your bouquet with floral tape. This adds support and creates an attractive, consistent composition to your bouquet.
Step 6: Wrap your DIY wedding bouquet with floral tape
Start wrapping the stems about 1-2 inches away from the flower heads.
At the bottom, leave 1-4 inches of the stems exposed (based on your personal preference).
Using the floral tape as your guide, start wrapping the ribbon horizontally.
Wrap until the floral tape is covered. Use a pin to secure the ribbon.
Yay! You're done!
If you're also making DIY wedding bouquets of your bridesmaids, you can simply follow the steps above. But of course, make sure your bridal bouquet is the most beautiful of the bunch!
Here's a video tutorial for your reference:
Flowers lend the finishing touch to the most romantic day of your life. While guests will more likely pay attention to your dress, your wedding bouquet also serves as a centerpiece in photographs, making you look more radiant and beautiful.
Now that you know the basics of choosing the best wedding blooms for your bridal bouquet, it's time to start planning for it! Whether you plan on splurging or going the DIY route, we wish you the best of luck in creating the perfect wedding bouquet for your big day. Chryss loves ice cream, literature, and East Asian pop culture. She would like to pet your dog.