One of the most exciting parts of your wedding preparation is deciding your wedding deco. You can run wild with your creativity and bring your dream wedding to life.
When planning decor and making a wedding budget, don't forget that your wedding table decorations matter too. From wedding centerpieces to table runners and everything in between, wedding table decorations are an easy yet excellent way to showcase your theme, color palette, and creativity. Your guests spend a considerable portion of the celebration seated at their table, so you will need to put in effort when it comes to your wedding centerpieces.
In this article, you'll find wedding table decorations and centerpiece ideas to level up your tablescape.
Wedding Centerpiece Ideas
Placing wedding table centerpieces is an easy way to instantly add vibrancy and interest to your reception tables. Here are a few wedding reception table ideas you'll love!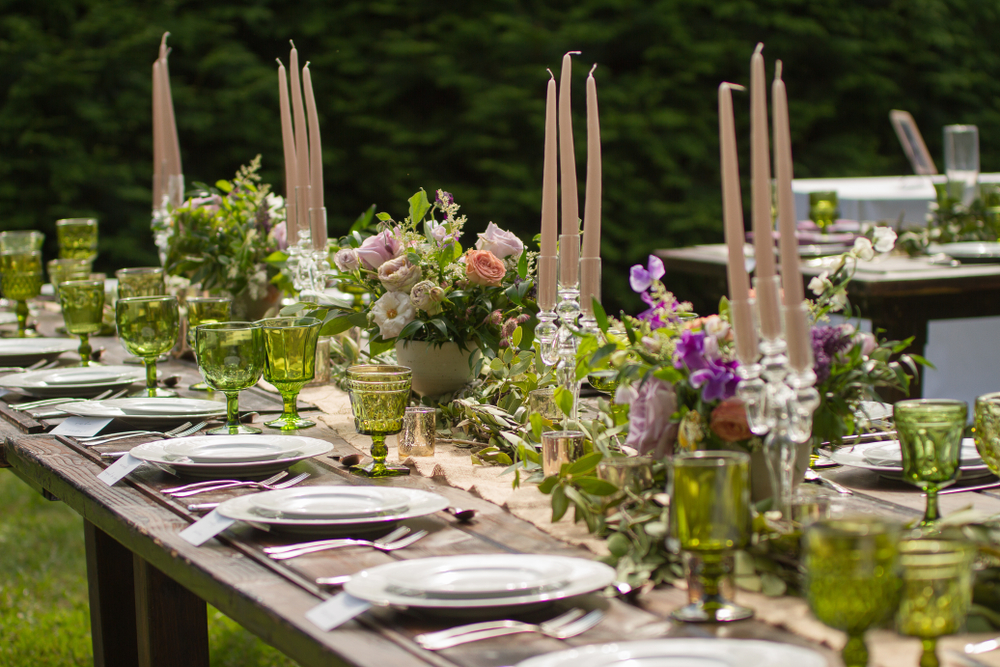 Candle Centerpieces
Create various levels of candles in lanterns or jars for a modern and warm look. Make sure the candles match your theme! For instance, if you have a beach wedding, you can use candles shaped like clams and then surround them with corals and seashells. If you have a rustic-themed wedding, go for tea lights that will look lovely amidst an abundance of green foliage. If candles aren't allowed at your venue, you can opt for LED candles.
Lanterns
From vintage, intricate ones to wooden, up-cyled ones, lanterns are turning to be a popular choice as wedding table decorations. They add a touch of old-world charm and make a very prominent statement in any event. You can either choose to put flickering candles inside or deck them up with flowers that spill into the table. Build them in varying heights to further enhance your table's aesthetic appeal.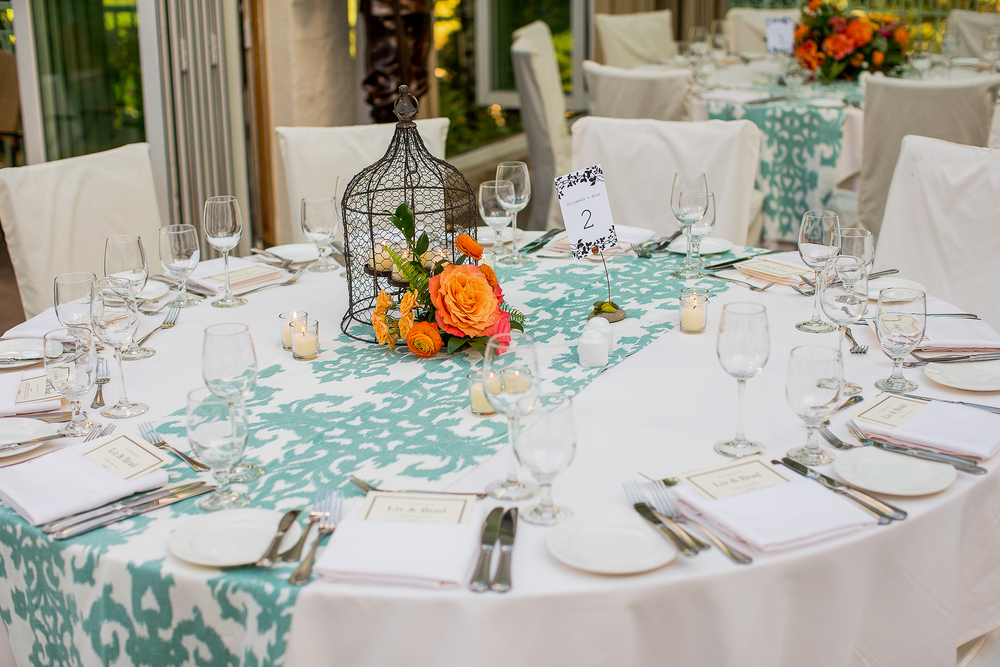 Birdcages
This is another attention-grabbing wedding reception table idea, especially if the birdcage is filled with greenery, flowers, or candles set atop your tables. In fact, birdcages have become a recent major decor trend in weddings, specifically for rustic-themed celebrations. You'll find plenty of ideas, tips, and inspiration regarding these wedding table centerpieces.
Crystal centerpieces
These staple wedding table decorations can act as standalone pieces, taking the grandeur of your venue to the next level. When paired with fancy lights, they will add an instant flair to your tablescape — simply a sight to behold. For Filipiniana-themed weddings, you can adorn a crystal stand with pearls and blooms to add a regal and elegant touch. Deck it up with white roses, foliage, and garlands to enhance the sparkling effects of the chandelier.
Flowering branches
Do you love the look of tall wedding table decorations? Beautiful flowering branches don't cost a fortune but when artfully placed as reception centerpieces, they can transform a plain dinner table in an intimate wedding into a festive one. You can place them in clear vases for a minimalist yet lovely look.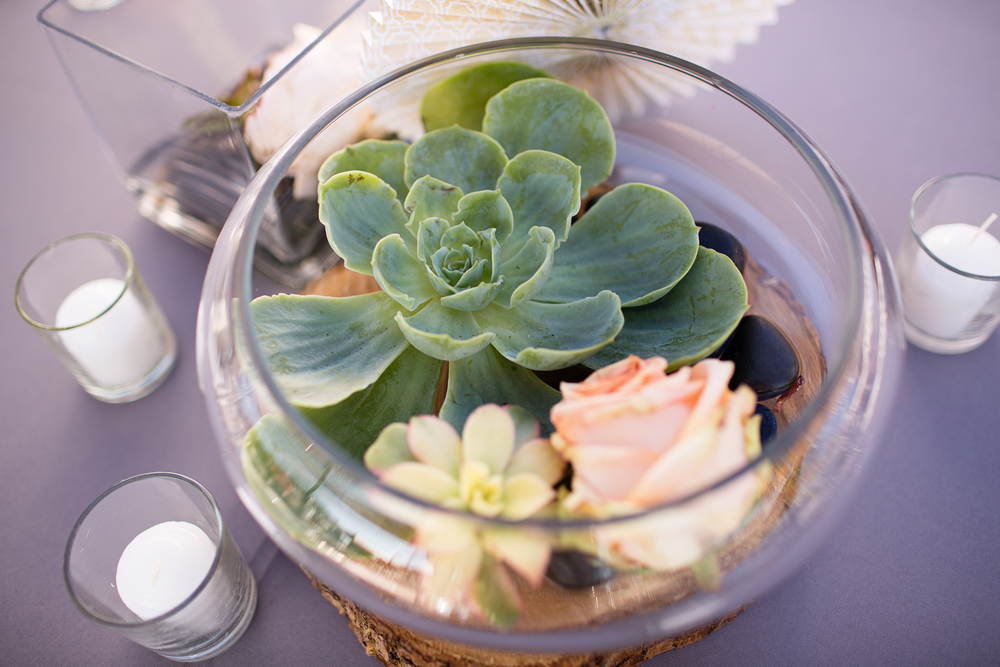 Terrariums
Not a flower person? You can walk the road less travelled by investing in lovely terrariums as your wedding table decorations. Some votive candles and a patch of succulent are all you need as wedding table centerpieces!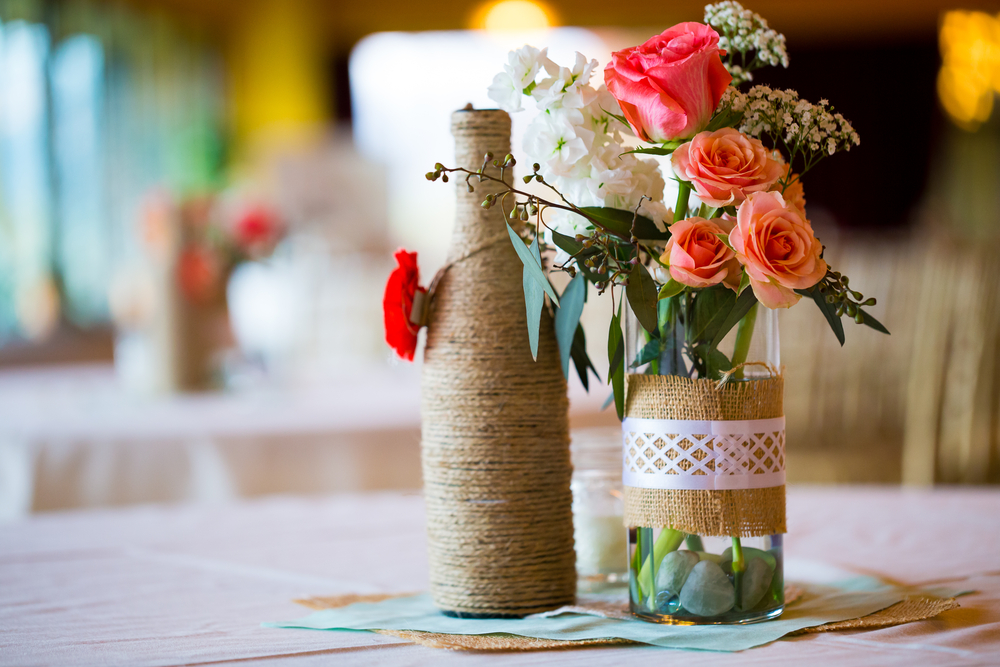 Bottles and mason jars
These make for simple yet exquisite wedding table centerpieces, especially if they're filled with exotic flowers. For more dramatic wedding centerpiece ideas, stack some books and then let your bottle or mason jar steal the show. Just don't forget to finish the look by placing one or two blooms in each jar.
Seating chart table numbers
It goes without saying that you'll need a way to indicate each of your artfully designed tables. That's exactly the purpose of a seating chart — they make for practical wedding centerpiece ideas. Equally austere and suave, each table number card makes sure your guests won't have trouble locating the table assigned to them. You can showcase the table numbers on unique vessels such as bottles, lanterns, or dainty picture frames.
Floral Wedding Table Decorations
Floral wedding decorations for tables instantly add elegance and grandeur to the venue. Plus, you don't need a big display for guests to admire. You can transform your tables merely with subtle floral additions and greenery.
Here are a few wedding centerpiece ideas that involve your favorite flowers.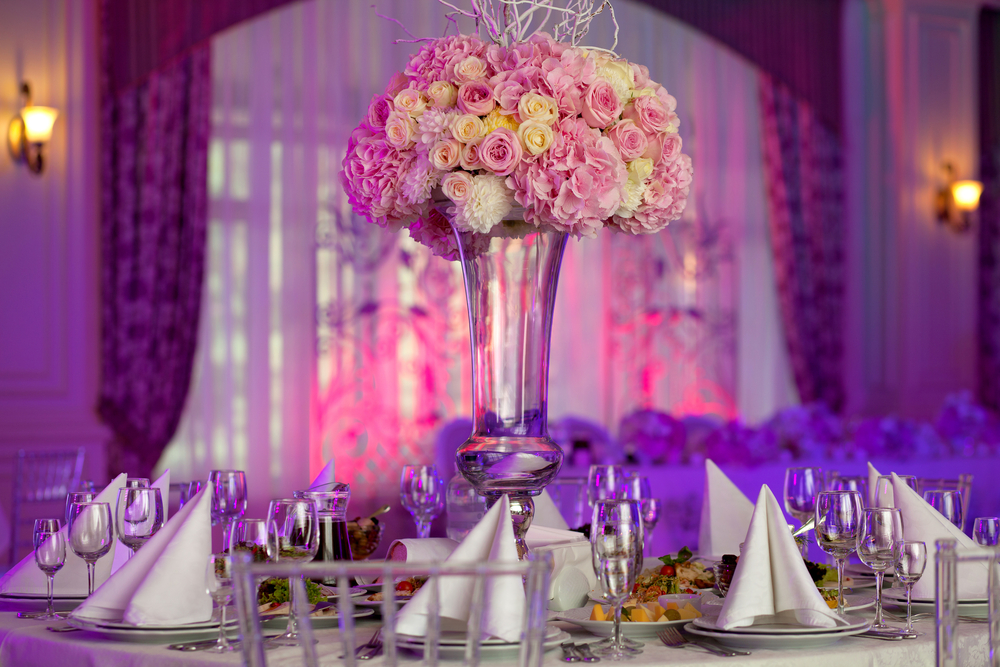 Tall floral centerpieces
Tall floral wedding table centerpieces work extremely well year round as they're adaptable to any season. You can even save money by using them both in your ceremony and reception! They'll add a fabulous dimension to your wedding decor and work well in venues with high ceilings.
Garlands with blooms
Will your reception have long tables? Then make it seem like flowers are growing from the tables! You can do this by simply stacking a winding string of foliage and blooms that runs down the entire span of your table. If you have a round seating arrangement, you can hire a cluster of your favorite flowers and then stack them in a mound so they can be the focal point of each table. The addition of garlands will also convey a lush look to your tables, and they're not as pricey as a cluster of flowers.
Small floral arrangements
If you're not one for large floral decorations, you can give your reception centerpieces a simple yet sleek look with small flower arrangements and votive candles. These minimal wedding centerpiece ideas are your best bet if you plan on having a minimalist yet elegant wedding. Simple yet charming, minimal usage of blooms, greenery, and candles will make your wedding decor look much more graceful. Plus, they don't block guests from conversing with each other from both sides of the table.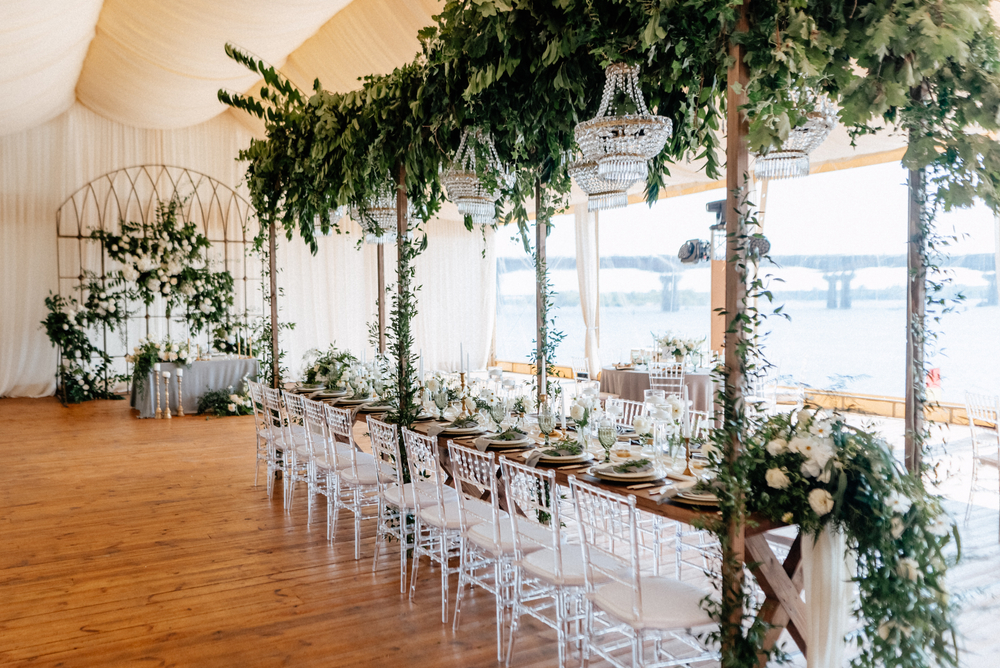 Hanging flower installations
Want something truly unique? Go for floral installations above the tables as your wedding table centerpieces. These are sure to create interest, texture, and scent to the occasion. Imagine how your guests will feel when they look up and they'll see cascading roses, lilies, sunflowers, or other blooms. They can also be outfitted with lush greenery. If you don't have the budget, you can stick to faux flowers too.
Table Runners
Table runners should also be in your list of wedding centerpiece ideas. They're a great way to add another textural element to your wedding table decorations, instead of settling for pristine white tablecloth. They also act as the ideal backdrop for your reception's centerpieces.
Silk and linen
Linen, silk, and even chiffon are fabric choices that will seamlessly add interest to any table. You can either lay them out in the exact length you need or let them run off to the ends of the tables.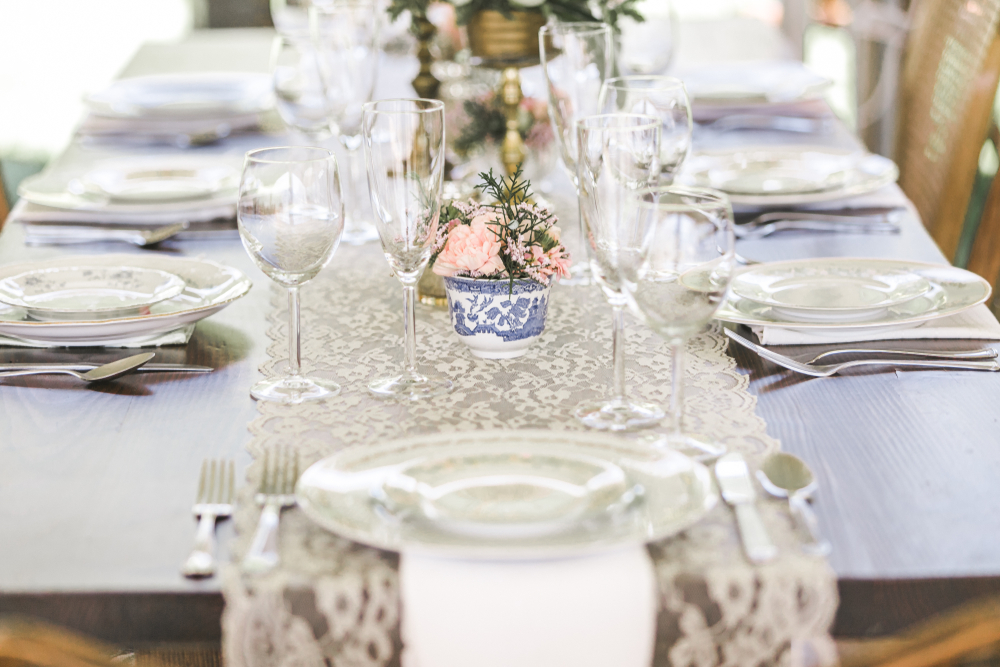 Lace and crochet
If you prefer rustic table runners, lace, crochet, or even jute are your best choices. For a boho touch, you can top them off with mason jars or recycled bottles holding flowers. Plus, lace is easily paired with all sorts of wedding table decorations.
Decorative Lighting
How your venue is illuminated significantly improves the ambience and transforms the atmosphere. You can incorporate various light sources as part of your wedding table decorations.
For instance, rope and twinkle lights give off a dreamy vibe, no matter where they're strung on, be it on the edges of tables or enveloped in tulle or lace. You can also use table lamps to create an illusion of additional height on your tablescape. You can skip adding fresh blooms but girdling the lamp with foliage or flowers is the easiest way to conceal cords and cables.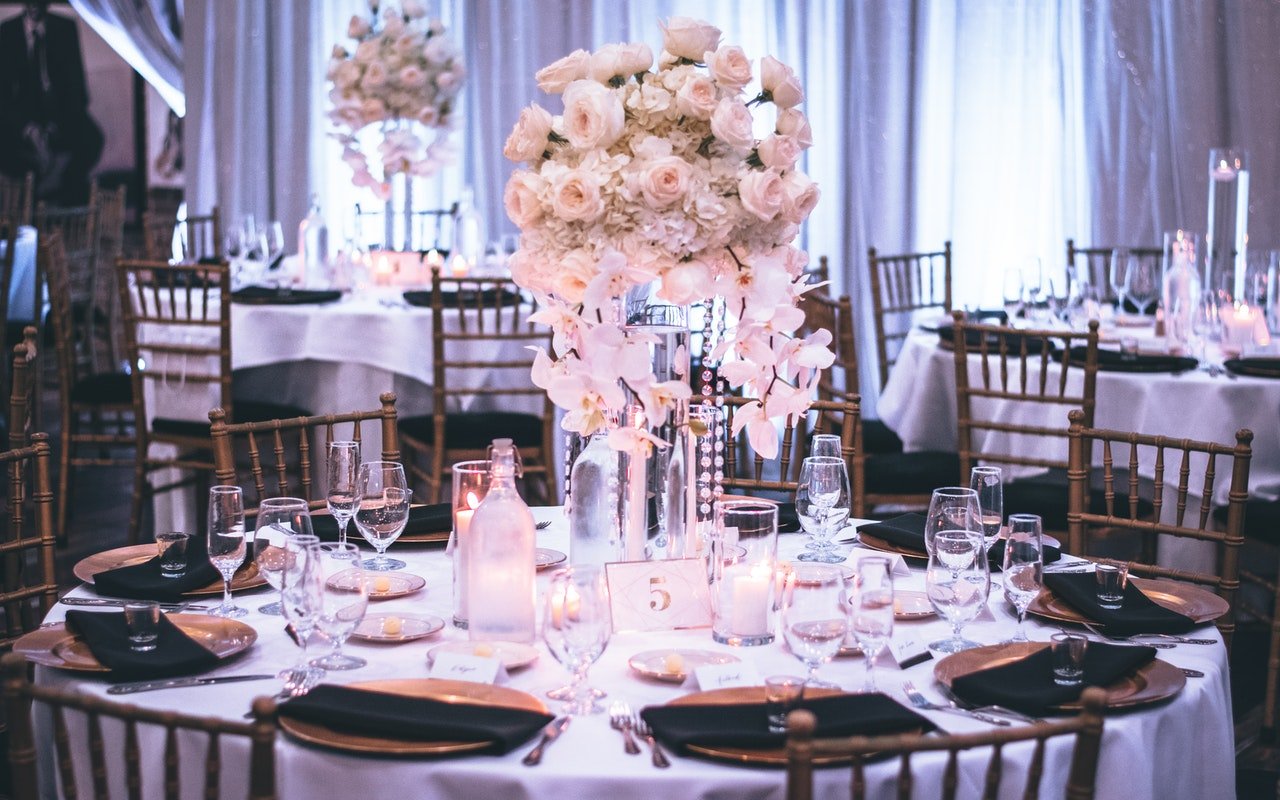 Table cloths
Either your caterers or venue will offer you with table cloths that act as a blank canvas for you to adorn with wedding table decorations. On the offset, choosing the right table cloth color may seem frivolous but tablecloths play a significant role in the overall design of your reception. They set the tone of the table and act as the backdrop for wedding table centerpieces. If the color is off, you won't be able to create a cohesive look.
White table cloth
This color gives a more casual feel for your event space, while also emitting flair and distinction to tablescapes. You can complete the look with ribbons or lace for greater visual impact.
Black table cloth
Yes, this black is not your typical wedding color but this will add a bit of drama to your wedding table decorations. If you're after a regal, unconventional, and dramatic affair, black table cloths are your best bet. They work especially well with gold and silver.
Wedding Table Decorations: The Fun's in the Details
As you're planning your wedding, it's only normal to stress over every single thing, which is why Nuptials is here to help. We've written plenty of articles, from shopping for a dress in Divisoria to discussing the typical wedding reception program script in the Philippines. Of course, we want you to have the best wedding you could ever have, which is why we also wanted to talk about how you'd decorate your wedding table centerpieces.
Hopefully, the tips and ideas in this article will help you discover what your options are and you get inspired for your own decor. Happy wedding planning! Chryss loves ice cream, literature, and East Asian pop culture. She would like to pet your dog.