Weddings can be an expensive affair, but that doesn't mean all weddings have to cost an arm and a leg. If you want to be practical and spend P50,000 or less on a wedding, that means cutting out the unnecessary expenses and going through the cheaper options.
This could mean buying your wedding dress in Divisoria, picking out a more affordable wedding venue, or planning a small intimate wedding, but today I want to talk about DIYs – specifically, DIY wedding invitation ideas.
Based on the average cost of a wedding, invitations can start at P40 per invite. This means a medium-sized wedding that requires a hundred invites can immediately set you back P4,000. Some might not think 4K is that big of a deal, but for those who really want to stay under budget, that's money that could be well-spent for the future. Plus, a DIY wedding invitation will make your announcement much more personal and special, especially if they're handmade with love.
So, for those looking to create their own homemade wedding invitations, here's a guide to having it done for much less.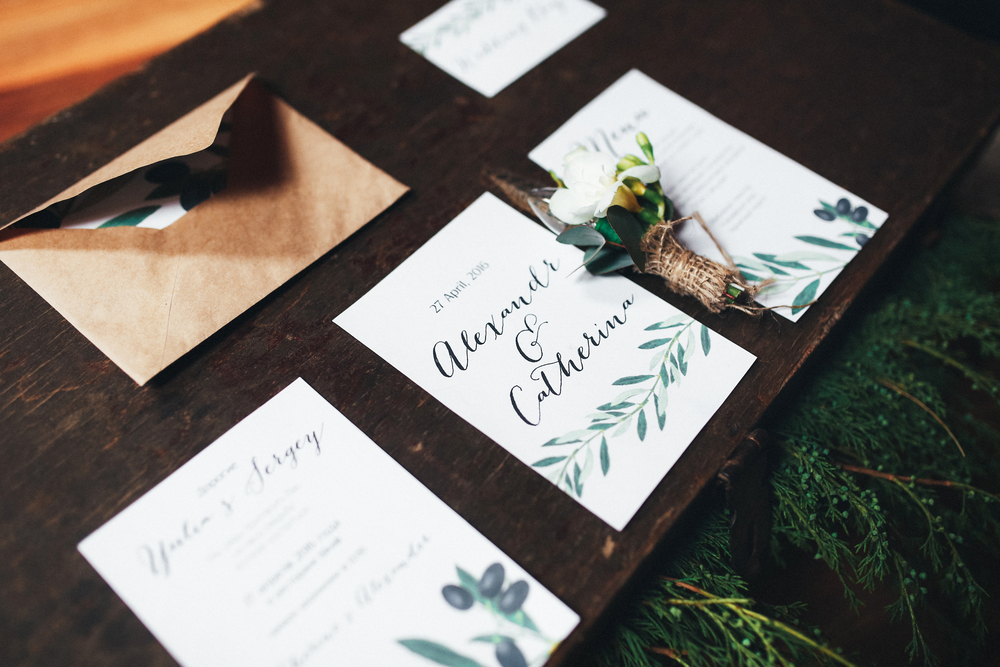 Benefits of a DIY Wedding Invitation
Have you been shopping around for wedding invites but don't feel inspired by the designs or the price tags? We get you, which is why we think your best bet is with homemade wedding invitations.
One of the top benefits of a DIY wedding invitation is that you become the CEO of creativity. With a plethora of homemade wedding invitation ideas, you can mix and match themes, fonts, colors, and other design elements to your heart's content. It's your chance to design the perfect invite that will officially introduce who you are as a couple to your guests.
Plus, when you're armed with DIY wedding invitation ideas, the do-it-yourself part isn't at all intimidating! There are many photo-editing apps where you're only a couple of clicks away from creating the DIY wedding invitation of your dreams.
Of course, designing homemade wedding invitations is easier on your bank account too. As previously mentioned, it can help cut down your costs by as much as Php4,000. If you want to stick to a strict budget and rekindle your skills in arts and crafts, then be inspired by our array of DIY wedding invitation ideas.
How to Craft Homemade Wedding Invitations Your Guests Will Love
Weddings are gorgeous celebrations infused with beauty into the tiniest details. Leading up to the big day, you may find yourself immersed in a world of choices when it comes to DIY wedding invitation ideas.
Thankfully, you'll find everything you need to know about designing homemade wedding invitations in this section, including online and paper invitation options.
Find a Free Wedding Invitation Template
If you don't mind not having a custom wedding invitation, there are plenty of free wedding invitation templates online. I'd recommend Canva's wedding invitation templates because I've used Canva to make posters back in my college days, and I've found that their user interface is so easy to use even for those who have no background in design.
Simply choose one of the templates you like, replace the text with your own wedding details, save as a PDF or image file, and then print multiple copies on your own. Canva is mostly free and you can even tweak the colors and clipart a bit if you'd like.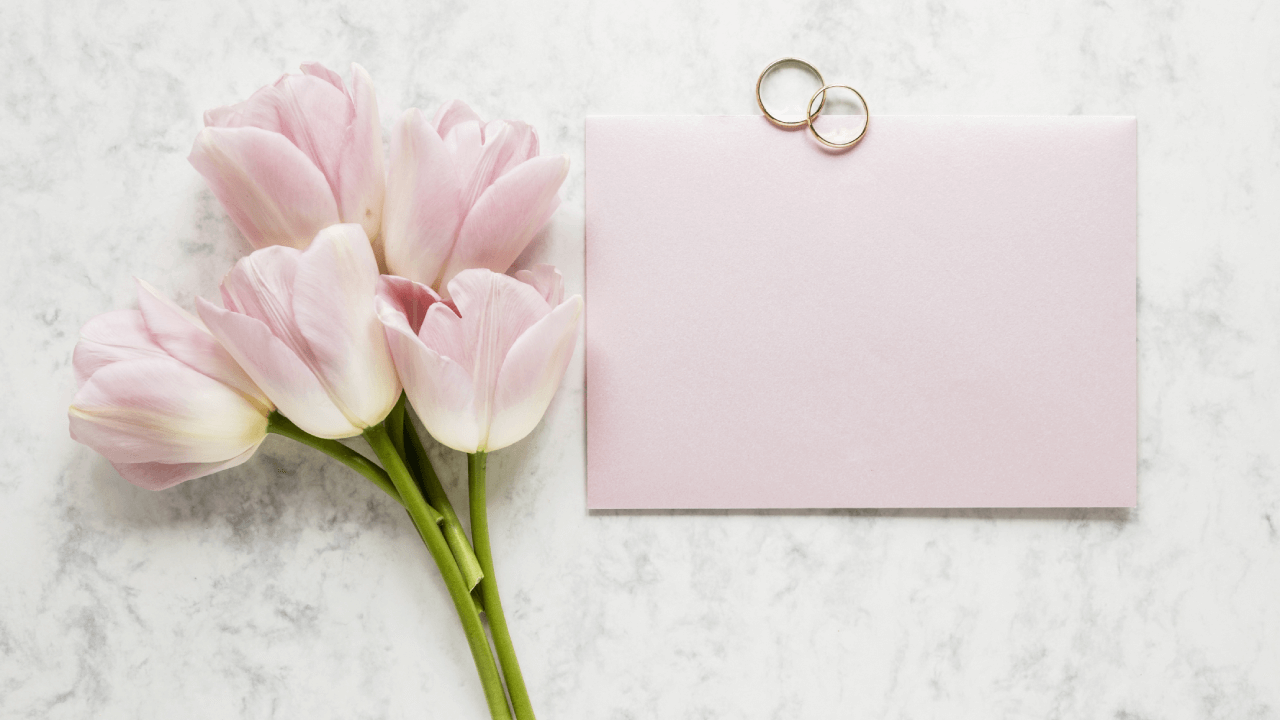 Choose the Best Place to Print Your Invites
The cheapest route is to use your own printer at home to print your homemade wedding invitations. If not, see if any immediate family member or member of the bridal party has a printer and are willing to let you use it. As a show of courtesy, offer to pay to refill their ink in case you're printing a large number of copies.
If there isn't anyone with an available printer, you might have to look at printing shops. Your cheapest option is to go to a piso print shop. Just remember that it costs extra to print on stock paper or specialty paper. If you're unsure about the quality of the printer, have them print one copy of your invitation on your chosen paper and then see if it meets your standards.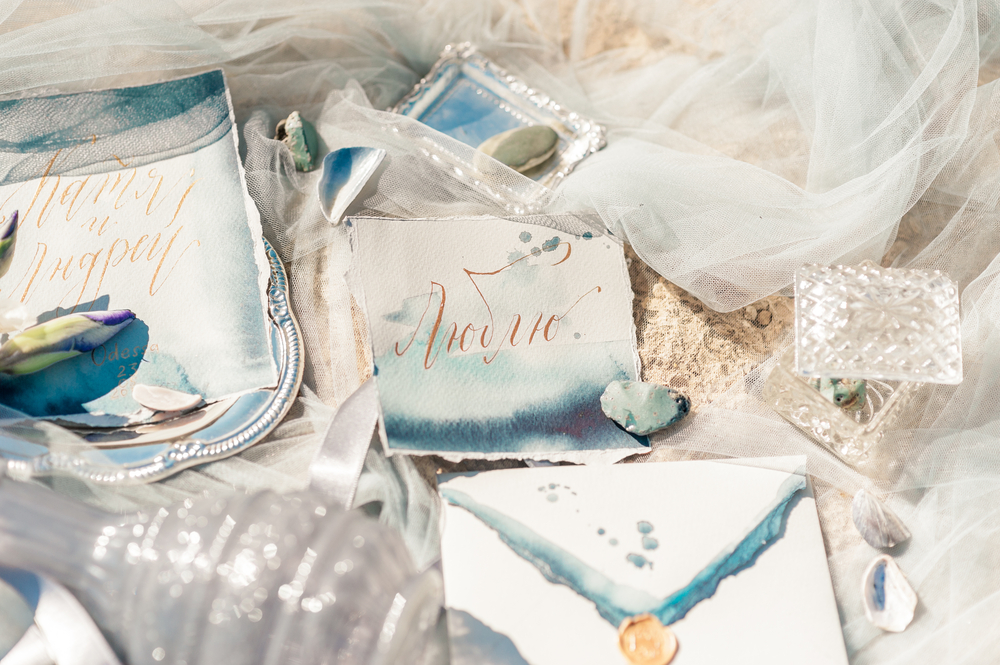 Add Personal Touches and Handmade Elements
Want to make your DIY wedding invitation extra special? Add streaks of personality and handcrafted elements to it. For instance, you can create smooth and beautiful lettering with calligraphy. Or you can pay homage to your wedding venue by drawing inspiration from the location. For instance, if you're exchanging vows seaside, you can paint a beachy water color design. Planning a rustic wedding? Add sprigs of lavender or baby's breath on your homemade wedding invitations.
These streaks of personality and special touches will make your DIY wedding invitation all the more memorable. Of course, it adds to the fun of making them too!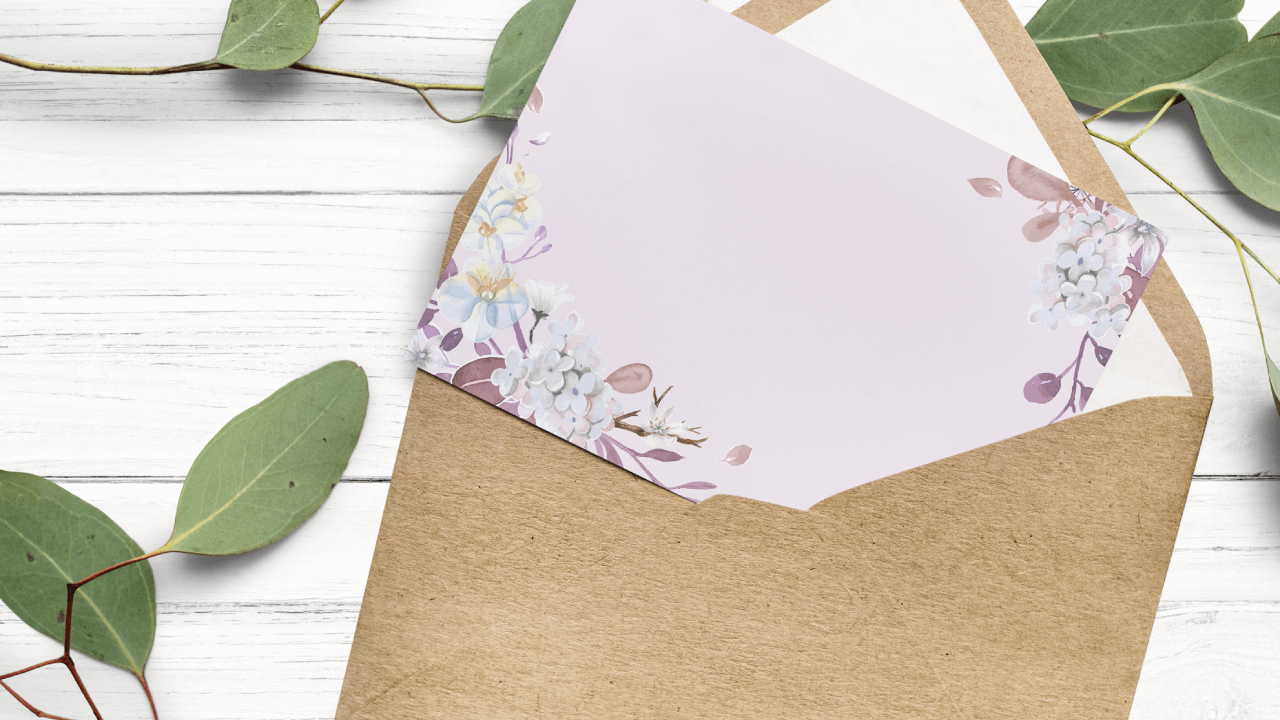 Choose the Type of Paper Wisely
Some printer shops may already have stock paper or specialty paper available. But if you want a specific type of paper (maybe some silver board paper or some scented stationery), you're going to have to find it yourself. Check out bookstores for prices. Take note of the prices, but don't buy anything just yet. You'll want to wait for this next step before you go any further.
Types of paper you can use for your homemade wedding invitation ideas:
Cotton cardstock – smooth to the touch and highly absorbent, making it great for both inkjet and laser printing. This will give your DIY wedding invitation a clean, modern look.
Linen cardstock – as the name suggests, this type of paper has a matte finish and a delicate woven texture made to look like linen fabric. This adds visual interest to otherwise simple homemade wedding invitations.
Kraft or recycled cardstock – perfect for DIY rustic wedding invitations as it has a textured and fibrous look, ideal for vintage or outdoorsy wedding themes.
Colored cardstock – resembles the thick craft paper you'd find at stationery stores. Typically smooth, they don't have any texture or grain. They're a great option for DIY wedding invitations that you want to pair with colored envelopes to create a fun yet cohesive look.
Consider the Cost
It's time to compute all your expenses and see if it is worth doing the invitations yourself or if it would have been practical to just have it professionally done. A good rule of thumb is that if you're making 100 invites, if the cost per invite totals to more than P50 per print, then it might have been cheaper to just get it done professionally to save you both time and money.
But if you find that the costs are much less than that, then it's time to buy the paper, ink, and other decorating materials and get to DIY-ing your wedding invites. Brides.com recommends buying 10 percent more materials than you actually need in case of mistakes or if you need to make reprints.
Schedule Your Printing
Just because you're doing a DIY project to save a few thousand pesos does not give you an excuse to send your wedding invitations late. Based on our wedding timeline:
9 Months Before the Wedding: You should browse through wedding invitation designs to help you decide on a theme and color scheme.
6 Months Before the Wedding: Finalize your wedding invitation designs, start getting them printed, and make sure you print extra in case of additional guests.
3 Months Before the Wedding: Send out the wedding invitations to your guests if you are holding a destination wedding.
2 Months Before the Wedding: Send out the wedding invitations to your guests for non-destination weddings.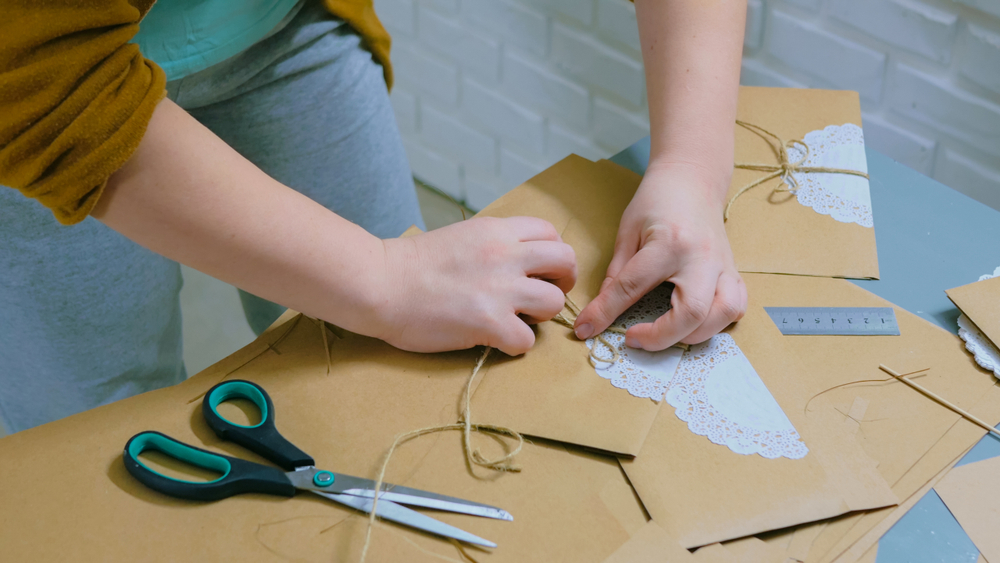 Assemble Your Invitations
Once everything is printed, you now have to assemble your invites and have them ready for distribution. The parts of a Filipino invitation include:
The Main Invitation  – The essential part that contains everything your guests need to know.
Entourage Card – The list of wedding party members, including the bridesmaids, groomsmen, family members, and primary and secondary sponsors.
RSVP Card – The card used to confirm a guest's attendance and the number of reserved seats for them.
All these are placed inside an envelope. To help with the assembly, you might want to ask your bridal party to help with the cutting and assembly.
DIY Wedding Invitation Ideas Based on Wedding Themes
The best homemade wedding invitations are the ones that stand out, and what better way to make your invitations memorable than to design them yourself? We've rounded up DIY wedding invitation ideas for the most popular wedding themes, ready to wow your guests and set them for the celebration to come.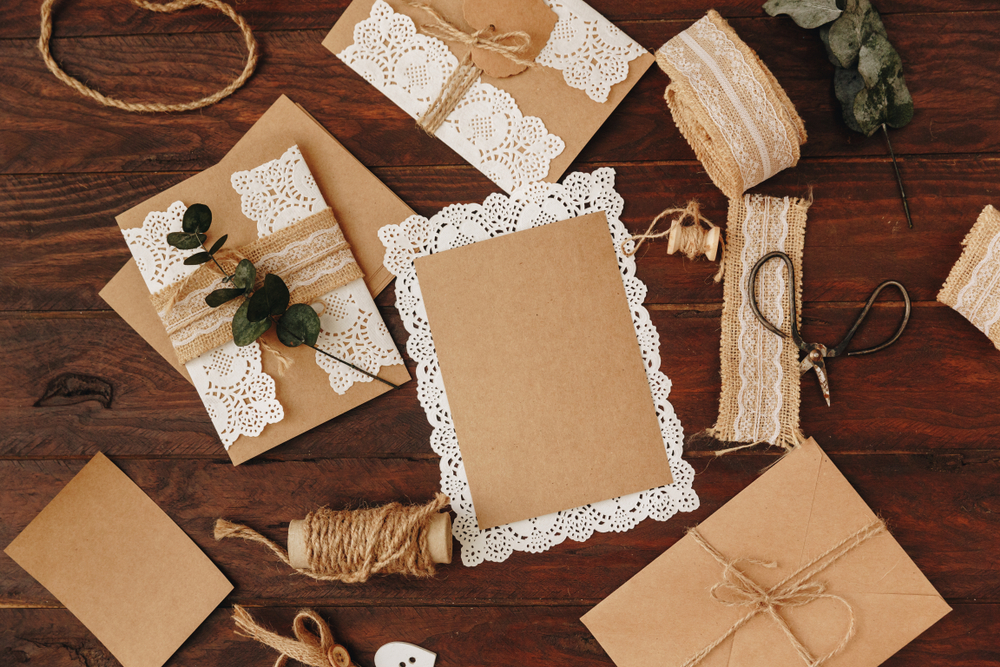 Rustic weddings
A DIY wedding invitation is one of the classic rustic wedding ideas, and for good reason. After all, the handcrafted vibe of homemade wedding invitations can really set the tone for a chic yet laidback wedding.
Here's how you can achieve a rustic DIY wedding invitation:
Start by choosing brown Kraft paper or recycled card stock. Another option is to paint cotton or linen card stock with coffee for that sepia-toned or stained effect. You can also tear some of the edges for a distressed, shabby chic feel.
You can either do the lettering on your own or print out the invite. If you choose the latter, just make sure you choose a font that goes well with the rustic vibes (e.g. like the font Taylor Swift used for her folklore and evermore albums).
You can then package each invite with twine, vellum wrap, and even a wax seal to add lots of texture and make it an exciting experience to open! Another option would be to use burlap wrap and twine.
If you want to personalize them, you can tuck in a sprig of lavender or a dried wildflower among the twine.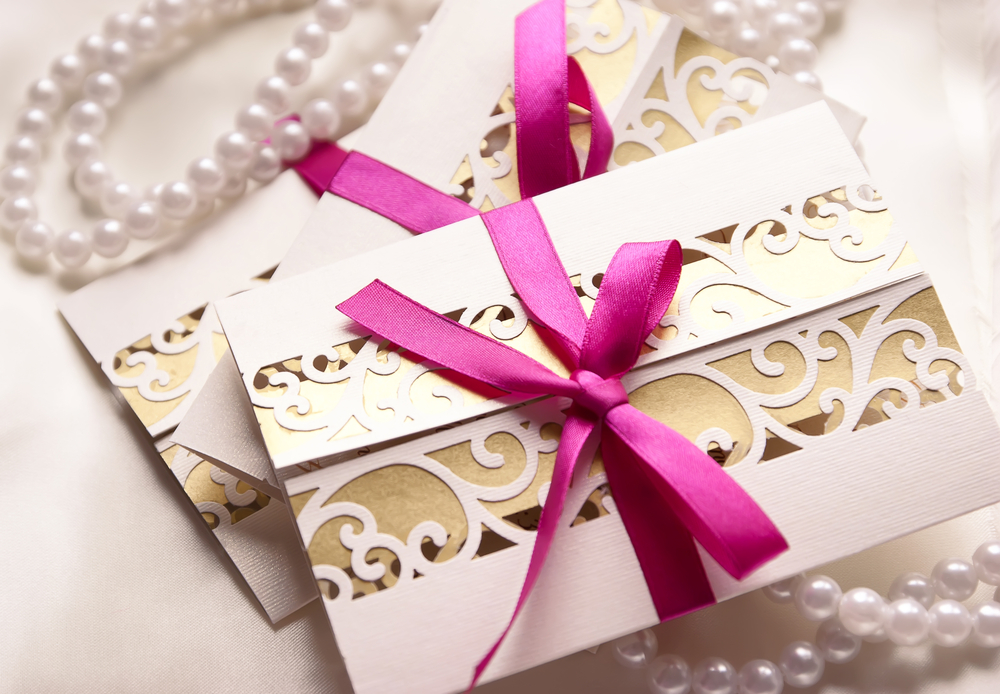 Vintage weddings
Some couples think that calligraphy, wax seals, and deckled-edged paper are outdated but think again — many of these traditional elements are used in invitations to match a vintage wedding theme. Vintage invites also offer more room for you to personalize your DIY wedding invitation, and they're more than just gold embellishments and monograms.
Here are some ideas to prove that old-school inspired invites can still feel modern and contemporary:
You can either use linen card stock or watercolor cardstock for your invitations.
Incorporate your ceremony details in a unique and beautiful way. One of the best DIY wedding invitation ideas is to use a hand-drawn map of your venue.
If you're going for a monochromatic DIY wedding invitation, try adding a pop of color with an illustrated flower, butterfly, or a feather. These are all nature-inspired, vintage elements that will breathe life to your homemade wedding invitations.
For font styles, it's best to go for cursive fonts or better yet, just hand-write your invites! You can use a fountain pen to achieve those glorious strokes and unique writing style.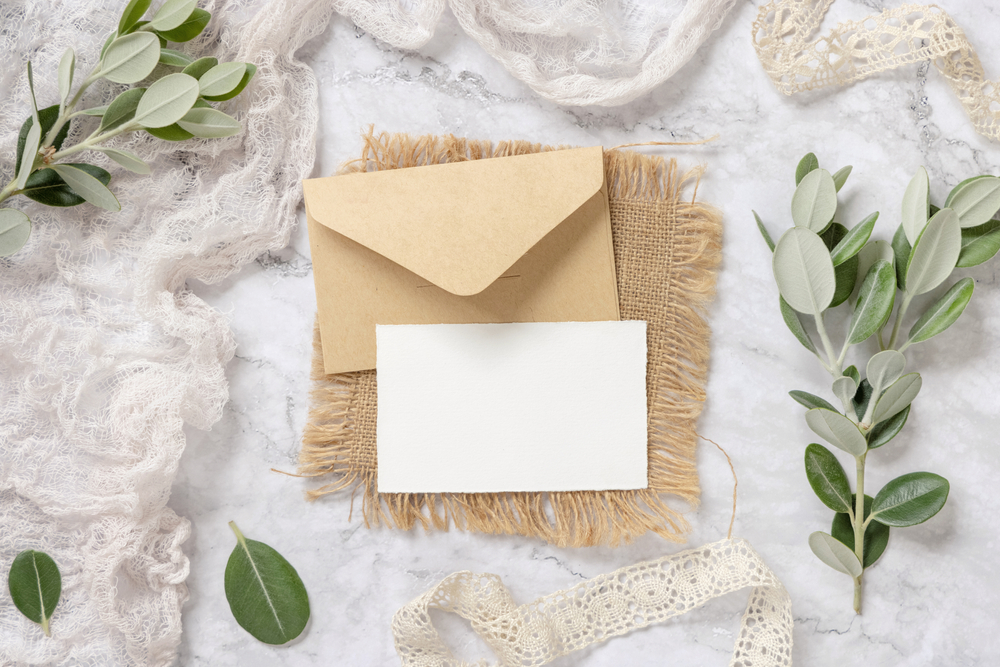 Filipiniana weddings
There's something about a Filipino wedding theme that's just simply beautiful — the elegance of the Filipiniana gowns and barongs and the freshness of the tropical details. Of course, you shouldn't forget about your invites too!
Check out these DIY wedding invitation ideas for a Filipiniana wedding:
Stick with kraft paper or brown-colored card stock for a natural, Filipino feel.
Play with abaca twine, canvass fabric, and add hints of gold accents. Get as creative as possible with raw, natural Filipino materials for your DIY wedding invitation.
You can also mix and match ideas from the sections above as rustic + vintage can create the similar vibes of a Filipino wedding.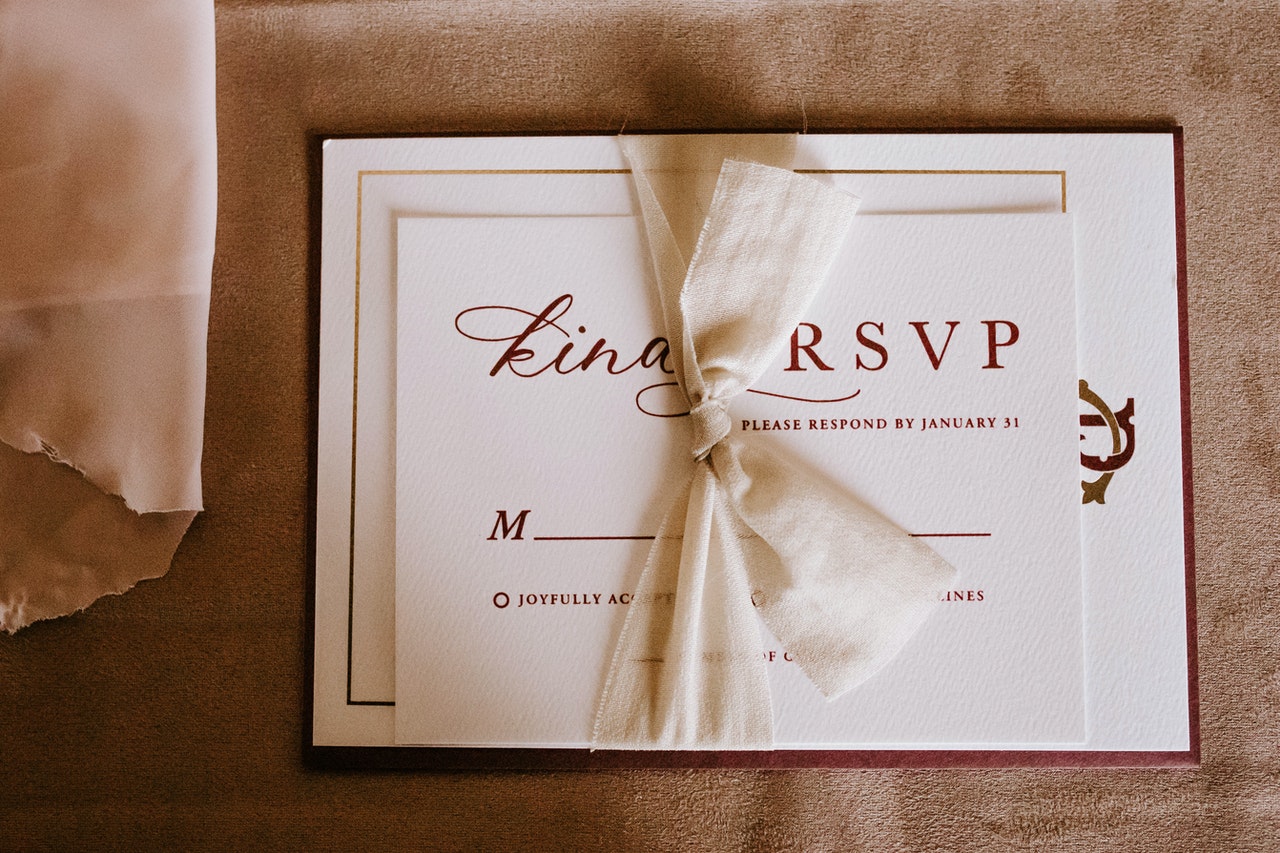 Modern minimalist weddings
There's something about a modern minimalist wedding that's especially pleasing to the eye. A pared-back wedding aesthetic and decor can be just as impactful, and the same goes for homemade wedding invitations.
Check out these DIY wedding invitation ideas that are crisp, clean, and beautiful:
Go for linen card stock or cotton card stock. They're the best options for a minimalist wedding invitation.
Opt to place monogram-style initials at the top and choose a simple colorway to keep the bold typography from looking too flashy.
If you want to add more color, go for a color-blocked invitation that comes in a range of pastel shades.
For font styles, block letters and italics create enough variety to make your DIY wedding invitation pop without it looking too flashy or funky. If you want a touch of whimsy, you can have a combination of script and block writing.
A great minimalist DIY wedding invitation comes down to symmetrical spacing, a simple font, and little to no embellishment. When done right, minimalism has an ultimate wow factor, which is why it's stood the test of time and remains a beloved by modern brides.
Don't Be Afraid to DIY Your Wedding Invitation
While it's important to make sure you've designed or found the perfect wedding dress, it's just as important to have homemade wedding invitations that reflect your unique style and personality. After all, your wedding invitation is the first glimpse your guests get into the theme of your wedding. It's easy to get creative and crafty, as long as you have a plethora of homemade wedding invitations ideas in mind.
Plus, a DIY wedding invitation doesn't have to be expensive! If you're a budget-savvy couple, especially when you consider your budget. Creating DIY wedding invitations is just one of many ways to cut back on expenses. Going the affordable route can still look good as long as you know what to do and where to look. Justine loves costumes, puns, horror films, and blue dresses. A literature graduate from the south, she writes online content for a living but is super shy about others reading her fan fiction.