The time since you first wore your engagement ring has flown by. You've researched on wedding venues and decided on the perfect pre-nuptial location. Plenty of the plans have been made and your upcoming wedding is starting to feel real.
But wait, there's something that you haven't figured out quite yet: What are the parts of a wedding invitation?
Much to every bride's surprise, wedding invitations are actually complicated. They're not as easy as just placing all of your wedding ceremony's and reception's details together.
But not to worry! As always, your resident experts here at Nuptials PH are here to help. Here's a quick primer so that you can learn about the different parts of a wedding invitation and each component's specific functions.
Four Main Parts of a Wedding Invitation
A traditional wedding invitation has four main parts:
This is the most essential part of your wedding invitation. It contains all of your wedding's important details: host line/name of the couple, date, time, and ceremony plus reception location.
Typically used in Filipino wedding invitations, this part is a list of the wedding party. This is a common part in Filipino wedding invitations because of the respect that couples wish to extend to their family, sponsors, and friends.
A card used to confirm a guest's attendance. This part of the wedding invitation contains information like reserved seat/s, contact person, reply date, dress code/attire, and other details.
The envelope ties everything together. It protects all of the other parts of a wedding invitation and it's also where you can place the name of the guest you want to invite.
Parts of a Wedding Invitation: Sample Format
The parts of a wedding invitation can be arranged and worded in countless ways to reflect the changing times and style of your wedding. There's really no trend — you just do whatever makes you feel good and you feel exhibits good etiquette.
However, there are certain customary elements that need to be included in the parts of a wedding invitation.
Here's a list of details that you need to include in your invitation:
Start with the names of those who are issuing the wedding invitation, typically the parents of the bride. Then follow with the groom's parents' names. It doesn't matter who's paying or hosting the wedding, the bride's parents always come first. If one parent has a professional title, include it instead of using courtesy titles (Mr., Mrs., etc.).
If one of the parents is deceased, you can add "late" beside the name or simply add a cross. If both parents are deceased, you can add "represented by" below the parents' names and put the representative's name below. Indicating the relationship of the representative to the bride or groom is optional.
A traditional host line would look like this:
Dr. and Mrs. Julio Santos and
Mr. and Mrs. Christopher David
There are two phrases that are commonly used: one indicates that the ceremony will be in a place of worship (like a church), and the other that it will not.
If it's at a place of worship: "Request the honor of your presence…"
Informal ceremony: "Cordially invite you to join them in celebrating the marriage of their children…"
Informal reception only: "Would be delighted by your presence at the wedding reception of their children…"
However, informal wording is becoming common among millennial couples. I've seen request lines that go:
"I Do. Me Too. Now, let's party!" and "Dancing shoes, food, and booze. Come celebrate with us!"
Whatever phrasing you choose, just make sure it indicates that the guests are being invited to a wedding ceremony and/or reception.
This can be found on the second part of the invitation. The typical wedding officiant is a priest, mayor, or judge. Make sure you get the officiant's title right (Rev. Fr., Judge, or Monsignor). The proper spelling of their name is crucial as well.
As you and your partner are the stars of the wedding invitation, your names should be set off on separate lines. For example:
Maria Santos
and
Juan David
While a.m. or p.m. are traditionally used, phrases such as "in the afternoon" or "in the evening" are also used. Some omit the year although it is often included for the keepsake value of the invitation.
This is one of the most important parts of a wedding invitation. You wouldn't want your guests not knowing where your wedding or reception will be held.
It's common not to include the street addresses of the church or of the wedding reception, but you can choose to include it, especially if they're lesser-known locations. Commas aren't used at the ends of the lines, and the city is always spelled out. There's no need to include the zip code in the invitation.
For example: Manila Cathedral, Beaterio St, Cabildo St, Intramuros, Manila City
To exhibit good etiquette and fairness, it's ideal to list the names in alphabetical order. The gentlemen's line is usually placed on top or on the left side. If two of your principal sponsors are a couple, put their titles followed by the godfather's name.
If the wedding ceremony and reception will be held in the same space, they can be on a single invitation. If you're going to hold the reception elsewhere, using a separate card will be helpful.
R.S.V.P. Line or Reply Card
Couples today generally include paper, envelope, and a stamp to encourage their guests to respond as soon as possible. You can, of course, forgo reply cards altogether and direct guests to RSVP via your phone number or your wedding coordinator's.
However, the option of response cards is to be considerate of older generations. If you think that certain guests might not be comfortable using a smartphone, consider sending them reply cards even if you won't include them as part of your other wedding invitation suites. It's also nice to include one for your ninongs and ninangs, just for good etiquette.
Travel/AccommodationsFor destination weddings, we recommend including a travel/accommodations portion as one of the parts of your wedding invitation, especially if many of your guests will be flying or driving from out of town. The part will typically include hotel and lodging options (complete with the contact details, rates, and amenities of the hotel). This will make the trip easier and more convenient for your guests.

Special DetailsIf your reception won't include a full-course meal, it's courteous to inform your guests. For instance, if you'll only be serving drinks and finger food, use phrasing such as "Join us afterward for cocktails" instead of the classic "Celebrate with us at the reception."If you want to stress the importance of dress code, be it black tie or semi-formal, place that piece of information on the reception card or on the lower right corner. The only detail that you shouldn't include in any of the parts of a wedding invitation — not even as an insert — is your registry information (if you have one).
Filipino Wedding Invitation Wording Samples
Now that you've got the parts of a wedding invitation down, it's time to work on the wording.
For a little help, here are some wording samples that I've personally written. You can use them for your own wedding invitation.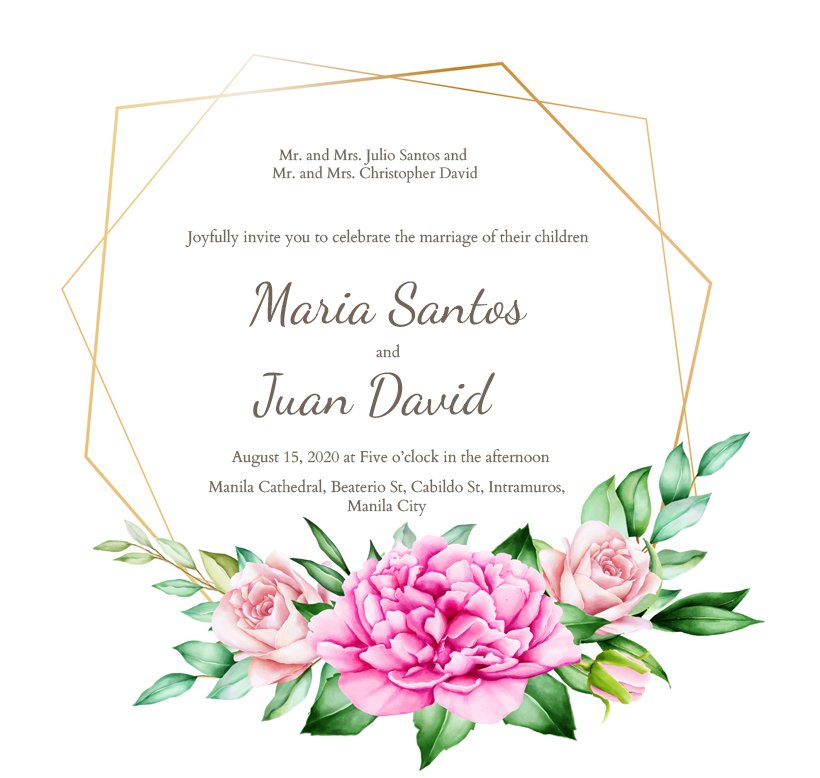 You can also go with more light-hearted phrases such as: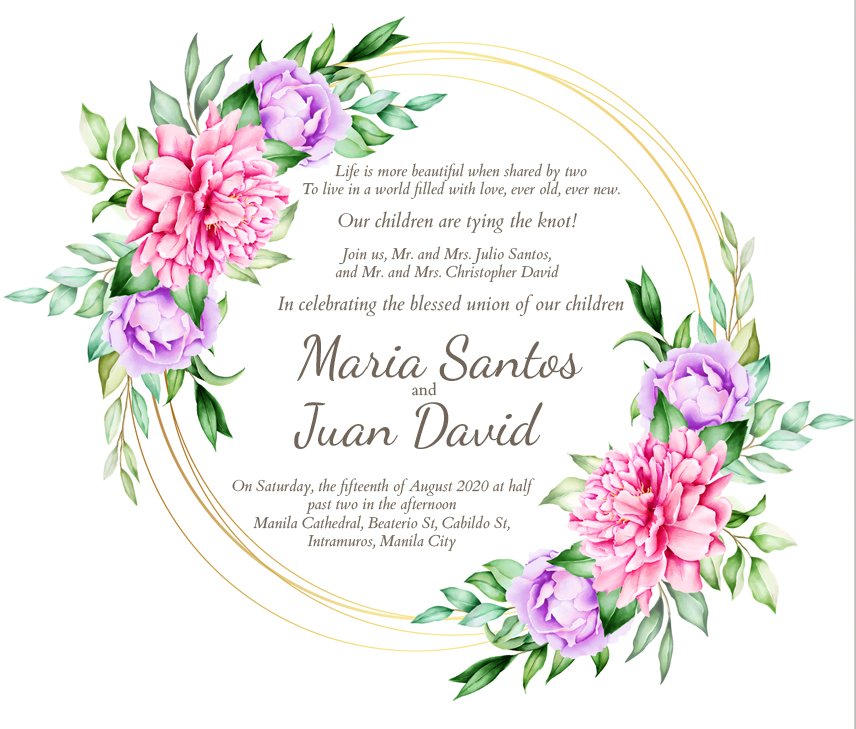 For a special personal touch, feel free to include some of your favorite love quotes, verses, or song lyrics in your wedding invitation. Just keep in mind that your invitation reflects the style of your wedding. If you're going for a formal wedding, your invitation will require traditional and formal wording. But if you're just going to have a small and intimate wedding, you can get as creative and as witty as you want.
Last Bits of Advice
Now, before you go buying pretty note cards from your favorite stationery store, determine the overall design of your wedding invitation by breaking down your wedding day. Use your theme's wedding and budget to guide you through all the beautiful options you'll likely come across. It's extremely helpful to establish a thread of consistency — theme, color, and motif — and apply it to all the parts of your wedding invitation.
Once you've figured out all the details you need to put and you've found the perfect scented stationery, you'll be able to send those invites and even get more excited for the big day, jitters and all. Chryss loves ice cream, literature, and East Asian pop culture. She would like to pet your dog.