Let's not beat around the bush – weddings are expensive. There's booking a wedding venue, hiring a photographer, and finding a caterer… the list of expenses goes on and on. Not to mention the gowns, which, let's admit it, may be one of the highlights of a wedding.
Pandemic or not, it's really not practical anymore to blow thousands (or even hundreds of thousands) of Pesos on gowns, especially if you're only going to use it once. Honestly, have you really reused a gown you've worn as a bridesmaid or maid of honor? I didn't think so.
Introducing the bridesmaid gown and wedding gown for rent, the solution to your budgeting woes. Who says you can't look fancy on a budget? I'm here to show you how you and your bride tribe can get the look for less by renting bridesmaid dresses online.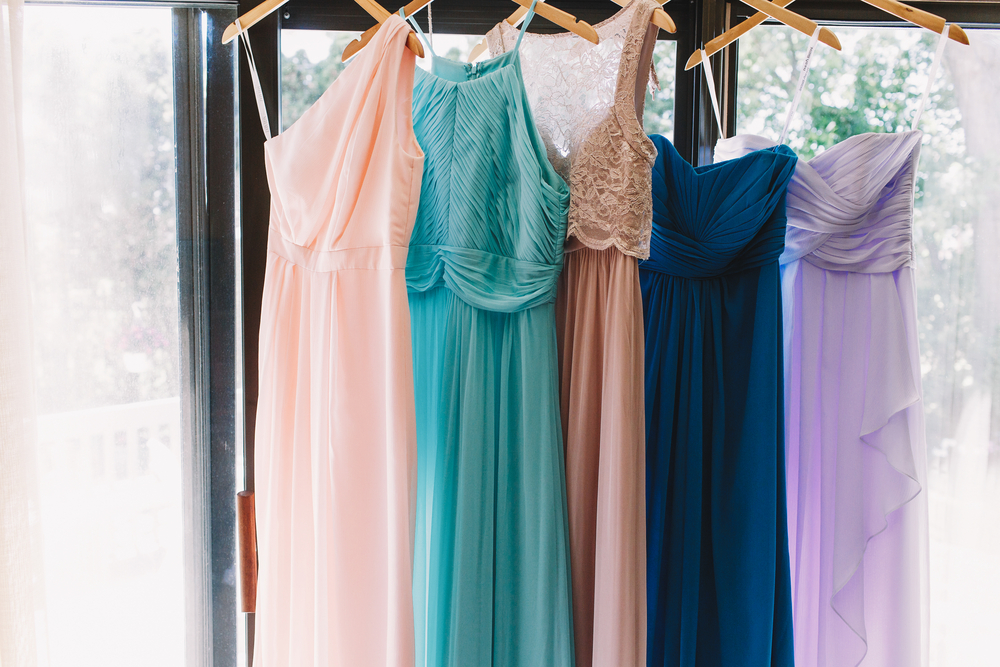 Bridesmaid Dresses for Rent
Luckily, you don't need to worry much about the dreaded price tag of a bridesmaid dress anymore. Whether you're looking at it from a practical standpoint or just want to reduce your carbon footprint, brides and bridesmaids now have more options when it comes to what to wear to a wedding.
Say hello to bridesmaid dresses for rent. The concept is quite simple. A shop carries a range of gowns that brides or bridesmaids can rent for a fixed period of time. Depending on the shop, it can be multiple designs for rent that they've designed themselves or they can be a wedding gown shop that carries ready-to-wear (RTW) gowns from multiple designers. These designers can range from couture the likes of Vania Romoff and Sassa Jimenez to humbler (although not any less chic) Divisoria wedding gowns and bridesmaid gowns.
Gowns for Rent Manila by Damsel
Gown for Rent Manila by Damsel offers affordable rentals which start from as low as P500. If you're looking for a hassle-free entourage set, they also offer bridal packages. Their bridal packages are inclusive of 5-days rent for their clothing, dry cleaning fees, bridal and entourage robes (a must for those fabulous wedding preparation photos), and free use of a mannequin or petticoat for your pictorial.
If you're looking to book their bridal packages, prepare to shell out at least P15,000. Don't worry. This will cover your choice of:
Bridal gown
Groom's barong or suit
Gowns for the mothers
Suits or barongs for the fathers
Maid of honor dress
Bridesmaid dresses
Best man's suit or barong
Suits or barongs for groomsmen
flower girls' gowns
Barongs or suits for ring bearers
Did I mention they have over 5000 pieces to choose from? With so many options available, you're sure to find one that fits your color motif and theme. If you want to see the pieces in person and fit them yourself, all you need to do is book an appointment through their Facebook page. Their friendly stylist will even help you put the looks together!
Brands 4 Lease
True to its name, Brands 4 Lease carries a suite of popular high street brands like H&M, River Island, Apartment 8, and BCBG. It's made its online gown rental as easy as possible by uploading its entire catalog to its Facebook page so you can just scroll through all their photos to find the design you want. Once you've fallen in love with you, it's as simple as filling up their online form and waiting for their confirmation message. Done!
My favorite thing about Brands 4 Lease is that they carry so many pieces with many in the same colorway, so its easy for you to achieve the mismatched bridesmaid look.
Gowns for Rent
If you're down to wire and need to find a great gown for yourself and your bridesmaid in a pinch, look no further than Gowns for Rent. Just send them a message about a fitting, wait for a confirmation, then choose your gown or package.
Gowns for Rent goes beyond just setting you up for your big day! They have dresses, gowns, suits, and barongs that you can choose from for your pre-nuptial shoot, debut, and of course wedding. They offer multiple package options which include many wedding necessities like the ring pillow, bridal and entourage robes, cuff links, and mannequin for your shoot that makes Gowns for Rent a one-stop-shop.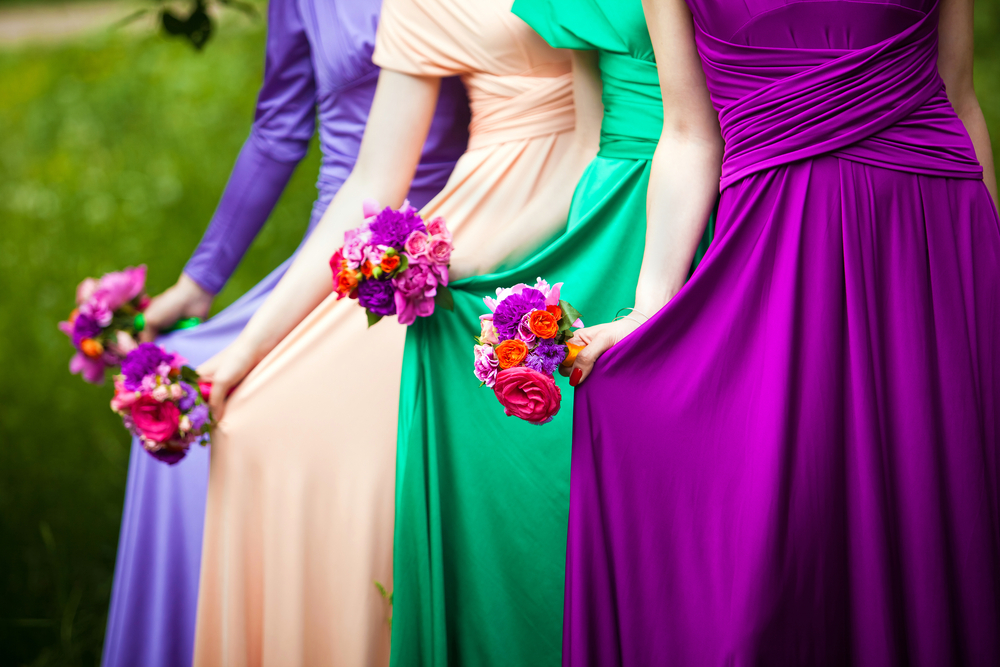 Why renting a bridesmaid dress makes sense
Instead of buying a bridesmaid dress for your entourage (or for yourself) you'll only be wearing once, these places to rent bridesmaid dresses let you rent gorgeous dresses as easily as you would VHS tapes in the past (RIP, VideoCity). These bridesmaid gown rental studios are very inclusive and offer a wide selection of sizes, cuts, colors, and designers to make every bride and bridesmaid happy. Best of all, you only need to pay a fraction of what the gown would retail for, sometimes as low as 1/5 of the actual cost. As the wedding day approaches, all you have to do is have the gown sent straight to your home and its ready to wear. No need to worry about having it washed or dry cleaned. Then, once the festivities are over, just pack it in the garment bag it came in then message the rental place to have it scheduled for pick-up. No more dipping into your savings or turning into Katherine Heigl's character in 27 Dresses with a closet full of bridesmaid dresses.
With the help of these innovative bridesmaid dress rental places, if you've been invited to become a part of somebody's wedding party, you no longer need to turn them down because you just don't have the budget to spare to buy an extravagant dress at the moment. And if you're a bride picking her bridesmaids, you no longer have to worry about leaving someone out or sacrificing your wedding vision because of budget constraints. Plus, your bridesmaids will love you for not making them keep another gown in their closet.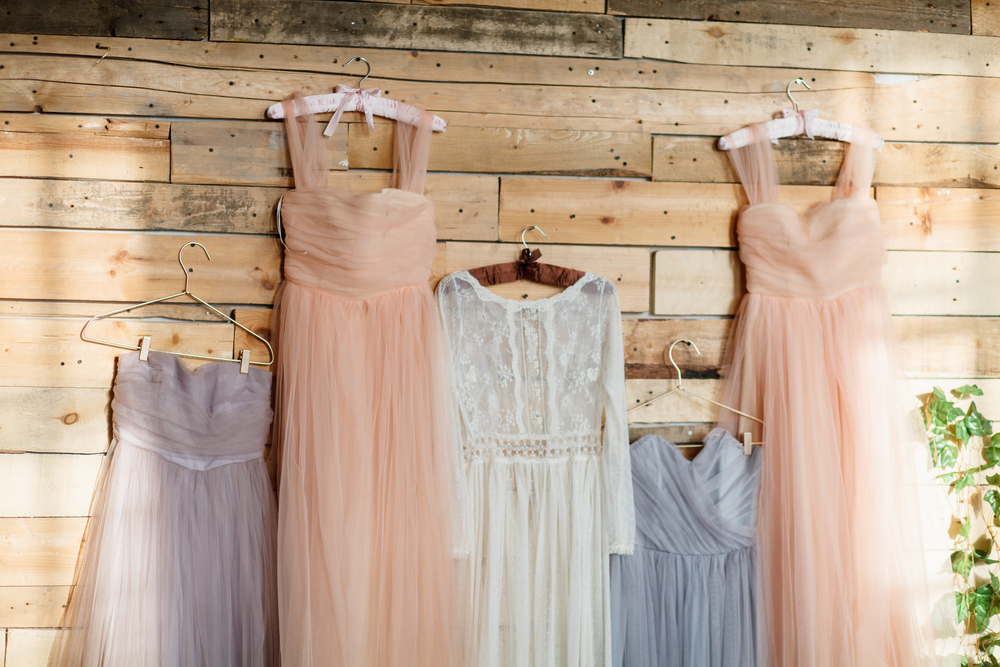 Do I have to have the gowns laundered before returning them?
Each gown rental service has their own rules, so this is a case-to-case basis. For the most part, because gowns are very delicate, gown rental shops prefer laundering the gowns themselves to ensure they don't get damaged during the process. Oftentimes, they need to be dry cleaned and not machine washed, plus special detergent may be needed. This is a good thing because it means there's less hassle on your end! As long as there are no visible stains on your gown, you should be good to go. Just make sure to return it to its original packaging (i.e., a garment bag) or secure it in a similar manner before sending it off out of courtesy.
At the end of the day, every couple wants their entourage to look as good as possible but if this means breaking the bank to do so, it just does not seem practical. Remember that at the end of the day, a wedding is about the union between you and your partner. You can still get that dreamy look you want without spending too much by renting bridesmaid gowns instead of buying them. Not only will you save money, but it may also be more practical as bridesmaid gowns are seldom used again. I hope this list of places to rent bridesmaid gowns have helped you find one you and your bride tribe like. Good luck!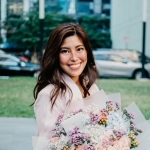 Nikki is a petite, part-time marketing copywriter, and full-time unicorn-chaser with a thirst for exploring the big world. She's on a quest to find the best food, people, and experiences that life has to offer. When she's not busy discovering new cities, she tries to make the world a better place one cookie at a time.