As my mom and every shopper with an eye for great deals say, you can find anything you need in Divisoria as long as you know where to look.
This commercial hub in Manila makes it the perfect place for brides-to-be to scout for things they need for their wedding especially if they're on a budget. From the table trinkets at the wedding reception to the wedding favors for your guests, even down to the wedding dress – Divisoria has them all.
Considering that wedding dresses can reach P100,000 (and even more if you're getting high-end couturiers and big-name fashion designers), some brides-to-be might be dubious about the quality of dresses priced P15,000 or less.
You might have to manage your expectations and your options may be a bit limited, but here is what's in store for you if you choose to buy a Divisoria wedding gown.
Navigating Divisoria
Whether you come from the north or south of Metro Manila, it's not recommended that you enter Divisoria with a car. Because of the narrow roads, sidewalk vendors, and foot traffic, it can take a long time to get your car to go down one street. You can take a car to Taft Avenue, but you'll have to park it there and then commute the rest of the way to Divisoria if you want to avoid the heavy traffic.
From Taft Avenue, either ride a jeep or FX to Divisoria from LRT1's Doroteo Jose Station or LRT2's Recto Station. Some jeeps have different routes, but most likely you'll find yourself along Juan Luna Street.
From there, you can walk to the different malls and shopping areas that sell ready-to-wear (RTW) wedding dresses that you can bring home on the same day or have one custom made for you. Look out for places like:
168 Shopping Mall – you'll find the basement, fourth, and sixth floor mostly dedicated to gowns and suits, making it easy for you to compare prices and gown quality.
Dragon Mall – has plenty of RTW and custom-made options, but it's much pricier compared to the other locations.
Ilaya and Tabora Street – two adjacent streets with plenty of options for dressmakers and fabrics. The good thing about this area is that you can also shop around for affordable wedding souvenirs, prenup props, and other decorations for your wedding. But the downside is that this area isn't air-conditioned like 168 or Dragon Mall, so prepare to sweat a bit trying on some gowns.
How Good Are Divisoria Wedding Gowns?
Just take a look at these brides who managed to pull off an affordable wedding without sacrificing style with these lovely wedding dresses.
Source: The Blahger.com
Yan from TheBlahger.com got the beautiful lace off-shoulder ball gown with an a-line petticoat sweetheart neckline from a store called Blitz at 168 Mall. According to her, the dress and accessories cost her P8,500 inclusive of accessories. She also tried dresses ranging from P10,000 to P15,000.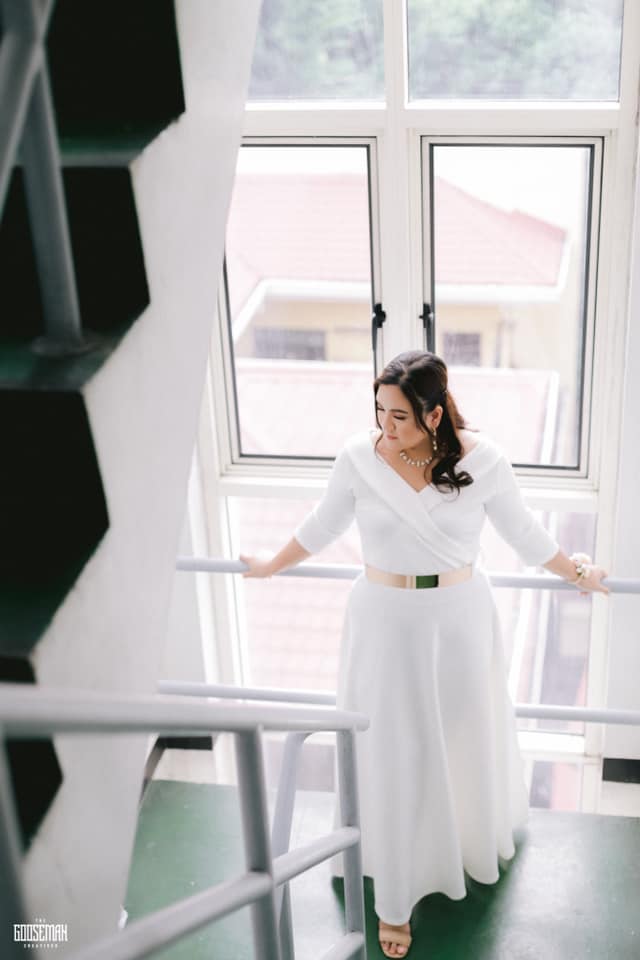 Source: The Budgetarian Bride
The Budgetarian Bride featured Jenn Eugenio Idusora's civil wedding dress from her August 2019. The simple but elegant dress cost her P2,000, inclusive of the golden belt to tie the whole outfit together. She bought the dress from Celest' in 168 Mall.
Rina of the YouTube channel RR26 Adventures went to 168, 999 Mall, Tutuban Mall, and Dragon Mall to find cheap but beautiful wedding gowns for as low as P3,500. Watch her video to see what's in store should you go to Divisoria to hunt for your wedding gown there.
So you might not be getting the designer label on your wedding gown, but you're not sacrificing quality for the price either. As long as you have a good eye for quality and are willing to walk around Divisoria to see all your wedding dress options, you've bound to find the perfect RTW dress or a seamstress that can make a dress to the style you want.
Tips: Wedding Gown Shopping in Divisoria
If you're planning to say yes to the dress in Divisoria, here are a few tips that might help when you go shopping.
Shop Around & Find the Best Price
Going to Divisoria to find your wedding gown can be tiresome, but try not to settle for the first dress you find. Sure, some brides are lucky and end up falling in love with the first wedding dress they try on, but when you're in Divisoria, you've got plenty of options and you wouldn't wanna miss out on a better choice that's probably right around the corner.
Shopping around is also a good way to ensure you're getting the best price possible. Maybe you'll find a seamstress in Divisoria willing to make your dream wedding dress for P15,000, but you'll find another seamstress who can make the same quality of dresses for P12,000. As my mom likes to say whenever she takes me to DV with her and I complain about aching feet two hours in, "Diskarte lang yan."
Consider RTWs
Choosing ready-to-wear wedding gowns have plenty of advantages.
For customized dresses, expect that you'll have to go back to Divisoria to pick up your finished dress. With RTWs, you can go in and out of Divisoria carrying everything you need for your wedding in one go.
RTWs are cheaper than a made-to-order one because these dresses weren't made to exactly fit your body. If you have the right body type, these dresses can be a perfect fit. If it fits but it's not a perfect fit, you have the option of buying the dress, taking it home, and finding a seamstress near your area to do the alterations so that it's more convenient.
Wear Look But Comfortable Clothing
You'll most likely be trying on a couple of dresses, and if you want the best fit (especially if you're choosing body-fitting wedding gown styles like mermaid gowns and fit-and-flares), you're going to have to take your top and bottoms off in the fitting room.
Avoid wearing clothing that's difficult to put or take off, as this can eat up a chunk of your time scouting for dresses. Some stores don't even have dressing rooms but corners covered up with a curtain, and that small space can be difficult to take your clothes off and put them back on.
If you're planning on shopping along Tabora and Ilaya Street, expect to sweat a lot while trying on dresses, as the shops in these areas aren't air-conditioned. If you want to avoid sweating, stick to the air-conditioned malls.
And lastly, avoid wearing jewelry in Divisoria even if it's fake. The area is prone to snatchers who may try to take your visible jewelry when you least expect it.
Look at the Store's Dress Quality
There are some horror stories on the internet about Divisoria wedding gowns, but that shouldn't discourage you from scouting the hub for affordable but stunning gems.
To make sure your dress will look nice on your wedding, carefully inspect the quality of your dress. If it's an RTW, check the details if they looked rushed or done half-heartedly. For custom dresses, look at the dresses on display and observe the craftsmanship. It would also help if the wedding gown shop you choose has a social media page filled with pictures of their past work.
Haggle, But Be Nice
The thing about Divisoria that makes those with an eye for good deals flock to the hub is the ability to haggle. Unlike department stores like Rustans or Landmark where their wedding dresses are at a fixed price, brides-to-be can go to Divisoria and try to haggle for a better price.
But when you haggle, try to haggle for a realistic price. Some sellers may be firm on their price to the point that they may refuse to do business with you if you get too aggressive with haggling. Remember that this is their livelihood, so while you can try to knock off a few hundred pesos off your wedding dress, know when you're pushing their limit.
Give Time Allowance for Custom Dresses
My mom gave me this tip for any time I've had to have a tailor or seamstress custom an outfit for me, and every time I've used it, I've never had a panicky rush during delays (Thanks, mom).
Let's say that you're rushing to plan a wedding and you only have four months before your wedding date. It's obviously going to be a rush order since most wedding checklists recommend having the dress made at least six months before the wedding.
Don't tell your seamstress that your wedding is in four months – tell them it's in three months. A few of them may refuse or request a rush fee, so it's up to you to find one willing to make your dress within that time.
This is important because it gives you an allowance for any delays or alterations. Say that you tell them your wedding is in four months and, a week before your wedding, they say it's delayed. Or you've lost or gained weight and they say it'll take a week to have it adjusted. This can cause so much unnecessary stress on your part.
But if you give an allowance and a cause for delay occurs, you have a month to make up for it. Either that month allows them more time to fix their delay or you can find an alternative.
It is possible to get the wedding gown of your dreams while still keeping to a small budget. As long as you've got a whole day to spare and are willing to do a bit of walking, you could find your wedding dress in Divisoria, getting both affordable and beautiful dresses. Justine loves costumes, puns, horror films, and blue dresses. A literature graduate from the south, she writes online content for a living but is super shy about others reading her fan fiction.