Planning for your wedding is an exciting experience, though sometimes it can be quite expensive, especially when it comes to the wedding party attire. Not only do you consider the bride and groom, but you also need to think about your entire entourage!
Fortunately, you don't have to be alone in dealing with this challenge. We put together this list of wedding party outfits you can find in Manila at various price points.
But First, What is a Bridal Party?
A bridal party – also known as a wedding party or entourage – refers to the group who stands near the couple at the altar or is seated at the church's front pew.
Historically, the term "bridal party" used to only refer to the bride's side; however, the phrase eventually developed into a term that can refer to the entire entourage.
The primary role of the bridal party is to bear witness to your wedding, although they can have their own responsibilities too. Because this sets them apart from other guests, the bridal party is often made up of the couple's closest friends or family members.
Now that we know who the bridal party is, let's consider their attire!
What to Wear to a Bridal Party?
While most people think about the bride's wedding dress when it comes to attire, there's actually a lot more to consider.
Tip: Ask your bridal party to assist with the outfits! 
You don't have to ask all of them to help out, as that can get complicated. Since facilitating clothes for the bridal party is one of the responsibilities of the maid of honor and even the best man, we suggest going to them first.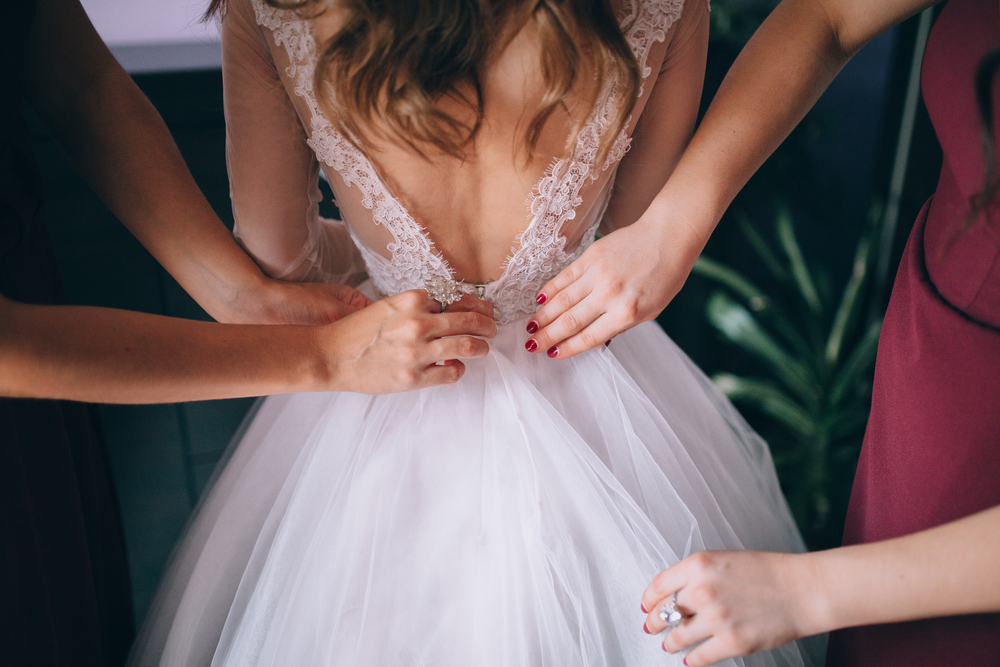 Bride's Wedding Gown
Customizing your wedding gown can be costly. If you're not looking to customize, you might want to find an RTW (ready-to-wear) dress, and then make alterations to the fit and design. 
For example, That One Dress By NX sells designer label gowns from previous seasons, and caters to budgets PHP 17,000 and above. 
If you're looking for something with a lower price range, try looking in places like Divisoria or 168 Mall, which have full gowns for as low as PHP 3,500.
Tip: If a relative can give you their old wedding gown, you may only need to pay for minor adjustments. 
Consider buying second-hand gowns rather than having your own made, since pre-owned gowns can be sold for almost a third of the original price!
Renting is another option. At The Chungdam Bridal Wedding, their collection starts at PHP 12,000. While you won't get to keep the dress, it's practical in terms of cost and space.
Some wedding gown rentals also offer packages for outfits of most of the bridal party and bridal accessories you might need.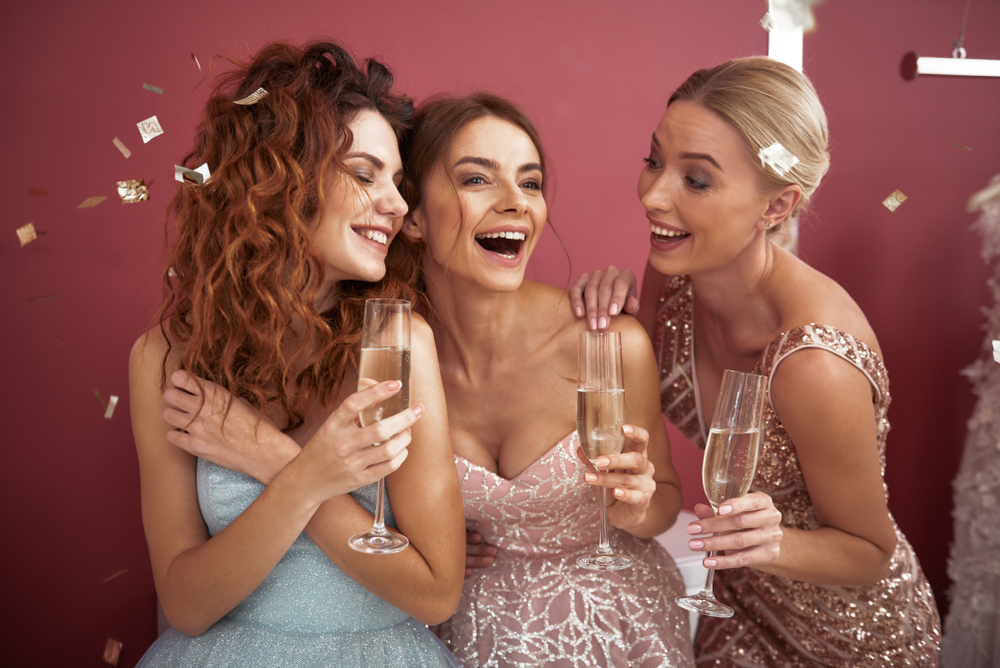 Maid of Honor and Bridesmaids Bridal Party Attire
If you would like to get your bridesmaids their bridal party outfits at a lower cost, then renting bridesmaid dresses is a great option.
Tip: Dress your bridesmaids in infinity dresses! 
These dresses can be used to create different styles and are much more convenient than customizing different gowns of the same color. It'll be easier to ask your maid (or matron) of honor to wear something "different," so that she is set apart from other bridesmaids.
The price of an infinity dress varies. Some designers can charge around PHP 1,500 per dress, such as the made-to-order gowns at Jannah & Keith Fashion Boutique. 
Some online sellers like Infinity Convertible Dress PH offer dresses starting at PHP 900 per dress. However, if you buy from Divisoria, you can find infinity dresses for as low as PHP 500. The quality between these dresses may be different though, so it's best to see the item first before buying.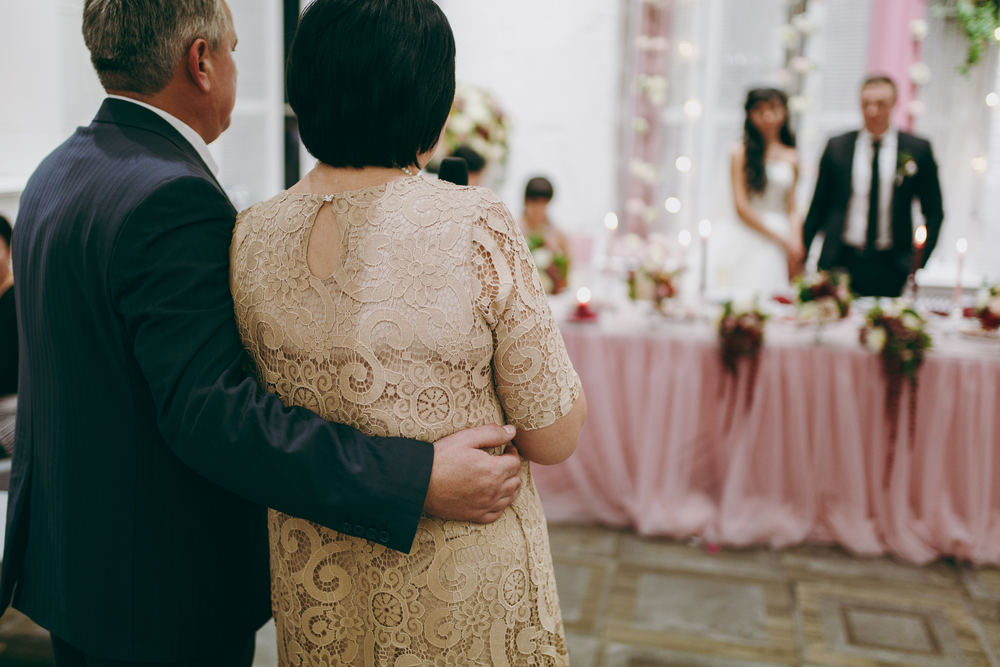 Parents of the Bride Wedding Attire
Parents of the bride have a very meaningful role to play, particularly the father who traditionally "gives away" the bride to the groom. That being said, their attire needs attention as much as the other bridal party participants!
It's important for the bride to speak with her mother to ask for her preferences, and to ensure that her mother's gown does not clash with the bridal gown's design. Further, it's a good idea to give the mother of the bride a gown that is colored differently so that she won't be mistaken for a bridesmaid.
If you're considering a Filipiniana style for your mother, Shanell's House of Wedding Gown sells them starting at PHP 1,800. 
For the father of the bride, a common accessory that distinguishes him is a necktie with shades of white or silver to complement the bride's gown.  
Given that today's definition of bridal party includes the groom's side, here's what they can wear during the wedding ceremony: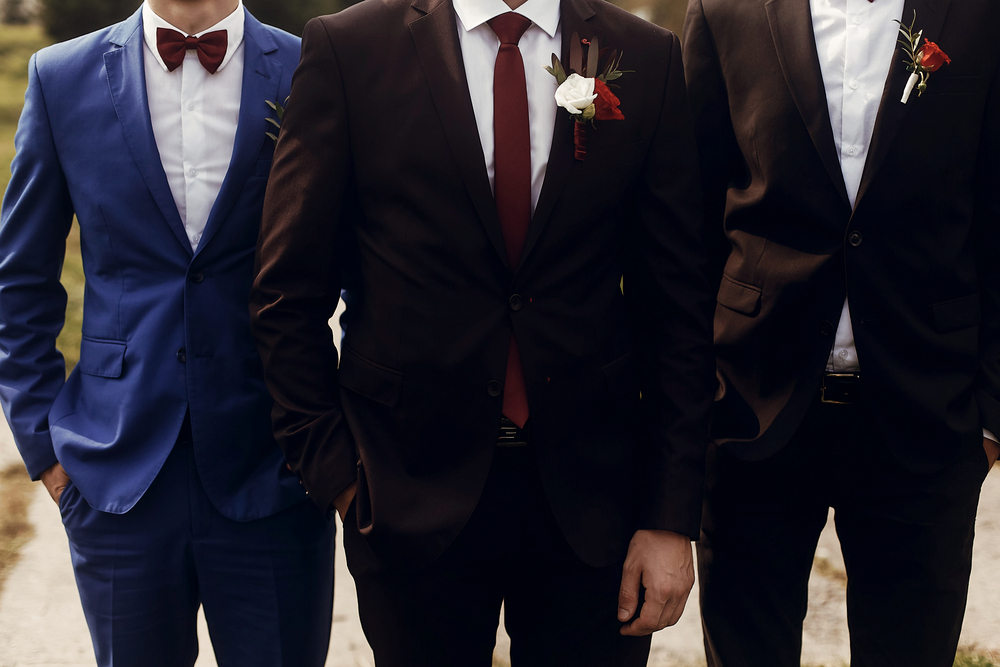 Groom's, Best Man, and Groomsmen Wedding Attire
Grooms are generally limited to two types of formal wear: a suit or a traditional Filipino barong. These are relatively the same price and can likewise be found in Divisoria. A groom's attire is approximately cheaper than a bride's and takes less time to make.
It's more expensive to hire a designer, so if you're trying to save up, you might want to know where to rent wedding suits. Low-end RTW suits from Gardini Fashion Center, for example, cost approximately PHP 1,200 while made-to-order ones cost PHP 6,500.
It's common for a groom and his entourage to get their attire in the same place for uniformity and discount deals. However, a groom should generally stand out from his entourage the same way a bride does in her bridal party. 
Tip: Tweak the wedding accessories for the groom. 
For example, the groom could wear a bowtie while the others wear neckties. Additionally, he can wear a different-colored suit.
Parents of the Groom Wedding Attire
The mother of the groom may also follow the same tips as the mother of the bride. It may be wise to avoid dresses that are too flashy or show too much cleavage, since the bride must be the most striking woman in the room!
To create uniformity between the father of the groom and groomsmen, you can style them in suits or tuxedos of a similar design. This is not a strict rule; sometimes, fathers may not feel comfortable wearing bolder colors and may prefer wearing darker shades.
If the father of the groom will wear a barong instead, Shanell's House of Wedding Gown sells them as well with a starting price of PHP 449.
If you want to distinguish the father of the groom, you can similarly change his accessories such as his boutonnière (the small bouquet fastened to the lapel).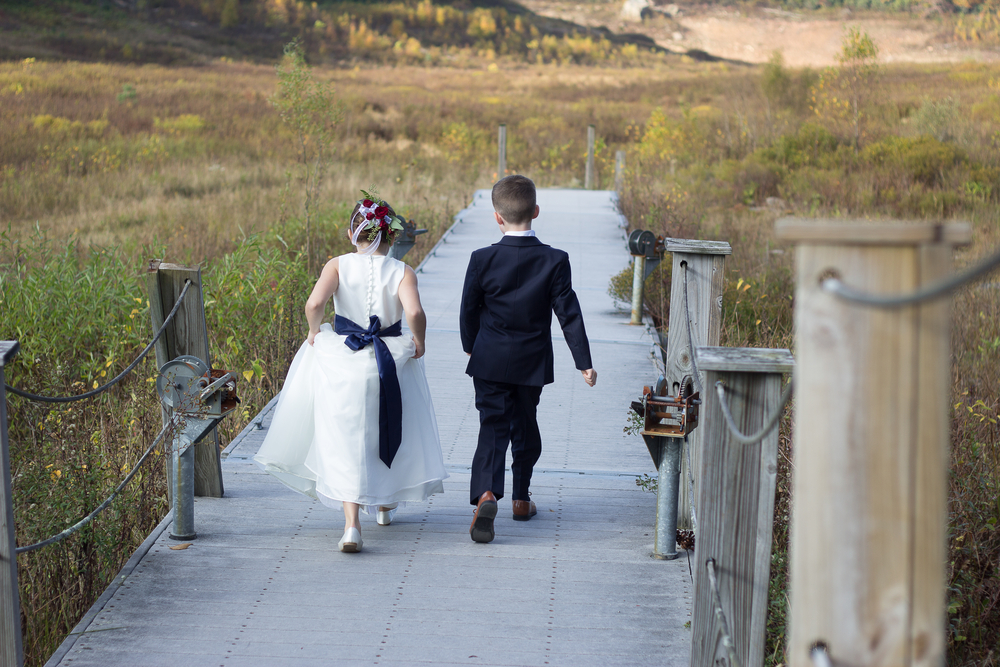 Flower Girl and Ring, Bible, and Coin Bearers Wedding Outfits
A flower girl's dress is traditionally white and may look similar to the bride's gown, though this is seen more in western weddings. Depending on where the dress is bought, a flower girl's dress can cost less than PHP 3,000. At Jannah & Keith Fashion Boutique, they sell flower girl gowns starting at P1,500.
In Divisoria, there are some gowns selling for as low as PHP 500.
A ring bearer may wear a suit or barong, depending on the wedding's theme. If you opt to include a coin bearer and a Bible bearer in your wedding party too, keep in mind that their outfits are usually matched. 
Tip: Bearers often dress similarly to the groomsmen, so don't forget to ask your provider if they have packages for the little ones as well! At the Gardini Fashion Center, renting coats for kids starts at PHP 400.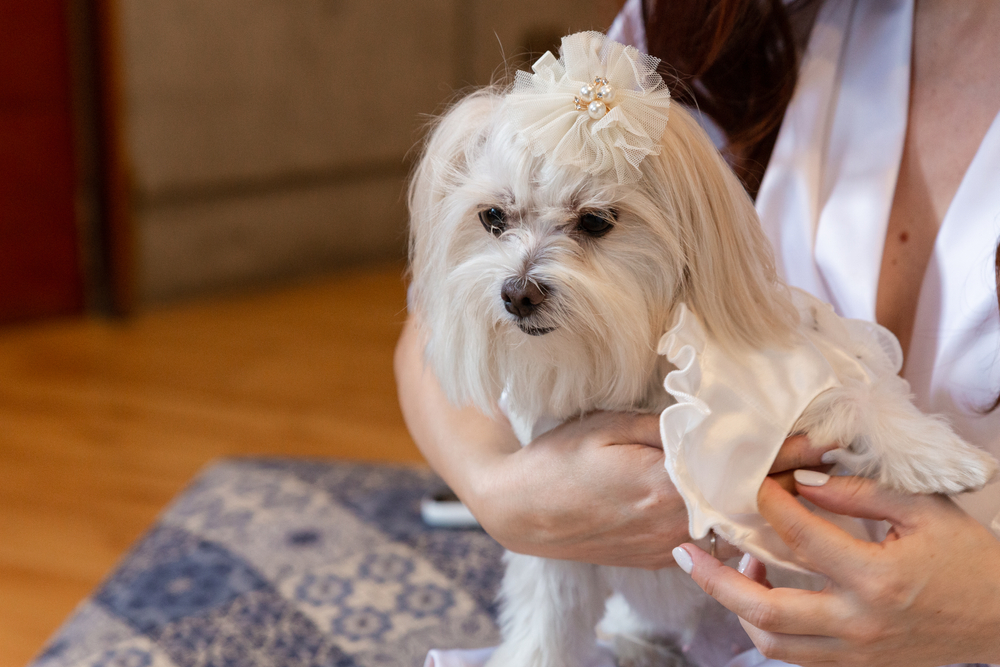 Pets Bridal Party Attire
To add extra cuteness to your wedding, why not include your beloved fur baby? Having dogs in weddings can work, especially if they're dressed for the occasion.
Simply dressing your pet in a bowtie can do the trick, and they cost as low as PHP 12 on Shopee! If you'd like to dress up your pet more, a full dress is available on Lazada for less than PHP 50. 
Tip: If your pet will walk beside your flower girl, you can cover their leash in flowers without additional costs from your end.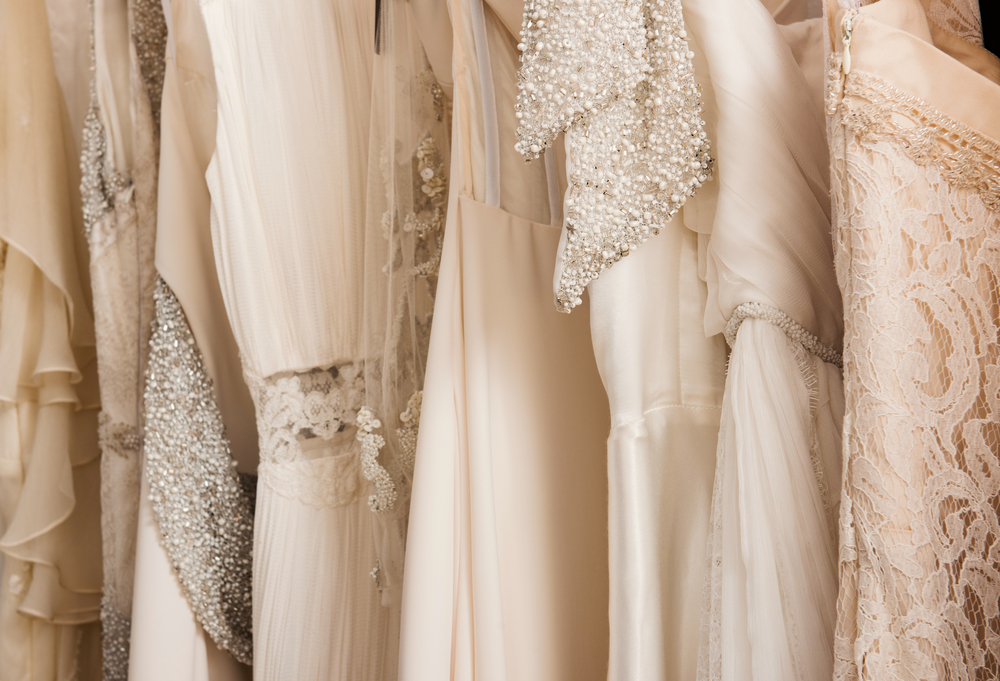 What are the Pros and Cons of RTW?
When planning for a budget-friendly wedding, also consider the advantages and disadvantages of RTW outfits vs. customized ones. 
For instance, a customized wedding dress will cost more than an off-the-rack dress. Additionally, having a dress made may require a lead time of at least six months.
In comparison, RTW wedding dresses are much easier as you can buy and take one home with you on the same day. It's ideal if you have less than six months and limited options, but you might not find your dream dress. 
It may also be difficult to buy RTW dresses if your body doesn't fit typical sizes. You can, however, buy one and have it altered for an extra cost.
When it comes to the attire for the rest of the wedding party, it may not take as long as the bride's wedding gown and can be customized at least five months before the wedding day.
Beautiful Weddings Don't Have to Break the Bank
People say that getting married is expensive, and this is often true. However, there is a lot you can do to cut down on your costs AND still have the wedding of your dreams! 
Aside from the tips we listed, always remember our final tip: this is YOUR wedding, and YOU get to decide on the final details. 
If you want to spend a little more money and you can do so, you have every right! After all, your wedding is an unforgettable experience, no matter what attire you'll be in as you say "I do."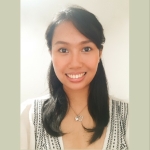 Anjenica's biggest dream in life is to go on a great adventure. While still waiting for a tall wizard to knock at her door, or for a fairy to fly through her window, or for her grandmother to reveal their royal lineage (any time now), she works undercover as a writer who pretends to enjoy playing badminton.