Your big day is fast approaching! Have you figured out your entire wedding entourage list yet?
You may have completed your bridesmaids, groomsmen, and principal sponsors, but what about the little ones who will also walk down the aisle?
In this article, we're going to talk about one of the younger members of your wedding entourage: the coin bearer.
What is a coin bearer?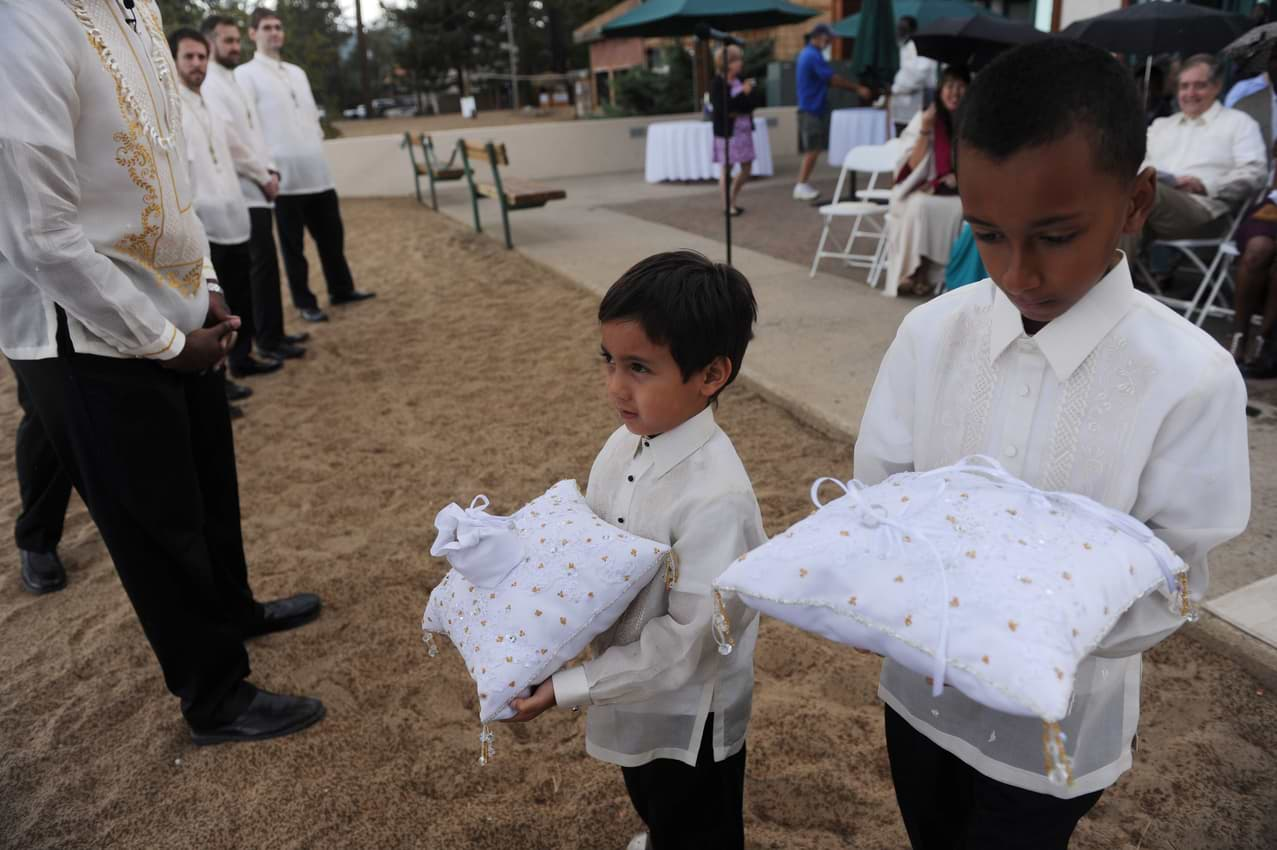 In traditional Filipino weddings, the meaning of the coin bearer is a young boy who marches down the aisle to bring the wedding coins or the wedding arras. He's the one who presents the wedding coins to the celebrant for a blessing.
The wedding coins carried by the coin bearer sit on a pillow. There are thirteen wedding coins in total, as each coin represents wealth and prosperity for each month of the year. There's an extra coin to assure good luck for the newlyweds throughout the entirety of their married life.
Some also say that the thirteen coins represent thirteen words: love, commitment, peace, trust, joy, respect, nurturing, happiness, cooperation, caring, wholeness, harmony, and luck. Others believe that the thirteen coins stand for Jesus Christ and his twelve apostles.
The ritual of the wedding arras and the presence of a coin bearer in Filipino weddings have stayed with us for hundreds of years. This symbolic rite is a wedding tradition influenced by the Spaniards when they brought Christianity here in the Philippines.
What's the recommended coin bearer age?
A coin bearer is often a young relative (such as a nephew or a cousin), a godson, or the son of your closest friend. He's generally in the same age range as the flower girls and the ring bearer, which means that he's typically no younger than three years old and no older than eight years old.
But ultimately, the coin bearer's age range is up to the couple. There's no hard rule about this. As long as he can manage to carry the coins safely down the aisle, he's good to go!
Is it okay if the coin bearer is not a young boy? Definitely! However, there's just something adorable about seeing a cute little boy walk down the aisle with your wedding coins.
Why are coin bearers children?
Simply put, the main reason why coin bearers are children is that it's a fantastic way to include a younger family member at your wedding. He'll look so cute walking down the aisle, at the head of the bridal procession with the ring bearer and flower girls, looking like the groom's personal Mini-Me.
How to choose my coin bearer?
Typically, the coin bearer in a Filipino wedding is the nephew of the bride or groom, or the child of the best man, maid of honor, or another close friend. However, before you choose your wedding's coin bearer, consider the following factors:
His age: The best age for a coin bearer is between three and eight. You can get away with a toddler waddling down the aisle, but they can be prone to tantrums. Boys older than eight tend to be embarrassed with the task of being a coin bearer, so it's better to stick to younger boys who will actually feel excited about their role.
His personality: Most young boys are active and mischievous, so you should consider the personality of your coin bearer. If you think he'll have meltdowns during the ceremony, it's best to choose a well-behaved boy who won't get fussy.
His parents: For the sake of coordinating attire, travel, photos, and the wedding rehearsal, consider whether or not your coin bearer's parents will be easy to coordinate with. For this reason, it's often best to go with a young boy who's the son of an immediate family member or someone from your close friend group.
What's the standard coin bearer attire?
Your coin bearer's attire ultimately depends on the theme of your wedding. So while there's no standard coin bearer attire, he should at least be dressed similarly to the groomsmen. If they're wearing barongs, he should wear one too. If they're wearing tuxedos, he'll look adorable in one as well.
The coin bearer attire should also match with your ring bearer's.
What does the coin bearer pillow look like?
The coin bearer pillow comes in many styles such as the traditional square or a lovely heart. It's usually decorated with stain flowers, rhinestones, and organza. The organza, where the wedding coins are placed, comes in various styles such as satin, silver sheer, gold sheer, and many others.
Where can I find coin bearer pillows?
You can find coin bearer pillows for weddings easily in the Philippines.
For instance, The Wedding Library has a wide selection of coin bearer pillows available on their site. Their wedding pillow sets come in multiple designs (rustic, treasure chest, native, lace, etc.) to suit any theme or motif. As they come in sets, you won't have to worry about the pillow for your wedding rings anymore. The wedding pillow sets start at Php979 with pricier ones reaching Php2,470.
If you're looking for more budget-friendly options, you'll easily find them at the bridal shops in Divisoria. For instance, a 5-piece wedding set that consists of a guest book, a pen set, a flower girl basket, a coin bearer pillow, and a garter with a rhinestone buckle can cost as low as Php2,700. And if you venture out into Tabora St., you'll score coin bearer pillows that cost less than a hundred pesos!
Are you the creative type? Then you can certainly add a personalized touch to your ceremony by making a DIY coin bearer pillow. We found this easy-to-follow DIY ring bearer pillow tutorial, which you can also do for your coin bearer pillow. After the big day, the pretty cushion your coin bearer carried will become a cherished keepsake, especially since you crafted it yourself.
Tips on having a young coin bearer at your wedding
Although optional, having a young coin bearer admittedly adds a certain amount of charm and cuteness to your big day. But what happens when they scream, cry, or misbehave during the wedding ceremony?
Here are some tips to make sure your coin bearer doesn't disrupt your wedding:
Make sure he's not afraid of the presence of many people.
Some kids don't like being the center of attention, while others thrive in the spotlight. We're not saying you should automatically go for a young boy who's naturally confident, but don't pick someone who's afraid of strangers or being looked at by people.
If you have a boy in mind for the coin bearer role, discuss it with his parents first. Make sure they're comfortable with the idea and that their child will be able to handle the attention. Ask them what they need so their son will be calm and well-behaved during the ceremony (like having a grandparent present to help out) and do your best to accommodate them.
If you already have the wedding song that will be playing when your coin bearer walks down the aisle, send the track to his parents so they can listen and practice at home. His parents can even teach him walking techniques and the proper way to carry the coin bearer pillow.
When the child hears the familiar music during your wedding day, they'll know that it's time to put their game face on and walk down the aisle!
Make sure they're napped and well-fed.
You want your coin bearer to be in a good mood during the big day, and this usually means that he should have enough sleep and food. After all, a sleepy and hungry child is a cranky and disobedient one. Even if things get a little stressful, check in with his parents to make sure that their son is a good mood and that he has slept and eaten enough.
Dress them at the last minute.
Kids have a funny way of getting their clothes dirty during the most unfavorable times, and you don't want that happening on your wedding day! Put the coin bearer in his attire as close to the ceremony time as possible. If they need a snack before or during the ceremony, the food should be as mess-free as possible (for example: crackers or biscuits rather than chocolate).
If your coin bearer is at the age where he refuses to wear a bow tie or wants to carry his stuffed toy around, that's okay. They should be comfortable while walking down the aisle. And if your coin bearer refuses to walk at the last minute, don't force them! They could end up crying and further disrupting the ceremony. Prepare a proxy just in case.
Have an adult on standby.
Some kids need a helping hand so they can walk down the aisle. Younger kids may need familiar adults by their side at the beginning and at the end of the aisle. For instance, if a toddler sees his mother at the end of the aisle, it will be a good incentive for him to start walking if he's nervous. Also, make sure the coin bearer is seated with a family member who can excuse themselves from the ceremony when he gets too fussy or fidgety.
Yes, kids are unpredictable but having a young coin bearer at your wedding will delight all your guests and make your big day all the more memorable. It might seem stressful at first, but as long as you prepare for everything in advance, having little ones at your wedding entourage will be worth it!
Lastly, at the end of the day, make sure to give your coin bearer a high-five or a hug for a job well done! It'll mean a lot to them and trust us — you'll need that hug too. Chryss loves ice cream, literature, and East Asian pop culture. She would like to pet your dog.