In a previous article, we answered all of the FAQS regarding principal sponsors. We discussed how many principal sponsors are needed in a wedding, who to choose as your principal sponsors, the roles of principal sponsors, and many others.
But here's the catch! We actually left out one of the most commonly asked questions: How to ask someone to be your principal sponsor?
When you're on the fence on how to ask people to be principal sponsors for your wedding, you've probably gone to multiple forums and wedding boards, only to end up empty-handed.  Well, it's a bit of a complex question, and we're glad you ended up here. We'll ease your worries and guide you on the journey of properly asking your ninangs and ninongs to be part of your wedding day.
How to ask someone to be your principal sponsor
Here's how to ask people to be principal sponsors for your wedding:
Step 1: Have a list of prospects
First things first, decide on who you want to include in your list of principal sponsors. Usually, couples choose people who they look up to and admire. This is because one of the responsibilities of a principal sponsor is being available when you need advice, guidance, or any form of help about married life.
As marriage will have different facets, it's good to have a variety of people you can run to. For instance, you can choose a ninong because you admire his business acumen, or you can choose a ninang because you admire how she practices her faith or even a couple whose marriage you want to learn from.
Don't just pick someone because your parents said so, like a family friend you haven't spoken to in years or a famous politician you've never even met. Pick the people you want guidance from as you and your partner start a new chapter in your lives.
Option #1: Meet up with them
In this day and age of smartphones, it might be tempting to just call or text the people you're eyeing to be your principal sponsors. However, this isn't the proper way on how to ask principal sponsors for your wedding.
While an initial heads up via text or Messenger is good (sometimes even necessary), it's still best to schedule a formal meeting to officially ask them to be a principal sponsor for your wedding. Some couples even head over to the houses of their soon-to-be godparents and bring food or treat them to brunch.
This simple action will foster a strong sense of connection between you and your prospective sponsors. It will also make them feel special that you exerted the effort to reach out. You can even have a nice chat with your future godparents about wedding budget management, marriage practices, and raising children. You'll be surprised that a simple chat can go a long way, and it's always great to hear from people who've gone through the things you're looking forward to in married life.
Option #2: Send a "Will you be my principal sponsor?" card
When thinking on how to ask someone to be your principal sponsor, sending a "Will you be our principal sponsor?" card along with their actual wedding invites is the trend these days. Depending on the designs you want, wedding invites suppliers can do this but with a minimal fee. If you're the creative type and on a limited budget, you can definitely DIY your will you be my principal sponsor invitation.
Don't know what to include in your "Will you be my principal sponsor?" card? You can go with something like this:
Engr. Juan de la Cruz
To stand as a witness of our love
To guide us in our married life
To give us wise counsel
Will you do us the honor of becoming our Principal Sponsor?
Maria and Jose
06.25.2021
Manila Cathedral
Of course, this is just a very basic example! You can change the format and wording however you wish. The important elements to include are the name of your principal sponsor, a short explanatory invite, you and your partner's names, the date of your wedding, and the venue.
Option #3: Invite them on social media
This is quite informal and we don't really recommend this unless the person is based overseas or lives far away. You can either chat them on Messenger, invite them through a private Facebook event page, video call them on Skype, or send an email with all the necessary details. Just be sure that when you do it, you're formal, polite, and most of all, sincere.
Step 3: Brief them before your wedding
Did they say yes? That's great!
After you've received their sweet confirmation, don't forget to send them a text message a few days or even a week before the wedding. Message them a short summary that includes the date, venue, and call time of your wedding. You can also give them the number of your coordination team if you have one. This a great way to stay organized and on top of things.
You can also send your principal sponsors a personal message saying how excited you are to see them. And on the big day itself, make sure they receive extra special treatment once they arrive by assigning someone to welcome and brief them.
Creative ways on how to invite principal sponsors in your wedding
Want to go beyond a simple "Will you be our principal sponsor?" invitation card?
You're in luck as we have a few ideas up our sleeves.
See Also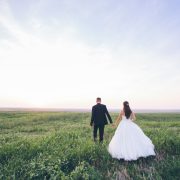 Toast to it!
Planning to head over to their house? Pop the question with some wine or champagne! Not only do you get to sip on some delicious wine, but the conversation will also flow easily between you and your godparents.
If you can't fit a visit into your busy schedule, you can also send your ninongs and ninangs some miniature bottles of wine along with the wedding invites. Manila Wine has an extensive range of miniature wine and liquor to suit different tastes.
Pin it on
Principal sponsors are usually excited to be part of the wedding entourage. You can let them show off their role with customized enamel pins that say "Ninong" or "Ninang." You can actually include the enamel pins along with your will-you-be-my-principal-sponsor card!
To help you out, there are plenty of local custom enamel pin makers such as Artigifts.
A box of goodies
Alongside your invitation, a great way on how to ask someone to be your principal sponsor is by gifting them with a box of goodies that they can use on your wedding day. For your ninangs, you can include a hand cream, a handkerchief, and an abaniko. For your ninongs, you can include cufflinks, socks, and a shaving kit.
With contents like that, they'd be hard-pressed to say no and they'll look forward to your special day.
A travel kit
Planning on having a destination wedding? Get your principal sponsors pumped up with personalized travel kits and accessories that they can use during the trip. It will let them know that you want their travel and participation in your wedding to be as comfortable and stress-free as possible. They can also reuse the travel kits in the future, which will also remind them of the fun they had during your wedding.
Ash & Muff has personalized travel kits that come in various colors to suit your wedding's motif. Each kit contains a shoe bag, a laundry bag, and a bag tag. You can customize each set with frames, fonts, and border designs. Trunk Show Online also has a wide range of travel organizers that you can personalize with your godparents' names. Each name personalization comes with a fee of only Php30.
Entice their sweet tooth
Here's a unique, fun, and delicious way on how to ask someone to be your principal sponsor: order customized cookies that ask the question for you. You can design the cookies however you want and order from bakeries such as Sweet Success and Cottontail Cake Studio, who are masters in customized sugar cookies.
If you're a pretty good baker, you can even make them yourself! After all, homemade cookies baked with love hit differently. If some of your principal sponsors have dietary restrictions, make sure to bake sugarfree or vegan cookies!
Asking people to be part of your principal sponsors can be nerve-wracking. It can even feel like you're proposing several times over. There will be butterflies in your stomach and a nagging fear that some of them will say no.
But in truth, many people feel honored if they're chosen to be principal sponsors, especially if they're people you're close with. That's why you shouldn't worry so much about how to ask someone to be your principal sponsor. As long as you're sincere and their schedule is free on your wedding day, they will surely say yes.
Of course, at the end of the wedding, you shouldn't forget to thank them with special tokens for sponsors. They've made time and put in the effort to be with you on your special day, and they'll be there with you throughout your married life. It's only right to show them your gratitude.
Good luck with your invites! If you've got any more questions for us, share your thoughts in the comment section below. Chryss loves ice cream, literature, and East Asian pop culture. She would like to pet your dog.