Choosing your bridal party may be every girl's favorite part about planning her wedding… well, next to picking your dress, of course. You want to have your best friends next to you as you marry the man of your dreams. But choosing your bridal party isn't as easy as it seems. There are a lot of factors that go into choosing your bridal party – from honoring family traditions to the strength of existing friendships.
What is the difference between a bridesmaid and a Maid of Honor?
A bridesmaid is a member of your bridal party. Think of it this way, your bridesmaids are your closest girl friends, such as your high school or college kabarkadas, cousins, sisters, or officemates. There really is no limit to how many bridesmaids you can have but it generally should be the same as the number of groomsmen your partner will have.
Your Maid of Honor, on the other hand, serves as the head of all your bridesmaids. She'll be your personal attendant during your wedding preparations and especially on your wedding day, assiting you with wedding planning, holding your bouquet, carrying your train, and so on. She is usually dressed slightly differently than the rest of the bridesmaids. She could be wearing the same color but a different cut, or could have a different bouquet or accessories.
If your Maid of Honor is married, she is called a Matron of honor.
How to Choose Your Maid of Honor
When it comes to picking your Maid of Honor, sisters and best friends are the obvious choice. You want somebody who knows you best and who will stick by you through your worst bridezilla moments (whoops). Your Maid of Honor should be able to give her unfiltered opinion about anything – whether it's about the caterer, invitation, decor or even your dress.
On top of being someone you love and trust, your MOH should also be willing to be there for you, sometimes at a moment's notice. At time's when your groom isn't free, or even when he is, you'll want her to be there with you for food tastings, gown fittings, when you scout for venues, and choose giveaways. If your potential MOH works long hours, then she may be better suited as a bridesmaid.
Lastly, your potential MOH gets plus points in the MOH race if she if close to the rest of your bridesmaids. This makes it easier for her to corral them and send them updates about pre-wedding events and reminders about the big day. It will also make it easier for her to take charge on your actual wedding day and make sure your bridesmaids are always in tiptop shape. After all, your bridesmaids are there to serve as your principal attendants and to help you out on your wedding day so they should always be ready should you need them!
Can I Choose a Man for This Role?
It's the 2020 and time's are changing! Who says a girl's best friend can't be a man? If yours is, then by all means, have him be your MOH (Man of Honor). Just be mindful about how this may affect certain traditionally-gendered events like the bridal shower and bachelorette party. It is up to you, your MOH, and your bridal party to decide which events should be inclusive of all genders.
Do I have to Call Her Maid of Honor?
Most modern brides find the term "Maid of Honor" to be strange and, frankly, quite archaic. More modern variants of this term include "bride's honor attendant", "bride's sidekick", "ladies in waiting", or "best woman".
Can I Have More Than One Maid of Honor?
The short answer is: YES. Having two Maids of Honor is especially useful when you have a big bridal party. Let's say you have on Maid of Honor (for example your younger sister) and a Matron of Honor (your childhood BFF). Your sister will know you better than anyone else can and you can always rely on her for her no-holds-barred opinion on everything while your BFF can give you invaluable tips she gained from planning her own wedding.
Your two MOHs can either share all of the responsibilities (we've listed them down below) or they can split them up between them according to what they do best. For instance, if one of your MOH is underaged, she can be in charge of planning the bridal shower while your MOH who is over 18 can be the one in charge of planning your bachelorette party.
If you've chosen two people for the role, you'll need to keep in mind that instead of having one dress that stands out from the rest of the bridesmaids, you'll now need two. You could have them wear the exact same Maid of Honor dress or have a detail that sets them apart from each other.
Having two MOHs also means having two MOH walks down the aisles. This is not a problem if there are also two best men. If there is only one, however, you can either opt to have him escort both women at the same time, or ask another important member of the family (such as your brother) to serve as the second MOH's escort.
The Maid of Honor's Duties
This is one of the most important duties of the Maid of Honor. This is one of the most fun, yet most stressful, duties of a Maid of Honor. Your Maid of Honor will either have to host the bridal shower or co-host it with the rest of your bridesmaids. She'll be in charge of choosing the theme, decorations, fine tuning the guest list, sending out the invitations, ordering the food, planning the entertaining, etc. On the day of the actual party, the Maid of Honor will be in charge of writing down all of the gifts you've received as well as who they were from so that you can send out the appropriate thank-you notes.
It's the Maid of Honor's responsibility to make sure the bride looks her absolute best on her wedding day! She'll be your go-to person when it comes to all your fittings as you find the perfect dress for your big day. She needs to be there to not only provide moral support but to also give you her honest opinions about each one.
You'll be making a ton of decisions for your wedding. From invite designs to color motifs, venue locations to dress choices, caterers, flowers, giveaways, centerpieces, music… it's a doozy! Your Maid of Honor will be there to help give her valuable opinion in times when you just can't seem to make up your mind.
You'll have a ton of things on your mind as you plan your wedding, so you'll need to be able to delegate some of these to your Maid of Honor, such as texting your bridesmaids and passing on important information to them. Your Maid of Honor will be in charge of letting them know about bridal shower plans, color motifs, hair and makeup arrangements, bachelorette party dates, and so on.
Plan the bachelorette party
Your Maid of Honor is in charge of throwing one heck of a bachelorette party to make sure you have one last crazy night before you say I do! Whether it's a destination bachelorette party to somewhere like Bangkok or just a simple bar hopping affair in Poblacion, what's important is that the night will be all about you.
The Maid of Honor usually gives a speech after the best man. This is the time for her to tell your guests about any special memories she has of you and your partner. It can either be funny or tearjerking, but since it is coming from your closest friends, it is definitely always from the heart.
Provide a shoulder to lean on
Wedding planning and your actual wedding day is tough and stressful. You'll need a helping hand and more importantly, a listening ear to vent all your problems and stress away to. This should come naturally to you two given the years of friendship you've shared!
Your Maid of Honor will be your confidant and hypegirl throughout all the ups and downs of your wedding planning. She'll be there for you, just as she has been all those years before, to help you when things get tough and to make you laugh when you're feeling stressed out. Choosing someone to be a Maid of Honor is, well, an honor and is a responsibility that should not be taken lightly. Pick someone who knows you well and you can count on, especially when it feels like nothing is going right for you anymore. While wedding planning can be a stressful time, having the right Maid of Honor by your side can definitely make it easier for you.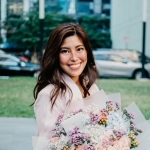 Nikki is a petite, part-time marketing copywriter, and full-time unicorn-chaser with a thirst for exploring the big world. She's on a quest to find the best food, people, and experiences that life has to offer. When she's not busy discovering new cities, she tries to make the world a better place one cookie at a time.