On May 14, 2021, I was fortunate enough to witness Jentri and Flo get married on an afternoon at Gunita Villas and Pavilion, Santo Tomas, Batangas—a wedding that only took weeks to prepare, because of reasons outside the couple's control, like a pandemic and a lil nugget on the way.
Weddings in the Time of Covid
Given the necessary sensitivity for everyone's health and safety, alongside the limitations imposed by unpredictable quarantine restrictions, organizing a summer wedding would be anything but a daunting challenge for any couple. But for Flo and Jentri, it really wasn't a question of, "Are we going to push through?" but more of, "What do we need to adjust to make it happen?"
Flo admits that she didn't encounter any problems sourcing and booking for wedding suppliers, but it was the constant need to reschedule things that proved to be most difficult, having had to change venues four times. With April 30 as their original wedding date and Antipolo as their initial location, the changing quarantine classifications in Metro Manila and its surrounding cities could only afford two weeks of foresight. So, Flo did her research and focused on finding a venue in areas like Batangas, getting in touch with a number of locations before securing the right one—just four days before the wedding.
As someone working in the events industry, she had been prepared for any possible scenario, having options for every moving variable and a ready solution if Plans A, B, C, D, and E didn't work out. And when all else fails, she says that together with her friends, they were determined to wing it.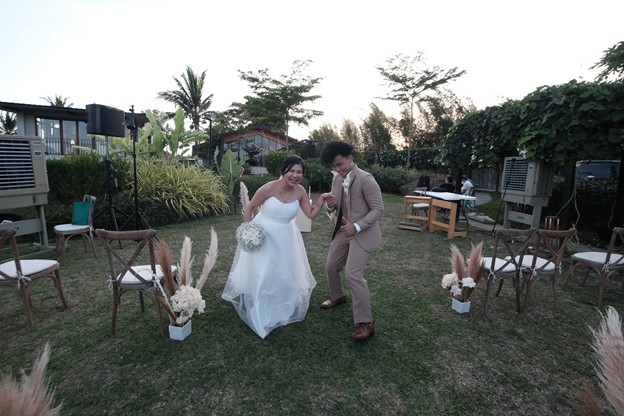 Swab tests were necessary for all the guests to enter the venue; a lush open space tinted with greens and wooden earth tones, which was the closest thing that the couple could get to their dream sunrise wedding in Sagada. Recommended to them by 128 Catering, their godsend of a catering provider, which Flo also describes as the bomb dot com—Gunita provided Flo and Jentri the outdoor wedding venue that they had wanted.
Despite being pressed for time, with the rescheduled wedding date fast approaching, the couple had been willing to make compromises, but they weren't going to settle for any location—"It still has to look and feel right," Flo says, adding that the venue had to offer an overlooking view of nature and require minimal styling. Gunita was a perfect fit for the theme, which reflected their personal taste—natural textures, clean lines, and muted colors.
And since they couldn't celebrate the sacrament in their ideal location, the couple instead shared the little Sagada things that they enjoy through wedding giveaways: coffee, honey, and tablea. True to form as a creative, Flo had prepared mood boards and a deck for everything.
She says, "We were following a certain aesthetic and stuck with it. From the color story, the ceremony and venue, everybody's attire, the flowers, table setting… even the cake! Before searching for and booking anything, I made sure that we had a clear vision of what the wedding would look and feel like."
Being quite particular with these things, Flo adds, "When briefing our suppliers, I would show them the deck and would always tell them that the key is to keep everything as clean and simple as possible. Because then, the less mistakes you can really do with it." This is also why they chose Gunita as their wedding venue, because it already looked good on its own, which minimizes the constant back and forth with suppliers regarding their take on the boards she'd prepared.
"And we're really just lucky with the suppliers we booked. Sobrang kuha kaagad kung ano yung gusto namin mangyari and ang dadali kausap! So shoutout ulit sa inyo!" she says.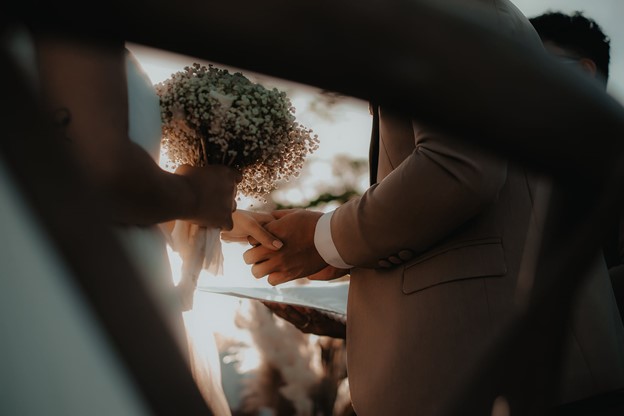 Another limitation that they had to contend with was the number of people they could invite, with the different LGU's quarantine restrictions capping social gatherings to variations of 10, 30, and 50 heads. Initially planning on inviting 50 people, the couple had been mindful of making the wedding happen with the least risk possible, but still have their dearest people share the moment with them. The couple says that they're lucky to both maintain a small group of understanding friends, which made it easier to trim the guest list down to 30.
Budget-wise, the couple came into planning their wedding with a ballpark figure in mind, but contrary to the belief that costs would be more affordable due to the pandemic and suppliers would be more willing to render their services for less, it's the other way around. Flo shares how they had haggled with every supplier just to manage their budget.
If you're like Flo and Jentri, planning a wedding, working, and being pregnant all at the same time during a pandemic is no walk in the park. But making a DIY wedding happen is possible, especially when you and your partner have friends and family to help out.
Flo also adds how lucky they'd been to work with a dedicated on-the-day coordinator, Angelica dela Cruz, to handle the moving parts during the wedding. Apart from having a checklist of things to prepare, her assistance during the special day helped ensure that everything went smoothly and according to plan.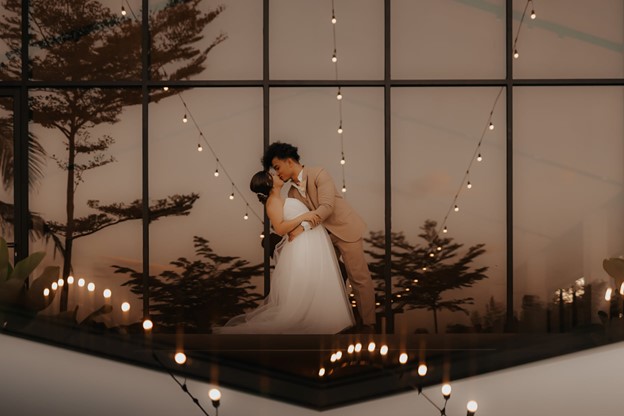 Pagsasagunita sa Nakaraan
Translated in English as, "To reminisce on the past," Jentri and Flo's love story wasn't perfect from the beginning—they started out as officemates in 2015, only finding their way to each other a few years later to grab a bite or share a smoke, working for different companies along Dela Rosa at the heart of Makati's CBD.
"Watching gigs on a weekday and having coffee during the weekend. Anything to spend time together," Flo says, "He's really obsessed with me."
"LUH," Jentri says.
Jokes aside, Flo talks about how there had been a lot of uncertainty at first. They liked each other, but had no idea how to move forward. She thought they were too different; describing Jentri as nice, gentle, and quiet, while she didn't know what she wanted and had a lot of things in her head that needed some working out. This resulted into fights, which she describes as their poor attempts at honesty.
They had tried seeing other people for over a year before deciding to be together. Being in a relationship back then was a struggle, Flo says, recollecting these early stages of their relationship as a form of ululan—they didn't know how to handle each other.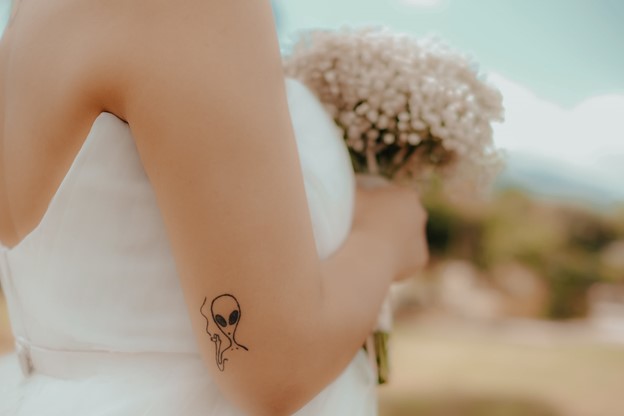 From the constant push and pulls that once sowed the seeds of their relationship, their love has now blossomed into a home.
"Flo is really nurturing," Jentri says, describing Flo as the ever-supportive partner. "She encourages me to do the things I enjoy with no restrictions; whether it's playing basketball in the morning or spending afterhours drinking with friends."
"I'd like to believe that marrying her is really one of the best things that happened to me. I know she's gonna be a great mom, a loving wife, and a cool five-foot person who would still listen to Deftones even if we're 60," he adds.
"I'm not really 5 foot tho. Just saying."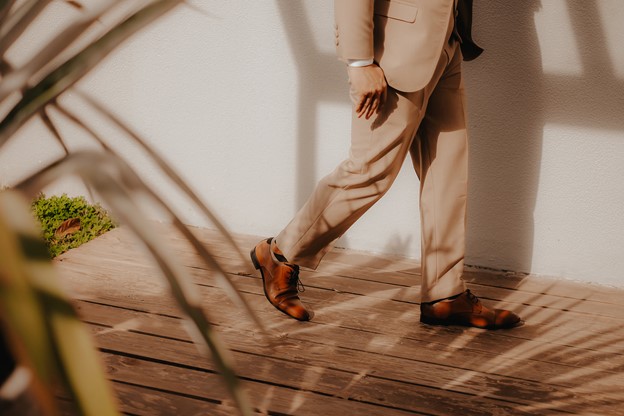 Two Songs We'll Never Hear the Same Way Again
"Flo is someone I count on," Jentri says, "And we connect on so many levels, like puzzle pieces that just fit."
The couple had always discussed marriage sometime in the future, but who expected a baby? Upon discovering their lil nugget, Jentri decided to propose. He then messaged Flo's friends to set up the wedding proposal. They had to spin a tale where Trish Yap, Flo's Maid of Honor, offered access to a resort in Batangas for an outing.
"When I got to our venue, I was anxious. I was thinking of all the things that could possibly go wrong," Jentri says, adding how the cottage next door had been blasting "Kabet" by Gagong Rapper just before the surprise, which would have been a total mood killer.
"But kidding aside, when I sang our song 'All I Want', my voice was shaking and I couldn't remember the lyrics! Siguro kasi, it was the first time that I was really singing in front of someone and having the feeling that it was for something I'll be carrying with me forever," he says.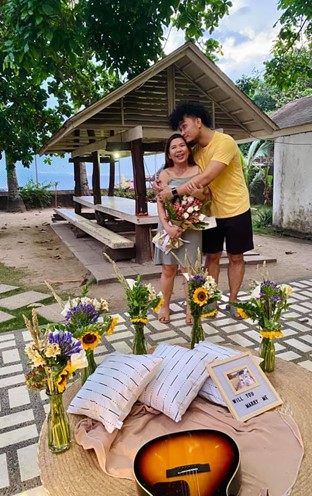 Flo recalls the proposal and says, "Knowing Jentri, who was never really big on gestures and surprises and whatnot, I wasn't expecting a proposal at all. But I really, really appreciated that he made the effort. I was so surprised that I freaked out. Napamura pa ako, kasi literally, galing ako sa palengke para mamili ng pagkain namin tapos pagdating ko dun sa beach house, he was all setup and singing 'All I Want' by Kodaline. Akala ko nga, nagpa-practice lang siya ng sad boy music niya, pero may pa-flowers, so na-gets ko na."
"It's true what I said in the SDE—that Jentri is the quiet comfort of my turbulent soul, as cheesy as that may sound," Flo says, "He makes me feel at ease. I never once felt that I needed to hide anything from him."
"I'm not saying that he tolerates my shit, but it's more of him always trying to understand where all the madness comes from and never being judged for any of it," Flo says, adding how the words, "Trouble I'm In," are engraved in their wedding rings.
When asked what made her realize, man I'm down to marry this person, Flo says, "I never felt that our relationship was, in any way, limiting nor restraining. I don't think I would ever reach this level of ease with anyone else; and I don't wanna do life with anybody if it isn't like this."
Incidentally Trapped in Outer Space
In an outdoor ceremony down south of the metro, surrounded by a wide open sky and infinite shades of green, the sound of leaves brushing against the foliage, the couple exchanged their vows. One-half promising, "All I can do is give you a place full of love, whether you choose to call it home, it's up to you." And the other half, "I may not promise to have your patience or your gentleness, but I know I can offer you my love and all its intensities."
Jentri and Flo have been living together for the most part of their relationship, so it wouldn't have been harmful to assume how marriage shouldn't feel any different, right? Flo admits how she wasn't expecting anything out of the ordinary, but to her surprise, "Iba pa rin talaga," she says.
"It sounds cheesy and weird and I don't even know if that's possible, but it's like we're in a deeper kind of love. A calmer one. There's so much patience and understanding and tenderness, even in our most mundane moments. I'm pretty sure this is part of the honeymoon phase they're all talking about, but I'm here for it."
"For the first time ever, I find myself genuinely looking forward to, and unafraid of, the future. Because I know it will be with Jentri and our little nugget," Flo says, "There's a small part of me that wants to fast-forward, but again, I'm just taking it in and relishing every moment as they come."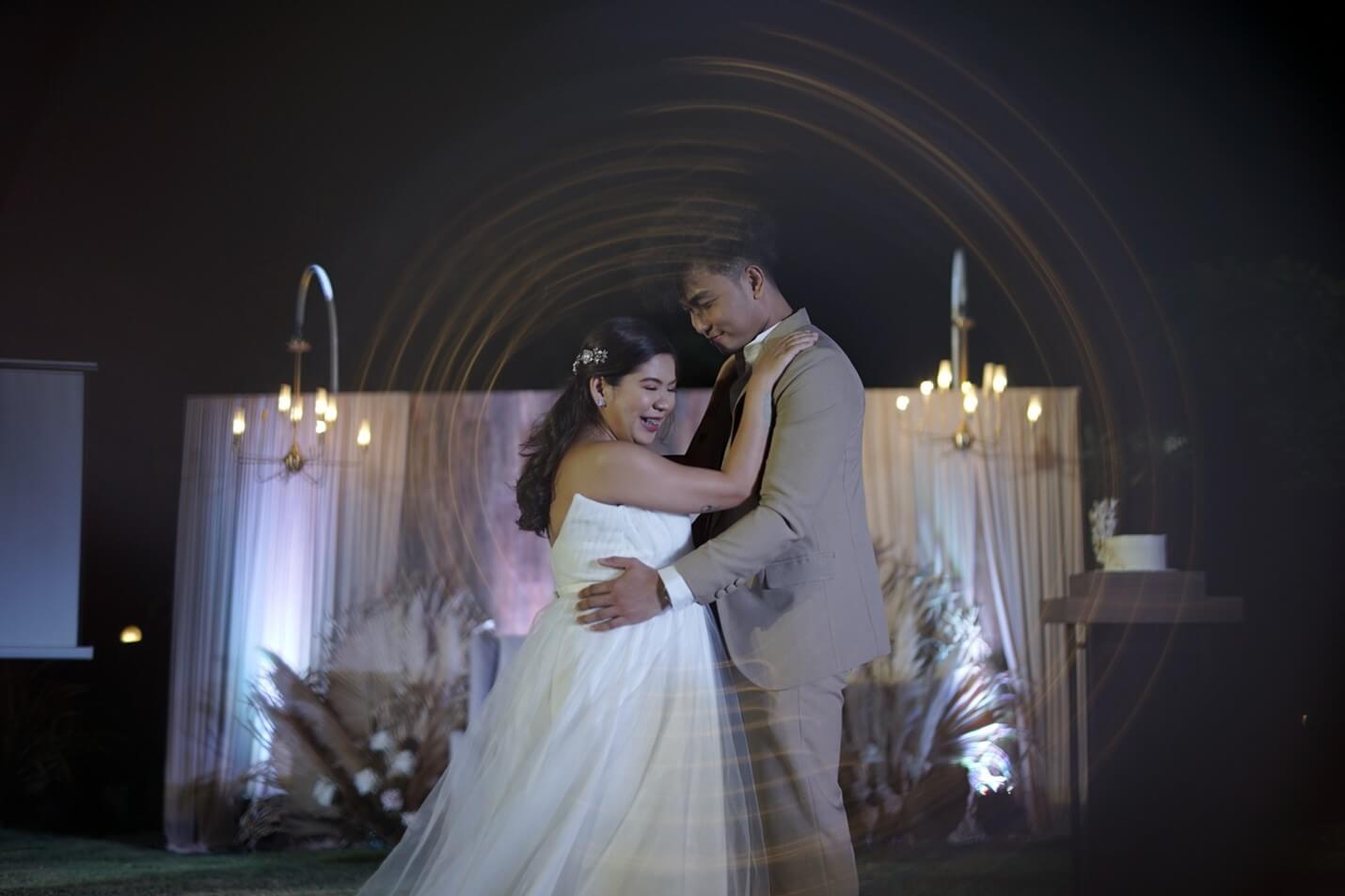 About two months since the wedding, Jentri reflects on how married life feels like. Sharing his post-wedding thoughts, he says, "It feels great. Di ko pa rin mapaniwalaan minsan. I always talk to her about our future and how I look forward to every second of it. Maiiyak pa nga ko minsan eh!"
And Flo, on talking about starting a family, says, "I'm genuinely happy and looking forward to it. I'm not worried, because I know what kind of person Jentri is, and I'm certain he's going to be a great dad. Pero sa totoo lang, 'di pa rin talaga kami makapaniwala minsan, para kaming mga ogag na natatawa sa sarili namin. But mostly, we're really happy and grateful to be in a place where we can simply feel that our hearts are full with contentment."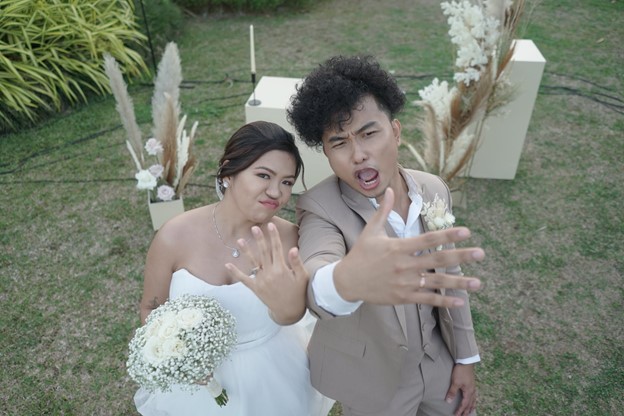 As a work friend and bandmate of Jentri's for the last five years or so, I've had the privilege of witnessing—albeit in slivers of moments—how Flo and Jentri are like as a couple. I can remember that two years ago, they'd once served as hosts to Timmy and myself for Jentri's birthday. I had seen the deliberateness in care, looking after us for the entire trip to San Pablo, making sure there had been no shortage of tender loving; homecooked meals, whisky, and beer. And just like all the other times they've hosted us at their place—whether it's a fifth-floor apartment unit in Mandaluyong, a two-storey townhouse in Alabang, or through their old stomping grounds in Laguna—Flo and Jentri's wedding showed us what it feels like to be home.