Once your guest list is finalized, you have one more thing to plan when it comes to your guests: the seating arrangement. Planning out a wedding seating chart may seem like an arduous task at first, but it's one of the things that can elevate your wedding reception from fun to unforgettable. After all, a good seating chart not only makes things simple, it also ensures that everyone's having fun with their company.
Contrary to what most movies and reality shows depicting stressful family feuds and conniving bridal cliques getting in the way of your wedding plans portray, planning out your wedding seating chart shouldn't be a stressful affair. If you're thinking about who you should place with whom or which table should have the bridal party members, we got you! Plan out the ultimate seating arrangement for your reception and seat your guests in comfort with these wedding seating chart ideas.
How do you seat guests at a wedding reception?
Before you actually create a wedding seating chart, there is the matter of actually seating your guests. The fact of the matter is that there are no hard and fast rules when it comes to seating arrangements. Just like most weddings, your seating arrangement will come down to your personal preference and judgement.
To help clear things out for you, here are some of the commonly asked questions when it comes to wedding seatings:
Where do the parents sit?
This one is entirely up to the couple. Traditionally, the bride and groom's parents, grandparents, and siblings are seated in one table or are seated close together. This gives both sides of the family a chance to get to know each other and celebrate their children's marriage. If your space doesn't allow you to have a large table for the family, you may also consider seating the parents at the head table with the couple or have a long rectangular table set aside for the immediate family members.
Where do I seat the children?
If you have a lot of children as wedding guests, it might be time to consider having a children's table as part of your wedding seating chart ideas. For a children's table, make sure that you can have someone keep an eye on the kids and that you set up activities that will keep them engaged. This lets the parents relax and enjoy your reception, while the kids socialize with each other and have fun. However, if you have less than five kids on the guestlist, it might be best to just seat them with their parents.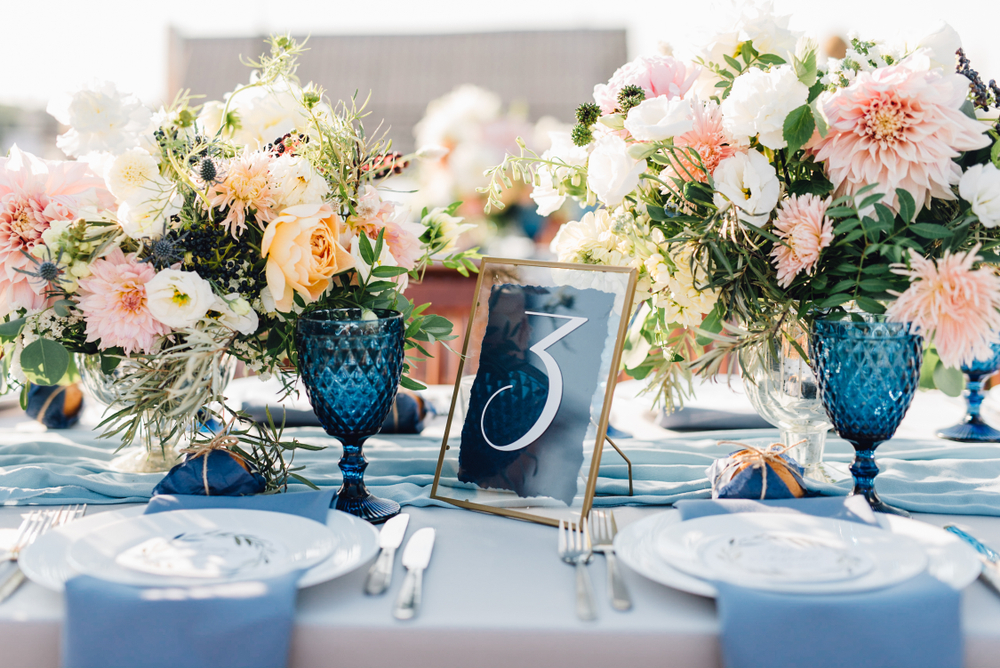 Should there be a "singles" table?
While weddings do have a romantic atmosphere, a wedding seating chart that has a table pointing out all the single people might ruin that ambiance. Skip out on having a designated singles table and instead seat friend groups together. If there are a lot of single people and you want to play matchmaker, consider your guests' age, interests, and backgrounds. Who knows? Maybe your wedding will also be the start of a new love story!
What do I do for people with a bit of a bad history?
Sometimes, your guest list will inevitably have some people that don't have the best history together. Lessen chances for friction or drama by making sure that these guests aren't seated together! Avoid further hiccups on your wedding day by making sure that everything is well-prepared.
If you're still double-checking everything, you can look through our wedding guide to make sure you're not missing out on any important details.
Do I have to make a wedding seating chart for a small wedding?
Seating arrangements aren't mandatory, and sometimes for an intimate wedding, you don't really need to make one. Still, this depends on both the venue and ultimately, you. Keep in mind that a wedding seating chart helps keep things organized and that some venues might require you to have one.
Do I have to make a wedding seating chart at all?
Again, this is entirely up to you. However, just like making a wedding budget, a wedding seating chart lets you get a clear picture of your guests and how the night's interactions might go. If you're pretty confident with the socialization levels of your guests, then feel free to nix this. Otherwise, having a seating arrangement is a great starting point for your guests to mingle and interact with each other!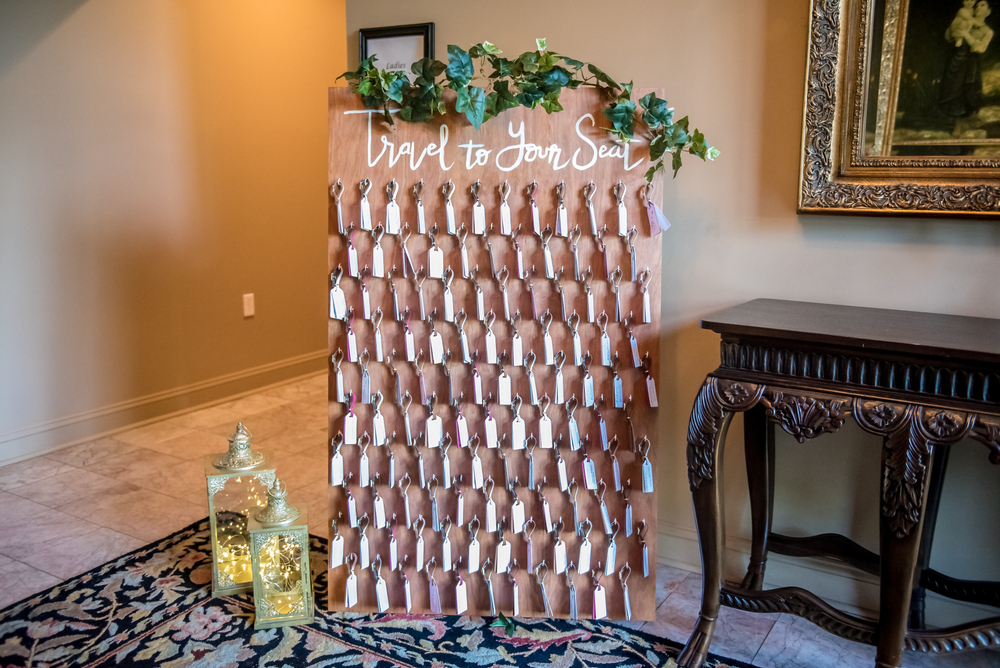 Creative Seating Chart Ideas
Once you have a seating arrangement done, it's only a matter of letting your guests know where their seats are located. Aside from the actual seating arrangements, a good display can also show the wedding program flow which can help your guests know if they need to prepare their speeches or if they should start cutting down on the drinks.
Let your creativity flow and get some inspiration from these creative wedding seating chart display ideas!
Chalkboard Sign Wedding Seating Chart
This one is a classic wedding display! Chalkboards are a budget friendly display option for couples looking for a cute, convenient, and easily adjustable accessory. Chalkboards are easy to dress up or dress down and can easily fit a rustic wedding theme or an elegant high class theme. If you will be using a chalkboard as your wedding seating chart display, have a trusted calligrapher write down your seating arrangement to fit your wedding's theme.
Banners as Wedding Seating Chart Displays
If you're going for a more free-spirited, bohemian-themed wedding, try using bright colored banners to display the seating arrangements. You can hang these banners as a large display near the entrance or as accents near the table themselves. String up some fairy lights for that added glow and you have yourself a soft, intimate set up.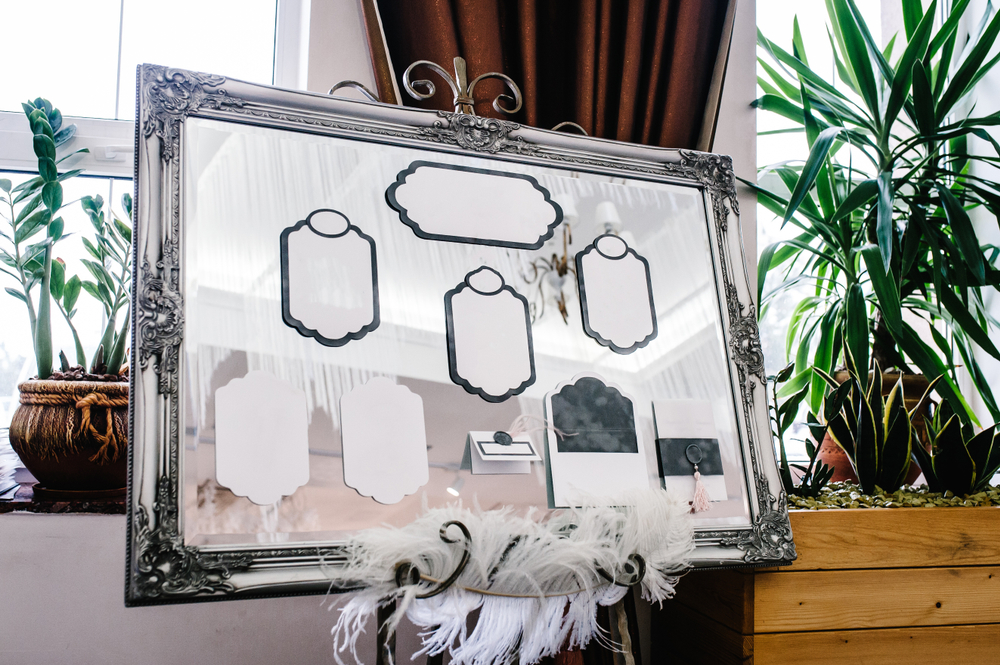 Mirror Displays
A mirror is a unique and elegant way to display your seating chart. Wedding mirror signs are creative wedding seating chart displays that can be both whimsical and elegant. Make sure that the lettering is neat and not smudgeable. If you're going for a more vintage vibe, find a mirror that has an ornate frame to match your theme!
Lucite Displays
Sometimes, all you need is something crisp, simple, and clean. A lucite display is a unique seating chart idea that gives your wedding a modern look. Couple it with an elegant flower arrangement and you have a wonderful display that's polished and elegant.
Art Displays
This one's for the more whimsical and artistic couples! If your wedding has a theme or if you and your partner have a motif in mind, you can incorporate that into your wedding displays. Try having a series of art display signs be the bearer of your wedding seating chart. It's a great way to showcase your love for art and it's a great photo-op background as well!
Go Digital
Sometimes, less is truly more. When creating a wedding seating chart, your main objective should be that your guests and everyone involved with the wedding know where they should be placed during the reception. Creating a digital wedding seating chart is a quick and easy way to do this, all while being able to keep track of everything at the palm of your hand. A software like Social Tables allows you to create your chart, move people around, and share the chart with caterers, venue rentals, and other important people to keep in the loop.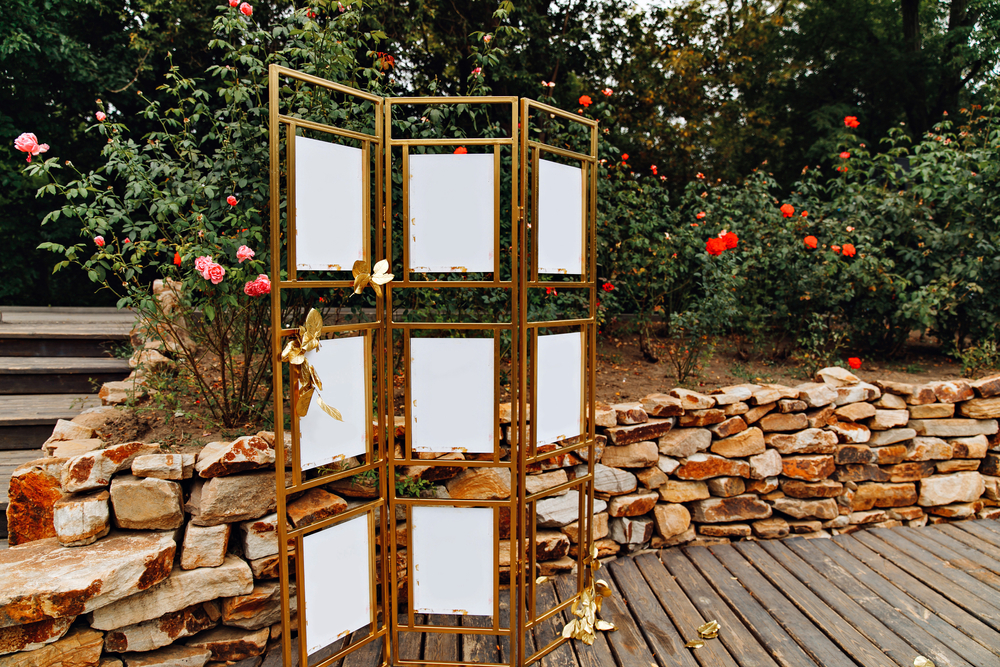 Finding the perfect seating arrangement
At the end of the day, you want your wedding to be a happy event filled with laughter and celebration. Whether you decide to create a seating arrangement for your guests is entirely up to you. After all, if everyone is comfortable enough with each other, then a seating arrangement is not really going to stop them from socializing.
A wedding seating chart is there to help you and your guests enjoy your reception to the fullest! Plan it, rearrange it, and rearrange it once more until you find the perfect seating arrangement for you and your guests.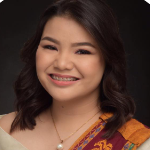 Joey Cole is a digital content writer from Laguna. When she's not looking at her task list, she's probably obsessing over another anime show, looking at pictures of food, or adventuring all over Faerun with her online DND friends.