With so many great places in the Philippines, you'd think that choosing your wedding venue would be a piece of cake. But with the wealth of choices available, be it for a church or a civil wedding, selecting the best one for your big day can be overwhelming. There are also many factors to consider when choosing a wedding venue such as the vendors you'll work with, your theme, your decorations, if you'll need accommodation, and so on.
Choosing your wedding venue isn't easy but it can be a very fulfilling and inspiring experience. Here's our ultimate guide in selecting the perfect wedding venue that meets your budget and wedding theme.
What to Look for in a Wedding Venue
First up, choosing a wedding venue requires a checklist. With a checklist, you can easily track your non-negotiables and stay organized when touring venues.
Here's a complete checklist on what to look for in a wedding venue:
Date Availability
This is the most important non-negotiable in your "choosing a wedding venue" checklist. After all, if the venue isn't available on the date of your wedding, it's an instant no-go.
Finalizing your wedding date should always be the first thing on your wedding checklist. After all, you can't really book the venue, vendors, or suppliers until you have a confirmed date planned. If your wedding date is at least a year away, it's highly likely that the wedding venue you really want is still available. However, don't delay booking the venue especially if you're booking during peak season or if your venue is a highly-sought out the wedding venue.
On the other hand, if you're rushing a wedding and have less than a year to prepare, it's highly likely that your dream wedding venue may already be booked. With a few months left to go, your choices of venues may already be narrowed down. There's a possibility that the venue you want most is still available, but if you're aiming for peak season or a high-demand venue, it's highly unlikely.
Location
Next, you can further narrow down your options by picking the general location where you want the wedding to be held. For example, my friend and her partner aren't getting married in the next few years, but they've agreed to have the wedding in Tagaytay. Aside from the fact that Tagaytay has a special place in their hearts because of all the good memories they have there with friends and family, it's roughly the middle point between Las Piñas (where my friend's immediate family and most of her friends live) and Batangas (where her partner's family and friends live).
As it would be impractical to host a wedding in provinces like Rizal or Baguio since everyone is in the south, their options are limited to venues in Tagaytay and, in case they change their minds, somewhere in southern Metro Manila. Thinking this way when going about on how to pick a wedding venue is helpful and more practical because it allows you to narrow down your locations, wedding reception themes, and the kind of venue to expect.
Distance
If you're holding a church wedding, consider the distance from the church to the reception venue as well. Holding your wedding ceremony in Tagaytay in the early afternoon and then your reception in Makati in the evening is okay if you know all your guests have a ride and you're holding it on a day when traffic isn't particularly bad.
But if you know most of your guests don't have their own ride or will find it difficult to travel between the ceremony or reception, you have three options: provide transportation to make it easier, make your wedding reception venue closer to your ceremony venue, or expect that many of your guests will be no-shows at the ceremony but present at the reception. Ideally, your ceremony and reception venue should be close to each other. But if you have the means to transport your guests, you can have the two venues farther apart.
Size
When deciding on how to choose a wedding venue, consider the size of your actual wedding and guest list. Do you want a small intimate wedding venue, a mid-sized venue that can fit an average wedding or a large open space for a grand wedding? Your venue's size can affect how comfortable or snug your reception will be, as well as how pricey the venue will be.
A bigger venue is generally more expensive than one with a smaller capacity, but this ultimately depends on what venue you and your partner want. A long guest list and a small venue may make your guests uncomfortably squeezed together and leave barely any room for dancing and mingling (especially if you're wearing a large ball gown), but a small guest list with a massive venue can mean a lot of empty space that might not look good in the pictures.
Décor
If you have dreams of custom decor, address any restrictions with the venue so you can reach a happy middle ground. Be aware of any possible limitations or extra costs and note whether their staff can be responsible for setting up.
Pay attention to the existing decor of the venue. What is the architectural style and what does the building's interiors convey? The less the ambiance matches the theme of your wedding (rustic, fairytale, classic elegance, etc.) the more decorating you'll need to do to make up for it.
Also, ask what types of crockery, cutlery, linen, and tables are going to be part of the package. If you have a specific wedding theme in mind, all of these are going to be important so you can pull off the aesthetics that you envision for your big day.
Food
Everyone likes good and delicious food, right? Of course! Delectable, mouthwatering dishes make your event all the more memorable. When choosing your wedding venue, make sure the quality of the food they serve is up to your tastes and can suit the dietary requirements of your health-conscious guests.
If the venue doesn't have the ability to cater, make sure the lines of communication between the catering company you hire and the venue will be open so that it's easier to finalize the menu and arrange the logistics.
Services and Amenities
When figuring out what to look for in a wedding venue, never overlook the extra services and amenities that the venue can offer. For instance, is there sufficient parking for the guests? Will equipment be provided by the venue? Are the rest rooms or powder rooms clean enough? All of these minor details matter in the grand scheme of things so make sure you settle them before deciding on a wedding venue.
If you're looking for a good deal, look at what your venue offers. Two venues might offer roughly the same venue size and type, but one venue can offer only space while the other offers lights, sounds, catering, and a holding room for the wedding entourage. Some wedding venues also offer catering and charge corkage for outside caterers, so add that to your total costs when comparing prices.
Accommodation
If you have many guests coming from overseas or other provinces or if you're holding the reception outside of the city, consider whether the venue has its own accommodation or is near accommodation options where your guests can stay overnight.
It's wonderful to hold your dream wedding in a beach or a ranch tucked away near the mountains, but you have to make sure your guests are able to hail a ride after the celebration or have a nearby place to sleep. After all, you don't want your guests to feel unsafe or inconvenienced.
Price
Of course, you can't book it if you can't afford it. When figuring out how to pick a wedding venue, ask for a quotation; give them your date and estimated number of guests to get a more exact price. This is bound to change after looking at the venue and letting them know your plans for the wedding because some venues have extra charges such as corkage fees, additional platforms, additional hours, and additional charges if you're going to be bringing in things like LED display boards that use up more electricity.
Factors to Consider When Choosing a Wedding Venue

Choosing a Wedding Venue in the City
If you live in Metro Manila, choosing a wedding venue in the metro is the practical choice in terms of planning and for your guests. Having everything in Metro Manila means you don't have to go out of town to view potential venues and book suppliers. Your guests can easily commute or take a Grab to your ceremony and reception since Grab covers the whole area. This means traveling is not a problem since they don't have to deal with booking overnight accommodations. You might have to deal with the city traffic and the loud noise of the city depending on your location. However, the ease of getting to your wedding can also have its drawbacks.
Pros
You won't have to worry about accommodations for guests living in Metro Manila.
There are plenty of transportation options available 24/7, making it easier for your guests to attend your wedding.
As cities act as a central hub for so many wedding planning businesses, you'll have a wide variety of vendors to choose from. You also won't have to pay for travel fees and it will be easier to coordinate with your vendors.
Cons
Traffic might be an issue, especially if your venue is along major highways and thoroughfares.
Tougher competition when booking venues and suppliers.
Choosing an Out-of-Town Wedding Venue
Going out of town may take a few overnight trips to the venue in the course of planning, but if your dream wedding is one away from the city and in a special place you can't find within the Metro, then going to the beach, a ranch, or an exclusive resort to celebrate your big day can be worth it.
Pros
You can only hold beach weddings, farm weddings, and destination weddings outside of the city.
Out-of-town venues are ideal for small, intimate weddings since you have the assurance that those dearest to you will go out of their way to attend your big day.
You'll have scenic backdrops that will make your wedding photos all the more beautiful.
Cons
You will have to pay an ocular visit and arranging food, decor, entertainment will be a bit of a hassle, especially if you don't have a wedding planner.
Not all of your guests may be inclined to go, especially if it will require overnight accommodations or flights that come out of their own pocket.
It's good courtesy to pay for the overnight accommodations of your wedding entourage. All of these costs will add up.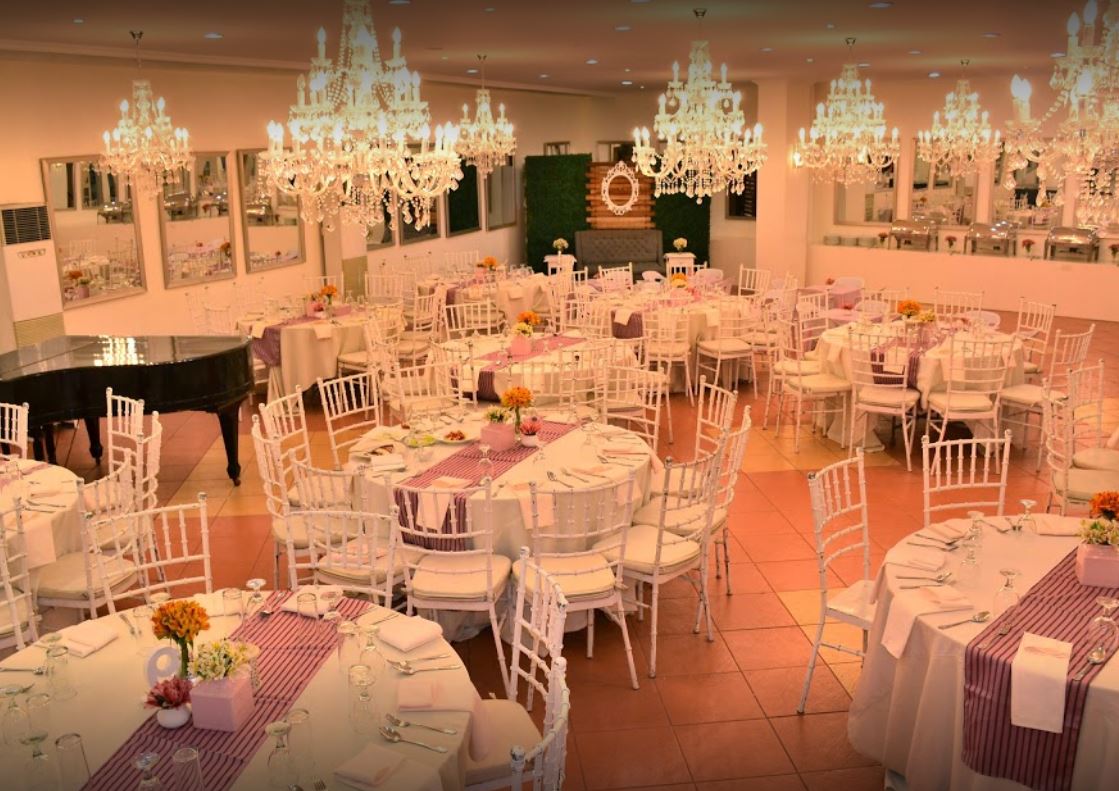 Choosing an Indoor Wedding Venue
Usually air-conditioned, indoor venues offer themed rooms or the opportunity to transform a room into your dream reception venue. However, they do come with certain restrictions.
Pros
Even if it rains, you, your guests, and your decorations will not be affected inside.
Rooms with certain styling already provide a theme or a setup that can complement your theme.
During the hot season, you won't have to worry about your guests feeling uncomfortable about the weather.
Cons
There are some indoor venues that require you to use their preferred vendors, like the lighting designer or the florist. Many hotels also don't give the option of rearranging tables to suit your layout preference.
Many indoor venues restrict clients from decorating the walls and ceilings. There's also less room for creativity. For instance, if you decide to have a rustic-themed wedding, you can't have a s'mores bar or a campfire in the venue.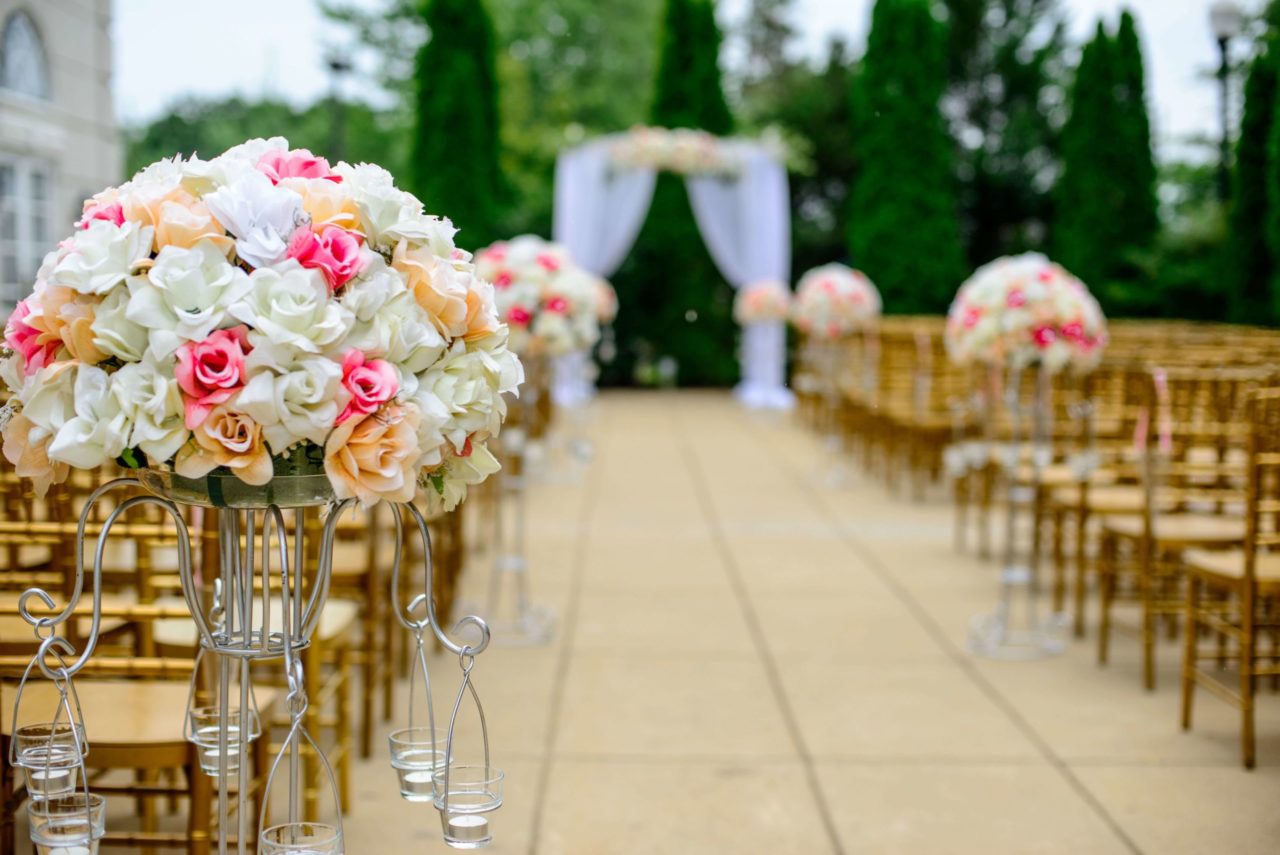 Choosing an Outdoor Wedding Venue
Whether it's on the beach, a forest, or a farm, an outdoor wedding can be very serene and romantic. The great outdoors offers the opportunity for you to channel natural elements and provide magnificent panoramic views to your guests.
Pros
You can significantly reduce your decor costs. After all, who needs extravagant decorations when a spectacular sunset, verdant landscaping, and lush trees serve as your backdrop.
Mountain scenery and fresh air makes you and your guests feel far removed from the hustle and bustle of the city. It makes the event more romantic and intimate.
Cons
Inclement weather and changes in temperature are out of your control. Having an indoor venue as a backup plan is a must.
Tent rentals can be expensive, as well as tables, chairs, and other rented items that are typically not included in outdoor venue sites.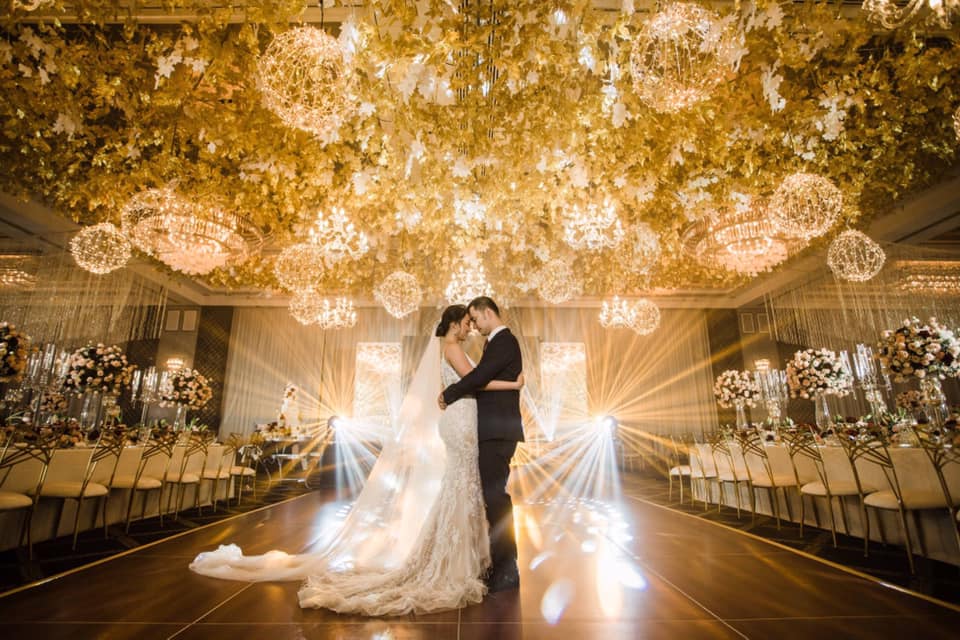 Popular Types of Wedding Venues in the Philippines
When figuring out how to pick a wedding venue, it helps to look over the types of wedding venues in the Philippines before choosing the best one for your big day. Take a look at the popular types of wedding venues across the country.
Affordable Wedding Venues
Is budget one of the primary factors to consider when choosing a wedding venue? A good way to save on your wedding is to learn how to pick a wedding venue that doesn't sacrifice quality for a reasonable price. Affordable wedding venues such as 38 Valencia Events Place, B Hotel, and Plaza Ibarra in Quezon City all offer packages that don't break the bank.
High-End Wedding Venues
If money isn't a huge factor when you're choosing a wedding venue, wow your guests with a luxurious wedding reception venue. Some high-end options include Balesin Island Club, Sofitel Philippine Plaza, and Blue Leaf Pavilion.
Restaurant Wedding Venues
Love good food? Then choosing a wedding venue is a piece of cake (pun intended!) if you decide to hold it in a restaurant. Aside from delectable dishes and mouth-watering cuisine, you get an intimate atmosphere and exceptional service in a restaurant venue. For sure, your guests will go home with a full and happy stomach!
Small and Intimate Wedding Venues
Intimate weddings are wonderful. They've got the glamor and sentimental quality of a big celebration with less stress and only your closest ones please. What's more, there are many stunning small and intimate wedding venues in the Philippines where you can celebrate with those you hold dear.
Garden Wedding Venues
Garden wedding venues such as Patio Victoria in Intramuros, Narra Hill in Tagaytay, and the Glass Garden in Pasig aren't just perfect for couples who love the great outdoors – they're perfect for anyone who wants to celebrate their special day amidst lush greenery, fresh air, and a vast blanket of twinkling stars come nightfall.
Beach Wedding Venues
The Philippines has a long list of beachside wedding venues that offer marvelous views of the sea. El Nido Resorts in Palawan, Shang-ri La Resort and Spa at Boracay, and Acuatico Beach Resort & Hotel in Batangas are just some of the most popular beach wedding venues in our archipelago.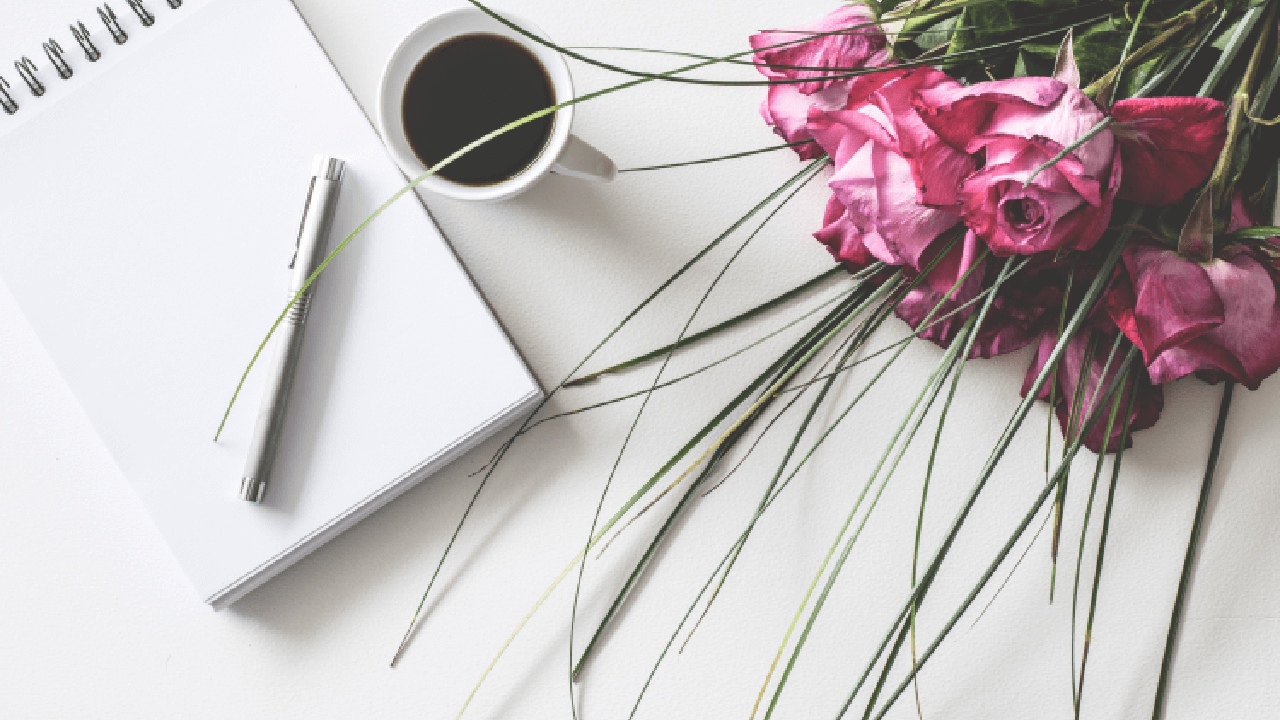 What to Ask When Looking at Wedding Venues
Finally, before we end our "choosing a wedding venue" checklist, make sure you ask these questions before booking the venue for your big day:
How many guests can the space accommodate?
What's the distance from the ceremony location?
Is the wedding venue near hotels or accommodation options?
What kinds of services do you offer?
How many hours does the rental cover?
What are the logistics for rentals?
What kinds of restrictions do you have?
Can we hire outside vendors?
What's your deposit/refund/cancellation policy?
What time can my vendors begin setting up?
Can we bring our own decorations?
Are we allowed to rearrange?
Choosing a wedding venue is one of the most vital steps in planning your wedding. After all, it's typically what will shape the rest of the day and even the barest of spaces can be turned into a stunning wedding venue.
As long as you take note of the factors to consider when choosing a wedding venue that we listed above, you'll find the best space where you'll hold the most momentous occasion of your life.
Happy searching! Justine loves costumes, puns, horror films, and blue dresses. A literature graduate from the south, she writes online content for a living but is super shy about others reading her fan fiction.