https://www.facebook.com/IntramurosPlazaSanLuisComplex/photos/a.995285720629394/995285907296042/
In the course of planning your wedding, choosing your wedding venue should be one of the first things you need to do. After all, it'll be impossible to plan a wedding without a date, time, and venue, and you need to see what's available. If you're having a traditional Catholic Church wedding, booking the church is an entirely different matter. But when it comes to booking a wedding reception venue in the Philippines, you have plenty of unique options to choose from.
So, how do you select the perfect venue to meet your budget and wedding theme? Here's what to consider, the different types of wedding venues, and some venues you might be interested in.
Confirm Your Wedding Date
Finalizing your wedding date should always be the first thing on your wedding checklist. After all, you can't really book the venue, vendors, or suppliers until you have a confirmed date planned. If your wedding date is at least a year away, it's highly likely that the wedding venue you really want is still available. However, don't delay booking the venue especially if you're booking during peak season or if your venue is a highly-sought out the wedding venue.
On the other hand, if you're rushing a wedding and have less than a year to prepare, it's highly likely that your dream wedding venue may already be booked. With a few months left to go, your choices of venues may already be narrowed down. There's a possibility that the venue you want most is still available, but if you're aiming for peak season or a high-demand venue, it's highly unlikely.
Choose the General Location
Next, you can further narrow down your options by picking the general location where you want the wedding to be held. For example, my boyfriend and I aren't getting married in the next few years, but we've agreed to have the wedding in Tagaytay. This is because, aside from the fact that Tagaytay has a special place in my heart because of all the good memories I have of my friends and family, it's roughly the middle point between Las Piñas (where my immediate family and most of my friends live) and Batangas (where his family and friends live). Since it would be impractical to host a wedding in provinces like Rizal or Baguio since everyone is in the south, our options are limited to venues in Tagaytay and, in case we change our minds, somewhere in southern Metro Manila. Thinking this way is helpful and more practical because it allows you to narrow down your locations, wedding reception themes, and the kind of venue to expect.
Choose a Venue Size
Do you want a small no-frills wedding venue, a mid-sized venue that can fit an average wedding or a large open space for a grand wedding? Your venue's size can affect how comfortable or snug your reception will be, as well as how pricey the venue will be. A bigger venue is generally more expensive than one with a smaller capacity, but this ultimately depends on what venue you and your partner want. A long guest list and a small venue may make your guests uncomfortably squeezed together and leave barely any room for dancing and mingling (especially if you're wearing a large ball gown), but a small guest list with a massive venue can mean a lot of empty space that might not look good in the pictures.
Choose the Wedding Theme
Now that you've figured a general location for your wedding, think of the theme and if the venue can accommodate it. For example, if you want a beach wedding, you're more likely to find an appropriate wedding venue in Cavite, Palawan, or Boracay rather than Baguio or Batanes. It's impractical to get an outdoor garden venue if you're prone to sweating especially during the El Niño months. Make sure your venue matches your theme and requires the least amount of adjustments. This means you have to spend less on styling to get the effect you want.
Look at the Venue Offerings
Look at what the different venues in the area offer. Basic venues simply offer the venue for a few hours, while other venues charge more or less but also offer lights, sound systems, air-conditioners, air coolers, and more. If you want to hang chandeliers or other decors in the ceiling and walls, are you allowed or would your stylist have the means of doing it? And a totally bare venue can be good as long as you have the means to turn it into the beautiful venue you want.
At this point, you should already be personally visiting the venues. Have some reception pegs ready on your phone or printed with you to show with the venue owner or their representative. This can help them understand what you want the venue to look like and whether it will be logistically possible to do. If yes, move on to the next step; otherwise, onto the next venue or consider compromising on the style you want.
Check the Price
Of course, you can't book it if you can't afford it. While browsing, ask for a quotation; give them your date and estimated number of guests to get a more exact price. This is bound to change after looking at the venue and letting them know your plans for the wedding because some venues have extra charges such as corkage fees, additional platforms, additional hours, and additional charges if you're going to be bringing in things like LED display boards that use up more electricity.
Distance from the Wedding Ceremony
Holding your wedding ceremony in Tagaytay in the early afternoon and then your reception in Makati in the evening is OK if you know all your guests have a ride and you're holding it on a day when traffic isn't particularly bad. But if you know most of your guests don't have their own ride or will find it difficult to travel between the ceremony or reception, you have three options: provide transportation to make it easier, make your wedding reception venue closer to your ceremony venue, or expect that many of your guests will be no-shows at the ceremony but present at the reception. Ideally, your ceremony and reception venue should be close to each other. But if you have the means to transport your guests, you can two venues farther apart.
Consider 2-in-1 Options
If you want to save costs and not have to deal with suppliers like bridal cars and two sets of suppliers for both venues, you could opt for a 2-in-1 option where you hold the ceremony and reception in the same location. One option is to arrange one function room in such a way that a ceremony and reception can take place within the same room without the need for the guests to leave and the stylists to redecorate after the ceremony.
Another option is to book multiple places in one venue. For example, I saw this place where I can have an outdoor garden wedding in one area, cocktails for my guests in another area, and then the reception in a function room – all in one venue. It can be a lot cheaper than two separate venues because I can recycle the flowers used in the ceremony for the reception. And if this is the case, I could get a discount for renting out the entire place.
Additional Services
If you're looking for a good deal, look at what your venue offers. Two venues might offer roughly the same venue size and type, but one venue can offer only space while the other offers lights, sounds, catering, and a holding room for the wedding entourage. Some wedding venues also offer catering and charge corkage for outside caterers, so add that to your total costs when comparing prices.
Venues in the City
If you live in Metro Manila, holding your wedding reception in the metro is the practical choice in terms of planning and for your guests. Having everything in Metro Manila means you don't have to go out of town to view potential venues and book suppliers. Your guests can easily commute or take a Grab to your ceremony and reception since Grab covers the whole area. This means traveling is not a problem since they don't have to deal with booking overnight accommodations. You might have to deal with the city traffic and the loud noise of the city depending on your location. However, the ease of getting to your wedding can also have its drawbacks.
Pros
Convenient for you during planning since you don't have to travel out of town.
Plenty of options in places you're familiar with.
Guests who live in Metro Manila don't have to deal with overnight accommodations.
Public transportation and apps like Grab and Angkas are available.
Ease of transportation means traveling won't be a reason why your guests decline your invitation (unless they live in the province and will have difficulty getting to the city). Thus, meeting a headcount can be easier since they can quickly decide whether or not they can go.
Cons
You won't be escaping the city hustle and bustle for your wedding.
Since transportation won't be an issue, more relatives and friends within the city will expect to be invited and might be offended if you don't.
More people on your guest list will mean a larger wedding, which may mean more expenses for you.
Plenty of people hold weddings in Metro Manila, which means tougher competition when booking venues and suppliers (check our

ultimate wedding guide

to find a complete list of vendors you'll need). You're not just competing with other weddings, but also other events (e.g. debuts, birthdays, conferences, etc.) trying to book the same venues and vendors.
Out-of-Town Venues
Going out of town may take a few overnight trips to the venue in the course of planning, but if your dream wedding is one away from the city and in a special place you can't find within the Metro, then going to the province to celebrate your big day can be worth it.
Pros
Some venues are only available outside Metro Manila (e.g. beach wedding, rustic bar wedding, etc.).
If your wedding destination isn't very popular (e.g. you want to get married in a certain province because of its sentimental value rather than popularity), your venue is still likely available even at late notice.
Photographers can capture beautiful photos with a scenic backdrop of the venue.
Cons
When booking your venue, you either have to take the venue's website's word for it, ask someone to do an ocular for you, or take time off work to go there yourself.
Not all those who receive invites may be inclined to go. A city wedding can take the better part of the day to attend, but an out-of-town wedding may require them to wake up early or arrive back home past midnight or cost them for overnight accommodations. If you're holding it in places like Palawan or Boracay, they may not want to spend on flights.
Traditionally, you have to pay for overnight accommodations for your bridesmaids, groomsmen, maid of honor, and best man.

Indoor Wedding Venue
Usually air-conditioned, indoor venues offer themed rooms or the opportunity to transform a room into your dream reception venue.
Pros
Even if it rains, you, your guests, and your decorations will not be affected inside.
Rooms with certain styling already provide a theme or a setup that can complement your theme.
During the hot season, you won't have to worry about your guests feeling uncomfortable about the weather.
Cons
Your space is limited. Some venues may not allow you to stick decor on the walls and ceilings.
If you're having an out-of-town wedding but hold your reception in a room with barely any windows or features to highlight the destination, it kind of defeats the whole purpose of having a wedding away from the city.
Every part of the room's styling has to be paid for, unlike outdoor venues where nature or a nearby mountain can serve as a beautiful backdrop.
Air-conditioned Venue
The Farm's air-conditioned Glass Pavilion can easily be anything – from an elegant formal dining hall to a charming…

Nai-post ni The Mango Farm noong Martes, Mayo 1, 2018
Air-conditioners are mostly used for completely indoor venues, meaning there are no open windows. This makes the room's temperature-controlled, which makes it an ideal location year-round regardless of the weather, unlike outdoor weddings that can be too hot or too cold depending on the weather and time of the year.
Air-cooled
For partial indoor venues that have open doors or windows, there may be air coolers and evaporative coolers to blow cool air into the venue. This is in case the venue is a bit warm and to prevent guests from sweating too much if the natural air flowing through the doors and windows is not enough.
Outdoor Wedding Venue
Whether it's on the beach, a forest, or a farm, an outdoor wedding can be very serene and romantic.
Pros
Garden weddings are getting more popular because of venues' picturesque greenery, while beaches provide shots with a seaside backdrop. In short, your wedding has more opportunities for a natural shot.
Get the most out of out-of-town weddings as your photos highlight the beauty of the area.
Some outdoor venues are open spaces and provide lots of room for large parties.
Cons
The success of your wedding depends on the time of the year. It may be too hot outdoors or it might rain.
For contingencies, you may have to buy the venue's indoor party room or rent a tent to cover the party area. just in case.
Not all venues provide air coolers, so it might get hot.
Types of Wedding Venues in the Philippines
Hotel Function Room
A typical choice for city weddings, many hotels provide wedding packages that include hotel rooms for the wedding entourage to get ready before the wedding. It's also convenient for when, after the reception, the bridal party can easily return to their rooms. If this is an out-of-town wedding, it's also convenient for guests to book their rooms here, and some hotels offer discounts for your wedding guests.
Country Club Function Room
For a private wedding in a venue not everyone has access to, you can opt to get married in country clubs in Manila or clubs in other parts of the Philippines. Ava Daza (Gloria Diaz's daughter and Isabelle Daza's sister) got married in early 2020 in a simple civil wedding and held their reception at the Manila Polo Club.
Function Hall/Pavilion/Event Room
Plenty of locations are exclusively event venues, so you'll have plenty of these to choose from. The good part of renting out event venues instead of other places is that you can get some venues exclusively to yourself and your guests, giving you a sense of privacy on your big day.
Historical Venue
If you and your partner love history or want an Old Filipino-themed wedding, you could look for a venue that has the old Spanish colonization architecture that stood the test of time. Bonus points if you find a historical site protected by the government so you know it's a really old building.
Garden
Celebrate your wedding under the stars with a beautiful garden wedding. One of the more popular types of outdoor weddings, you'll have plenty of opportunities to use the sky, greenery, and the rest of the outdoors to make beautiful memories to look back.
Restaurant
Solving two birds with one stone, having your wedding in a restaurant solves both the reception venue and the catering. This is good news if you can already tell that your family won't follow the RSVP and bring along 10 additional people with them. It'll cost extra on your part, and additional heads might have a limit, but at least you won't be placed in an embarrassing position as a host where you run out of food since your venue has the actual facility to make more.
See Also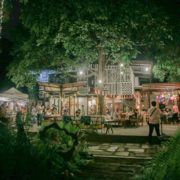 Home » How to Choose a Wedding Venue in the Philippines
Beach or Seaside
For a beautiful outdoor seascape, consider a reception by the beach, seaside, or near any large body of water. It's dreamy and, depending on the venue, doesn't necessarily mean your wedding has to be beach-themed.
Farm, Barn, or Hacienda
For those who want something grander than a simple garden wedding. Unfortunately, you're unlikely to find this type of venue within the city and might have to go out of town to find a venue.
School
I've been personally against the idea of holding a wedding (or any personal event, for that matter) in a school ever since that episode of Extreme Cheapskates where the mom holds her daughter's wedding in a public high school gym, but I've found that plenty of schools in the Philippines have function halls that rival even the most high-end of event venues.
Lakehouse
For something more intimate than a seaside wedding, you'll find plenty of venues next to natural and man-made lakes.
Warehouse
We don't necessarily mean abandoned warehouses (unless you're going for that edgy and industrial feel for your wedding). We're talking about giant empty spaces that can be partitioned and decorated the way you want. After all, a lot of space means plenty of opportunities for styling.
Zoo
Our Pacific Ballroom can accommodate up to 250 pax. Either your wedding, seminar and debut! Book your function room now…

Nai-post ni Hotel H2O noong Biyernes, Agosto 24, 2018
While I'm not sure there's a zoo in the Philippines that allow you to hold a wedding reception in the middle of the park in view of all the animals, some zoos have accommodations that allow you to hold a reception nearby. It's perfect if you want a post-ceremony photoshoot near the animals or if you want to entertain your guests by paying for access to let them see the animals.
Justine is a Slytherin who loves cosplay, horror fiction, and puns. She is the certified favorite human of her dog, Pud.