soon-to-be-wed couples in the process of planning their wedding often have a difficult choice as to where they should hold it. Should they have an indoor or an outdoor venue? Is a hotel or a farm more appropriate for their theme? So on and so forth. But stop for a minute and think about how breathtaking it would be to have a beach wedding in the Philippines.
Imagine soft, white sand, the scent of salty air, gentle waves hitting the shore, and the russet hues of a sunset dusting your cheeks – a beach wedding ceremony can be the most romantic event of your life. If you want an intimate wedding in the Philippines, beaches are also the perfect place to exchange your vows with the people dearest to you.
Does a wedding on a beach sound like an amazing idea to you? In this article, we help you plan a beautiful beach wedding in the Philippines.
How to Plan a Beach Wedding in the Philippines
Not to be biased (since I dream of having a beach wedding in the Philippines) but you basically win the wedding venue lottery with a seashore setting. Having your wedding on a beach is like a mini vacation for everyone involved, what with the stellar views and soothing crashing of waves.
But while the seashore offers plenty of gorgeous natural scenery and decor, pulling off a beach wedding in the Philippines is no easy feat, even if you're only planning for a small intimate wedding. Just like any other venue, there's a lot of intricacies involved.
Here's how to plan a beach wedding that ensures everyone has a blast on the sand.
Ceremony
The Philippines is home to some of the best beaches in the world, but that doesn't mean you can get married in just any of them. Beach rules vary by location and often, the question you'll be asking yourself is, "Do I need a permit to have a beach wedding ceremony here?"
First things first, you should know that all beaches in the country are owned by the state. That means in the Philippines, beach weddings often need a permit to reserve a section of the area. So, if you want a romantic seashore beach wedding, it's best to secure a permit from the local government.
Start early when you decide to hold your wedding on a public beach. Some government units will require you to detail explicitly all the equipment you'll be bringing to the venue. If you're also having your reception there, you'll need to have a plan in place for clean-up. When applying for a permit, make sure to understand the approval process, fees, liability insurance, and other important factors.
If you want to have your wedding on a private beach or resort, you're in better luck. This option offers seclusion and possibly fewer regulations. You will also have competent staff to help you pull it all off. While it's a pricier option, it's definitely less stressful.
Famous resorts that offer beach wedding packages in the Philippines include El Nido Resorts, Shangri-La Boracay, and Acuaverde Beach Resort.
Reception
The beach is a great ceremony venue if you're having a civil wedding in the Philippines, but I can't say the same for a wedding reception. In general, the path of least resistance is to have a beach wedding ceremony, and then move your guests somewhere that's better equipped to handle a party. This is because a permit will be harder to get if there are food and drinks involved. Most beaches prohibit alcohol consumption since inebriated merrymaking may disrupt other visitors.
If you're having your beach wedding ceremony in a public area, it's best to book another venue for your reception. But if you're really keen on having a beach wedding reception, then go for a private resort that will help you set up a magical night of dining and dancing under the stars. For instance, Mithi Resort and Spa has a Dream Islet venue that can hold intimate parties for a one-of-a-kind experience for your guests.
Attire
As opposed to traditional wedding dress codes such as semi-formal, formal, or cocktail, attire for a beach wedding in the Philippines typically consists of comfy, cool, and casual clothing.
For brides, it's best to wear short wedding dresses and comfy shoes like espadrilles or a fancy pair of sandals. Skip the heels for your beach wedding ceremony! You don't want your stilettos digging into the sand, making it difficult for you to walk down the aisle gracefully. To top off your look, you can wear a wedding flower crown to truly evoke a whimsical, tropical vibe.
For the groom, you can wear a long-sleeved polo in cream colors and don your nicest pair of breathable slacks or shorts (think Chinos). Avoid denim or cargo. For shoes, wear sandals or deck shoes. Sneakers are a no-no unless you want to commit a fashion faux pas.
So your guests won't be confused about the proper attire for a beach wedding in the Philippines, state on the invitation the types of clothes that they can wear to your ceremony. For the women, think breezy maxi dresses, formal rompers, stylish sundresses, and neutral-colored jumpsuits. There are plenty of non-dress wedding outfits perfect for a beach wedding in the Philippines. For the men, it's best to show up in polos and Chinos.
Décor
One of the most fun parts of planning a beach wedding in the Philippines is choosing décor elements that elevate your seaside setting. Nautical ropes, pineapples, seashells, anchors, paper lanterns, sea glass, and driftwood are all pretty, on-theme touches of design. Here are some tips for choosing yours:
Ceremony: If the sea is your beach wedding ceremony backdrop, there's no need to spend too much on décor. A simple flower arc can do the trick, or you can even just let the beauty of the vast body of water speak for itself.
Reception: If you plan on having a beach wedding reception, consider the wind. Light items such as place cards and table napkins should be weighted so they don't blow around. Avoid candles and ribbons completely. If you want the romantic ambiance of dim lighting, you can opt for fairy lights, Chelsea lights, or lanterns.
Flowers are also important decor elements for a wedding on a beach. Beautiful blooms will add bursts of color to any venue, including the beach. However, you want your flowers to last throughout your beach wedding ceremony and reception. Instead of choosing flowers that wilt easily under direct sunlight and heat, go for orchids, plumeria, and chrysanthemums. These hold up surprisingly well in hot weather.
Or you can always opt for non-floral decor. Large conch shells and colorful beach pails will do just fine as centerpieces for your beach wedding reception.
Food & Drink
Let your menu reflect the charm of holding a beach wedding in the Philippines. This means incorporating dishes and delicacies of the area. For instance, if you're holding your wedding on a beach in Batangas, your menu can include bulalo, fresh seafood, and ice cream from a local dairy. Cocktails can be mixed with tropical and local flavors as well.
Also, when selecting the food items to include in your menu, consider the temperature. Many fresh fruits will go bad if left in the sun and cheese melts easily. In hot weather, instruct servers to keep the guests' water glasses full so they don't get dehydrated.
For your wedding cake, you can let it complement your theme. Accent it with palm leaves, sugar send, conch shells, or tropical blooms. Or you can have your baker create a beautiful ombre design reminiscent of a stunning beach sunset.
As far as frosting goes, it's better to go with fondant rather than buttercream, unless your venue is air-conditioned. The latter melts easily in hot temperatures. Choose tropical flavors such as coconut, passionfruit, or citrus so it goes with your beach wedding theme.
Photography
When it comes to documenting your big day, you'll want to hire a photographer who's experienced at shooting beach weddings in the Philippines. Shutterbugs who are not skilled with beach photography may be unfamiliar with the proper lighting techniques.
Professional photographers well-versed in beach weddings also know how to take advantage of the natural beauty of the venue: a sunset backdrop near the water's edge, waves crashing in the distance, or the soothing sway of coconut trees.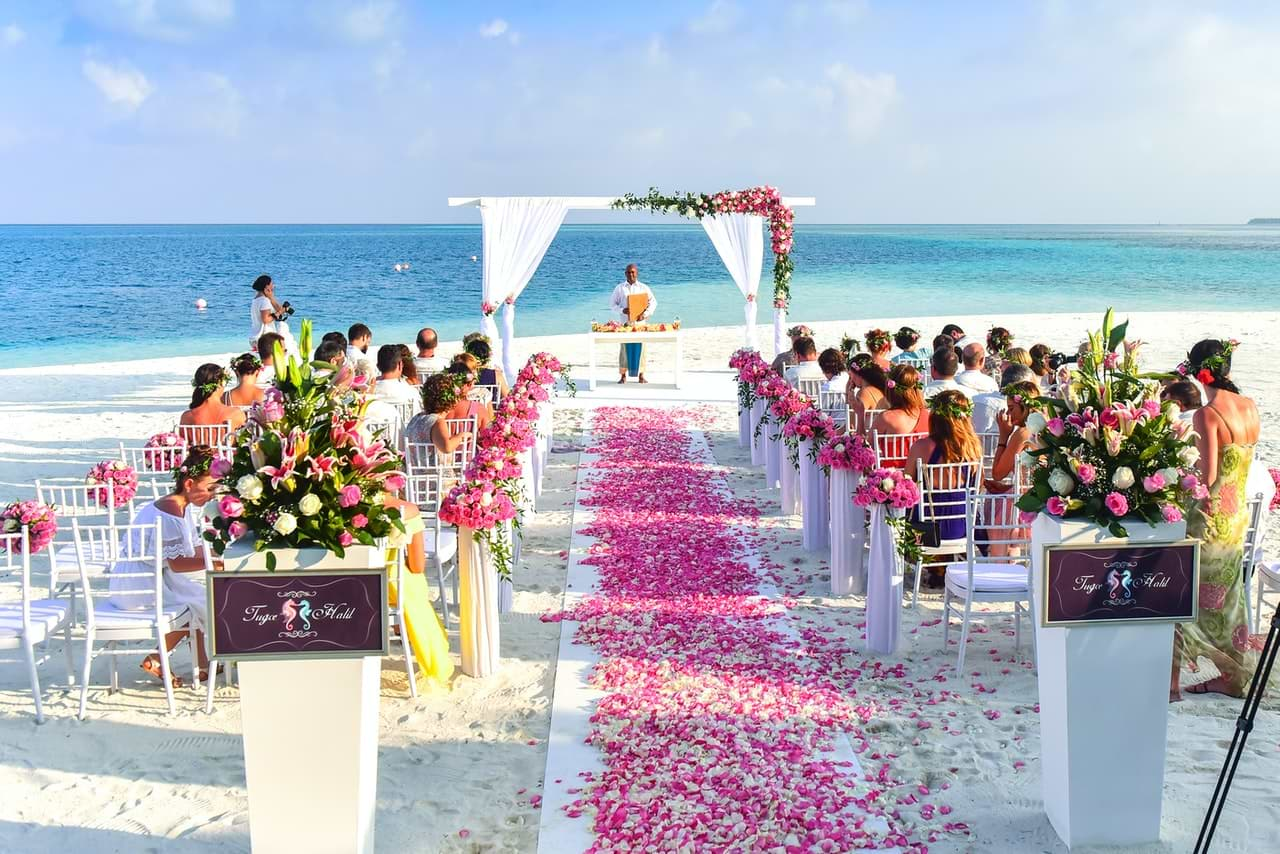 Additional Tips for a Beach Wedding in the Philippines
Now that you have an idea on how to plan a beach wedding in the Philippines, you're equipped with enough knowledge to pull off a seaside affair. But here are a few more things to take note of so your wedding goes off without a hitch.
Consider the noise
You may love the sounds of waves crashing onto the shore but they might interrupt your beach wedding ceremony. Prepare for natural noise by renting a professional sound system. It's also best to get a windscreen for the microphone so the strong breezes don't affect the sound output.
Guest accessibility
The half-kilometer walk to your seaside altar may look dreamy and romantic, but can everyone make the trek? When choosing the venue for your beach wedding in the Philippines, keep all guests in mind, especially senior adults and those who may have trouble walking on sand. Also, make sure rentals, such as tables and chairs, can be delivered easily to the site.
Prepare accommodation
Beach weddings in the Philippines are often destination weddings. If they aren't, they usually take a long drive to and from the city. Before your wedding day, make sure your guests have rooms to stay over for the night. This can either be out of their own pockets or you can graciously pay for their accommodation. What's important is that it's settled as early as possible so that everyone can enjoy the celebration worry-free.
Get expert help
While it may seem like a beach wedding in the Philippines is a figurative breeze, it's great if you have an expert to handle the unforeseen logistics of a seaside affair.
Work with a wedding planner who specializes in beach weddings in the Philippines. For a destination wedding, it's crucial to get a bridal consultant based in the area where you're getting married. Local planners serve as expert eyes for finding local vendors, and they also know the requirements needed for a beach wedding in the Philippines.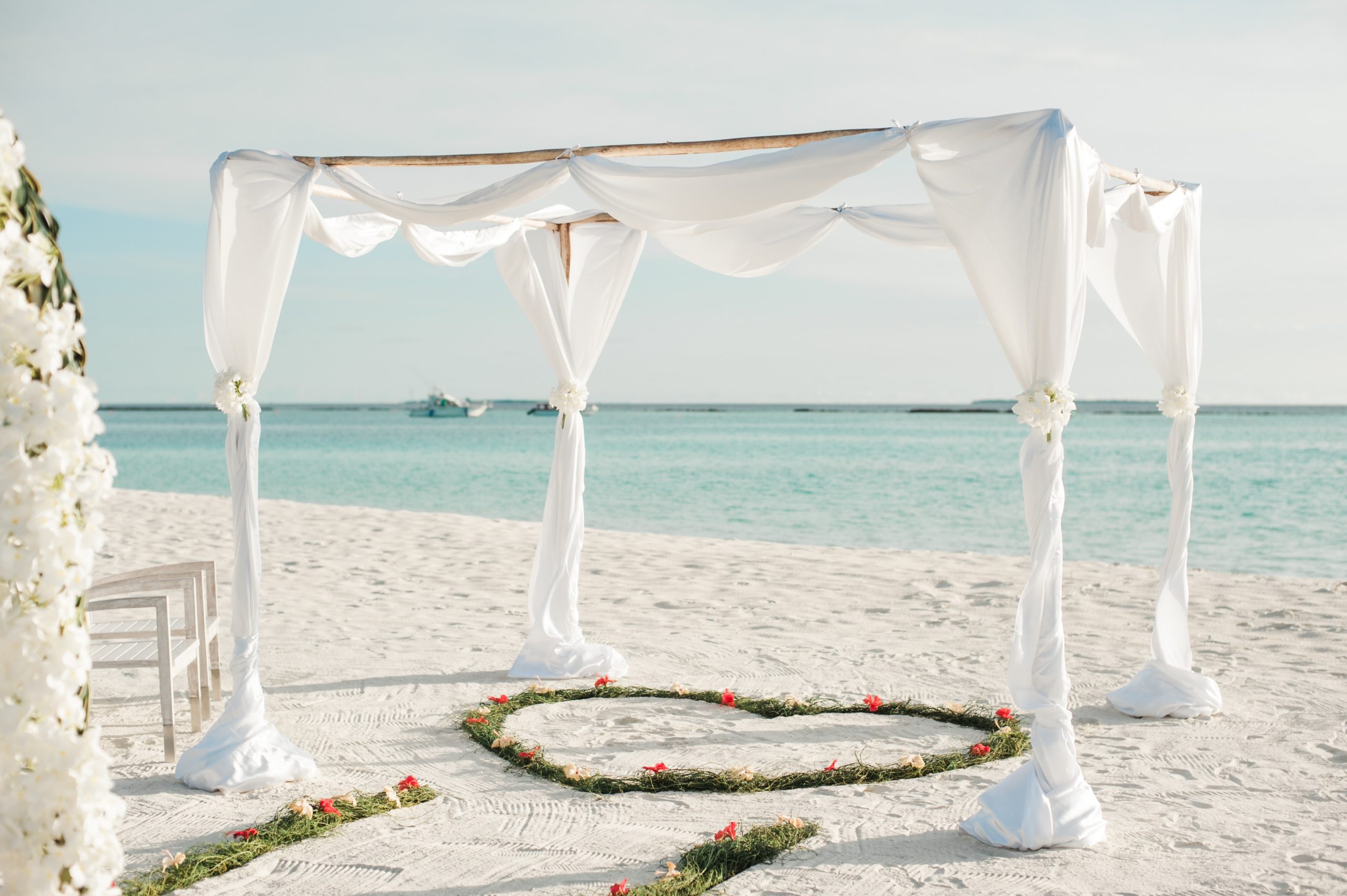 Say I Do with a Wedding on the Beach
Yes, a beach wedding in the Philippines brings with it many extra challenges but exchanging vows with the love of your life amidst sea breeze and sand can be incredibly magical. If you follow our guide above and have everything planned carefully, a wedding by the sea is an event you and your guests will remember forever. Chryss loves ice cream, literature, and East Asian pop culture. She would like to pet your dog.