Who says you have to wear a floor-length gown on your wedding day? Short wedding dresses have been giving ball gowns a serious run for their money and it's easy to see why. Not only are they perfect for small, intimate weddings and civil weddings in the Philippines, but they also come in a variety of stylish styles and cuts.
Even celebrities such as Keira Knightley and Lily Allen have donned short wedding dresses for their big day. From modern silhouettes to beaded styles, short simple wedding gowns are stylish additions to any bridal wardrobe.
In this article, we list down the most popular styles for short wedding dresses and where to find them.
Is it Okay to Wear a Simple Short Wedding Dress?
Okay, first things first, let's get this out of the way – is it okay to wear a short dress for your wedding?
It all depends on the location of your wedding. If you're having a church wedding, some churches require brides to wear a floor-length wedding gown so it's best to ask them first if they will let you wear a short wedding dress.
But if you're planning a civil wedding or holding your religious wedding in a non-church venue, there's nothing stopping you from wearing a beautiful dress that just grazes below your knees. Many brides even opt for non-dress bride outfits such as three-piece suits and jumpsuits.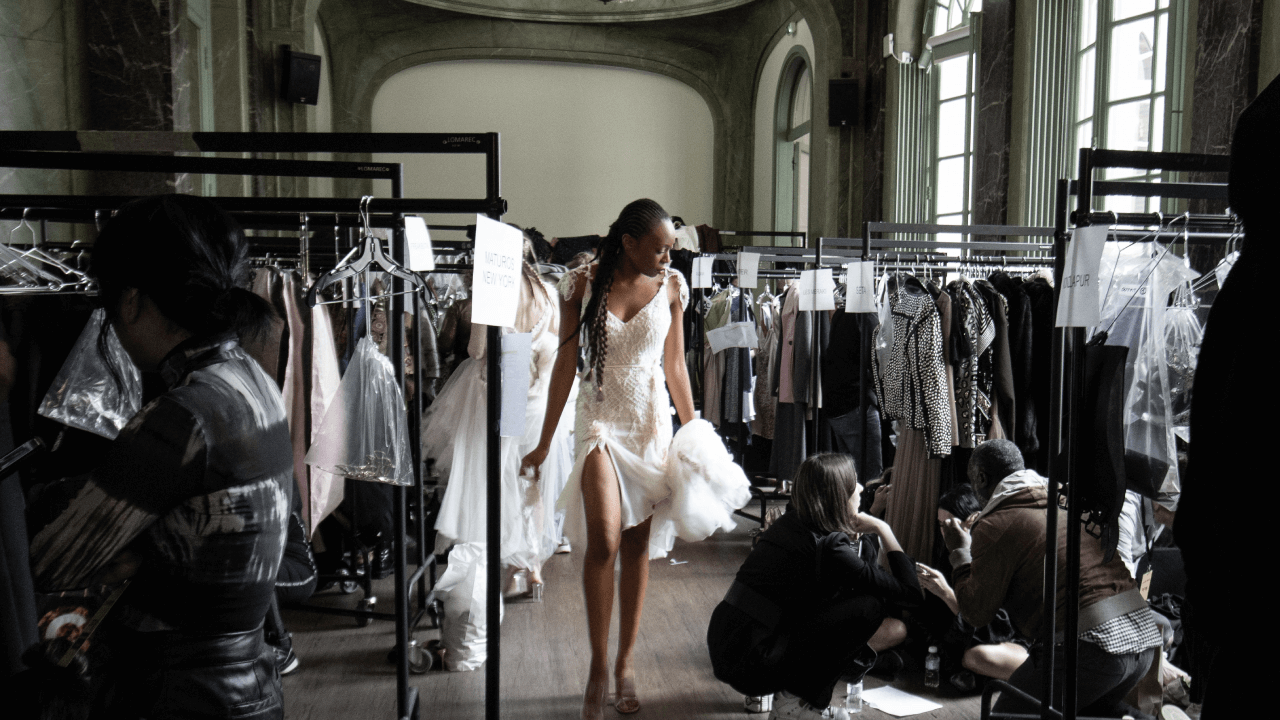 Top Styles for Short Wedding Dresses in the Philippines
Short wedding dresses have emerged as budding favorites among stylish brides and designers alike. Whether they're cut to a daring cocktail length or cropped just above the ankles, short wedding dresses are appearing on aisles everywhere.
Here are the most popular designs for short simple wedding gowns in the Philippines.
Tea-length wedding dress
A tea-length wedding dress is a favorite among brides and designers. It is generally designed to fall mid-shin or just below the knee. Many of them feature a nipped waist, a full skirt, and fitted bodice. This makes them perfect for brides going for a retro 1950's theme.
If you truly want to pursue a vintage theme, you can design your tea-length dress with feathers or fringe. Complete it with a touch of classical lace and your short wedding dress will look gorgeous and exciting for the occasion.
Mini Skirt Wedding Dress
The shortest length for wedding dresses available, this daring style ends above the knee and looks beautiful on petite brides who worry about being swamped in a longer dress. These short wedding dresses are perfect for beach weddings as they allow you to easily navigate through sand. With light fabrics and unstructured styles, these short simple wedding dresses will keep you comfortable and sweat-free on an undoubtedly warm day.
Hi-lo wedding dresses
Taking from its name, a hi-lo short wedding dress is cut shorter at the front and falls to full-length at the back. These short simple wedding gowns are popular with beach weddings too and are great options if you like the look of a long train and the visuals of a short wedding dress.
Short wedding dresses with sleeves
While short wedding dresses that are sleeveless or strapless conjure thoughts of a garden or beach wedding, a sleeved version looks perfect in place for any venue or theme. It offers a slightly more traditional look to modern and contemporary styles, adding a ladylike elegance to even short simple wedding gowns.
A short wedding dress with leaves is also a perfect civil wedding dress as it looks formal enough to wear to the city hall or a courthouse.
A minimalist A-line dress
Having a minimalist-themed wedding? Are you a fan of simple and classic silhouettes? Then this simple short wedding dress style is for you.
A pleated A-line dress with dainty spaghetti straps is always flattering feminine. This style also proves that a dress doesn't need a lot of embellishments to be beautiful. Sometimes, less is more!
Where to Buy Short Wedding Dresses in the Philippines?
Are you on the pursuit of finding the perfect short wedding dress? Here's list of places on where to buy short wedding dresses in the Philippines: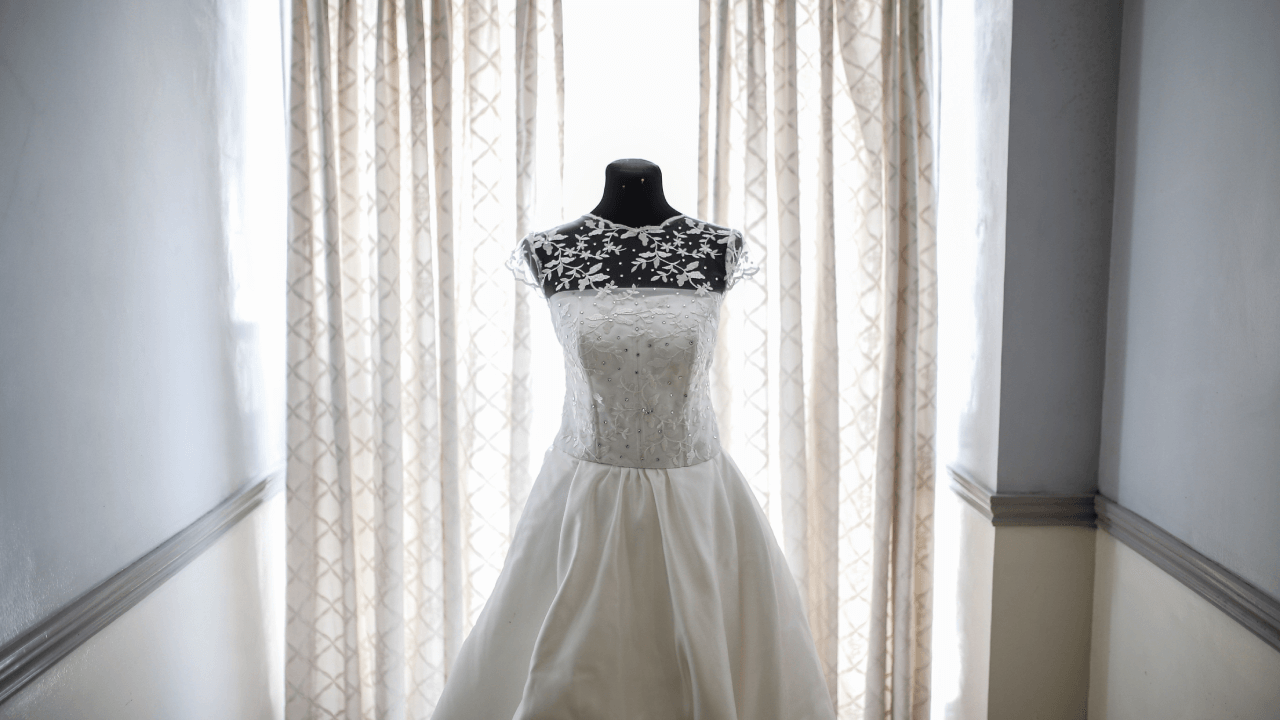 Divisoria
Divisoria in Manila is the perfect place for budget-savvy brides-to-be. As long as you know where to look in the commercial's hub winding maze of stalls, you can score beautiful and stylish Divisoria wedding gown that doesn't sacrifice quality for an affordable price. You can find cheap but gorgeous short wedding dresses for as low as Php3,500.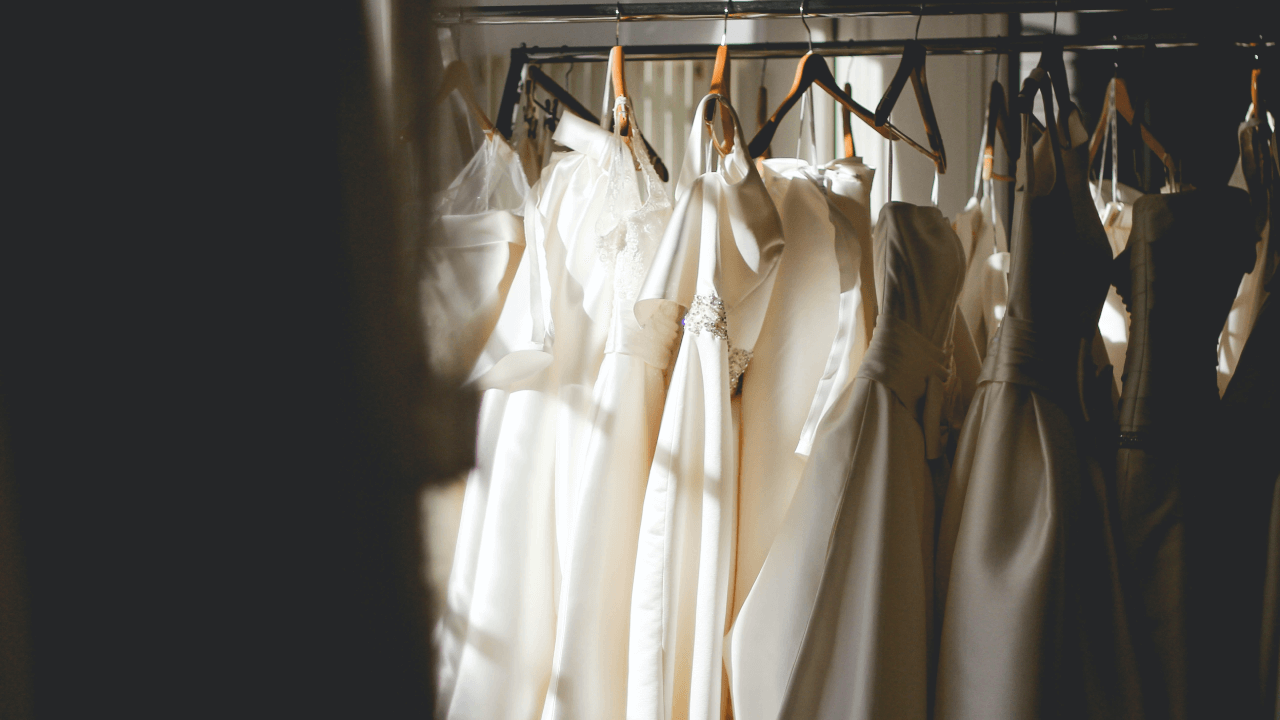 Department stores
Don't have time to go to appointments and go through multiple fittings? We've got the answer on where to buy short wedding dresses: department stores.
Department stores such as Landmark, SM, and Robinson's all have ready-to-wear short, simple wedding gowns that save you a lot of time. You get to fit your short wedding dress on the spot to see if it complements your body, creates a romantic silhouette, and hugs your curves in all the right places. Plus, they're friendlier on the pocket too!
Your local bridal shop
Think your local bridal shops don't have short wedding dresses in their RTW collection? Think again! Many designers are aware of the rising popularity of civil weddings and intimate nuptials, so they've added short, simple wedding gowns in their collection. If you don't find anything that suits your fancy, you can always have one custom-designed by the bridal shop. Just make sure you have the time to go through multiple fittings.
Where to Buy Short Wedding Dresses Online?
Are you on a strict budget? Because of frequent online sales and discount coupons, shopping online for your wedding attire can save you money – especially if you're sticking with a 50k wedding budget in the Philippines.
Here's a list of great places on where to buy short wedding dresses online.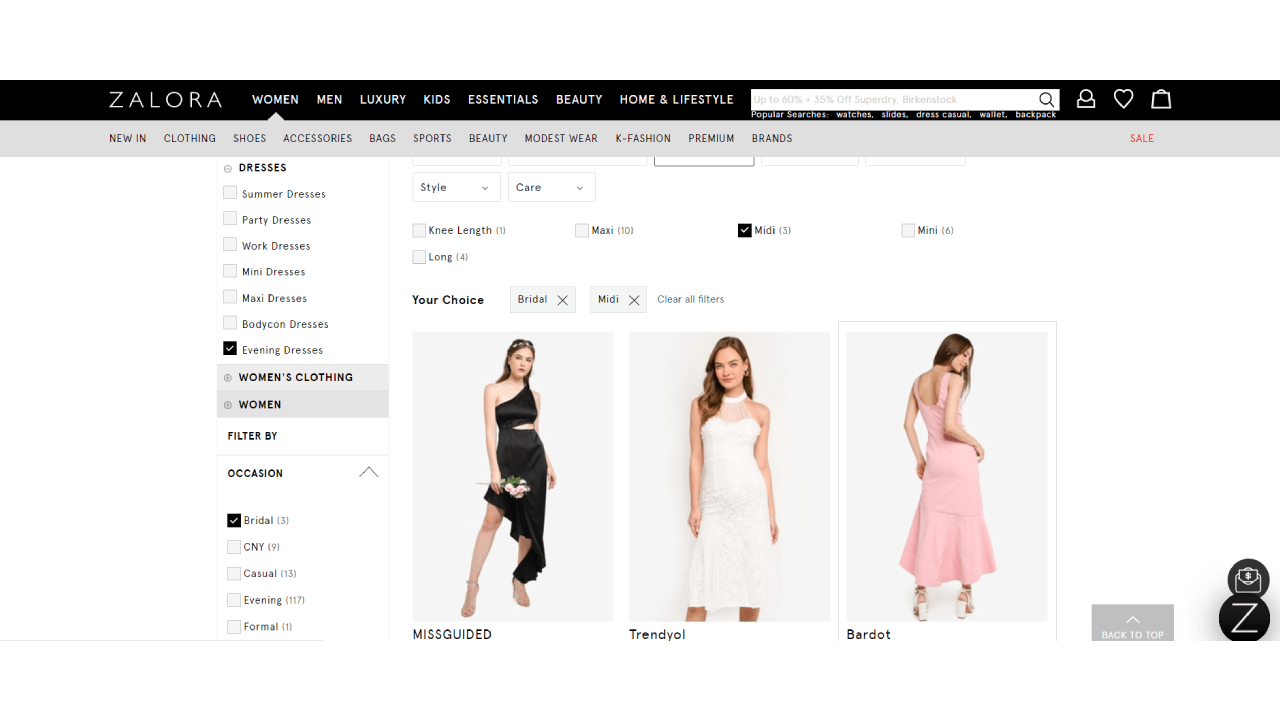 Zalora
ZALORA features an extensive collection of short wedding dresses that are just right for your budget. The short simple wedding gowns are perfect for beach weddings, civil weddings, or intimate, restaurant weddings.
Choose from an array of styles and designs that come in a range of wedding-appropriate colors like classic whites and dainty cream hues. You can find simple, short wedding dresses as low as Php1,499.
As ZALORA brings together fashion and convenience, it offers a variety of payment methods including bank transfer, Paypal, debit or credit cards, and even cash on delivery. They also have an excellent returns policy.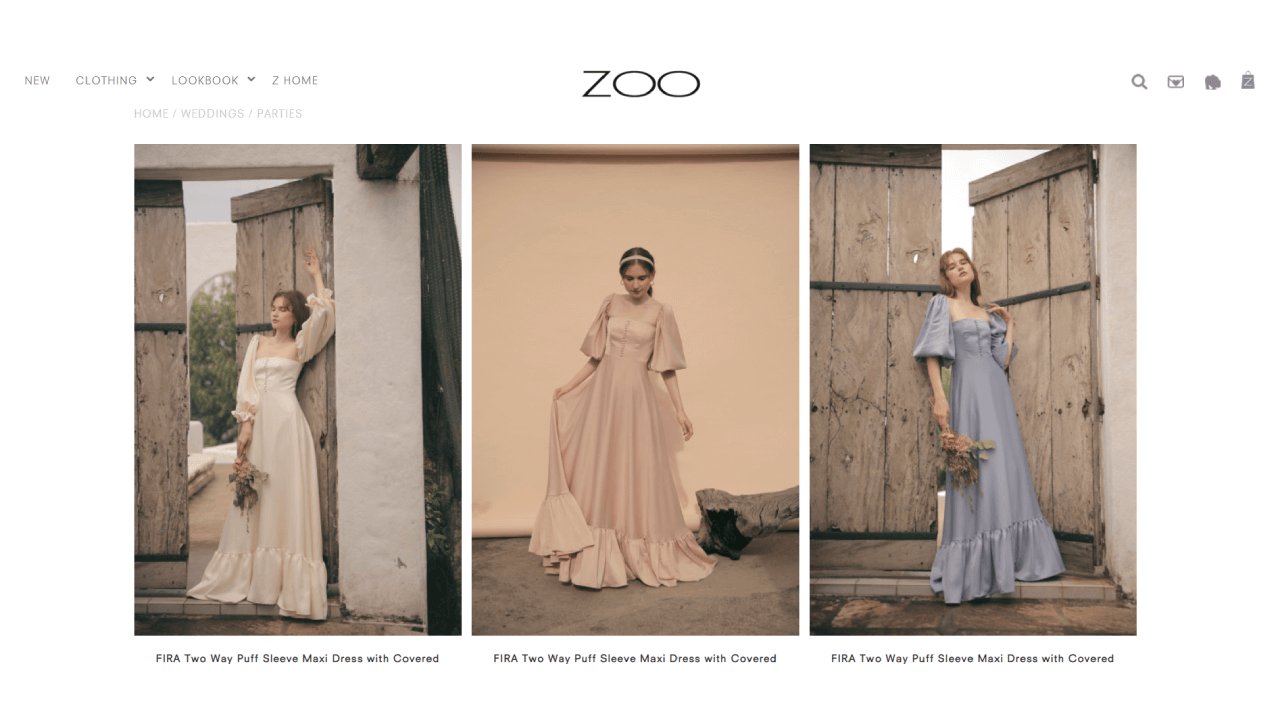 ZOO
ZOO has a wide selection of statement-making pieces that focus on affordable luxury and a sophisticated yet casual style. You can find unique, ready-to-wear short wedding dresses perfect for any wedding theme. Choose from sweetheart cut neckline midi dresses with peplum detail or two-way midi dresses with puff sleeves.
Prices for the stylish short wedding gowns start at Php3,690. They have several modes of payment and delivery options.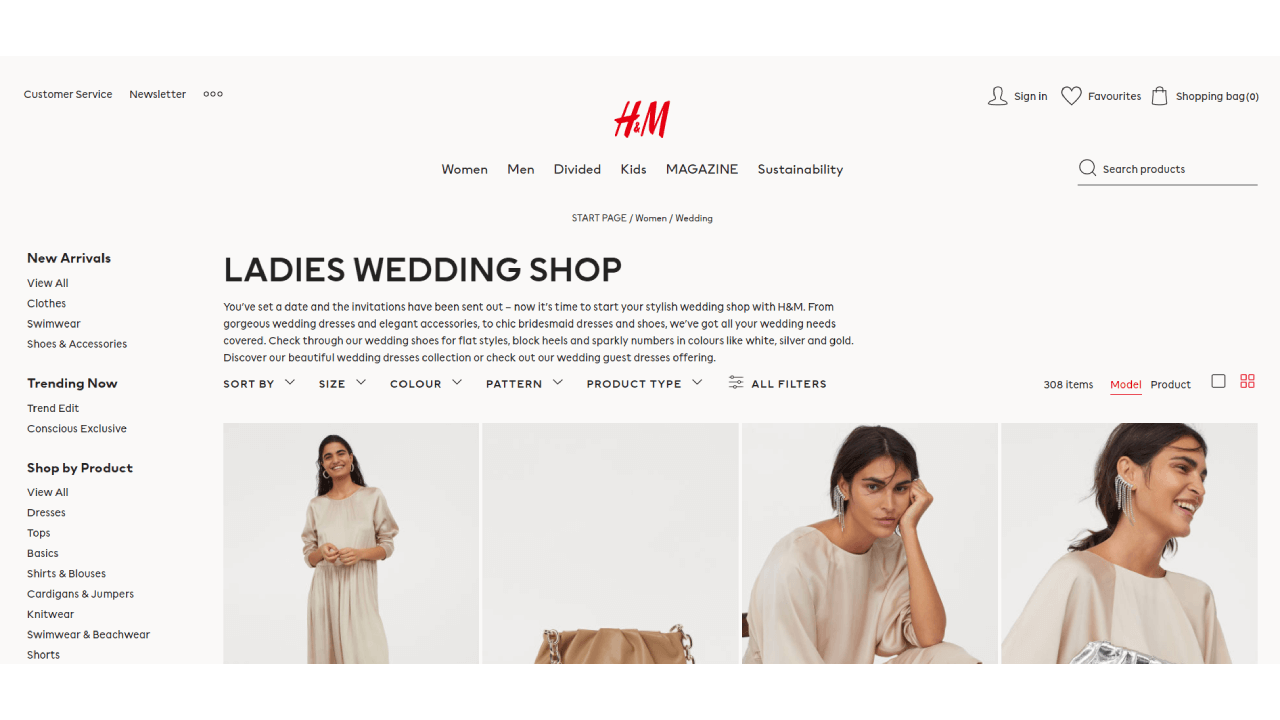 H&M
H&M doesn't only have a great selection of tops, jeans, and pullovers, they have a nice array of short wedding dresses too! You'll find various styles and colors to fit the theme of your wedding —  from flowy, chiffon dresses to dainty lace wedding gowns.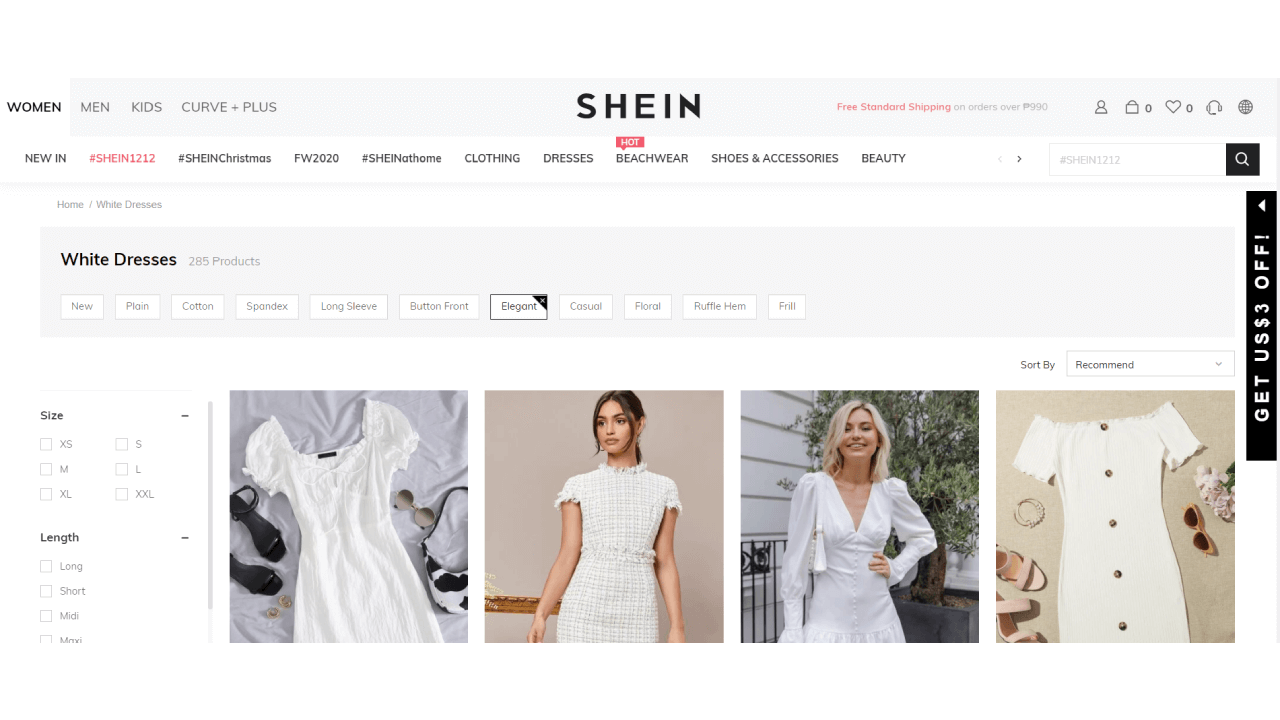 SHEIN
SHEIN is currently one of the biggest online shopping fashion brands in the world. It prides itself on offering on-trend styles to young women and teens. Luckily, it has a vast collection of elegant white dresses perfect for your wedding. With such a wide selection, you're sure to find the perfect simple short wedding dress for your big day. The fast-fashion brand has short simple wedding gowns for as low as Php500.
Tie the Knot Wearing a Short and Simple Wedding Gown
No matter where you're getting married – be it at the courthouse, at your favorite restaurant, on the beach, or in your backyard – there's a short wedding dress out there that matches both your style and venue. Plus, the cropped length makes your short, simple wedding dress a versatile part of your wardrobe. That means you can definitely wear it multiple times!
For the minimalist bride, there are short wedding dresses in sleek silhouettes crafted from silken fabrics. For the classic bride, there are short wedding dresses with allover lace details. And for the fashion-forward bride, a hi-lo wedding dress in linen or silk will have all eyes on you.
Whichever style of short wedding dress you choose and where you buy it, you can be sure you're wearing one that's modern and trendsetting. Its length alone is already a standout! Chryss loves ice cream, literature, and East Asian pop culture. She would like to pet your dog.