In a religious Catholic country like the Philippines, church weddings are a popular choice for those looking to tie the knot. While there are added steps, costs, and requirements to a church wedding, many couples believe it is worth it as they say their vows inside the house of God.
As the wedding capital of the Philippines, Tagaytay has plenty of churches suitable for weddings and plenty of venues for various types of receptions. Here are our top picks for some of the best churches and more affordable wedding venues in Tagaytay to hold your wedding ceremony.
Take note that some of the rates and inclusions we've listed below may be subject to change. Contact the church you're interested in booking for reservation queries.
Requirements for Getting Married in a Church
In a civil wedding, you'll only need a marriage license, a letter of intent to marry, and a judge or a mayor to legally marry. Church wedding requirements, however, are added on for an official church wedding. Some churches may have additional steps and some couples may need to provide additional requirements (e.g. couples where one of them is a foreigner or couples where one of them is of a different religion), but expect that you'll most likely be asked to provide these before you can get married.
Marriage license
Baptismal certificate
Sacrament of Confirmation certificate
Birth certificate
Certificate of No Marriage (for those who have never been married)

Certificate of Finality of Annulment from the Court (for those whose previous marriage was annulled)
Death certificate of the previous spouse (for widows and widowers remarrying)

Canonical interview
Pre-Cana wedding seminar certificate of attendance
Marriage banns
Caleruega Church
Although it's technically in Nasugbu, Batangas, there's a reason why Caleruega Church is at the top of our list. Only 15 minutes away from Tagaytay, it is arguably the most popular church for couples who want to get married in the Philippines.
Want to know how sought out Caleruega Church is? On a regular wedding timeline with one year to plan, you should book your church at 7 months at the very latest. But if you want your ceremony at Caleruega, you'll need to book at least one or two years in advance, depending on if you're getting married in peak seasons. This is because Caleruega Church only three wedding masses there are held every day, so you're racing to block off your wedding date with other brides and grooms to be.
Caleruega Church gets its name from the hometown of St. Dominic de Guzman. The church is situated on a small hill and is surrounded by the captivating greenery and scenic landscapes. It's believed that because the church is close to nature, it is also closer to God. Its popular Transfiguration Chapel can hold up to 200 guests, making it ideal for small to medium-sized weddings.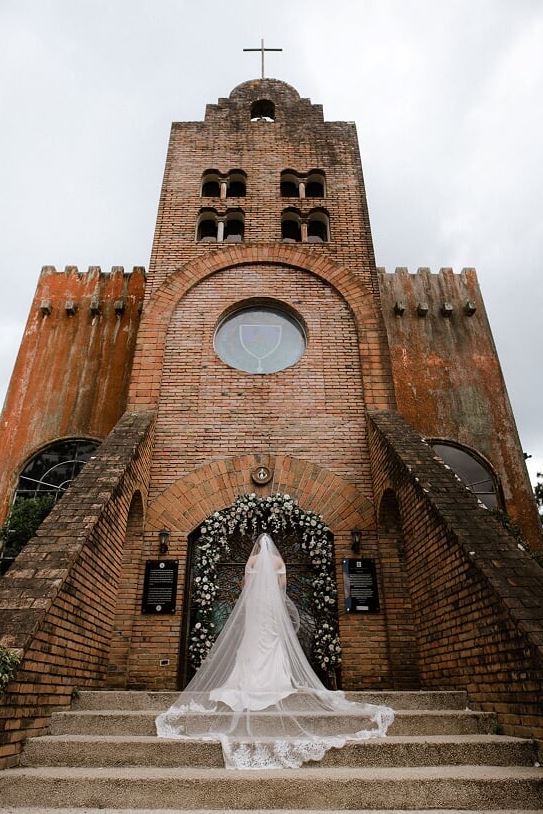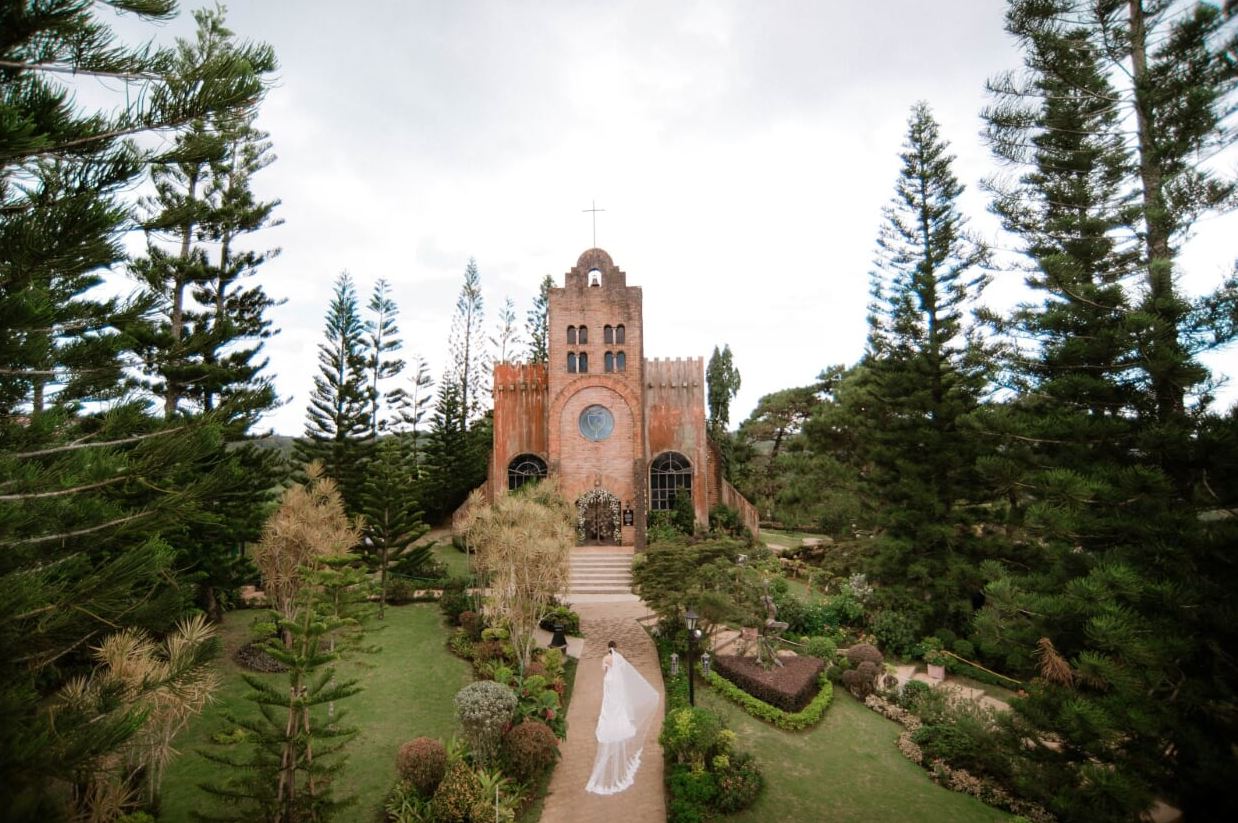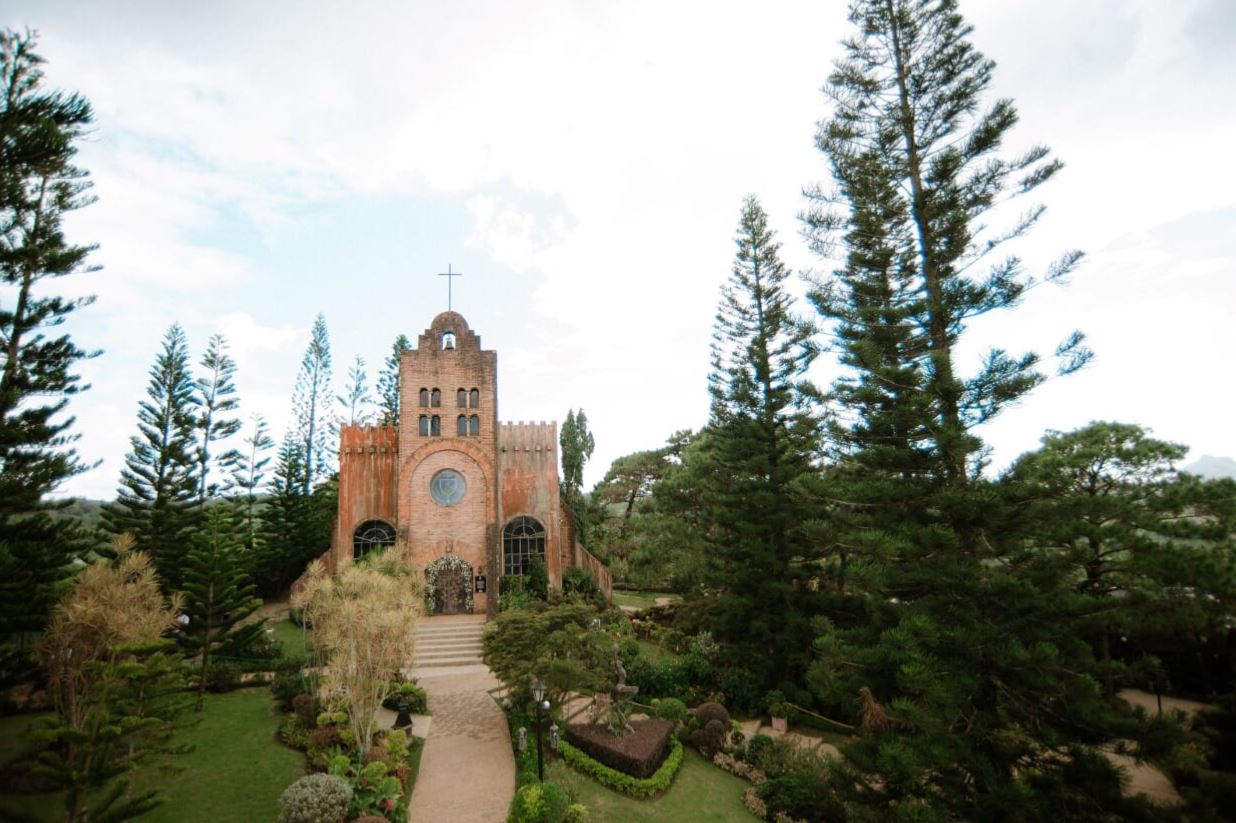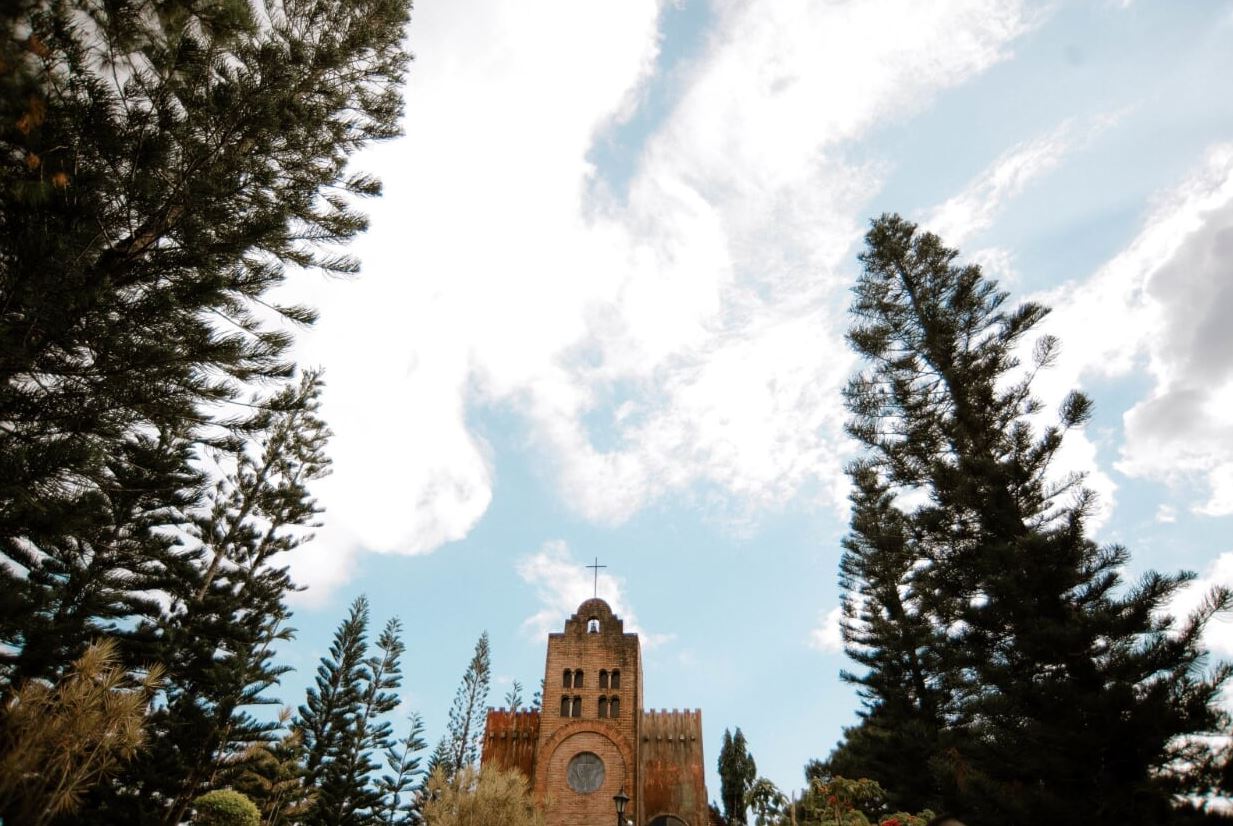 Photo credits to Ram Marcelo Photography – A Destination Wedding Photographer
Website: www.rammarcelo.com
Wedding Reservations & Rates
To reserve your date, you need to first call or send an email to the Church's office to see if your chosen dates are available. Each day only has three available slots:
Morning weddings at 9:00 AM – 11:00 AM (except on Sundays, which holds morning weddings at 8:00 AM – 10:00 AM)
Afternoon weddings at 3:00 PM – 5:00 PM
Evening weddings at 6:00 PM – 8:00 PM
Because of the large number of couples looking to get married here, Caleruega does not do pencil bookings. The only way to ensure that your date and time is reserved is to pay a down payment of P5,000. The only way to pay the down payment is through a cash basis, so you, your spouse, or a representative should go to the church's office to pay.
The cost of the use of the church is P15,000. However, the P5,000 down payment is deductible, so you only have to pay the remaining P10,000. According to some bridal forums, this can be paid through cash or bank transfer.
The P15,000 rate is inclusive of the use of the church, their sound system, organ, CD player, and sacristan. The church can provide a priest, but you can also invite your own priest to oversee the wedding. If you're going to have Caleruega's priest hold your wedding, note that their stipend isn't fixed and is up to you. Aside from the rate inclusions, you'll have to provide other details like floral arrangements, choir, carpets, and others.
After paying the down payment, the Caleruega office will send you an email confirmation of your booking as well as the list of requirements you need to submit. All requirements need to be accomplished three months before the wedding date. If you haven't provided everything on the list, you will not be allowed to hold your wedding there.
Contact Information
Contact Jackie, Kaysel, and Melda
Address: Bgry. Caylaway, Batulao, Nasugbu, Batangas
E-mail: caleruega_philippines@yahoo.com
Contact Numbers: 0921- 270-9890 / 0921-830-4226
Madre De Dios Chapel
Located inside Tagaytay Highlands, the Madre De Dios Chapel is perfect for couples looking for intimacy, elegance, exclusivity, and beauty. Its church has a modern Mediterranean atmosphere on the outside and a breathtaking stained-glass window display on the inside. When the sunlight hits the windows just right, it creates a wonderful effect that your photographers and videographers would want to take advantage of during the ceremony.
The chapel is relatively small, making it perfect for small to medium-sized weddings to make the chapel look cozy and intimate.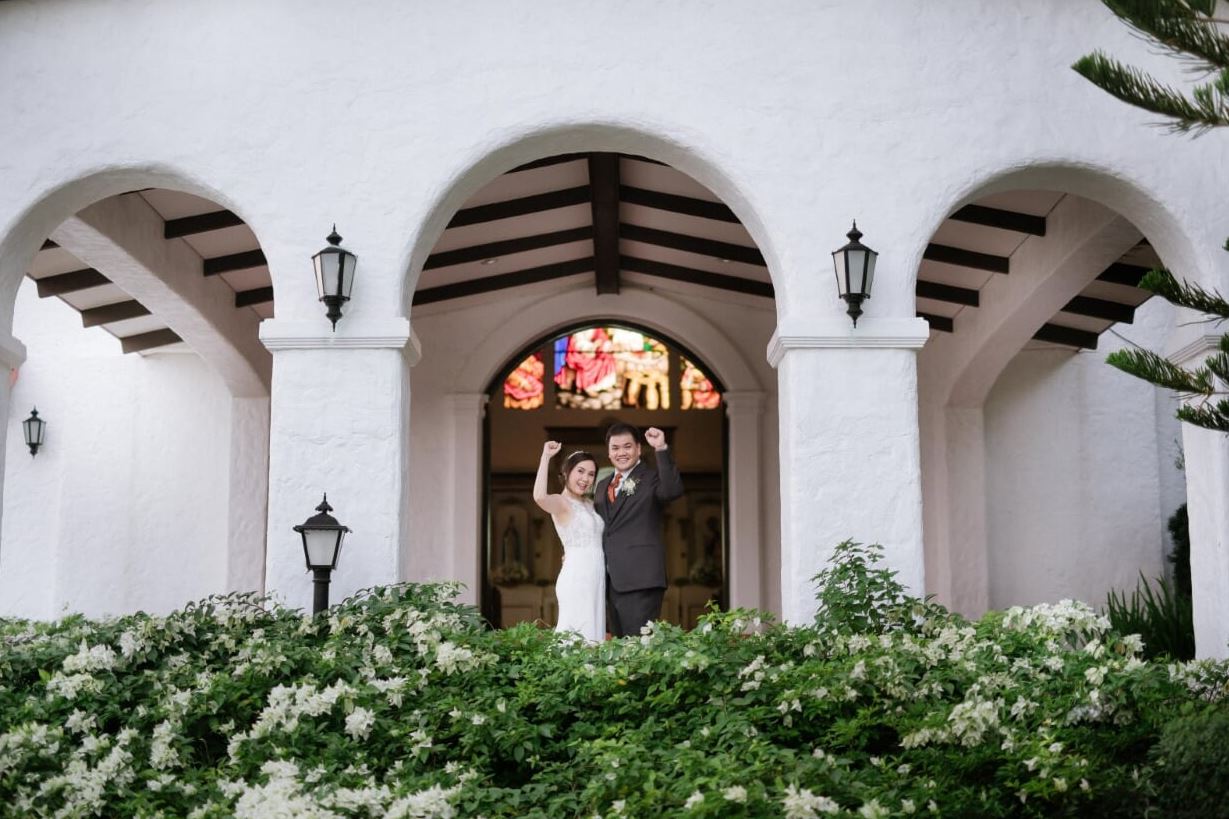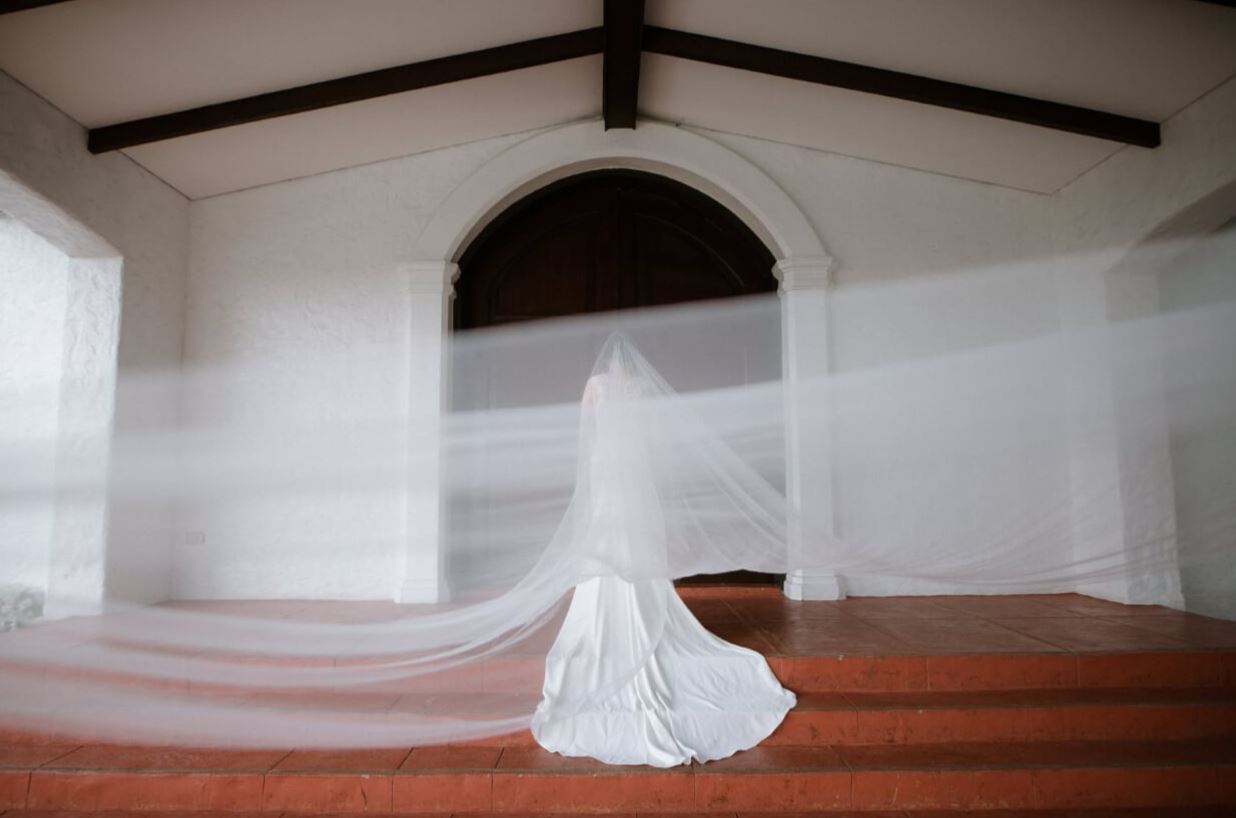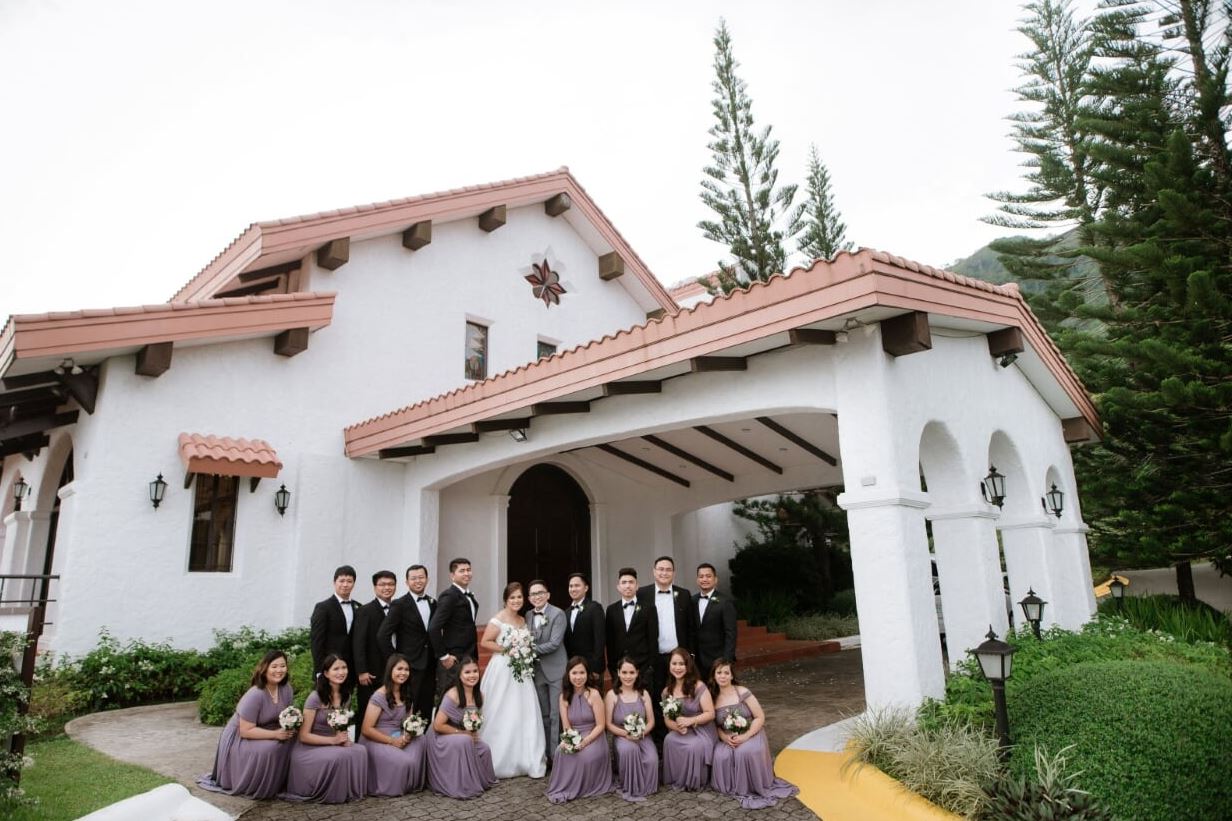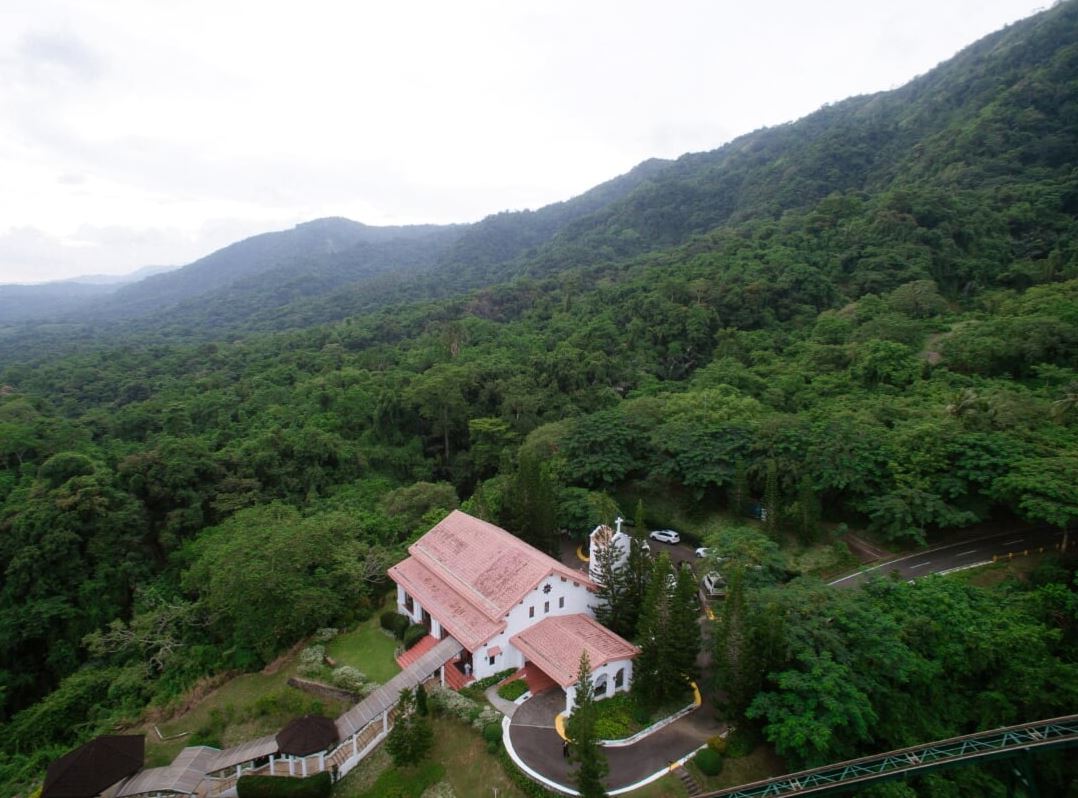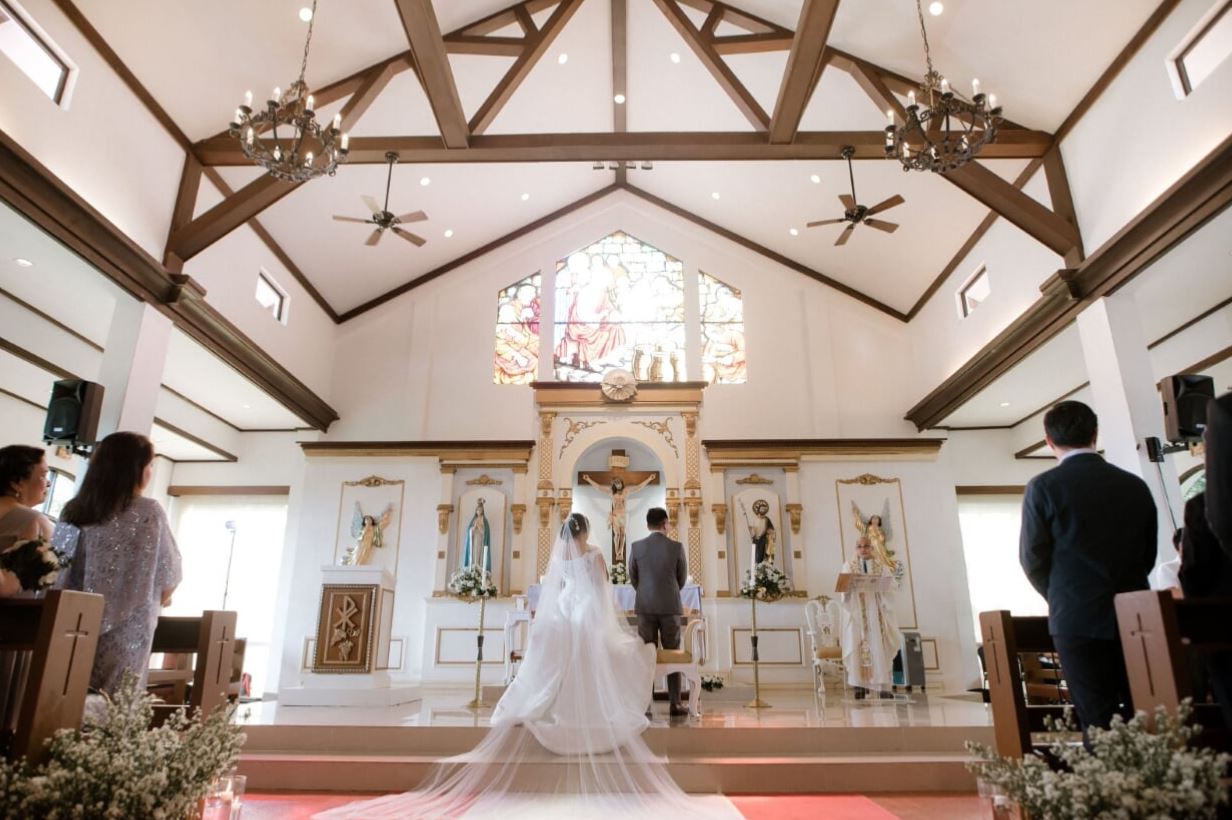 Photo credits to Ram Marcelo Photography – A Destination Wedding Photographer
Website: www.rammarcelo.com
Wedding Reservations & Rates
Because of the exclusivity of Tagaytay Highlands, you can only have your wedding ceremony there if you're a member yourself or you know a member that can sponsor you. Based on the Tagaytay Highlands website, a wedding in the chapel costs P22,000 for club members and P27,000 for non-members.
Weddings are held at 10:00 AM, 3:00 PM, and 5:30 PM. You can book at least three months in advance, though it's recommended you book earlier especially if you're getting married during peak season. You'll need to pay a deductible and non-refundable P5,000 deposit to book your date and time.
Rates are inclusive of a wedding donation to the San Guillermo Parish, a red carpet, simple floral arrangements, basic sound system, and use of air-conditioning units. Rates vary for the renewal of vows and weddings held in different areas of the Club.
Contact Information
Contact the Tagaytay Highlands Sales Department
Address: 4120 Brgy. Calabuso, Tagaytay City, Cavite, Philippines
E-mail: sales@tagaytayhighlands.com
Contact Numbers: (046) 478-7995 / (046) 483-0848 local 3126 or (0917)882-6885
Chapel on the Hill
If you've ever been to Greenbelt in Makati, you might have come across the beautiful Sto. Niño de Paz Greenbelt Chapel. If you love the chapel's style and architecture but want to see it surrounded by a 360-degree view of both the sea and natural landscape, the Chapel on a Hill in Batulao in Nasugbu is a much better choice for weddings.
It has a seating capacity of fewer than 100 guests, so it's good for smaller wedding parties. Like Caleruega, Chapel on the Hill is another church that couples choosing wedding venues in Tagaytay are clamoring to reserve. So, it's best if you confirm your booking for at least one (or even two years) before your wedding date.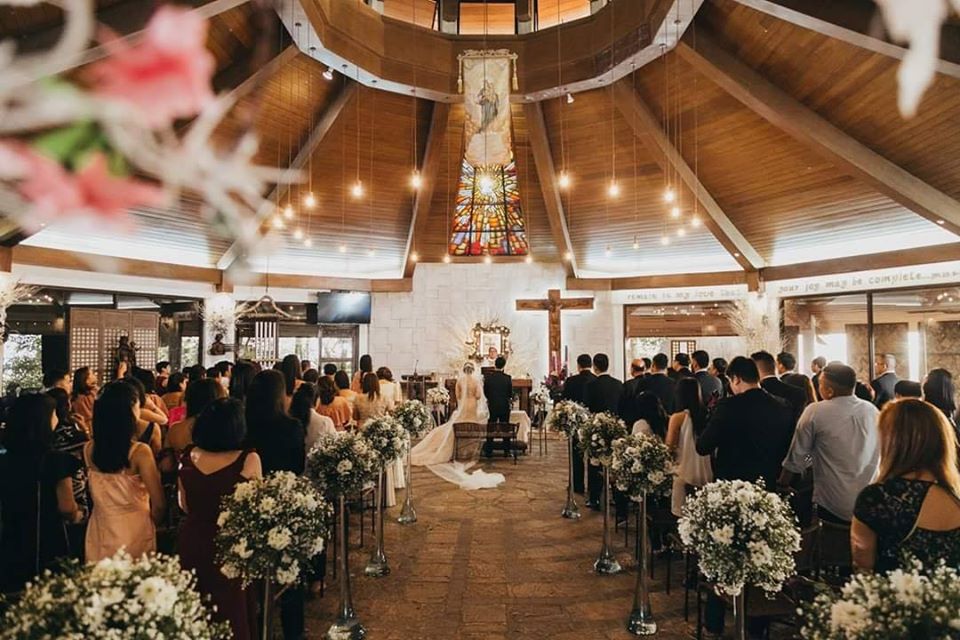 Wedding Reservations & Rates
There are four-time slots available for weddings held on Mondays to Saturdays and three timeslots for weddings on a Sunday. According to Brideworthy, the rate is at P15,000, but according to other wedding event planners, it's P12,000 with a P5,000 church donation and a P2,100 reservation fee. Just to be sure of its current rate, it's always best to contact the church directly to know their updated prices. Either way, it is relatively more affordable than the first two churches on our list, but it only covers the basics; you'll have to provide the music, officiant, and flowers.
The church is near retreat centers and mini-chapels, so the rules in the area can be very strict. Smoking and vaping is highly discouraged. And because there are several weddings scheduled within that day, your ceremony may be cut short and hurried to the end to prepare for the next wedding scheduled.
Contact Information
Address: Don Bosco Batulao, Barangay Cahil, Calaca Batangas, Tagaytay, Batangas
E-mail: batulaodonboso@yahoo.com / chapelonthehill@yahoo.com
Contact Numbers: (02) 404-4327 / 0917-534-7192
Ina ng Laging Saklolo Church
Also known as the Church of Our Mother of Perpetual Help, the church is one of the more popular churches for weddings due to its beautiful and artistic interior. However, because it holds plenty of masses throughout the week, the available timeslots can be very limited to couples interested in marrying here.
Compared to the rates of the other churches on this list, the Ina ng Laging Saklolo Parish is the most affordable popular destination. But because of many couples trying to reserve the church for their wedding, it's best to book this as soon as possible.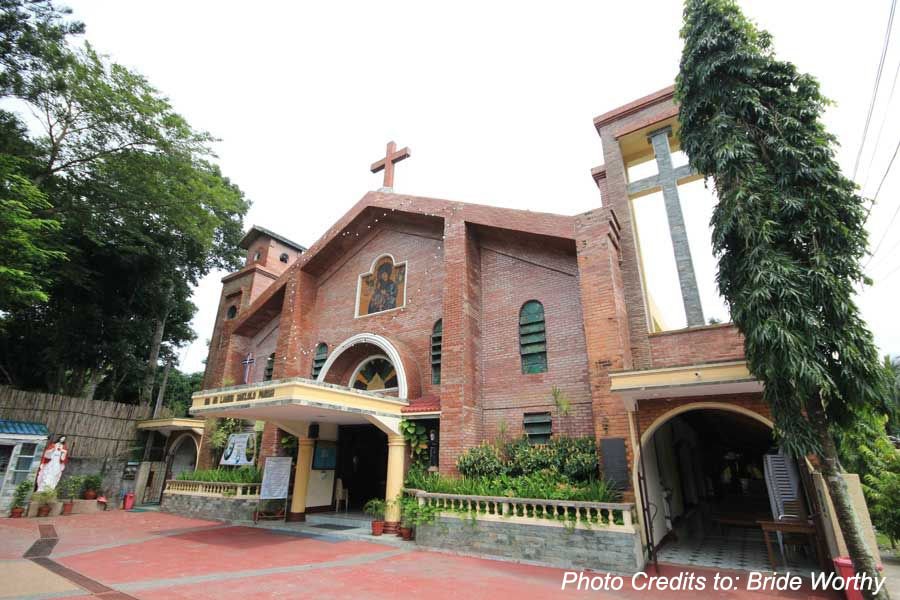 Wedding Reservation & Rates
Reserving this church is very affordable for those who already belong to this church: P5,000 if the groom is a Parishioner; P4,000 if it's the bride; and P3,000 if both of them are. If you're from out-of-town and are looking to book this church, though, it's going to cost you P10,000 just to rent the church.
The church holds masses daily, so wedding time slots are scheduled around it. From Tuesdays to Saturdays, weddings can be held at 8:00 AM, 9:30 AM, 11:00 AM, 1:00 PM, and 3:00 PM. On Sundays, however, because there are masses from 6:30 AM to 10:30 AM and from 4:00 PM to 6:30 PM, weddings are scheduled by appointment.
Contact Information
Address: Tagaytay – Calamba Rd, Barangay Sungay West, Tagaytay, Cavite
Contact Numbers: (6346) 860-7251 / 483-5239 / 0946-483-5239
Our Lady of Lourdes Parish
The Our Lady of Lourdes Parish has a beautiful façade with the Virgin Mary overlooking the front courtyard surrounded by a beautiful garden. There's also a Candle Chapel within the compound where newly married couples can go to offer candles for their future life together after their ceremony.
Inside is a large and elegantly decorated church that can comfortably seat medium-sized wedding parties and have more standing on the balcony to watch your wedding unfold. The marble aisle is wide and grandly designed, allowing brides to have their moment as they walk down the aisle.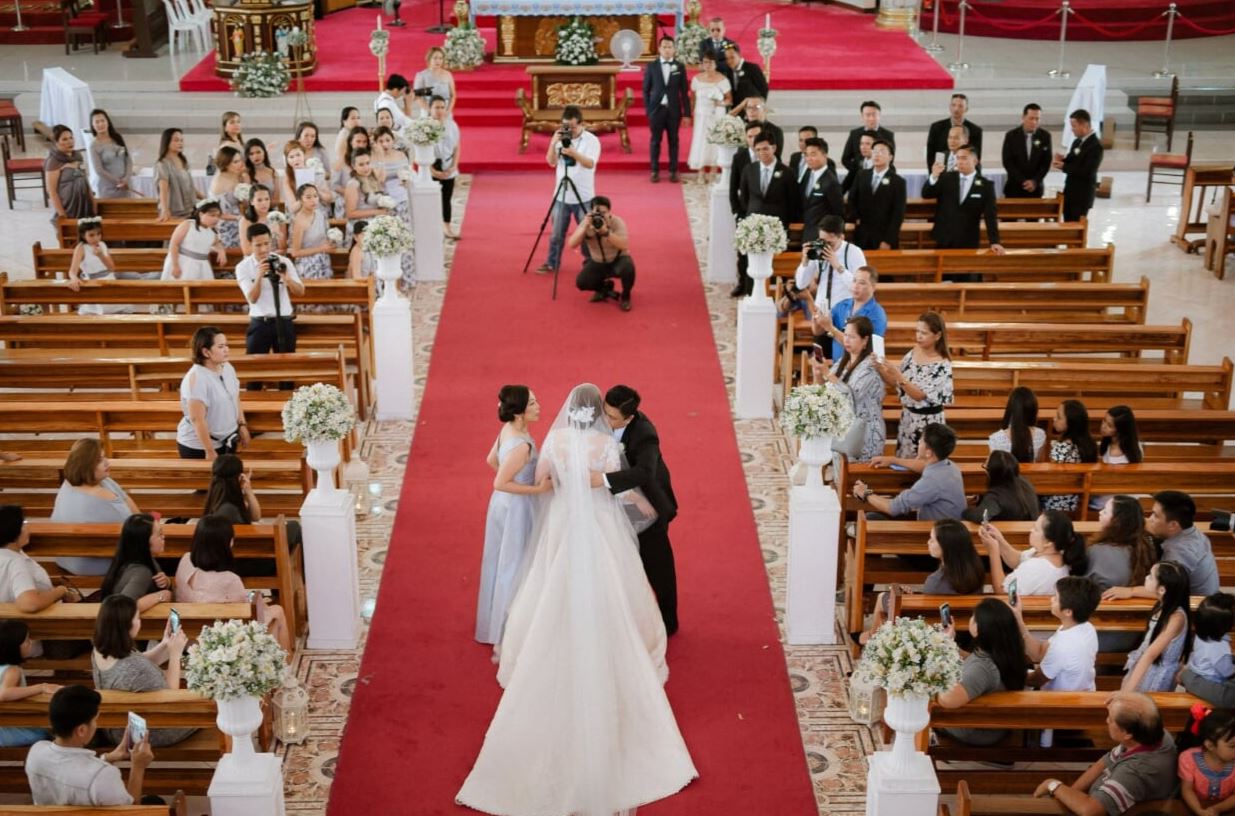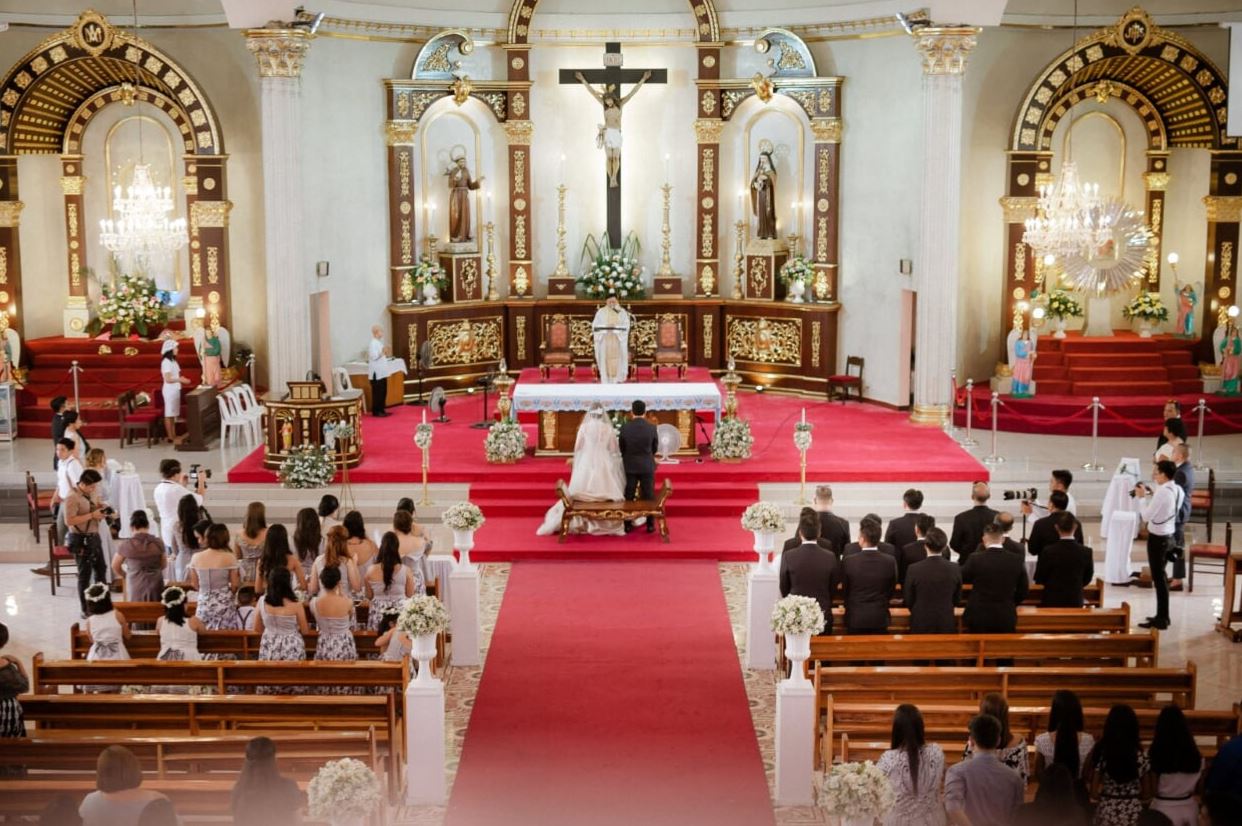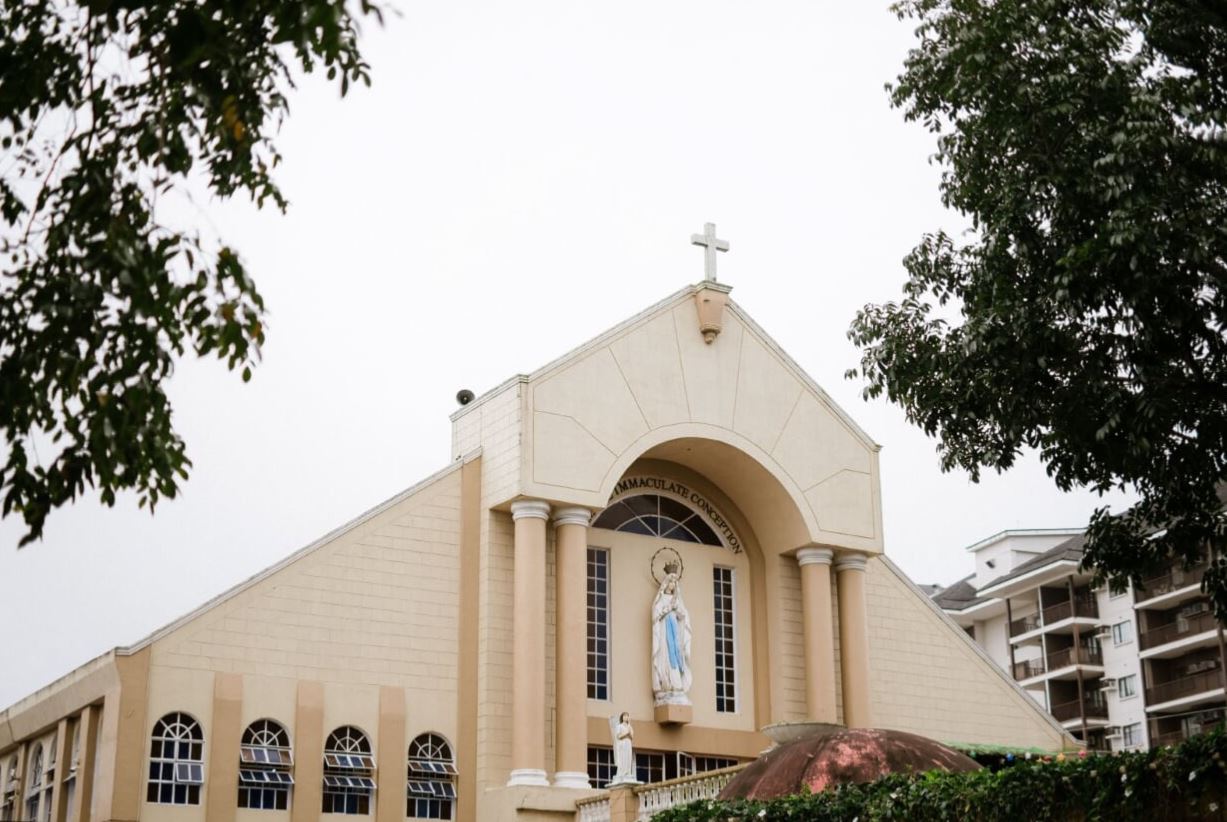 Photo credits to Ram Marcelo Photography – A Destination Wedding Photographer
Website: www.rammarcelo.com
Wedding Rates and Reservations
Unlike other churches, Our Lady of Lourdes Parish is said to be very lenient and offers plenty of inclusions for couples who reserve the church. Their wedding rates start at P15,000 and can go higher depending on what the couple wants to include for their wedding.
Take note that the church has listed additional requirements for certain types of couples. These include couples with foreigners, Japanese and Chinese citizens, mixed marriages between Catholics and non-Catholics, and couples where one or both have been divorced or annulled.
Contact Information
Address: Tagaytay – Nasugbu Hwy, Silang Junction North, Tagaytay, Cavite
Contact Numbers: (046) 413-0758 Justine loves costumes, puns, horror films, and blue dresses. A literature graduate from the south, she writes online content for a living but is super shy about others reading her fan fiction.