https://www.pinterest.es/pin/436919601358725562/
https://www.pinterest.es/pin/205758276714971463/
https://www.pinterest.es/pin/838162180658416628/
https://www.pinterest.es/pin/351912460328033/
https://www.pinterest.es/pin/56154326593479825/
https://www.pinterest.es/pin/280067670565519213/
https://www.pinterest.es/pin/10273905390473170/
https://www.pinterest.es/pin/210402613831594451/
https://www.pinterest.es/pin/503981014549224464/
https://www.pinterest.es/pin/360921357643536824/
https://www.pinterest.es/pin/3237030973881549/
If you asked what the color of wedding dresses is, you're probably going to get "white" as an answer, since almost all brides choose white or an off-white hue for their wedding dresses. White is considered a symbol of purity, innocence, and chastity; it actually dates back to the Roman Republic where brides were clothed with a white tunic to transition them to the matron role.
However, some brides are now getting bored with the traditional hue of wedding gowns, with some opting for more colorful and fun wedding dresses to better embody their personalities or just to be as unique as possible. In fact, non-white wedding gowns are one of the wedding trends that experts are predicting will become more popular in 2022, with more brides going for bolder and more eye-catching choices. If you're considering going for a different colored wedding dress, we've come up with a list of possible color options to choose from!
8 Colorful Wedding Dresses for a Vibrant Wedding
Make your wedding more personalized with a colorful non-white wedding dress. You can opt for your favorite color, or you can follow your wedding color theme to be as consistent as possible. Not only does this make picking the right wedding dress easier since you won't need to be confined to the traditional colors you're not too keen on, but the choices will basically be endless. Here are some of the best untraditional wedding dress colors, and their corresponding symbolism to make your choices a bit easier:
Red Wedding Dresses for the Fiery Bride
First off, red is one of the most eye-catching colors in the spectrum, with scientific studies showing that red is the most attractive color for both men and women. In addition, red symbolizes life, love, and passion – the three concepts celebrated during weddings. But wearing red isn't a foreign or new thing for weddings, with other cultures and religious sects opting for red wedding gowns and dresses to usher in luck and symbolize auspiciousness.
Choose a red dress for your non-white wedding gown for a show-stopping and spirited choice. To make your red wedding gown stand out better, you can opt for duchess satin fabrics for that distinct shine and flow.
Blue Wedding Dresses to Embody Tranquility and Peace
Aside from the traditional white, blue is another color that symbolizes peace and tranquility. Often associated with the sky and the sea, blue is a great choice since it's cool on the eyes and it's pretty refreshing to look at. If you're planning a fairytale-themed wedding, you can even channel your inner Cinderella or Elsa with a colorful wedding dress matching their iconic gowns.
Pink or Blush for a Playful Vibe
Go for a stunning feminine choice with a light pink or blush dress. Much like how white symbolizes innocence, pink also embodies innocence and playfulness, which would be a great alternative to the traditional colors. Because of light pink's subtlety, this color would compliment any skin type. Match your non-white wedding dress with a bouquet of pink peonies or pink roses and you'll have an unforgettable look that will have everyone awe-struck.
As for fabrics, you might want to consider tulle or chiffon fabrics for a soft and flowy pink or blush wedding dress.
Emerald Green Wedding Dresses for the Elegant Bride
Symbolizing growth and prosperity, emerald green is an elegant choice for any bride to choose, offering a much-needed contrast. By wearing this distinct color, you'll surely stand out and have heads turning as you walk down the aisle. You can make the color pop out more with a choice of silk or velvet fabrics to let light reflect and make your wedding gown shine. You can even personalize your emerald green-colored wedding dress with intricate gold accents to further make it your own.
Lavender for the Sophisticated and Stylish Bride
Devotion, love, and spiritual healing – these are the three things that the color lavender symbolizes. With its pastel and delicate shade, lavender can offer a unique take on colored wedding dresses without straying too far or being too loud for your wedding ceremony. And with the recent release of the Pantone color of the year, periwinkle, you can even make your wedding much more distinct by adding 2022's color into the mix.
Gold for the Showstoppers
Gold symbolizes wealth, riches, and extravagance. If you're planning on wearing a striking and flamboyant piece for your wedding, wearing a gold non-white wedding dress would probably be a great option. Not only will you look elegant and sophisticated, but you'll surely get the attention of everyone as you make your grand entrance or as you twirl around during your first dance.
Nude Wedding Dresses for a Modest and Relaxed Feel
Perfect for modern minimalist weddings, nude is a beautiful subtle hue for a low-key vibe. Go for a streamlined and simple design with no frills and loud details so your guests can focus on the ceremony and your vows without getting sidetracked with gleaming and eye-catching colors. This is also a perfect way to make sure that your wedding ceremony stays solemn and sacred.
Black for the Adventurous and Bold Brides
The complete opposite of the traditional white dress, black dresses might seem a bit of a taboo because of their association with death and mourning. However, without this connotation, black is actually one of the most elegant colors out there, not to mention that it could mix with just about any hue or color theme. In fact, black is associated with power and strength, two words that can easily describe an independent and empowered bride.
For fabrics, you may want to consider lace or brocade to add intricate details to your black wedding gown. If you want a simpler design, however, you can go for satin fabrics for a shiny and wrinkle-resistant colored wedding gown.
Are Wedding Gown Rentals Recommended for Non-White Wedding Dresses?
When it comes to formal gowns and dresses, the Philippine market caters to all types of colors and designs. However, if you're looking around bridal shops and wedding gown rentals, color choices may not be too varied, since a lot of Filipinas still opt for the traditional white wedding dress.
However, if you're keen on renting a colored gown as your wedding dress, there are hundreds of shop choices around the metro that may just have what you need – albeit gowns that weren't designed for weddings. But who really decides what fits, though? Go ahead and rent a colorful wedding gown from a dress rental shop even though they're not labelled as bridal gowns. At the end of the day, it's the dress that makes you feel comfortable and at the same time beautiful that should be chosen for your special day.
Other Ways to Incorporate Color Into Your Wedding Gown
If you think that you're not comfortable enough to choose a nontraditional color for your wedding dress, don't worry. There are other ways to add a splash of color to your wedding outfit without straying too much from the white, including:
Wear floral headpieces or crowns
Add color to your hair by wearing flower crowns or headpieces with vibrantly colored flowers and greens, like budding roses, peonies, and Persian buttercups. You can also add colorful jewels into your hair or wear a simple tiara.
Opt for a colorful bridal bouquet
Don't stick to a single-colored bouquet. Go for eye-catching and colorful blooms, like sunflowers, sweet peas, tea roses, and tulips.
Have your wedding gown hand-painted
Transform your wedding gown into a canvas by having it hand-painted with intricate details, like delicate flowers and vines or birds in flight. You can even add important details that can symbolize your relationship with your soon-to-be groom to make it more personal and more intimate.
Another option is to go for an ombré look by having your skirt dipped into pastel colors for a subtle color addition.
Add colored appliques to your veil
Add beautiful colored details to your veil to accentuate it against your white wedding gown. You can add intricate floral patterns or vintage details to add to your gown's personality and flare.
Tie a ribbon around your waist
Do you think a pure white wedding dress might be too boring for you? You can tie a colored ribbon around your wedding dress to easily accentuate your waist, and at the same time tie in your dress to your wedding's color theme – easy and fast!
Channel Your Adventurous Side With Your Untraditional Wedding Dress
Nothing says "adventurous" more than going against traditions and the status quo. Be the adventurous bride that you are and go for a bold, colored wedding gown. Don't let yourself be confined to the traditional white featured in bridal shops and bridal boutiques. Look for wedding dresses from RTW stores and shops, or even check out dresses designed for promenades and other formal events. The choices are near endless, but what's important is that you find the perfect dress that would match your personality and your comfort levels. Not only will you feel more connected, but it may even make your wedding feel more personalized and intimate.
We hope you find the best wedding dress choice soon, and let us know once you find the perfect one!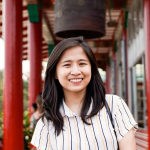 Donna spends 50% of her time writing, and the other 50% napping, snacking, or befriending stray cats.