https://www.pinterest.ph/pin/613896992957346627/
https://www.pinterest.ph/pin/394557617360941845/
https://www.pinterest.ph/pin/392305817549467435/
https://www.pinterest.ph/pin/144467100539701101/
https://www.pinterest.ph/pin/1125968645904306/
https://www.pinterest.ph/pin/827536500260517921/
https://www.pinterest.ph/pin/351351208437310732/
One of the most exciting parts of planning a wedding is picking out your wedding outfits. While it's the bride's outfit that usually gets a lot of attention, picking out the best suit material for your groom's wedding outfit deserves a little more attention too. After all, the groom should look incredible on his wedding day too.
Picking out your suit isn't as simple as it seems. Today, there's a veritable range of choices for wedding suits. From cut to fabric, there are a ton of combinations that you can go with to create a memorable look for your special day.
In this article, we help you pick out the perfect wedding suit material for your special day.
The Best Suit Material for Your Wedding
Selecting wedding suit fabrics can be overwhelming. You've got cotton, linen, cashmere, and tons of other choices that you've probably never heard of before. With so many options available, how do you choose the best fabric for your wedding suit?
Picking out material for your suit is a lot like choosing the attire for the bridal party–you have to make sure that it seamlessly fits your wedding. From theme, color, to formality, here are some of the things to consider when choosing your wedding suit's material: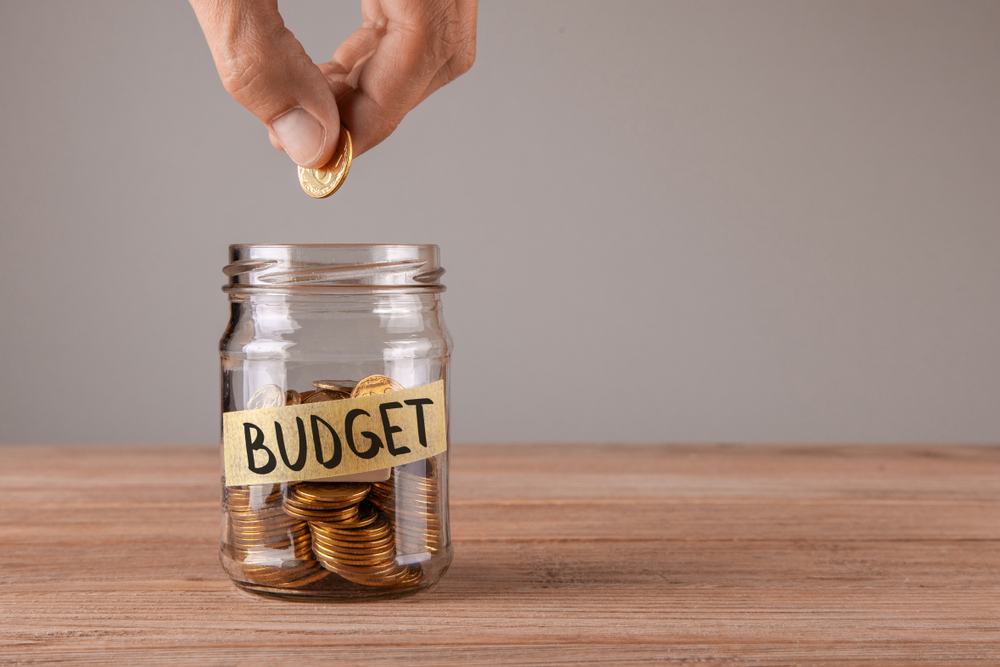 Budget
When we talk about weddings, a lot of things will really depend on your budget. This will dictate how much you can spend on things for your big day. Your budget will also tell you if you're getting a wedding suit for rent or having one custom-made.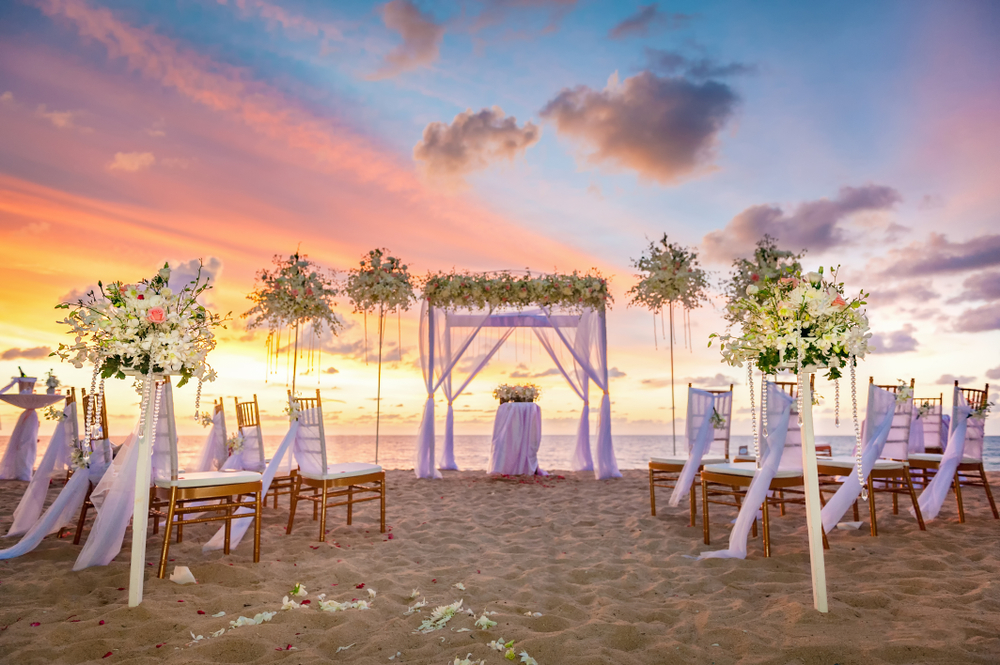 Weather
Let's face it–sometimes, dressing in style isn't always the most comfortable choice. We can thank our tropical weather for that. When you pick a fabric for your wedding suit, make sure that you go with something that suits the weather for your big day. Cotton and linen are known for being light and breathable fabrics, while wool is suited for cooler occasions.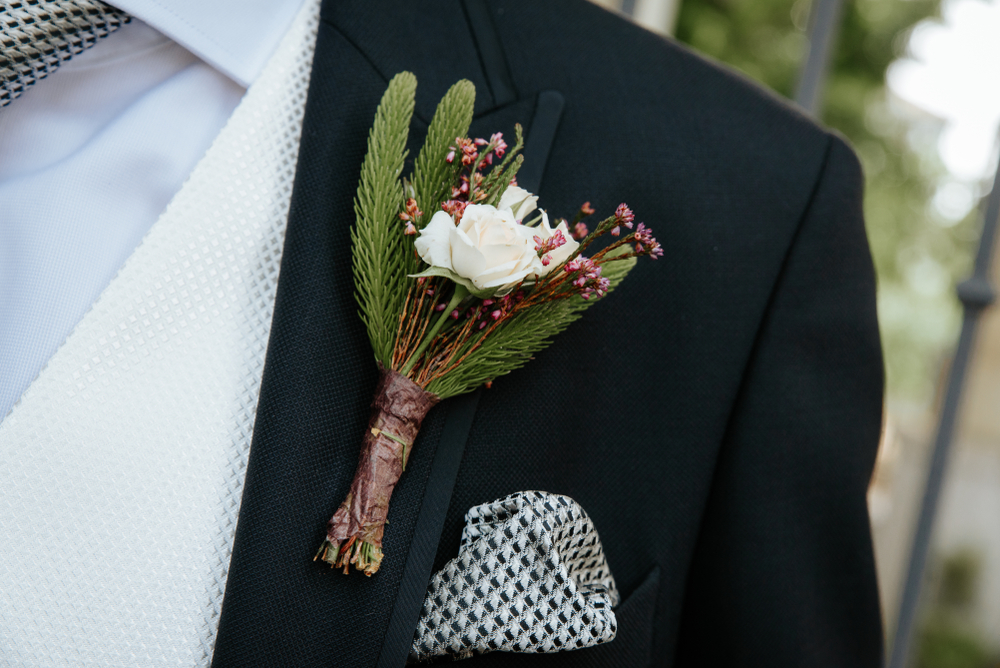 Theme
Your wedding's theme can also guide you when you pick out your suit. After all, you don't want to stick out like a sore thumb–even if you are the groom. Some suit materials may not be the perfect fit for a themed wedding, while others can be designed to look more sophisticated with a certain cut. It's also important to note the accessories for the groom's suit. These shouldn't clash with the fabric in any way.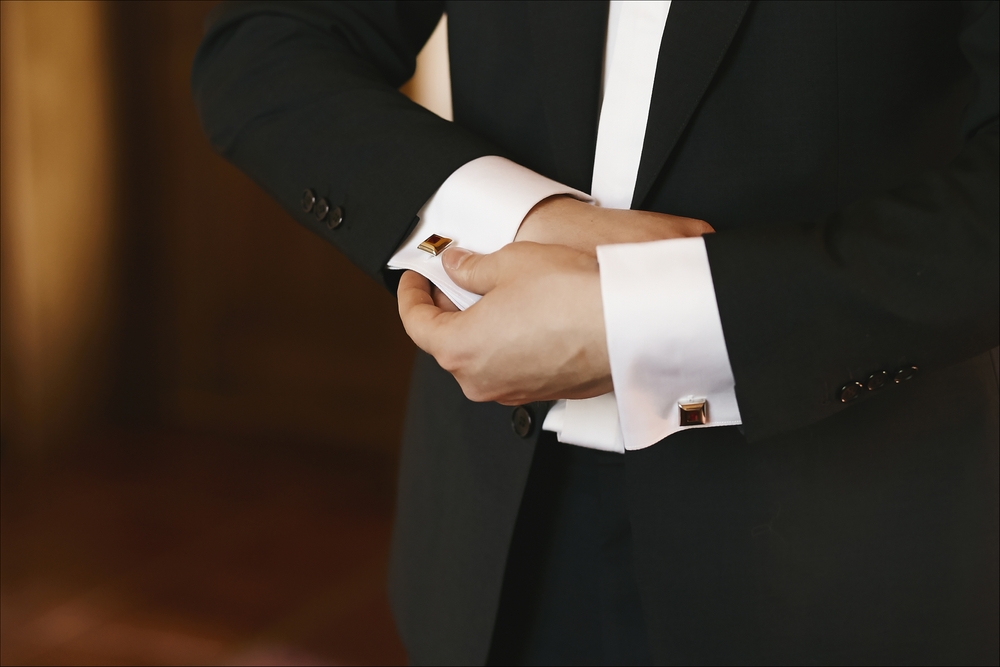 Formality
Some suits–and the fabric that they're made of–are better suited for casual affairs. Deciding on how formal your wedding will be can help you pick out the best suit material for a wedding. Material like cotton and linen can make stunning casual suits, while velvet and silk are a better fit for black tie events.
Popular Fabrics for A Wedding Suit
With all the different wedding trends popping out every year, it isn't really surprising that a lot of different cuts and suit styles have become popular. It's probably tempting to just pick what's trending or stylish–but for a big day like your wedding, that probably isn't the best choice. Much like a bridal gown, your wedding suit deserves some due consideration too.
If you're not sure what's the best fabric for your wedding suit, here's a rundown of some of the popular wedding suit fabric choices and what kind of weddings they are most appropriate for.
Wool
Wool is a natural fiber that is popular for any occasion. It's a favorite among style savvy and practical individuals because of its breathability, versatility, and drape. There are several kinds of wool fabrics that you can choose from, so you can find one for every event or formality. If you want a sharp and non-creasable suit to wear on your wedding day, then wool is always a good choice.
Cotton
Cotton is one of the most popular textiles used in fashion and home decor. It is lightweight, organic, and casual–making it a perfect choice for more casual weddings. Cotton will never look as sharp and crisp like wool, but it's a great option if you're having a small intimate wedding.
Linen
Linen is another popular lightweight fabric that's a good choice for hotter climates. This particular wedding suit material makes gorgeous casual suits in beautiful, vibrant colors. Suits made from this material are usually light, airy, and breathable. If you're having a beach wedding, consider going for a stylish linen suit.
Silk
Silk isn't just for the bride or the bridesmaids–it's a great material for wedding suits too. Silk wedding suits look especially luxurious and sophisticated, so they're most appropriate for black or white tie weddings. The biggest con of using silk as a wedding suit material is that it's not breathable. That's why silk suits are best suited for weddings in a cooler climate. Since silk isn't a cheap fabric, silk suits can also be quite expensive…so remember to consult your budget!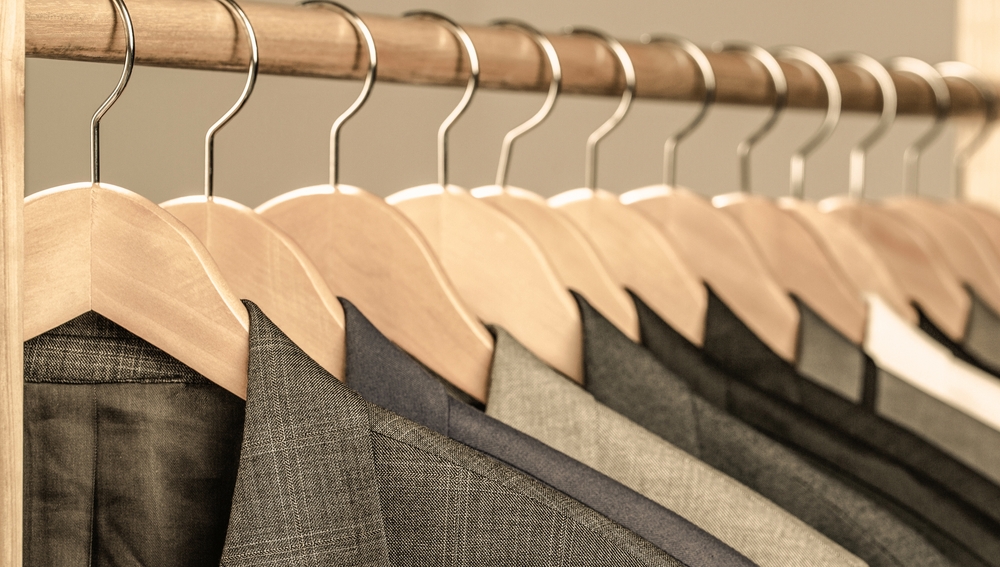 Blends
Blends come from a mix between two different fabrics. If you're looking for innovation and versatility, blends are the best suit material. For a wedding suit that's lightweight yet non-creasable, you could check out linen and wool blends. A cotton and linen blend gives grooms a cool and airy suit that's easy to move in. Because of their versatility, suits made from blended fabrics are well-suited for different occasions–it really all depends on you.
Polyester
If you're searching for a wedding suit on a tight budget, then you might want to consider polyester. Since it comes from synthetic materials, polyester generally costs less than natural fabrics. It's quick drying and isn't prone to wrinkles too. Despite its practicality, polyester suits tend to be less breathable compared to natural fabrics. It's also a wedding suit material that has a slight shine to it, so it might not be the most aesthetically appealing choice for some couples.
Velvet
Velvet is arguably the best fabric choice for a wedding suit that's equal parts fun and classy. This fabric is typically used for tuxedo jackets, but you can certainly wear a full velvet tuxedo if you wish. It's certainly going to make a statement.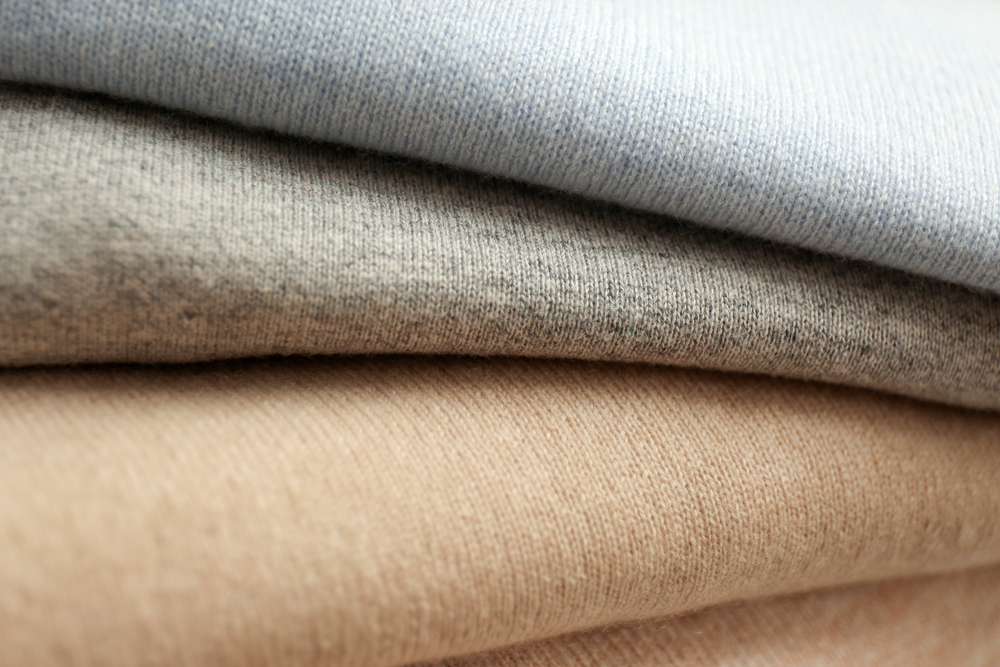 Cashmere
Cashmere is another lightweight fabric for suits. Soft and luxurious, cashmere is a good choice for summer wedding suits. Aside from being an expensive material, cashmere is also too fragile and can easily crease. Cashmere suits are probably not the best choice for active or clumsy grooms.
Tweed
Tweed isn't just for the stereotypical academic suits. Often considered as a type of wool, tweed is set apart from other types because of its distinct look. Since it does have a unique pattern to it, tweed is a good wedding suit material for more informal events. It's also on the thicker side, making it an excellent choice for colder weddings.
Chambray
If cotton and linen aren't your thing, then you should check out chambray. It is often compared to denim, except it is thinner and cooler. Much like denim, chambray also has a blue shade to it. Because of its color, chambray isn't the best choice for formal suits–it does, however, make a lovely casual wedding suit.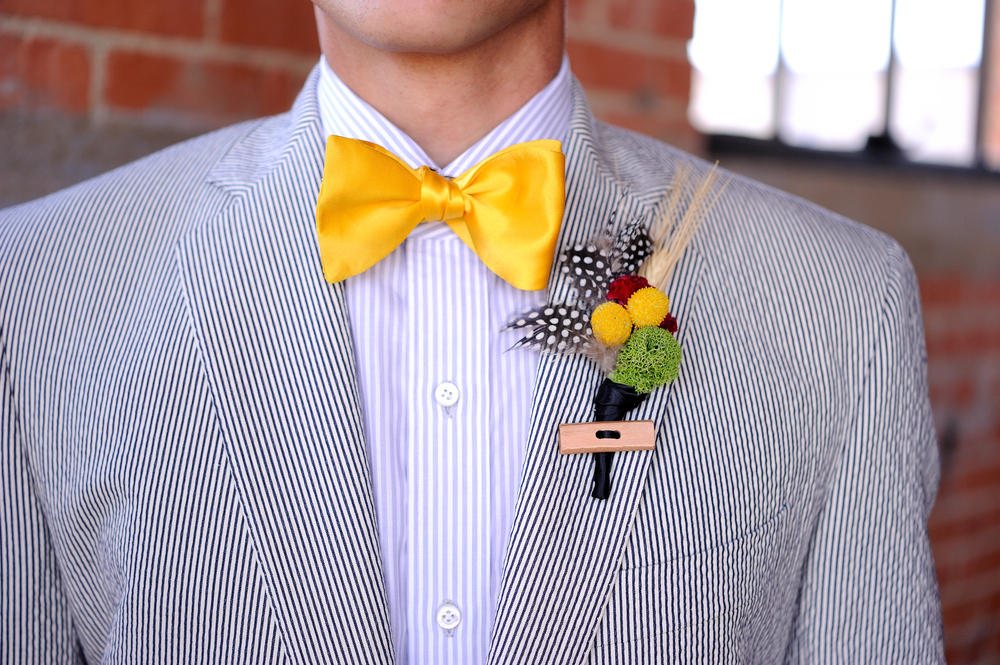 Seersucker
If you're looking for a lightweight suit, then seersucker might be right up your alley. Breathable and airy, this material is perfect for summer suits or casual suits. It may seem wrinkled, but that's mostly because of the tight weave in the fabric. For a unique suit that's good for both casual and intimate occasions, seersucker is one of the best choices.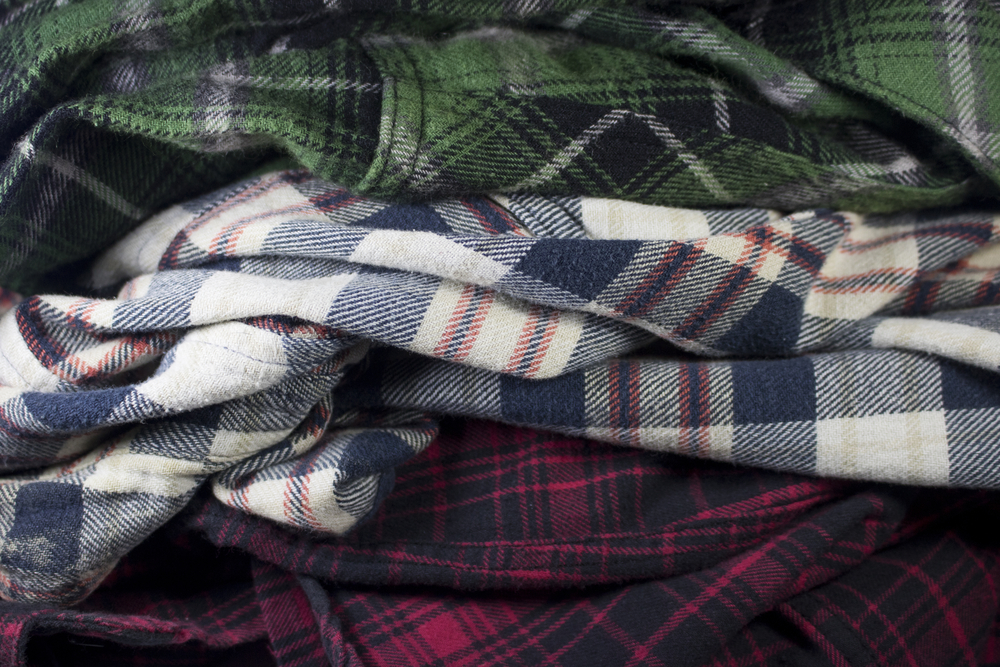 Flannel
Flannel and pajamas seem like a match made in heaven, but it's also a beautiful fabric for suits. Soft yet warm, flannel is a good material for winter wedding suits. It probably isn't the best choice for summer or tropical choice–but it's a perfect winter wedding suit. If you're having a wedding abroad in a foreign snowy country, then a flannel suit isn't a bad choice at all.
Worsted
Worsted wedding suits are, by far, the epitome of class and sophistication. Worsted wool suits have the same quality and crispness of wool suits, but are more lightweight. They also don't have the fuzz from regular wool suits. Worsted is often used in luxury suits, which is why it can get quite expensive too. It definitely is a worthy pay off though as they make excellent formal suits.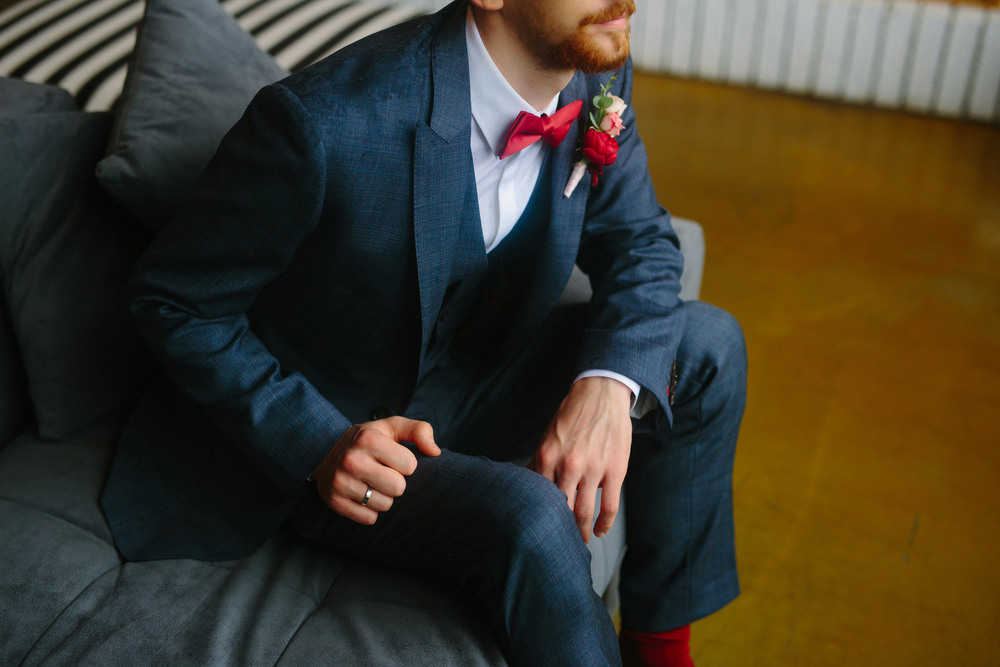 Finding The Best Wedding Suit Material For You
A wedding suit isn't the outfit that everyone waits for…but it's still one that makes a huge impact on a wedding. Classy wedding suits have a subtle effect: they set the mood for the couple to walk down the aisle. While you won't remember a groom's suit, you'll probably remember how confident and sure the groom looked as he walked towards the altar.
A stunning suit will give the groom that confidence. That's why it's important for the groom to find that perfect fit too. After all, the best suit will differ from every groom. Some will have a classic black tux, while others will choose a vibrant yet relaxed suit.
For the fabric or material of your wedding suit, it really all boils down to you. Just like finding your special someone, finding the perfect suit is a matter of preference or compatibility. When everything's done and accounted for, the best question to ask yourself (when you pick your suit, of course!) is: Are you happy with your suit?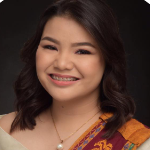 Joey Cole is a digital content writer from Laguna. When she's not looking at her task list, she's probably obsessing over another anime show, looking at pictures of food, or adventuring all over Faerun with her online DND friends.