Aside from picking the dress I'll be wearing, one of the things I'm most looking forward to is choosing the wedding cake. In western tradition, couples freeze the top tier of their wedding cake and save it for their first wedding anniversary. I don't think that tradition sticks in the Philippines, but I'm looking forward to enjoying my cake during the reception and then sharing the top layer with my future husband during our honeymoon.
Deciding on a wedding cake can be a bit challenging. There are lots to choose from in terms of the style, flavors, and layers you may want for your cake. If you're having difficulty knowing which is the most picture-perfect one, don't worry! In this wedding cake guide, I'll tell you everything you need to know to pick the perfect cake for your wedding.
How to Choose a Wedding Cake
There are many factors to consider when you're choosing a wedding cake. There are a few things to think about before purchasing a cake, including the number of guests and your budget. So, to kick things off, here are a few things you should think over when deciding on your cake:
Types of Wedding Cake
A wedding cake tip you must first take note of is deciding the type of wedding cake you want for your wedding. You can start choosing the type based on its shape, size, flavor, and tier. Here are some things to consider when choosing your wedding cake:
Shape
Wedding cakes are usually round or square in shape, have multiple layers, and are decorated with cute wedding cake toppers. As bakers evolve their creativity, the sheer number of unique wedding cake shapes is also increasing in the market.
Round, square, hexagonal, or even multiple sides, here are wedding cakes by the shape you can consider: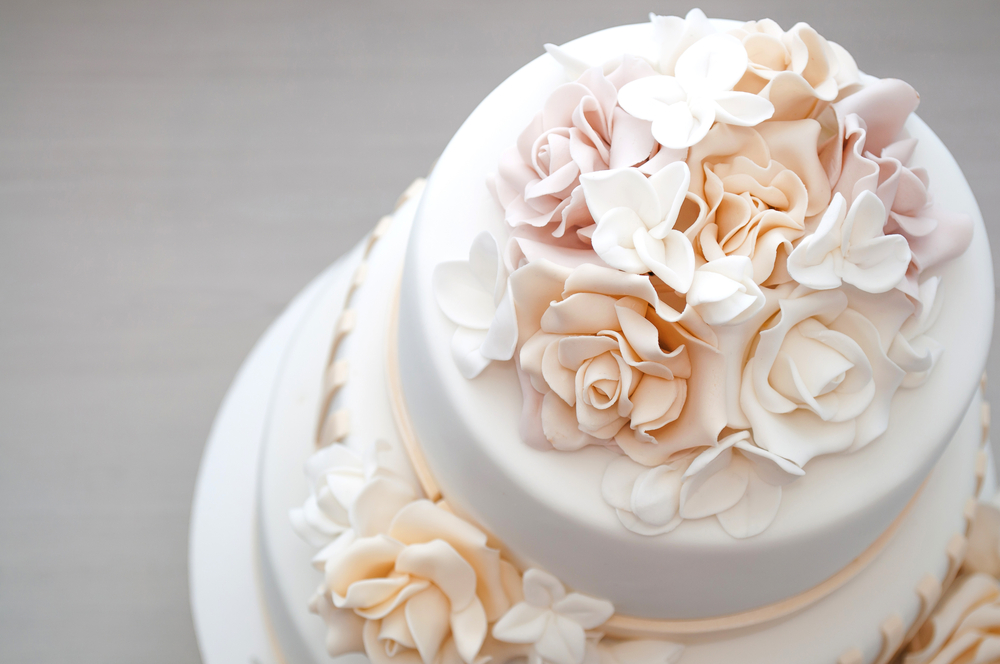 1. Round
You can never go wrong with choosing round wedding cakes. Round cakes are a classic shape. That signifies harmony because they resemble wedding rings. Round cakes can have multiple tiers, but they also work well as a single-tiered treat.
Since round cakes are common shapes for wedding cakes, you can make them unique based on the style you want. Make it more unique by asking your wedding patissier to incorporate your love story into each cake layer. You can also add different decors that symbolize your love for each other to really make it personal.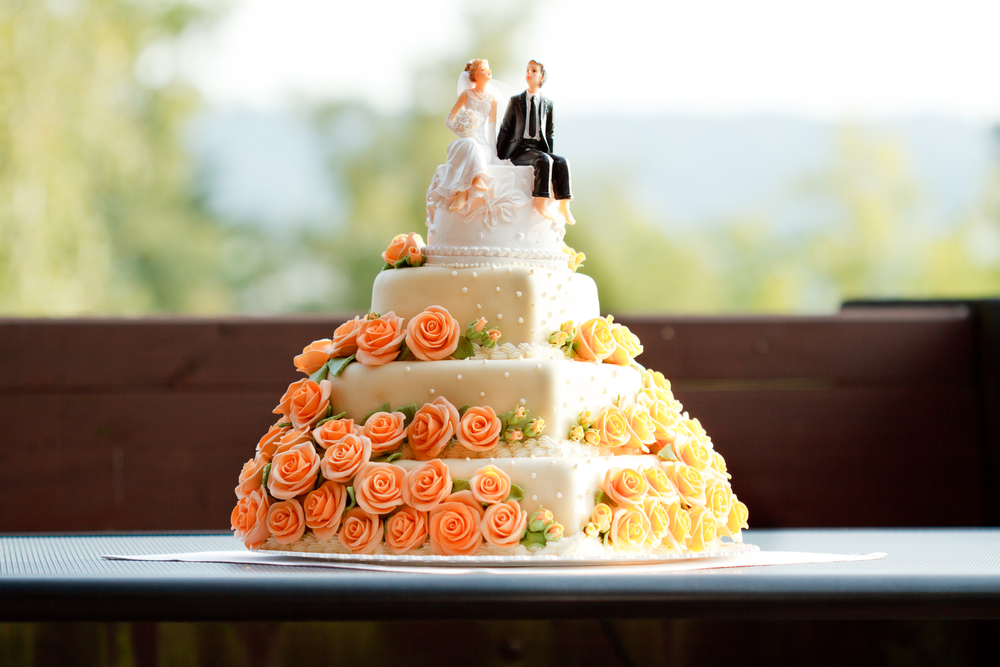 2. Square
A square cake is another common shape for wedding cakes. The wedding-appropriate decor in the pasty distinguishes it from birthday cakes in terms of appearance, making it one of the traditional wedding cake shapes. When choosing this wedding cake type, you can add several tiers and delectable flavors to make it more unique.
Take this for inspiration: during American swimmer Michael Phelps' third wedding celebration with his wife, Nicole, they displayed a square art-deco style wedding cake. The six-tiered, square cake is decorated all over with gold and black art deco designs to complement the couple's 1920s-themed wedding.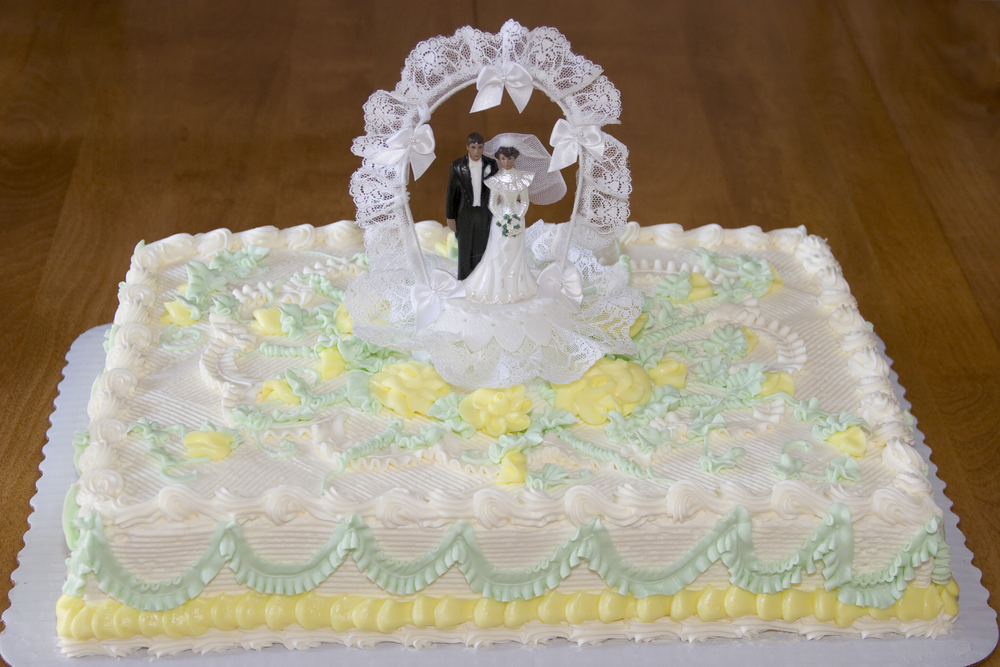 3. Sheet
Sheet cakes are flat and rectangular in shape. They're most commonly used for birthdays, but you can elevate this cake type and serve it elegantly at your wedding. Choosing a sheet cake for your wedding can be practical because they're cheaper than typical wedding cakes. If you want your reception cake to stand out, have your preferred wedding patissier decorate a sheet cake with flowers, hearts, and other wedding-appropriate designs.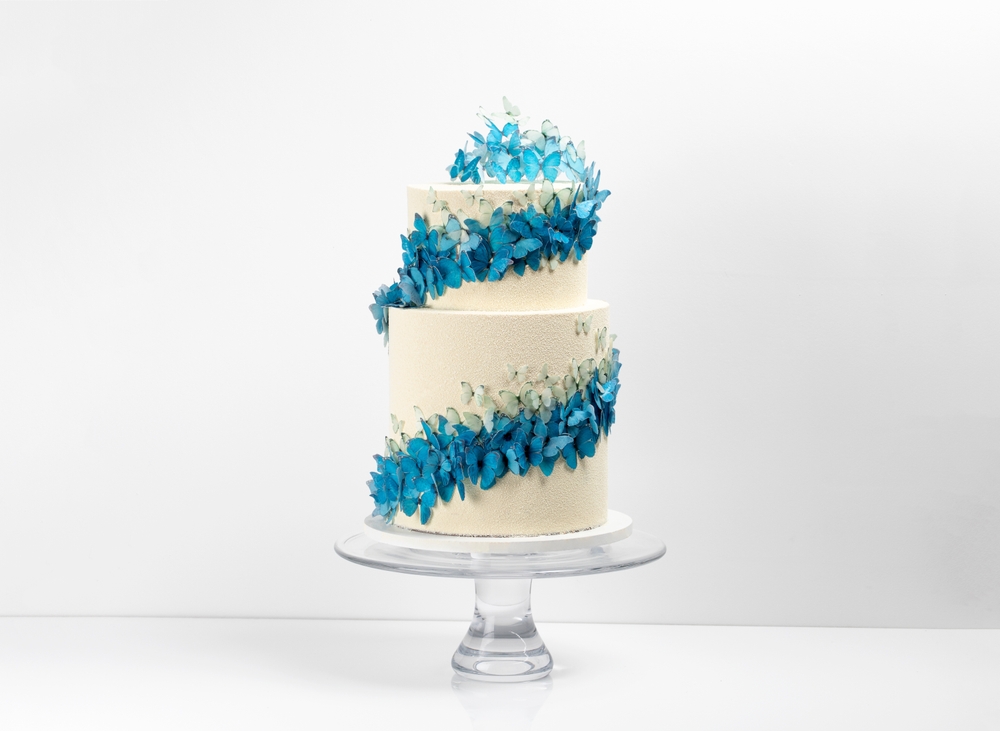 4. Sculptural
If you're up for something peculiar, try out a sculptural wedding cake! These cakes can take any form according to your liking. One more wedding cake tip: work closely with your baker so you can get a unique and elegant design that fits perfectly with your theme and budget.
Size
The size of your wedding cake depends on how many guests you have and how much cake you want to take home. For example, if I'm having a wedding with about a hundred guests and I want to have enough cake that can feed everyone and anyone who wants seconds while still bringing home the top layer for me and my husband to share, I'd pick the three-layer cake with the 14-inch base.
If you're thinking about how to choose a wedding cake depending on the size, here are some of the usual wedding cake sizes available: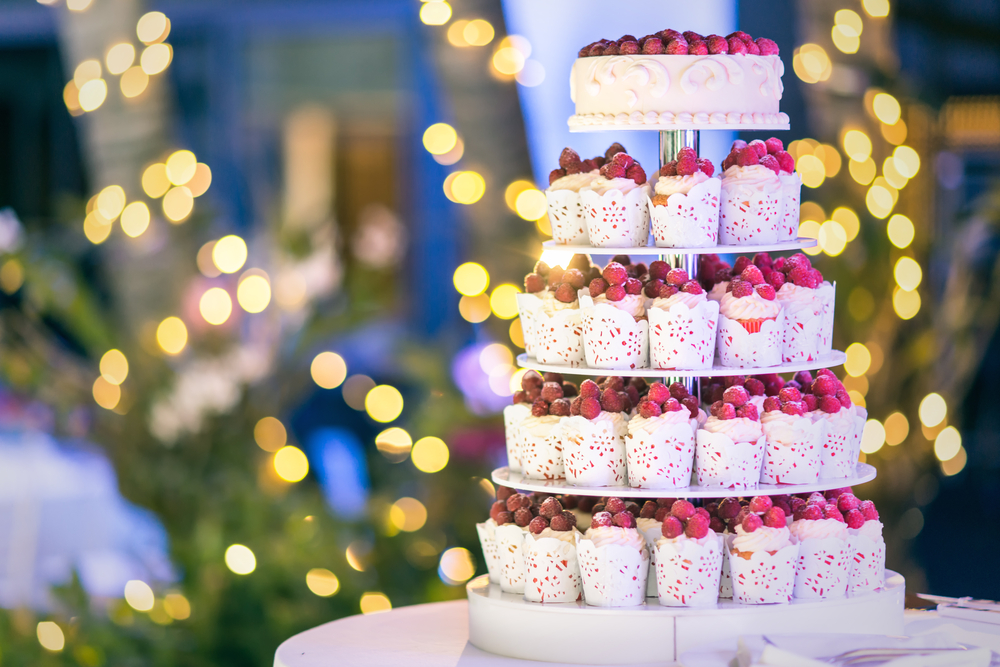 1. Mini/Cupcake
Miniature cakes are unique substitutes for traditional tiered cakes. They're perfect for small weddings, and you can easily choose the design you want. Some couples also prefer cupcakes as their wedding cake, so it's easier to distribute to their guests.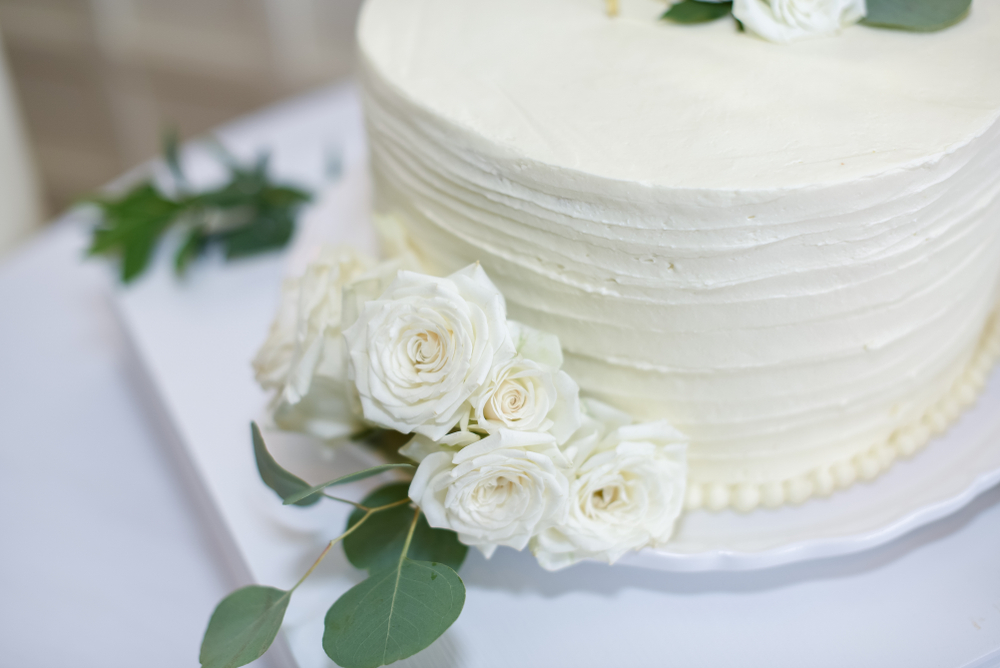 2. One-tier
A single-tiered wedding cake is also ideal for small wedding parties. These are convenient and can be quickly served to your guests. If you're planning to serve a one-tier wedding cake, it's best to consider the shape and size of the pastry so that all your guests will be served.
Here's a guide for the serving size of a one-tier round wedding cake:
6 inches = 10 servings
8 inches = 20-25 servings
10 inches = 30-40 servings
12 inches = 40-60 servings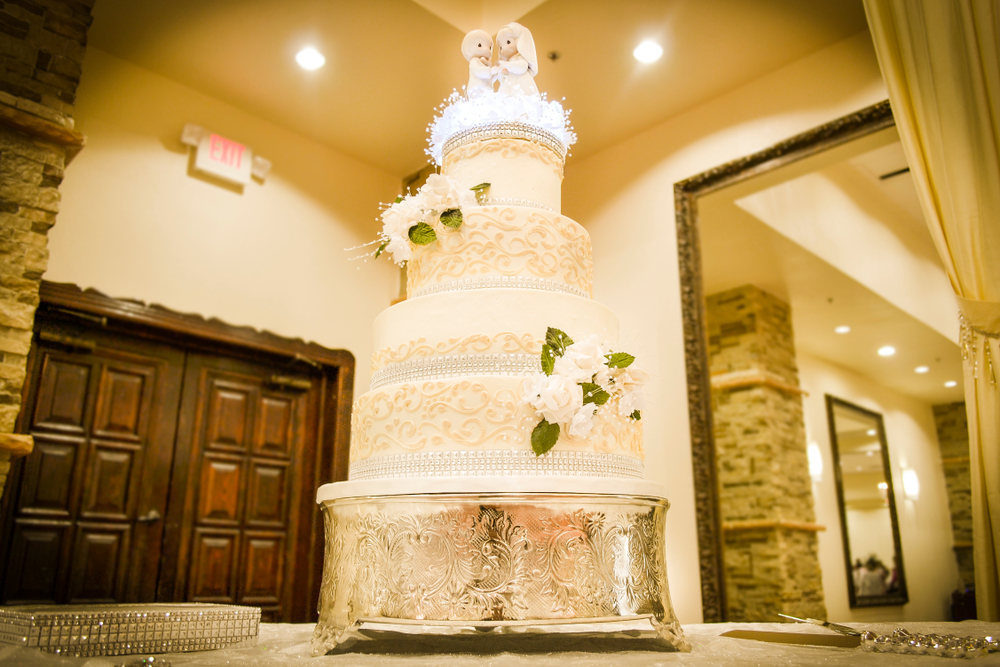 3. Multiple-Tier
If you have the money to splurge, you can go for a cake with multiple tiers. You'll have more room to do cake decorations and more than enough servings for your guests. For example, if you have 100 guests, you can opt for a four-tiered cake that's about 36 inches high.
Style
You can also consider your wedding cake type by style. This already encompasses the size, shape, and elegance of a cake.
Here are some styles you can choose from: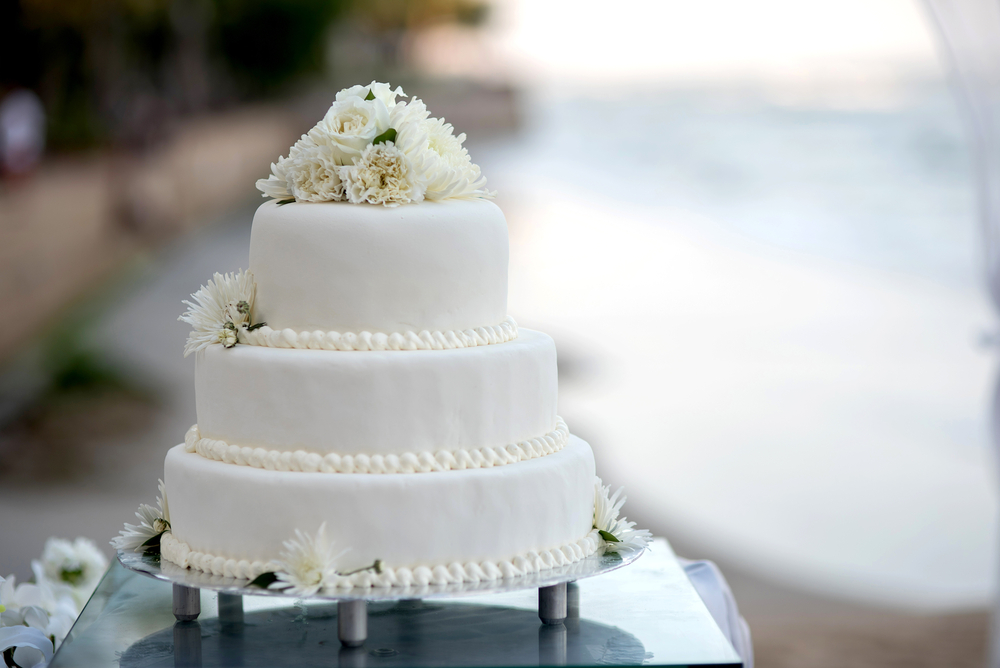 1. Traditional
Traditional white cakes will never go out of style. The color white represents elegance, money, and social importance; this color has been used for weddings since the 16th century. If you're choosing this type of wedding cake, you can tell your cake vendor to include white fondant icing to really show off the cake's color.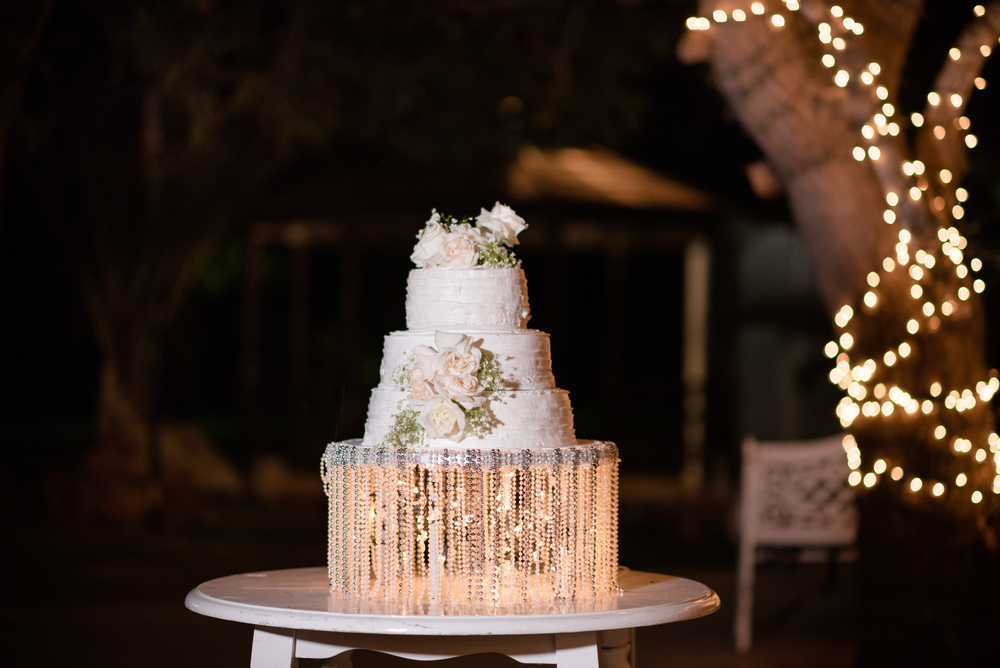 2. Modern
A contemporary couple deserves a stylish wedding cake! Modern cakes come in different forms, shapes, sizes, and unlimited styles. Typically, anything goes for a modern wedding cake as long as your baker or caterer can do it.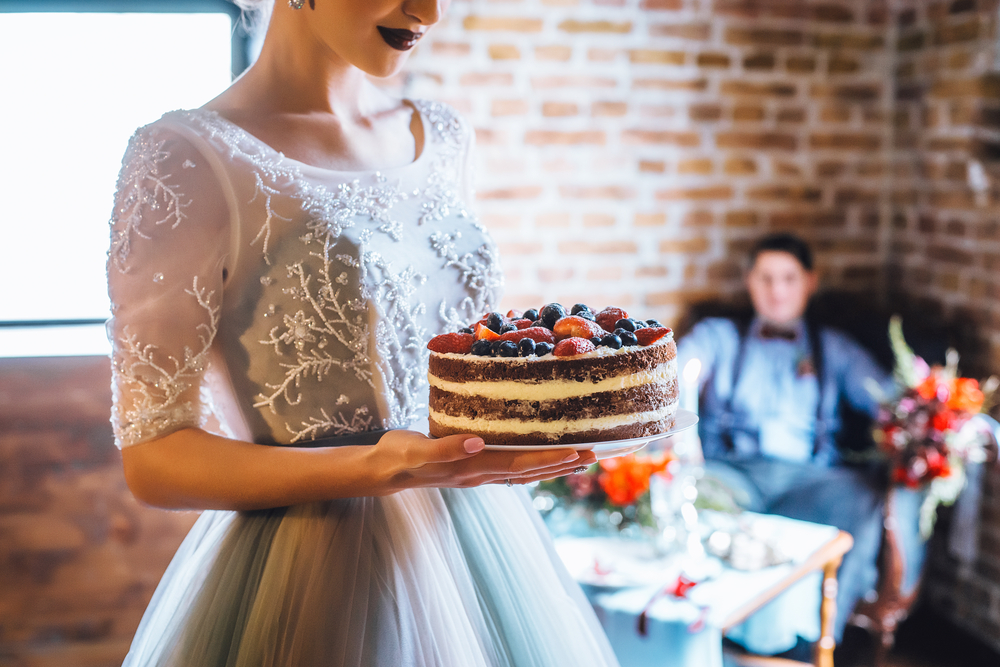 3. Naked
Naked wedding cakes are those without icing or frosting. They're made with cake layers stacked together using fillings. The cake is then covered with butter to replace the fondant icing. As a wedding cake tip: decorate the naked cake with fruits on top to make it prettier and tastier.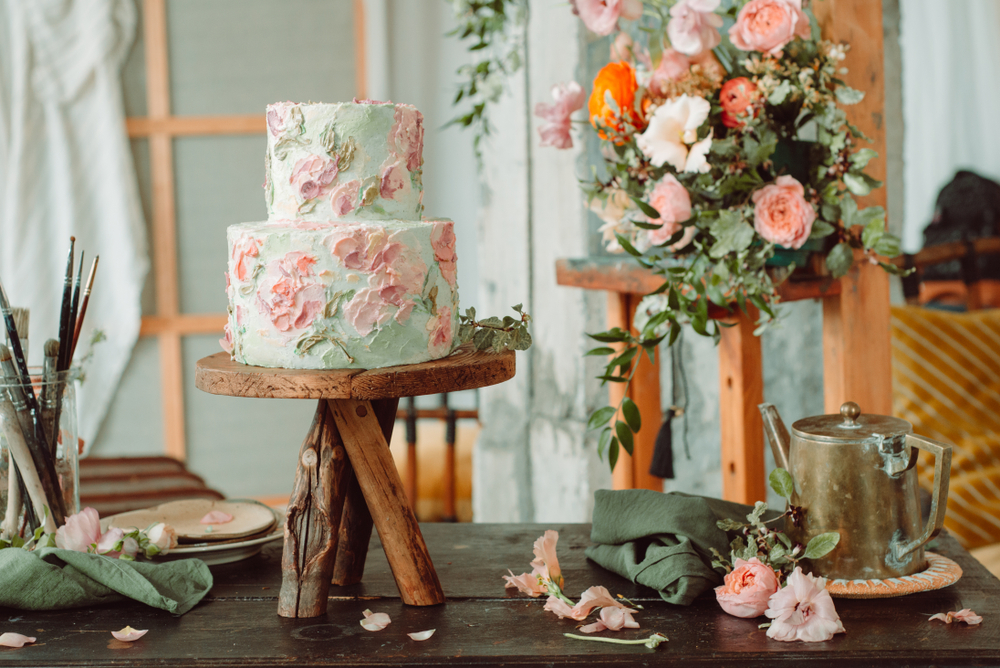 4. Painted
One of the most elegant wedding cakes are those that are painted to perfection. Painted wedding cakes are works of art that are almost too pretty to be eaten. They go beyond the standard designs and hues. Not all bakers are skilled at making this type of wedding cake, so research the ones that do when choosing your wedding cake.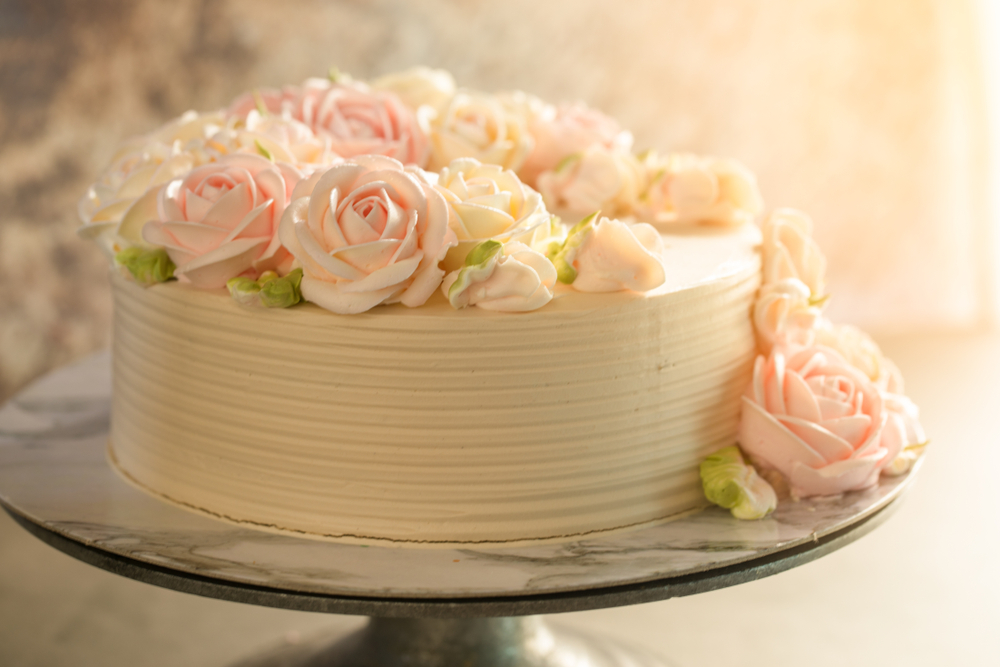 5. Petal/Flower
If your wedding will be full of flowers, why not add floral elements to your wedding cake too?
Petal or flower cakes have become a popular design for wedding cakes because of their elegant appearance. The petals are added to a circle-shaped or hexagonal cake. The petals are usually made using round or hexagonal-shaped layers in single-tier, multi-tier, or many mixed-shape cakes.
Price of a Wedding Cake
Picking your wedding cake can cost anywhere between P4,500 and P15,000 or more, depending on the baker or wedding cake vendors you choose to work with. This also depends on elements like flavor, size, and accessories.
For example, the popular Filipino bakeshop and fast-food chain Goldilocks used to sell these budget wedding cakes. This included miniature cakes for sponsors and a two-layer cake where one layer was made of styrofoam and was only for appearances. However, Goldilocks was also the company responsible for the giant 12-foot wedding cake adorned with Swarovski crystals, which reportedly cost seven million pesos during Dingdong Dantes and Marian Rivera's wedding in 2015. So, it really depends on what budget you can work with.
Wedding Cake Flavors
Which cake flavor is best for weddings? The answer totally depends on you!
You won't know how to choose a cake based on its appearance alone, so we really suggest going to bakeshops or setting an appointment for a cake tasting. The most common wedding cake flavors are chocolate, white chocolate, black forest, red velvet, and many more! You can also check out our unique wedding cake flavors article to learn more about savory cake flavors.
If you're also up for a healthier kick, you can try vegan wedding catering and savor the mouthwatering tastes of vegan cakes!
There's also the question of the type of frosting you can use for your wedding cake. Fondant is commonly used for wedding cakes, as it's a surefire way of producing a smooth and polished look and can be applied in a multitude of colors. However, not everyone enjoys the taste of fondant, so many couples opt for other frostings such as buttercream, cream cheese, and ganache. When deciding on which type of frosting works best for your cake, it's important to consult the baker or wedding cake vendor.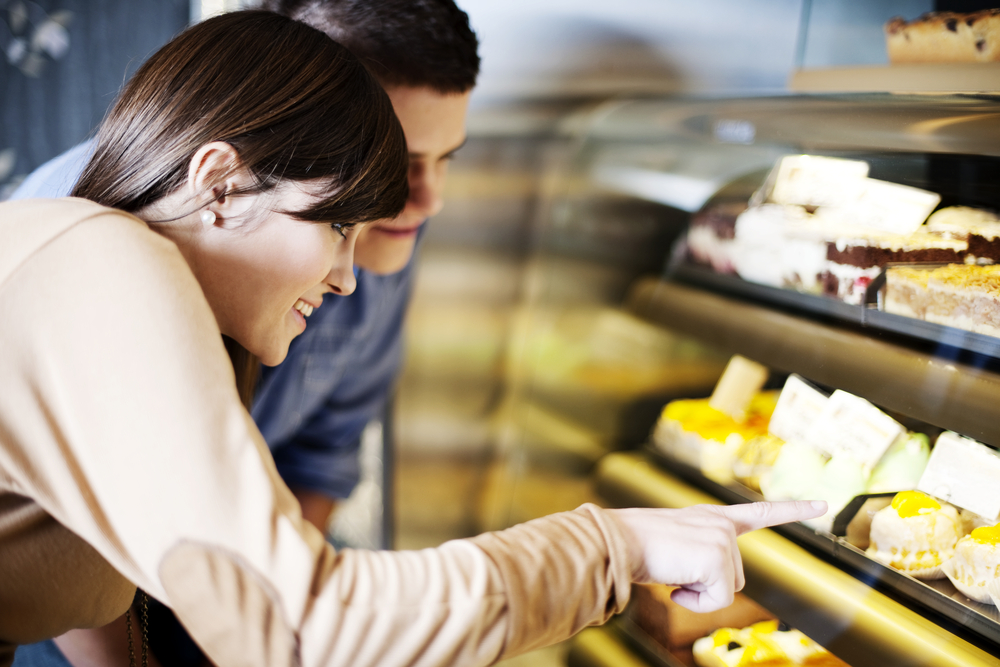 Where to Buy Wedding Cakes
Popular bakeries in the Philippines like Goldilocks and Red Ribbon can provide wedding cakes for weddings with small to large budgets. However, your choices are very limited as their wedding cakes aren't customizable. While they can make minor changes like the cake toppers or your and your partner's names, you can only choose from a number of designs. Also, to keep some of their cake options low, you might find that some of the cake layers are dummy layers (Styrofoam covered with icing).
You might want to look at local wedding cake vendors or bakeries recommended by people you know. There might also be bakeries at wedding expos. Like catering companies, bakeries provide tastings to help you choose your cake flavors.
When choosing where to buy a wedding cake, consider your wedding location and cake budget. Some vendors can only accommodate limited locations and venues. Make sure to discuss the area coverage of your vendor's services so you can make the appropriate arrangements for your cake.
Wedding Cake Tips
Now that you have an idea on how to choose a wedding cake, here are more things you should consider to really get that dream cake of yours: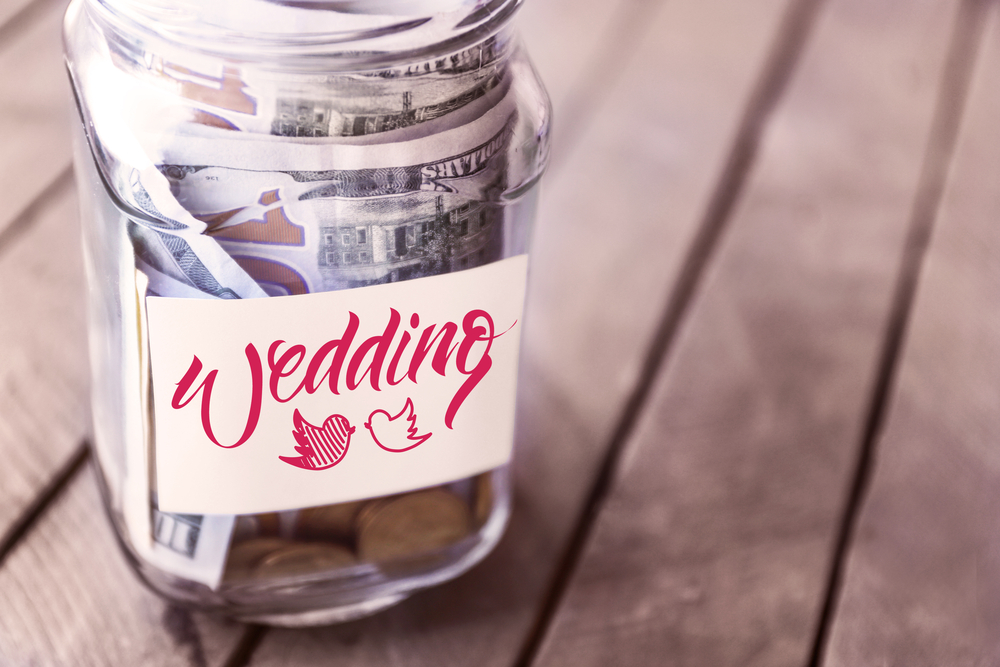 Designate a budget
Don't forget how much you'll allot for your wedding cake. Most wedding cakes cost a lot of money, so it's best to canvass for wedding cake prices. While searching for wedding cake ideas, you can also ask available wedding cake suppliers about their prices. This will guide you in comparing which ones fit your budget.
Estimate how many people will attend your wedding
That way, you can know precisely how many tiers you can have for your wedding cake. With this wedding cake tip, keep in mind that it's better to have extra servings than fewer ones. Not having enough wedding cake servings can cause issues, and you can just take home whatever's left on your wedding cake.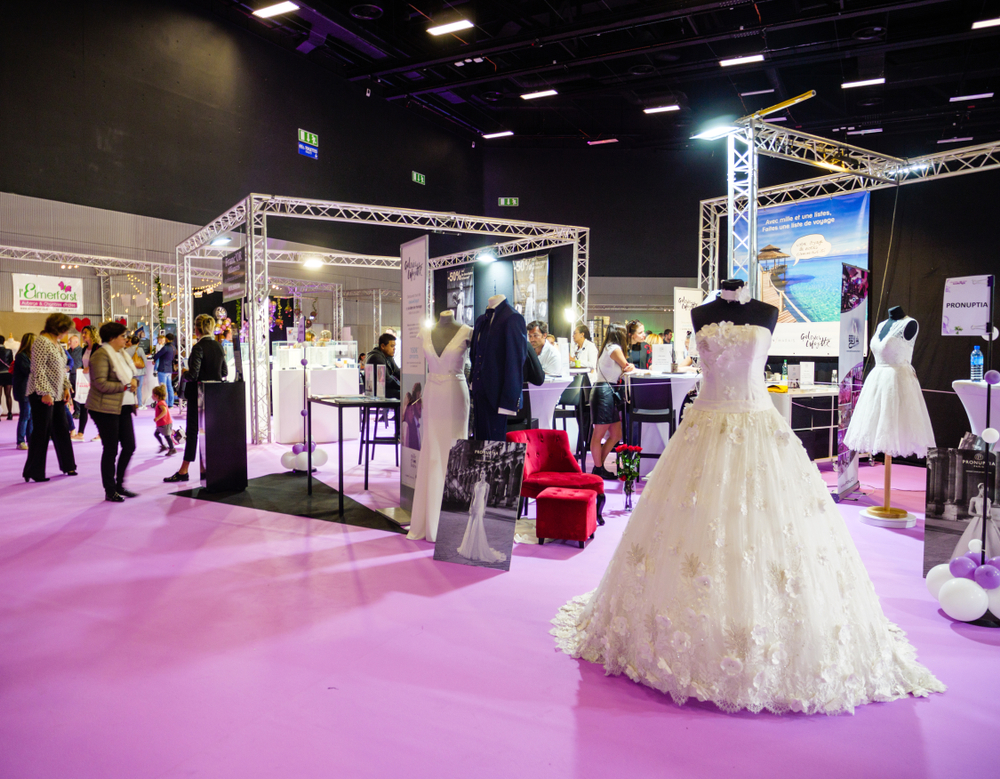 Visit wedding expos
One wedding cake tip we can give you is to canvass for wedding cake prices online or go to wedding expos. Wedding vendors at different expos also do cake tastings, so you can already choose one once you've liked the taste.
Consider your location
When making your cake selection, you should think about the size of your reception hall and the expected weather. Opt for a smaller wedding cake if your reception venue isn't that big. You can also add styrofoam layers to give more elegance to the cake without compromising the style. In addition, check the weather on your wedding day to prevent the melting of the cake. You can ask your wedding caterer for a fridge or a cooler to store your wedding cake so it won't melt.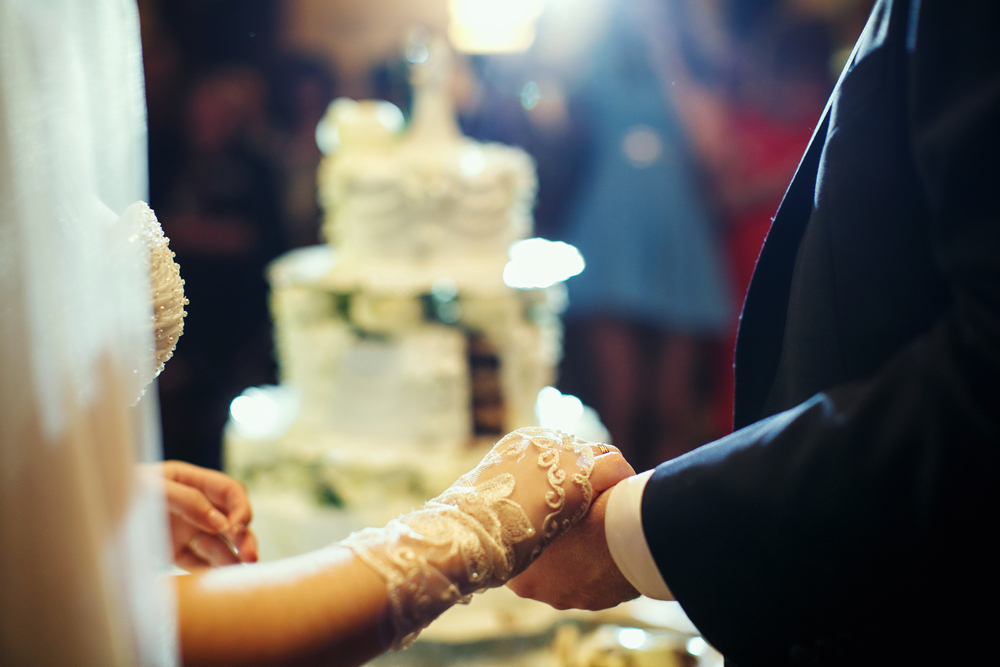 Start Planning the Wedding Cake of Your Dreams!
Wedding cakes symbolize prosperity and fertility. It's a wedding staple that symbolizes good fortune for the newlywed couple as they begin their married life. Choosing a wedding cake may not seem so simple, but once you've picked the right one, everything will fall into place.
Go ahead, and start making your wedding cake dreams come true! Justine loves costumes, puns, horror films, and blue dresses. A literature graduate from the south, she writes online content for a living but is super shy about others reading her fan fiction.