An engagement ring represents the beginning of a wonderful journey towards married life. In choosing the ring, you need to look at more than just the aesthetic. Start with this one crucial factor that can change the way you see rings: the engagement ring setting.
Don't know which ring setting to choose? In this article, we recommend the best diamond setting types that will make your marriage proposal even more special!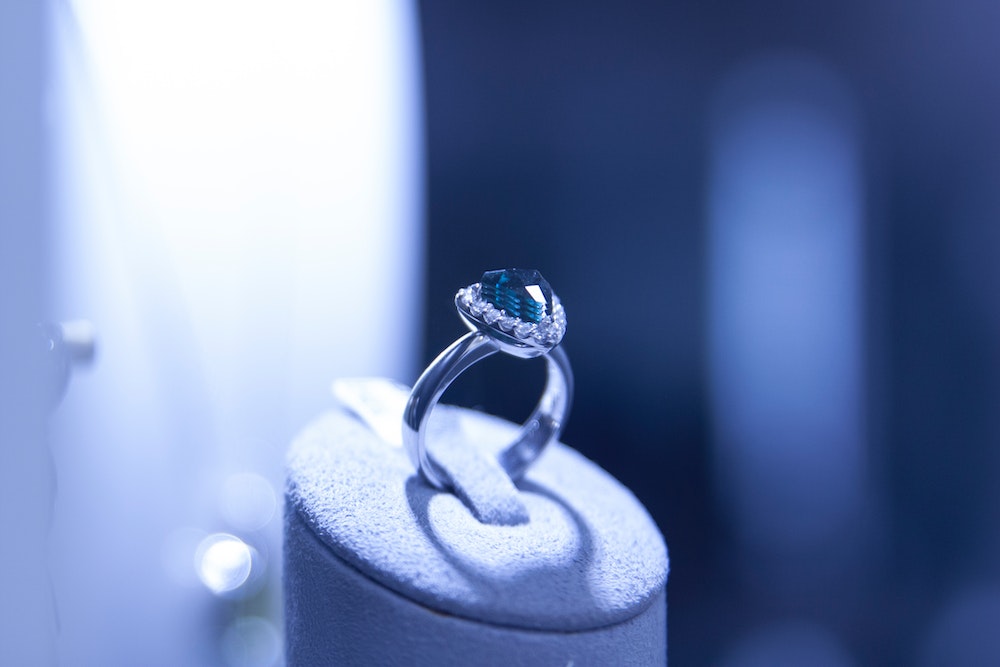 What Is an Engagement Ring Setting?
The ring setting refers to the arrangement and mounting of the gemstones within the metal band. Most people look at engagement rings based on how pretty they are. However, the engagement ring setting is something that people should consider more.  This single factor can alter the style and appearance of the ring. Each setting accentuates the beauty and style of an engagement diamond, so we encourage you to look into it more when picking an engagement ring.
Determining the ideal diamond setting type depends on your preferred central stone and your personal preferences. For example, if you want one enormous gemstone in the ring, try a prong setting, or if you want a setting that will surely secure the stone, consider a bezel setting. When selecting a ring setting, consider your lifestyle as well. You don't want a ring setting that will snag on your clothes and loosen the gemstone. These are important considerations, which is why it's essential to know the various styles of engagement ring settings.
Popular Types of Engagement Ring Settings
Learning the various diamond setting types is a step in figuring out how to choose an engagement ring. Once you're familiar with the ring settings it'll be easier to decide on other factors such as the gemstone type and ring size. Check out these popular ring settings that will suit your partner's tastes and preferences!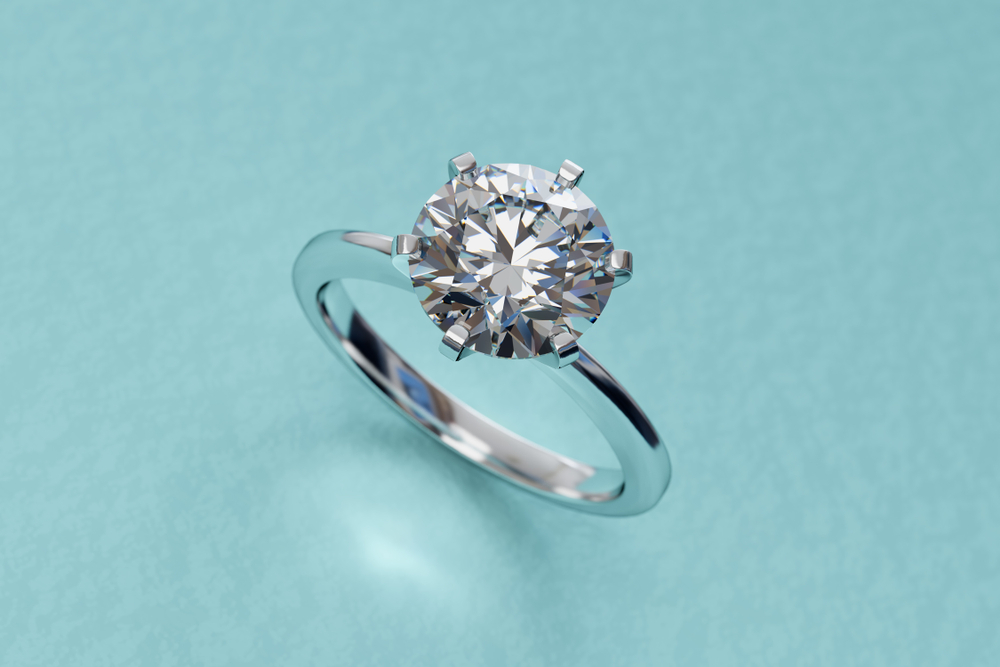 Prong Setting
The prong setting is the most popular setting for diamond engagement rings. This setting often contains four or six metal prongs that rise above the gemstone from the ring's basket. The prongs ensure diamond security and allow light to pass through the stone. Although the prongs support stones of any size, they are usually used to support a larger center stone.
Want a prong engagement ring? To get this setting, simply tell your jeweler how many prongs you want and what type of stone you will put in the ring.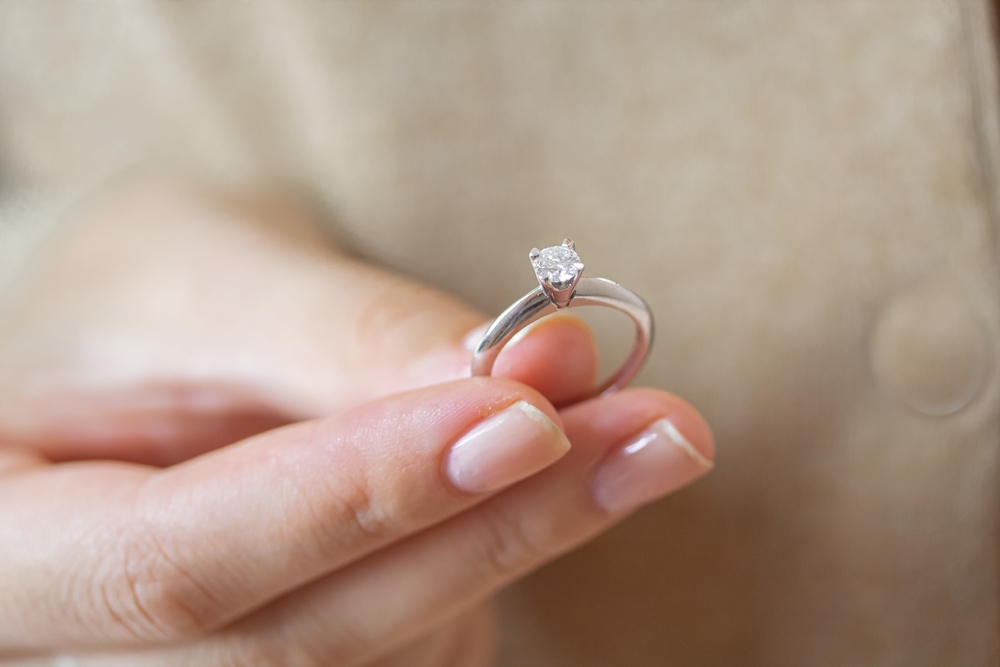 Solitaire Setting
If you don't know how many prongs you want for your engagement, then we recommend the solitaire setting! It's a simple yet elegant setting that features one brilliant stone that's why it's the most popular type of prong engagement ring. Solitaire engagement rings emphasize the brilliance of an engagement diamond. Any diamond shape makes a stunning center stone in this traditional setting.
Considering a solitaire engagement ring? Check out this dazzling collection of solitaire rings!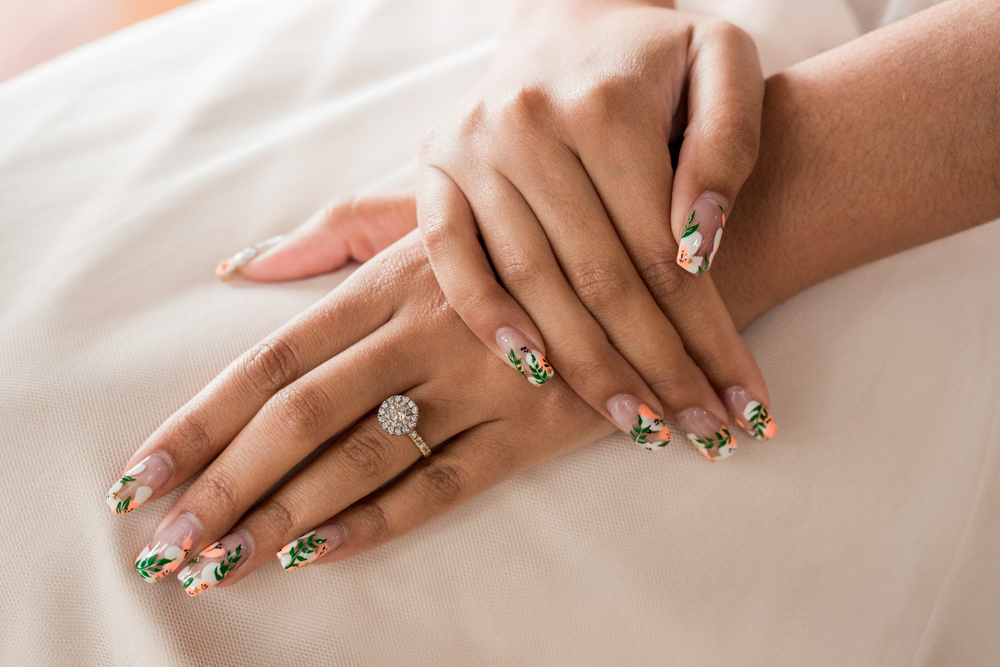 Halo Setting
Do you want the center stone of your engagement ring to have the most impact? Choose the halo setting! In this engagement ring setting, smaller stones encircle the center diamond, giving it a stunning and luminous appearance. As a bonus, it also makes your engagement diamond appear larger. Here are some halo ring setting styles to give you an idea of what this setting looks like.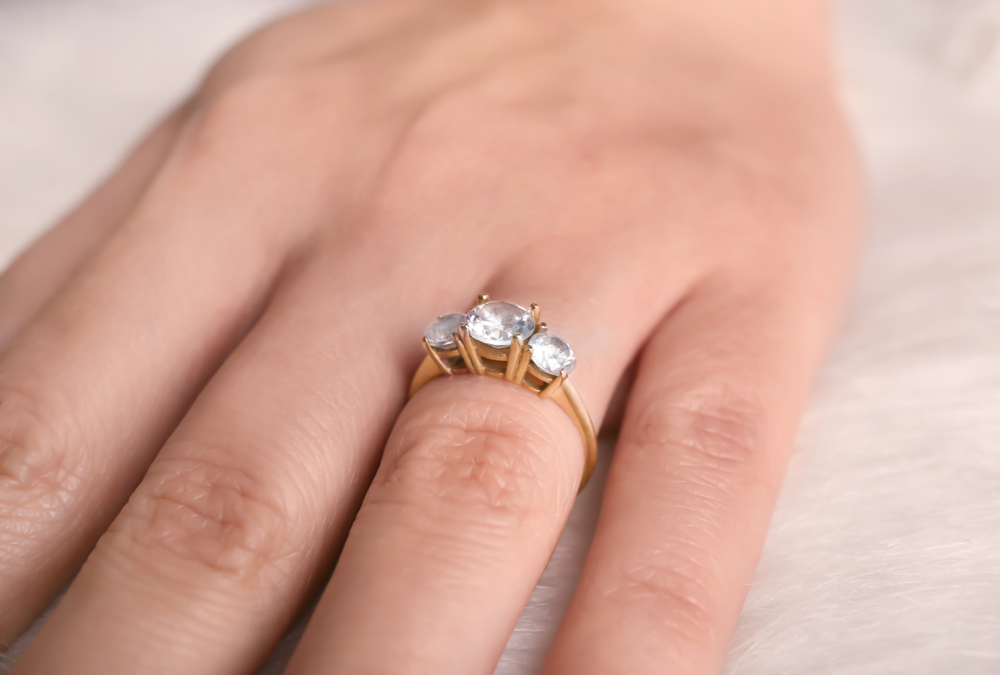 Three-Stone Setting
What's more luxurious than a single diamond? A three-stone ring setting, of course!
A three-stone ring setting displays stunning stones that are harmoniously balanced. With this ring setting, the center stones are paired with complementary side stones to emphasize their exceptional beauty. Moreover, the three stones in the ring represent the couple's past, present, and future. If you're leaning toward this type of engagement ring setting, tell your jeweler what kind of stones will be put in the ring. You can choose one type or mix it with other gemstones.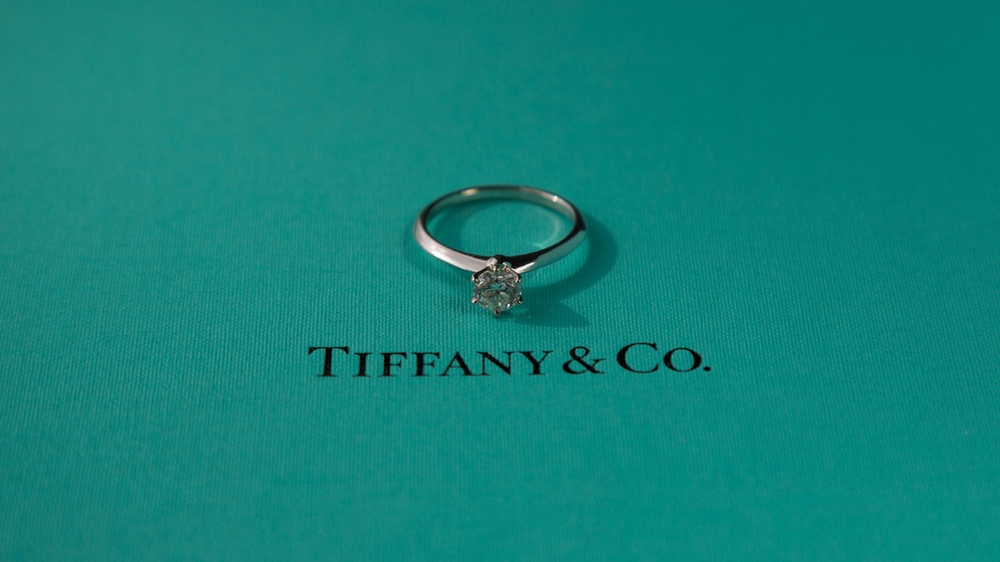 Tiffany Setting
Tiffany & Co., one of the best places to buy an engagement ring, set the standard for the engagement ring when it introduced the Tiffany setting in 1886. The Tiffany setting has a solitaire six-prong setting that raises the diamond. The raised diamond amplifies light reflection, making the ring shine brighter. It's also a classic engagement ring setting that never goes out of style. Because the company has patented this setting, only Tiffany & Co. stores can sell rings like this.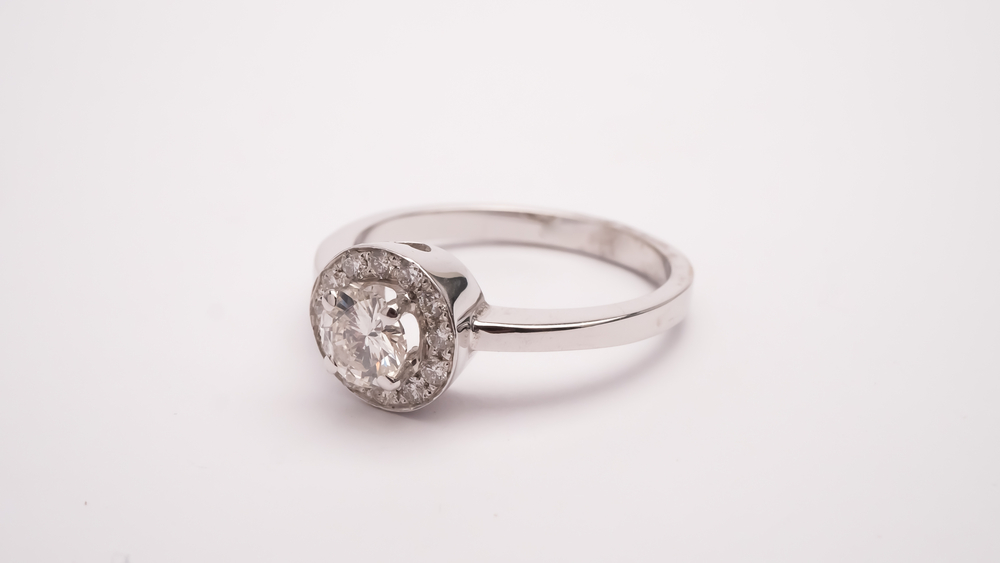 Bezel Setting
Looking for a unique engagement ring setting? Try the bezel setting! The metal casing that holds the stone in place distinguishes the bezel ring setting. This style of diamond setting has a more contemporary aesthetic that's also perfect for anyone who has an active lifestyle.
There are two types of bezel settings: full and partial. A full bezel completely encases the diamond, while a partial bezel exposes the sides, leaving gaps in the metal encasing. Both types will secure the stones in place. Their main difference is in the overall look of the engagement ring. Some people like the full bezel while others prefer the partial setting because the gaps or apertures in the bezel provide additional details.  It's also a great choice for anyone searching for a ring that won't snag on clothing, and for people with hands-on jobs like dentists, nurses, artists, and athletes.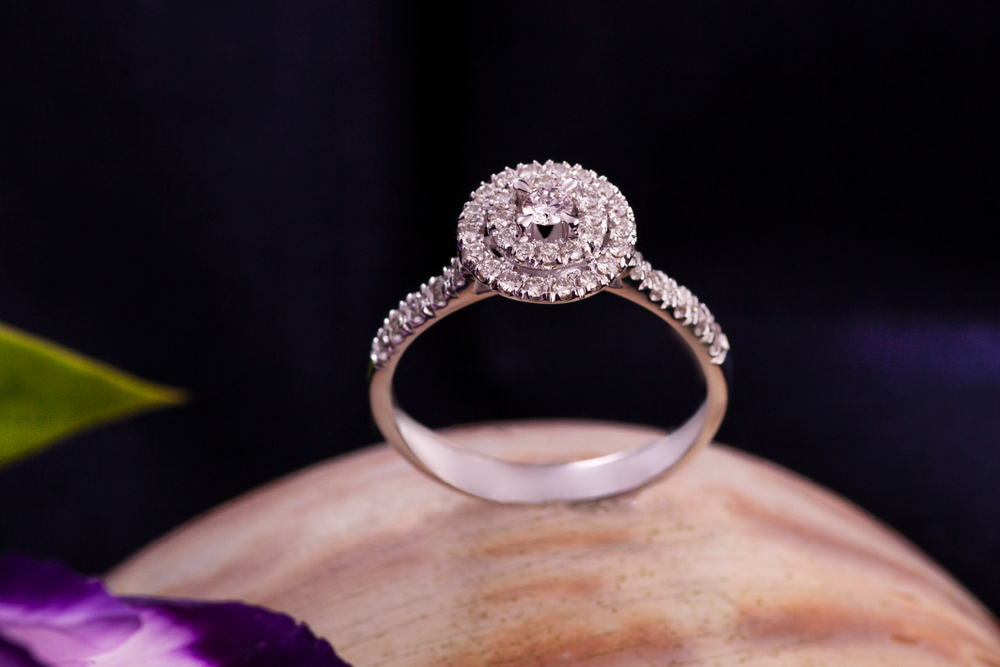 Pavé Setting
If your partner is into all things sparkly, surprise them with a pavé ring setting! Pavé is a French word that means "to pave." Similar to a solitaire, this engagement ring setting has a band that is covered in tiny diamonds either all the way around or about halfway down the band.
To create this setting, jewelers typically drill tiny holes into the ring. Then they carefully set the diamonds inside, forming tiny beads around each diamond to hold them in place. The central stone is highlighted by the way the small diamonds are placed. Jewelers can also use thinner bands to make the ring more stunning, leaving less visibility on the metal band. Check out this pavé ring collection and see what you like.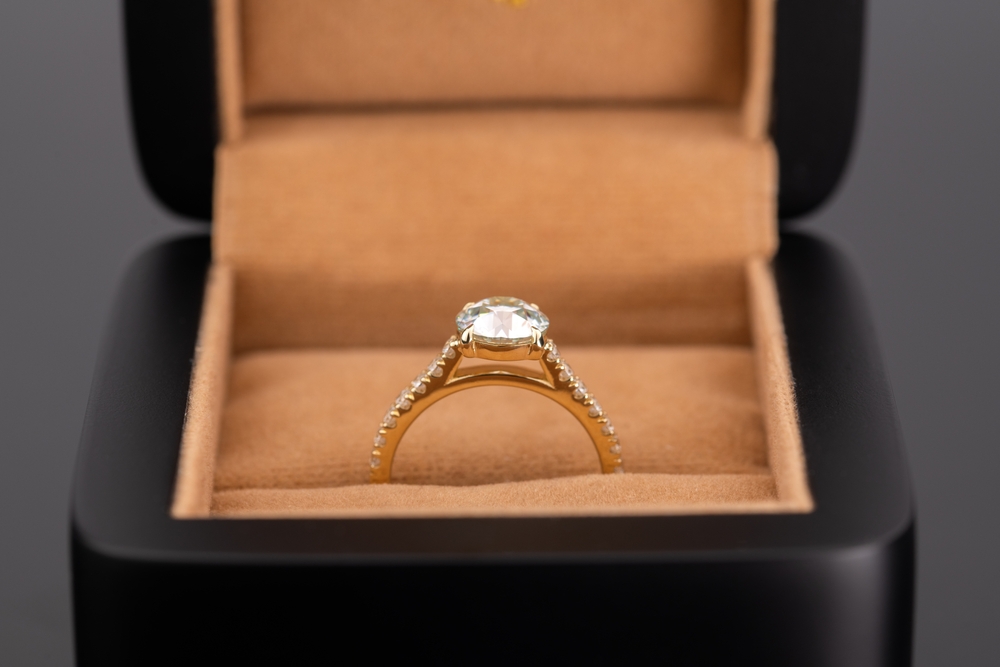 Cathedral Setting
One of the most tasteful and traditional settings for an engagement ring is the cathedral setting. This ring setting holds the main gemstone in place with the help of metal arches, much like the elegant arches of a cathedral.
A cathedral setting gives an engagement ring height and elegance. The upward-curving ring shank, which is reminiscent of the graceful arches of a cathedral, elevates the center stone above the band. If you prefer a classic look with a high setting for your prenuptial photoshoot ideas, the cathedral engagement setting is ideal.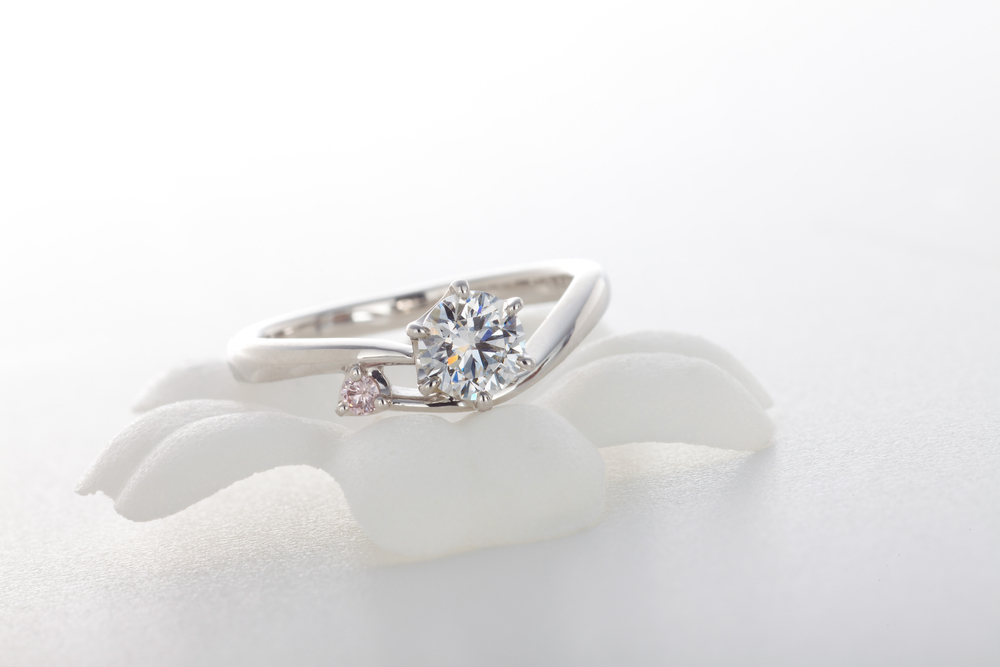 Tension Setting
Want a diamond setting type that appears to be floating? Try out the tension ring setting! The metal band holding the diamond in place is tensioned, giving the setting its name. As a result, the diamond appears to be suspended between the two sides of the shank.
This modern setting gives the impression that the stone is floating between the band. If you're looking for a unique engagement ring setting, try this contemporary ring design.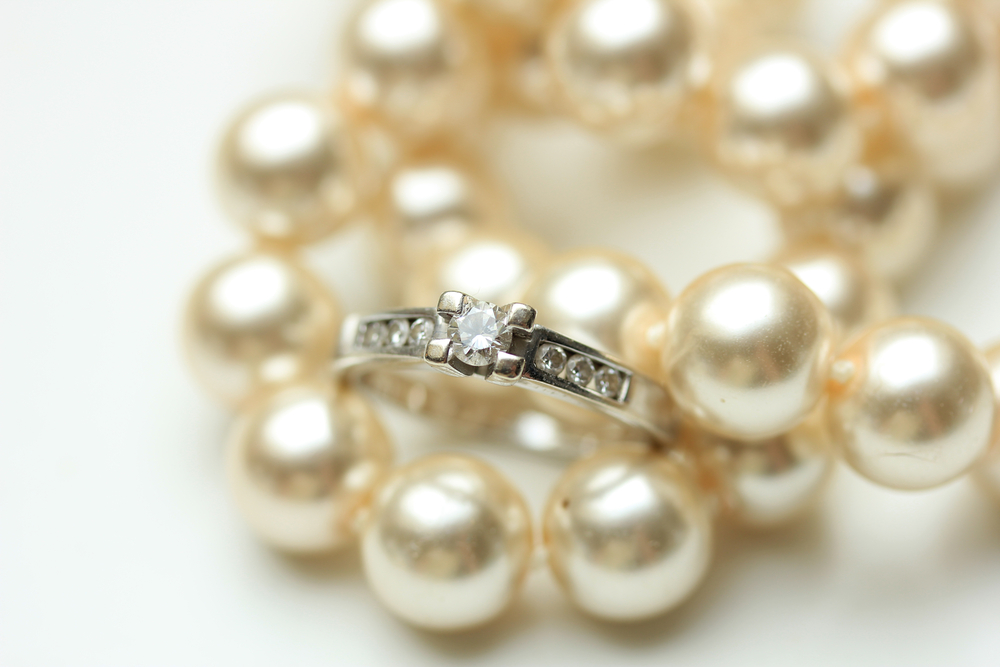 Channel Setting
The channel setting resembles a sparkling water channel. Individual seats carved into the sides of the channel hold a row of diamonds in place as they are arranged side by side. This style is also common for stackable rings or wedding bands with only side stones and no center stones. Channel-set engagement rings are popular because light flows freely through them and they last long.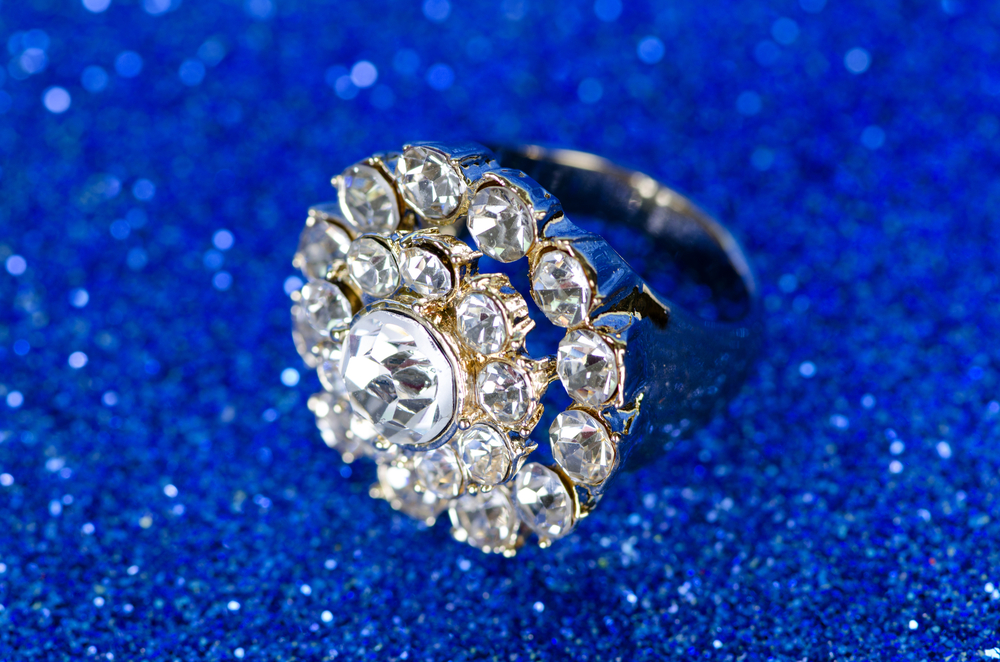 Cluster Setting
If you're someone who enjoys everything that glitters, then a cluster setting is an ideal option. In a cluster ring setting, stones are grouped close together to resemble one enormous diamond. A larger center stone may be present, or it may cluster smaller stones together. This engagement ring setting highlights the unique look and texture of the diamonds. It's also a more cost-effective choice than purchasing one huge stone.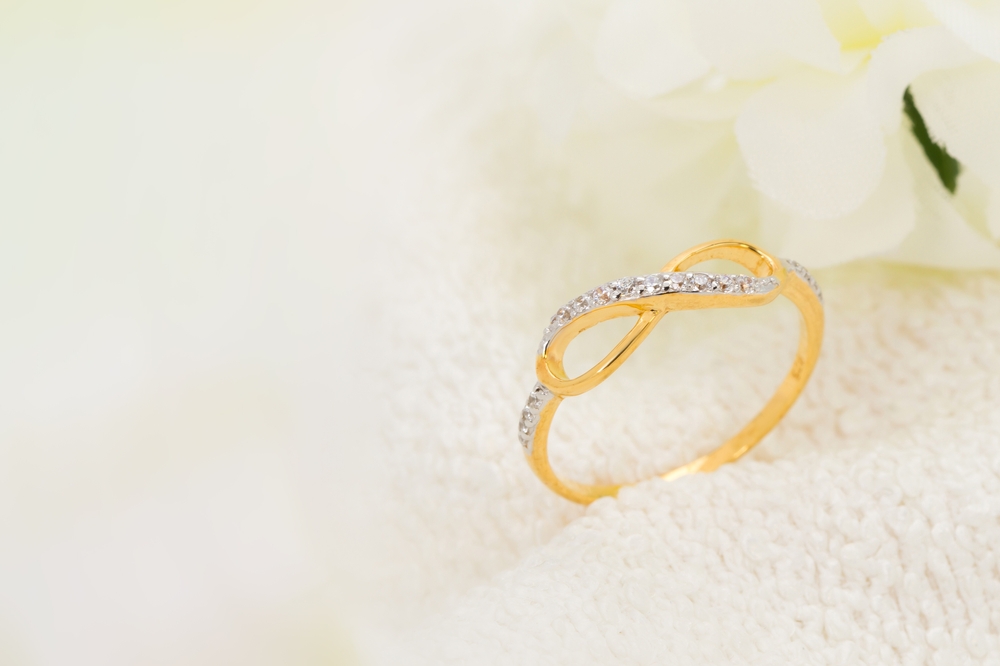 Infinity Ring Setting
An infinity setting has a special, lovely design with an "8"-shaped pattern made up of two interlinking bands that represent everlasting love. The ring has an elegant, graceful appearance that draws attention to the center diamond thanks to the way these bands combine to form the symbol of infinity. Infinity ring settings come in a variety of styles. Some are even combined with solitaire and pavé ring settings.
Select the Best Engagement Ring with the Right Setting!
The setting is the base of every ring design. These twelve types of engagement ring settings are just the tip of the iceberg. For now, think about these ring settings we recommended and see which one is the perfect fit for your upcoming marriage proposal.
Aldaia brings ideas to life through writing. Her love for writing began when she finished the pentalogy novel Percy Jackson and the Olympians. When she isn't writing, most of her time is spent watching movies and TV series, playing video games on consoles like Valorant, Horizon, The Sims, and GTA V, hanging out with friends, and sleeping.