Googling wedding reception playlists will probably give you the same list of songs over and over again. I mean, there's nothing wrong with the classics, obviously. They're classic for a reason. But when you get to the age when you go to a wedding at least once a month and you hear the same 10 songs in the wedding playlist, it gets old really quickly.
Not to worry, though – I've got you covered. Whatever mood you're going for, whether that's 80's jams (this is the only correct answer) or the reigning top 40's hits, there's a wedding song playlist that will be perfect for you.
Live Band or Killer DJ
First things first. You and your partner need to decide if you want a live band to perform at your wedding or would rather have canned music play throughout the night. If you opt for the DJ route, there are two more options under this: an actual DJ who mixes for you on the spot or a DJ who controls your wedding music playlist.
The trend in the Philippines has been to hire live bands for more intimate weddings, and to get a DJ for bigger receptions.
Best Wedding Ceremony Music Playlist
Music serves more than just to entertain your guests at your ceremony. It's an extension of both you and your partner and can help tell your love story. You and your partner should take the time to sit down, discuss, and think about the music you want to play at your wedding.
Parts of A Wedding Song Playlist
A wedding song playlist is more than just the music you play at the reception. Think of your wedding playlist as a story unfolding from the moment your guests arrive at your wedding. What story do you want to tell them?
It's helpful to take a look at the wedding program flow before drafting your playlist so you can perfectly match the music to each event of the program.
Wedding March Song
Start by choosing your wedding march song. We've got a ton of wedding march song suggestions if you're hitting a wall!
While Chryss may have gone with The Only Exception by Paramore for her wedding march, I've gone a different, perhaps cheesier route.
I personally adore Runaway by the Corrs, especially this cover by Nessa Rica + Cathy Nguyen + Melissa Polinar. I can already picture all my guests crying as I walk down the aisle, teehee.
My second, cheesier option is Tangled's I See the Light. It's the Disney girl at heart egging me on to have this beloved song at my wedding
Father and Daughter Dance Song
As a self-proclaimed daddy's girl, this is one of the most awaited moments of my life. This Spotify playlist has a ton of father and daughter dance songs that is sure to tug at your heart strings.
First Dance Song
Ah, the much-anticipated first dance. I'm sure many girls have their ideal first dance song picked out months or even years before meeting The One (guys, you can ask your girlfriends about this and I'm positive they'll agree with me). They might even have a list of options to choose from.
For couples who want a faster-paced song, Latch by Sam Smith has an amazing beat coupled with sweet lyrics. "How do you do it, you got me losing every breath/What did you give me to make my heart beat out my chest"
For a less common first dance song, why not go for James Arthur's Falling Like Stars? With lines like "We're fallin' like the stars, fallin' in love/And I'm not scared to say those words with you, I'm safe," it's hard not to be captivated by this wonderful song.
Songs to Get Your Guests Dancing
Once you've chosen the music for your program, you can finally start choosing songs for the rest of your guests to dance to! You'll want music that will get everyone out of their seats and dancing all night, titos and titas included.
As I've already mentioned earlier, my favorite wedding playlists include music from the 80's (and okay, maybe the early 90's). 80's music is just so dance-able and you can't help get up and bust out all the crazy dance moves, no matter what generation you're from.
If you want something a more current for your wedding song playlist, then this is right up your alley. It's got hits like Watermelon Sugar by Harry Styles, Dynamite by BTS, and Blinding Lights by The Weeknd.
There comes a time at every wedding when guests are all at a happy-drunk level, which makes for the perfect time for sing-a-longs. For great karaoke songs, I recommend this aptly titled Spotify playlist.
A Final Word
Whether you choose any of the set playlists above or create one entirely from scratch, remember that your wedding song playlist is the soundtrack of your love story. Have fun with your partner when choosing the songs and enjoy reminiscing all the good memories from your relationship. Good luck creating the OST to your life!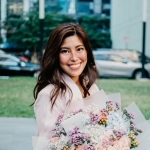 Nikki is a petite, part-time marketing copywriter, and full-time unicorn-chaser with a thirst for exploring the big world. She's on a quest to find the best food, people, and experiences that life has to offer. When she's not busy discovering new cities, she tries to make the world a better place one cookie at a time.