Planning your wedding day is a momentous occasion filled with joy, love, and delicious food. However, with all the elements that go into wedding planning, it can put a strain on your finances. So, to make sure that your special day doesn't break the bank, crafting a budget-friendly food menu for your wedding reception in the Philippines is a smart choice!
"How can I do this?" you ask. Don't worry because in this blog, we explore how you can plan an affordable, creative, and delicious Filipino food menu for your guests. Let this be your guide as you find wedding food catering suppliers for your wedding day.
Planning a Creative and Affordable Menu for Your Wedding in the Philippines
Cutting down costs for your wedding can be a difficult task. Since it's your big day, you want to have the best things and keep everything perfect. To make things easier for you, consider these tips to help you cut down on food costs.
Prioritizing Menu Items
When you plan a budget menu, prioritizing is key. A good practice is to allocate more of your budget to the main course while opting for more cost-effective choices for appetizers and desserts.
For instance, a flavorful lechon as the centerpiece of your meal can be accompanied by budget-friendly yet equally delicious Pancit or Lumpiang Shanghai in small servings.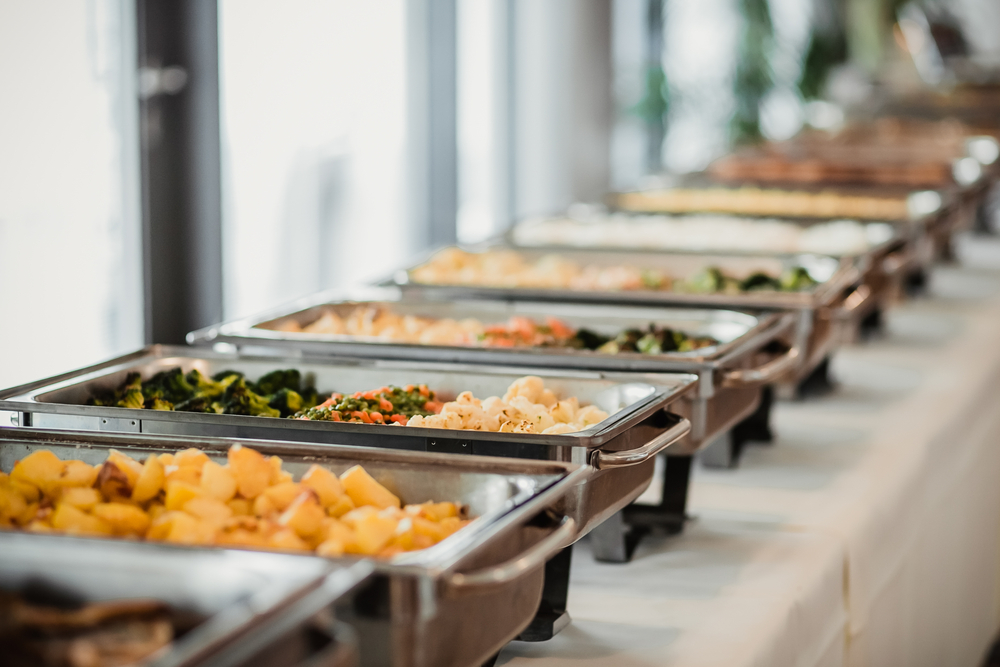 Buffet vs. Plated Service
Choosing between a buffet and plated service has a significant impact on your food budget. Buffets offer a wider variety of dishes that allow guests to serve themselves, potentially reducing labor costs. Plated services, on the other hand, require careful portion control but offer an elegant touch on the food service.
Generally, the cost-effective plating service prices are ₱500 to ₱750 per head. Use this as a benchmark when you haggle with possible catering suppliers for your wedding.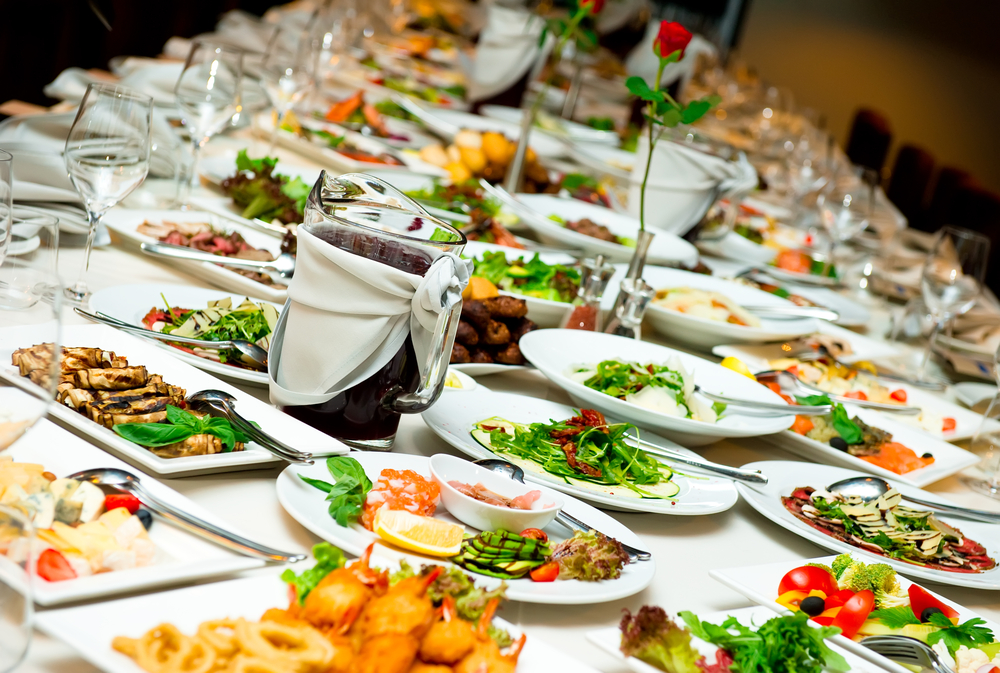 Creative Presentation
Just because you opted for budget-friendly food doesn't mean you can't present it well. Elevate your food presentation by focusing on creative plating and styling. Ask your caterer to use garnishes, colorful arrangements, and artistic serving ware to make even the simplest dishes appear luxurious and enticing.
Creative presentation adds an element of excitement to the dining experience. It has the potential to make your budget menu feel more like a gourmet feast.
Other Wedding Elements You Can Save Up On
Aside from the food menu, there are other areas in your wedding that can help you save a bit more.
Use digital invites instead of prints.
Use minimalist designs to lessen the costs of decors.
You can buy or rent ready-to-wear outfits to lessen the budget strain.
You can trim down the guest list to include only the people close to you and your partner.
If you're open to it, you can also opt to do a civil wedding instead since that's generally more affordable than church weddings. That way, you eliminate the church fees and focus only on the reception.
Reasonably Priced Filipino Wedding Food
Now that you're equipped with helpful tips that can cut your wedding food costs. Here are some Filipino food ideas you can incorporate into your menu:
Starters
When you're planning a wedding, the appetizer plays a crucial role in setting the culinary journey of your guests. It's important to have starters that complement your main course and act as an introduction to the feast they can expect later on.
Here are some examples of Filipino starters you can add to your wedding menu: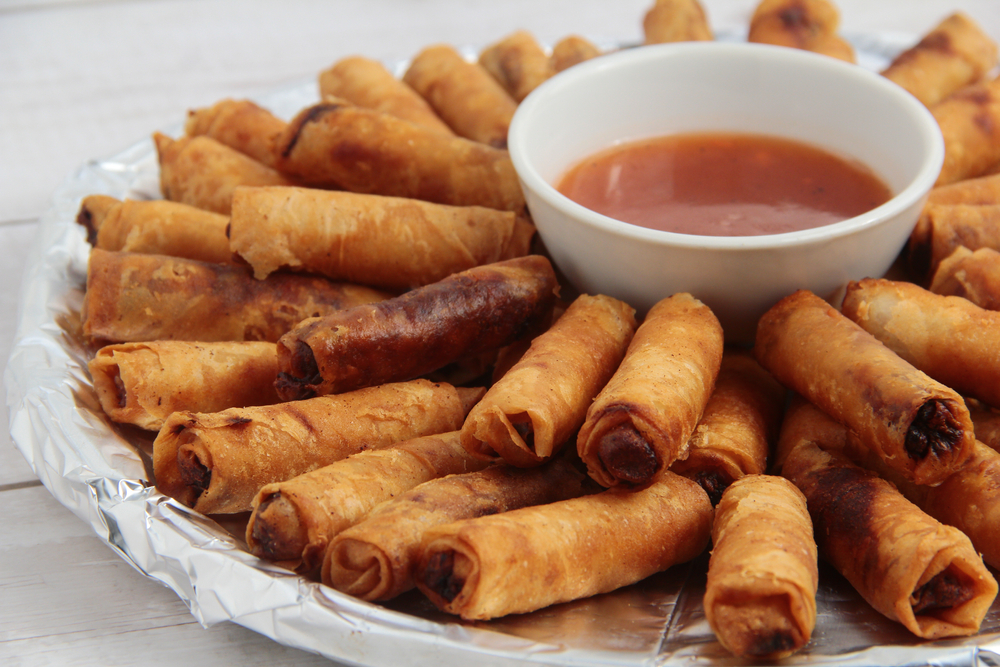 Lumpiang Shanghai is a beloved appetizer that's both budget-friendly and delightful. These crispy treats are typically filled with ground pork or chicken, vegetables, and seasonings.
You can serve them as bite-sized pieces with various dipping sauces to create an irresistible starter that's sure to be a hit among your guests.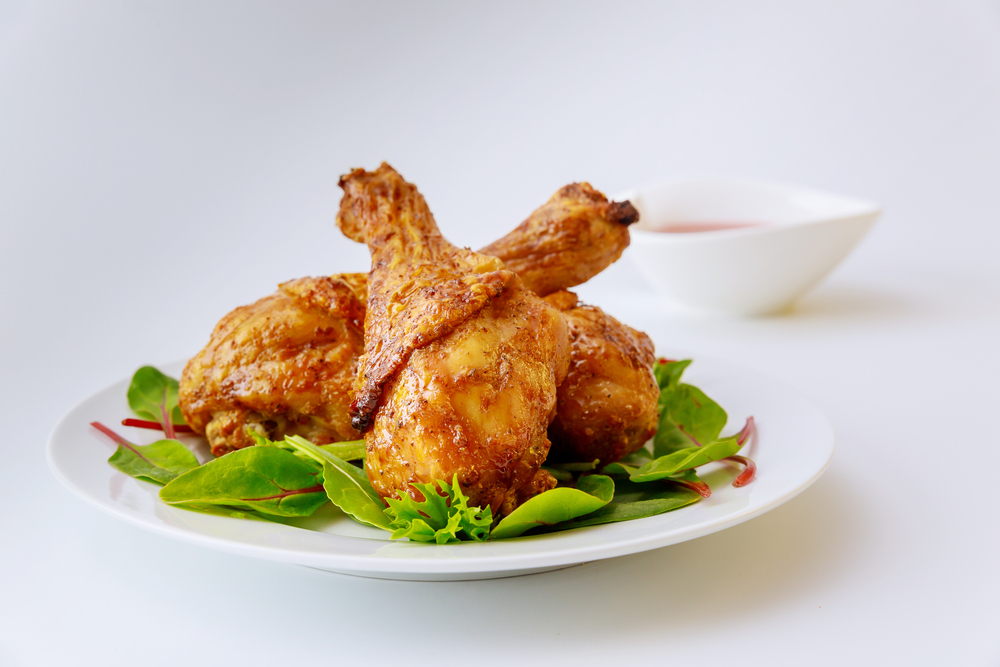 Chicken or pork barbecue skewers are quintessential Filipino grilled street food that's perfect as wedding appetizers. You can serve them as small bites that your guests can enjoy as pika-pika.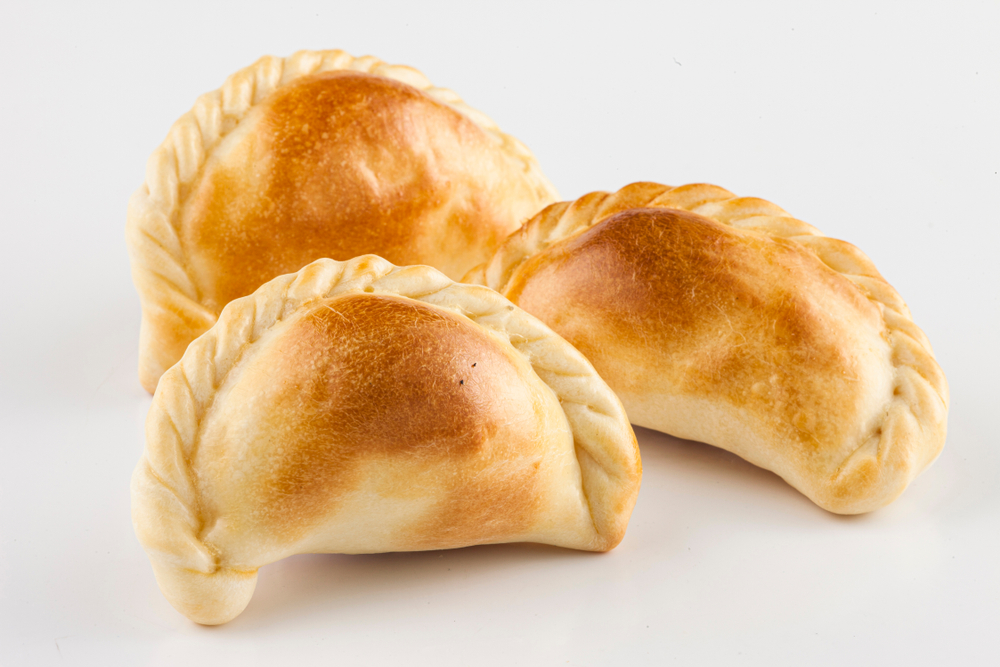 Empanadas are savory pastries that come with various fillings, making them a versatile choice for wedding appetizers. You can fill them with either a mixture of ground meat, vegetables, or sometimes even sweet custards baked to golden perfection.
Serve them in creative wrappers in theme with your wedding's vibe to make them look more appealing to your guests.
Main Course
The main course is the heart of any wedding feast. And planning an affordable wedding doesn't mean sacrificing the taste and authenticity of the dishes you serve. With strategic choices and creativity, you can present your guests with a satisfying and memorable main course.
Here are some main course options you can add to your wedding food menu: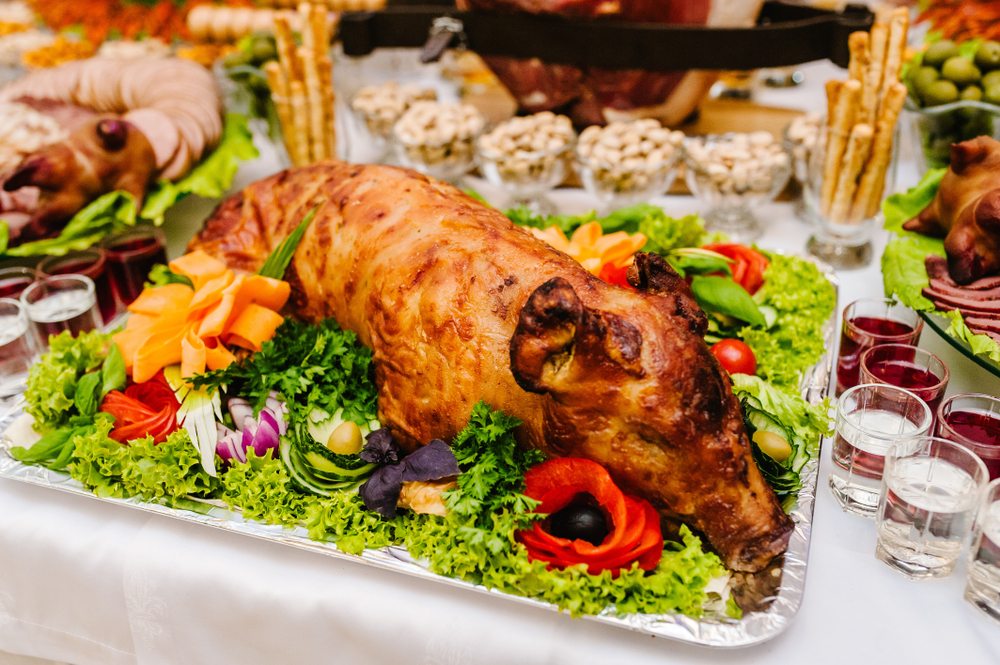 Lechon de leche––a whole roasted piglet––is a traditional Filipino delicacy that embodies celebration and togetherness. Generally, serving Lechon is perceived as an extravagant cost. However, it can be a budget-friendly choice if you consider the cost per serving and its ability to serve many guests.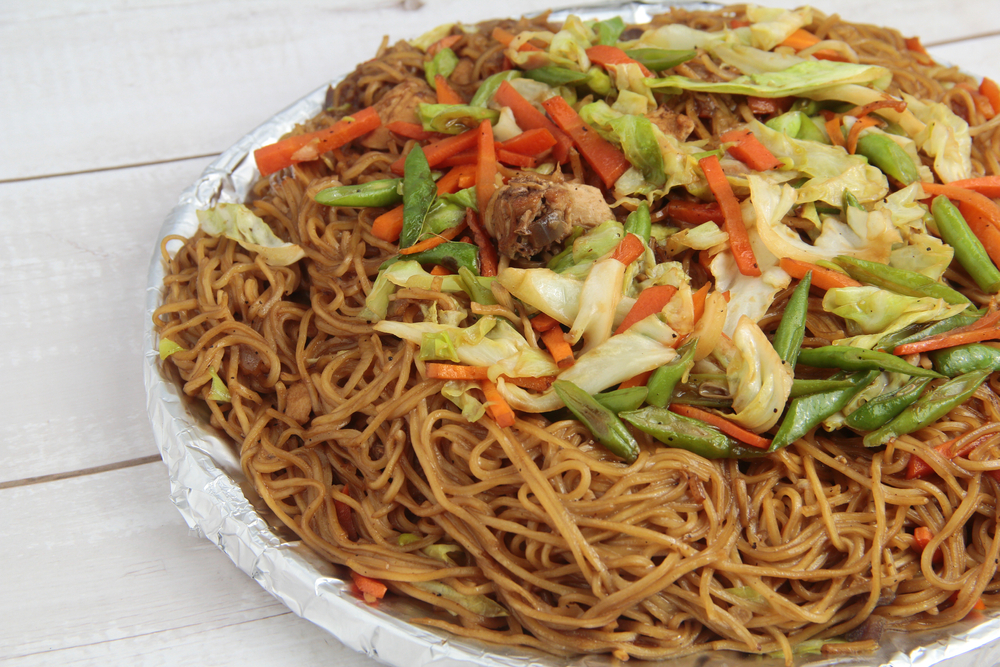 Pancit Canton is a Filipino noodle dish that marries the influence of Chinese cuisine with local ingredients. Stir-fried egg noodles are combined with vegetables, shrimp, and meat, creating a colorful and festive dish that's perfect for weddings.
It's a cost-effective option as Pancit is made from readily available ingredients and can be prepared in large quantities to serve a crowd. If you want to be more creative with its plating, you can serve them on individual banana leaves for your guests to enjoy a bit of whimsy.
Serving Ginisang Gulay (or sautéed mixed vegetables) is a simple yet flavorful main course option that highlights the freshness of vegetables. By combining an assortment of seasonal vegetables with garlic, onions, and tomatoes, you can create a colorful and nutritious dish that's light on the budget.
Desserts
For the sweet finale of your wedding menu, there are a lot of delightful Filipino classics that can complement the Filipino theme of your starting and main courses. Here are some economical yet flavorful choices you can add to your dessert menu: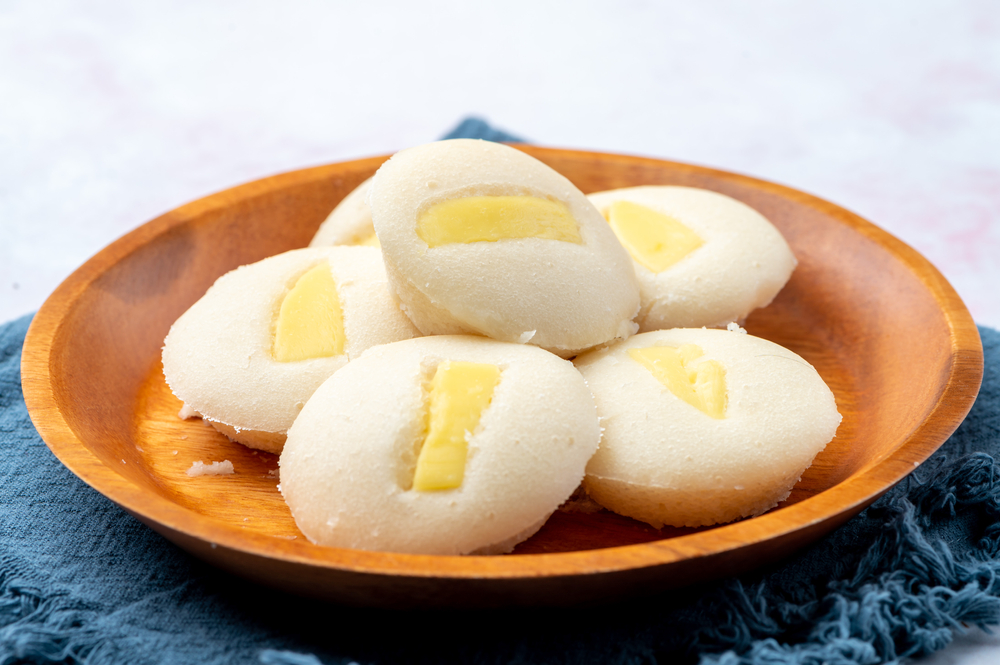 Kakanin refers to a variety of traditional Filipino rice cakes that come in different colors, flavors, and textures. With the kakanin sampler, you can offer options like puto, bibingka, and sapin-sapin. This dessert can provide an affordable yet visually appealing and culturally significant addition to your spread.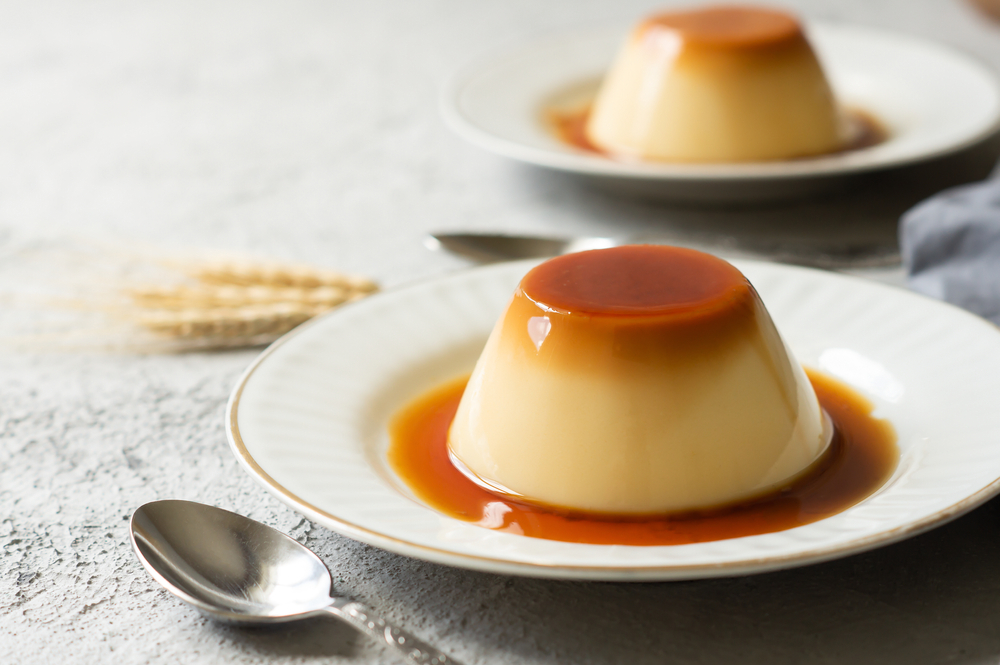 Leche flan, a creamy caramel custard, is a timeless Filipino dessert that's perfect for weddings. Made from eggs, condensed milk, and caramelized sugar, leche flan offers a velvety texture and a rich flavor profile. You can serve this decadent dessert in individual ramekins to have a touch of elegance in your presentation.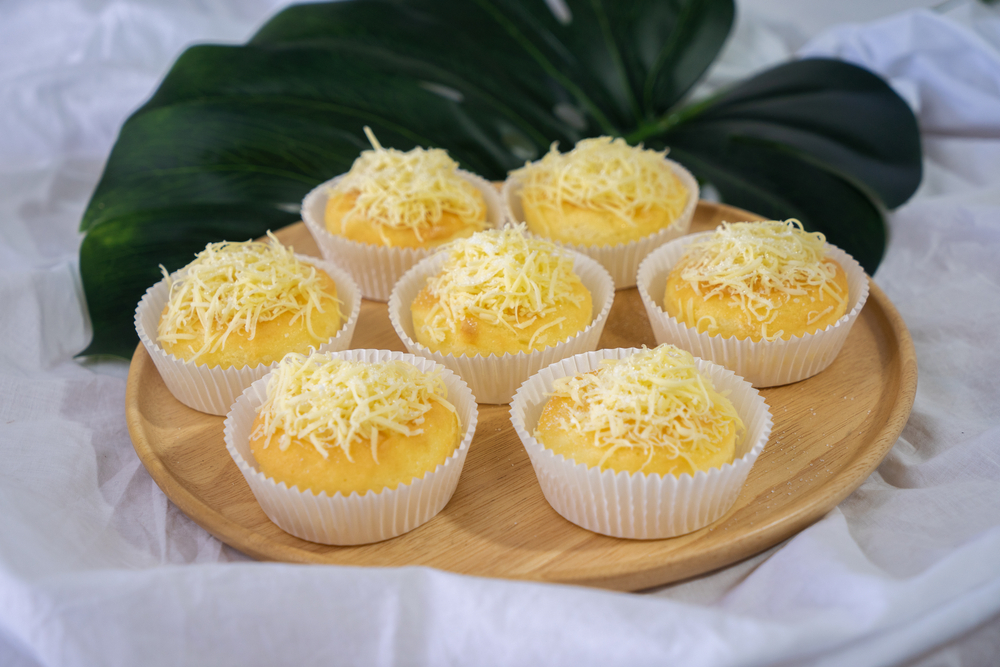 Mamon is a budget-friendly type of sponge cake loved by many Filipinos. Its fluffy texture and delicate flavors make it a delightful option to offer your guests. You typically serve this with the classic butter flavor, or you can experiment with flavors like ube (purple yam) or pandan for a unique twist.
If you want to divert from the common wedding cake options, you can use a group of Mamon cakes stacked to look like a wedding cake alternative. That way, you can present a creative and unique cake during your wedding reception that everyone can enjoy.
Beverages
To offer refreshments and enhance the dining experience during your wedding reception, choose the perfect Filipino beverage to accompany your feast. Transform traditional favorites into creative concoctions that can amuse your wedding guests.
Here are some beverage ideas that you can add to your menu: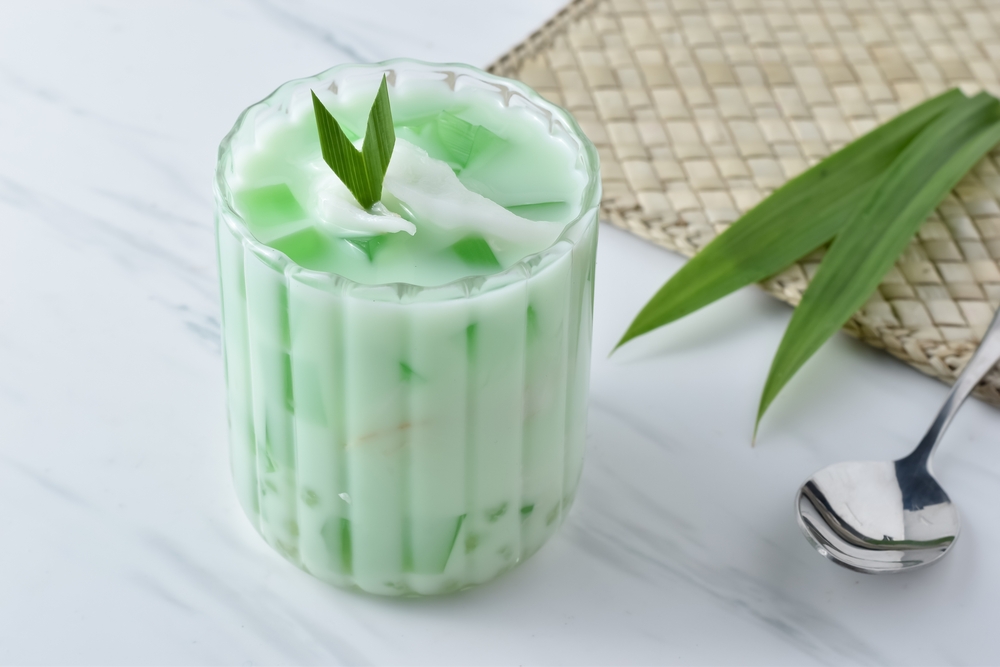 Fresh coconut water is a favorite Filipino drink that offers natural refreshment with a taste of the tropics. To be more creative with the presentation, you can serve them in spherical glasses that make it look like your guests are drinking from small young coconuts.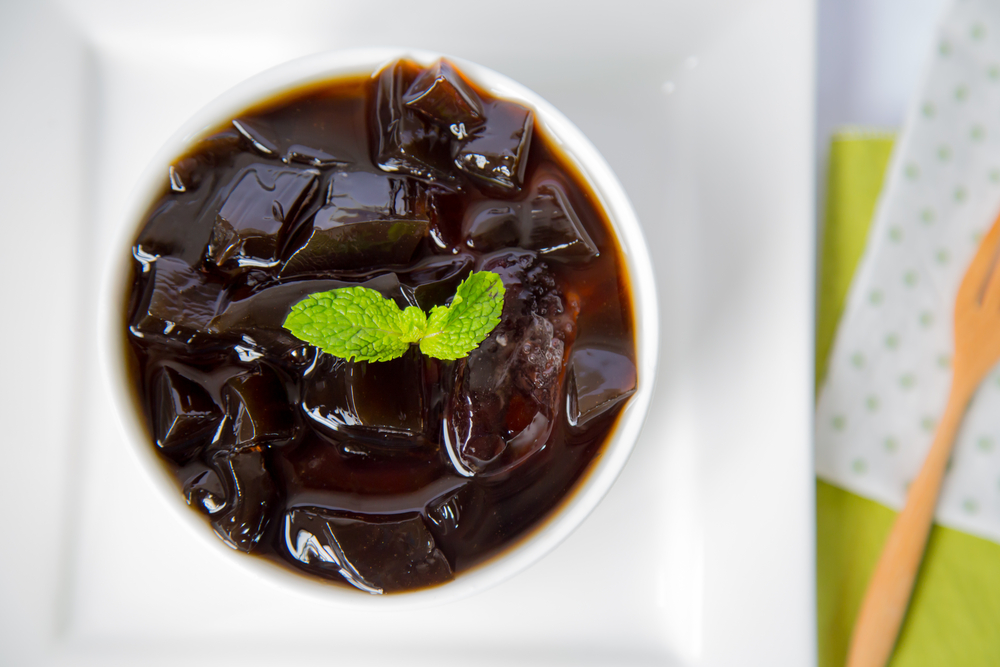 Sago't gulaman is a beloved Filipino drink that combines tapioca pearls and gelatin cubes in a sweetened beverage base. It's a delightful drink that offers a unique texture and flavor experience to your guests that can even serve as their dessert.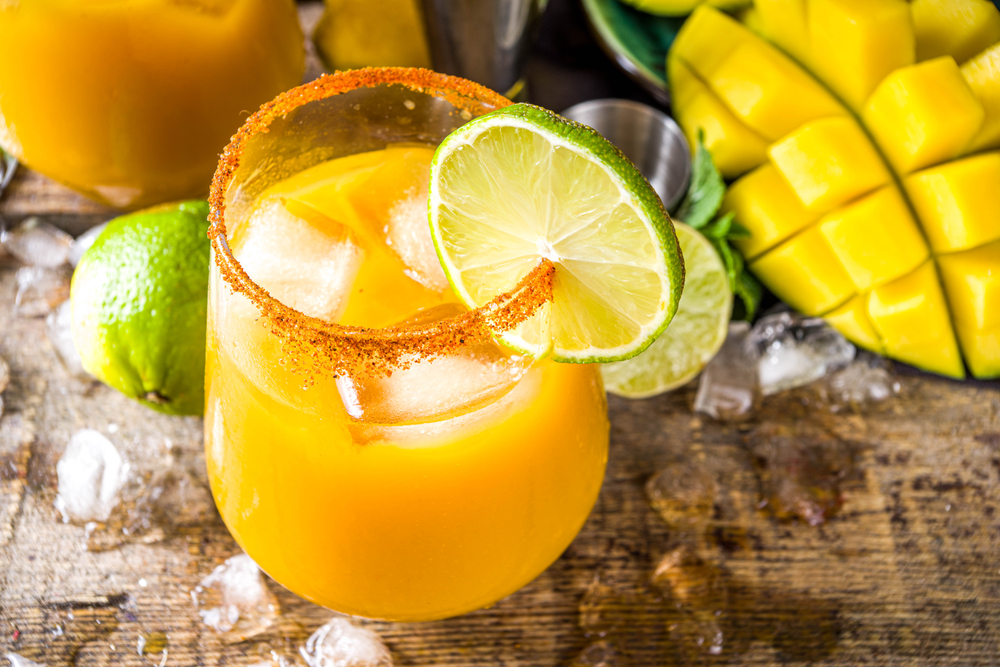 Cocktails with a Filipino Twist
For an alcoholic option, elevate your beverage offerings with creatively crafted cocktails that incorporate Filipino flavors. Consider infusing cocktails with local ingredients like calamansi, mango, or ube. These cocktails provide a budget-friendly way to offer a sophisticated and distinctive drinking experience for your guests.
And if you want to buy alcohol for your wedding outside the packages your caterers are offering, there are a variety of places you can order alcoholic drinks for your guests to enjoy. Just make sure you coordinate this with your caterer or wedding planner.
Crafting Your Wedding Food Menu
Planning a budget menu for your wedding in the Philippines requires careful consideration, creativity, and a deep appreciation for local flavors. By understanding your vision, prioritizing menu components, and making thoughtful choices, you can create a culinary experience that not only fits your budget but also leaves a lasting impression on your guests.
Remember, a well-planned budget menu showcases your unique love story and allows you to celebrate your union without compromising on the joy of sharing good food with your loved ones.