Aside from delicious food, cake, and wedding games, what's typically a non-negotiable when it comes to wedding receptions? Alcohol, of course – and lots of it. When it comes to alcohol and liquor, most guests typically want free-flowing or mobile bars where they can get glasses of wine, beer, or cocktails whenever they want throughout the night. However, some couples are looking for other liquor options to have a bit more control of how much alcohol is given to their wedding guests. This is why a lot of planners opt for buying liquor in bulk for weddings.
In this article, we've compiled some of the best liquor stores where you can get kegs, cases, and wine in bulk, so you won't have to worry about emptying your local liquor store's shelves just for your wedding reception. We've also included a few mobile bars and booths that offer specialized packages for events—that way you can have your pick on what alcohol you want for your wedding!
9 Best Places You Can Buy Alcohol in Bulk for Your Wedding
Not sure where you can buy alcohol in bulk for your wedding reception? Cross that off your wedding budget checklist because we've listed a few of the best places where you can choose and buy different types of alcohol for your wedding.
View this post on Instagram
Boozy.ph
When you're looking for same-day liquor deliveries, there's one mainstay in your browser history – Boozy.ph. With their fast and reliable same-day delivery within Metro Manila, they've easily overtaken other liquor stores in the Philippines. What's great about Boozy though is that they offer bulk orders and wholesale when it comes to your liquor needs, giving you the freedom to choose from their different selections of alcohol.
If you're unsure where to buy liquor for your wedding, Boozy has you covered. You can even ask for discounts for bigger savings if your alcohol expenditure would exceed about PHP 50,000. Check out their catalogue at Boozy.ph today and see why they're probably one of the best places you can buy alcohol from for your wedding.
Vino.ph
No luck finding a great supplier of premium wines? Vino might just be the store for you. With a specialty in wines produced by the best viniculture regions in the world, Vino offers only the highest quality liquor and alcohol in the market. With their Weddings & Socials packages, you can let wine and alcohol flow freely to keep your reception fun and enjoyable for all the wine drinkers in the crowd. If you're planning on giving away bottles of wine to your wedding guests, Vino also has packages specifically for that. See their wine and liquor catalogue at Vino.ph and see what types of bulk liquor you can buy for your wedding.
San Miguel Delivers
When it comes to beer, San Miguel stands out as the top beer manufacturer in the Philippines – and they know that. With the high demand for beer deliveries around the Metro, San Miguel now offers deliveries of their Pale Pilsen and other types of beer, so you won't have to worry about finding cases from your local liquor store. Visit their website at SMBdelivers.com and send them a message for bulk alcohol orders for your wedding.
The Philippine Craft Kings
The Philippine Craft Kings, or simply The PCK, offers the freshest beers crafted by professional Filipino brewers from over 20 local breweries across the country. With over 100 beer flavors and variants, you won't have to look too far for a place where you can buy unique alcohol for your wedding. They offer bulk alcohol orders in kegs so you and your guests can enjoy different flavors and find the best one for your palate. Inquire about their Keg Packs on their website, ThePCK.ph, and fill out their form so they can craft the best liquor package for your wedding reception.
View this post on Instagram
Alcoline
Want to know where you can buy bundles and alcohol packages for your wedding at some of the best price points? Alcoline offers promos and liquor bundles that offer you the best savings, so you won't have to break the bank to get alcohol in bulk. Check out their liquor selection at Alcoline.ph. They have a catalogue filled with options for champagne, vodka, tequila, and any other liquor type that you might want to be served at your wedding.
Ralph's Wines and Spirits
Ralph's Wines and Spirits offers a wide range of alcohol and liquor types, from wine to sake. If you're looking to give your guests a wide set of alcohol options, this is probably the best place to buy alcohol for your wedding. What's great is that this store offers delivery to almost any fixed address. So, if you've been toying around with the idea of a home wedding, Ralph's can deliver your liquor orders straight to your doorstep.
However, make sure to give their staff enough time to process your bulk alcohol orders for your wedding so that they can deliver your orders on time. Reach them at Ralphs.com.ph or send them an email at info@ralphs.com.ph.
Wine Depot
One of the biggest wine retailers in the Philippines, Wine Depot offers a wide array of wine brands and vintages. And if you're specific about your wine taste, they can even process a special order for brands that might not be part of their catalogue just to accommodate your wine needs. With their special dedication to offering you the best wines, Wine Depot might just be one of the best places to buy alcohol in bulk for your wedding. See their wine choices at WineDepot.com or visit their physical branches in Makati, Greenhills, or SM Aura.
Thirst
Thirst – Liquor on Demand is a liquor delivery service in Metro Manila that offers almost endless alcohol varieties from both local and international brands. What's great about this store though is that they have a mobile app where you can easily browse their selection and even order right there and then. Their wholesale section also gives you exclusive access to liquor cases at wholesale prices, giving you bigger savings and discounts. And on top of that, if you're buying alcohol in bulk for your wedding reception and you exceed the PHP3,000 price mark, Thirst will even deliver your orders without any delivery charges.
See their liquor catalogue at Thirst.com.ph or download their mobile app on the App Store or Google Play.
Engkanto
Are you and your future partner big craft beer enthusiasts and do you want to bring that experience to your wedding day? With Engkanto, you can get award-winning craft beers that will make your wedding reception memorable and unique. See their selection of craft beer at Engkanto.com.ph and inquire how you can order their craft beers in bulk.
Where to Find Liquor Mobile Bars and Booths for Your Wedding
Nowadays, couples want to give their wedding guests the freedom to choose their drinks at a bar – whether they want a glass of wine or a specific cocktail. This is why mobile bars are now starting to become more popular for weddings—not only because of the alcohol they offer but also because of the unique service they give.
Additionally, mobile bars are great options for couples who aren't quite sure how much alcohol to buy for their wedding, since mobile bars typically work depending on the number of guests. Here are five mobile bars of our choice if ever you want to go that route:
View this post on Instagram
GQ Mobile Bar
If you're looking to get a mobile bar for your reception but you're not quite sure if your guests are going to be accommodated? You don't have to worry with GQ mobile bar. With packages that can serve between 50 to 5,000 people, they can ensure a free-flowing and fun liquor experience for everyone at your wedding party. You won't have to worry about where to buy alcohol in bulk for your wedding since they'd bring enough for everyone. You can even request for personalized and customized drink names depending on your favorite flavors and offer that to your guests as your special mix for your wedding reception. Reach them at their website GQMobileBar.com.
Rue Bourbon Mobile Bar
When it comes to bar experiences, Rue Bourbon is probably one of the popular ones in the Philippines, with its distinct carefree vibe. Now you can bring Rue Bourbon to your wedding with their mobile bar packages that you can easily customize depending on your taste and budget. They have different package sizes that cater to different crowd sizes, with their largest package offering up to 240 glasses of flavored beer, 125 shots, and 125 cocktails. They also offer a selection of canapes to complement the drinks that will be served at the mobile car. If you're interested, check out their packages at RueBourbon.ph.
View this post on Instagram
Elias Wicked Ales & Spirits
Looking to support local expert brewers for your mobile bar? Elias Wicked Ales & Spirits can level up your wedding reception and afterparty with special event packages that include 8 hours of booth use and multiple liquor kegs of their specialty brews, hard ciders, and seltzers. With packages that can serve up to 200 people, you won't need to worry about running out of alcohol in the middle of your wedding party. See their events packages at WickedElias.com or visit them at their physical branch in QC.
The Black Box
The Black Box is a relatively new mobile bar provider that offers unrivaled drinking experiences. Together with their stylish booths and mobile bar designs, The Black Box also employs the best baristas and bartenders there is in the trade. You can even customize the drinks that will be served, from their taste and flavor to their names!
What's also great with The Black Box is that if you're not entirely sure about getting a mobile bar, you can still buy liquor in bulk from them for your wedding, and from their own words, you can get exclusive access to distributer-priced liquor. If you want to browse their packages or want to request a quote, you can reach them at TheBlackBoxPH.com.
View this post on Instagram
Mixed Mobile Bar
A mobile bar service that boasts well-mixed drinks and eye-catching bar setups, Mixed Mobile Bar is a great option for wedding receptions and wedding after-parties. With flexible mobile bar packages that include the service of professional bartenders, you can easily tailor-fit their mobile bars depending on your liquor preferences for your reception. Browse their website, MixedMobileBar.com, to see what they offer or reserve a schedule through their reservation form.
Keep the Alcohol Flowing at your Wedding – But Drink Responsibly!
As with any other event, a lot of your wedding guests will be looking forward to the booze and liquor available at your wedding reception, and it's usually up to you to meet their expectations. With the stores we've listed above where you can buy alcohol in bulk for your wedding, you can easily quench their thirst for the best wines and beer, so they get to enjoy the night and celebrate with you on your wedding day. But make sure to remind everyone that they should drink responsibly!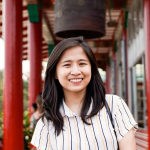 Donna spends 50% of her time writing, and the other 50% napping, snacking, or befriending stray cats.