Your wedding is one of the most important events in your life, so it makes sense that you would want to look your best on that day. Aside from thinking about your hairstyle and how your makeup will look, you should take your time in searching for and deciding on your wedding dress. After all, it will be one of the main focuses of your wedding photos, which you can keep for life.
You must be aware that searching for the right wedding dress is not as easy as shopping for your usual article of clothing. There are various factors that you need to consider before finding the one. In fact, some brides go through a lot of high-end and Divisoria wedding gowns just to find the perfect dress that will complement their wedding day.
When shopping for a wedding dress, you should find one that reflects your personality and style. You should also try finding a gown that matches the theme of the event, whether you are having a vintage wedding or a modern one.
There are also different styles of wedding dresses that you can choose from depending on their silhouettes, such as A-line, ballgown, or mermaid. Each one has a different appeal that may or may not match the feel of your wedding theme in the Philippines.
If you still cannot decide on the silhouette or style that you want for your wedding gown, you should consider wearing a modern Filipiniana wedding dress to your ceremony. Because of its uniqueness, the modern Filipiniana wedding gown will add a splash of traditionality to your ceremony.
The Filipiniana
Most people think of baro't saya or terno when they hear the term Filipiniana. The baro't saya is characterized as being a pair consisting of a waist-length blouse—called baro or camisa—and a long skirt—referred to as saya or falda. The ensemble is completed with an overskirt—tapis or patadyong—and a kerchief or shawl that is worn over the shoulders.
On the other hand, the terno is often referred to as the national dress of the Philippines. It is characterized by its butterfly sleeves that are stiff, flat, oversized, and have a high peak.
These traditional outfits are made using Piña, a type of fabric made from the fiber of the Philippine Red Pineapple leaves, or Jusi, a kind of textile made from Abaca or Manila Hemp. Clothes made from these fabrics turn out looking delicate and thin enough, making them perfect for the humid climate of the Philippines.
Filipiniana Wedding Dresses
Throughout the years, the Filipiniana has been modernized to fit the changing fashion sense of Filipinas. Changes in the garment were also applied for practical purposes, more specifically to allow them to be used by Filipinas in their everyday lives and even in Filipiniana weddings.
Despite the modifications, Filipiniana wedding dresses still have their signature butterfly sleeves. Creative elements were added to the traditional design to enhance the dress's beauty and math the unique personality and style of the bride. Some of the newer elements applied to the Philippine terno are lace, embroidery, and cutouts. Designers also started using different silhouettes in creating Filipiniana-inspired wedding dresses.
To help you have an idea of the Filipiniana inspired wedding dress you should wear to your big day, here are some examples of Filipiniana wedding gowns from Divisoria and designed by talented fashion designers.
Elegant and Sheer Filipiniana Wedding Gown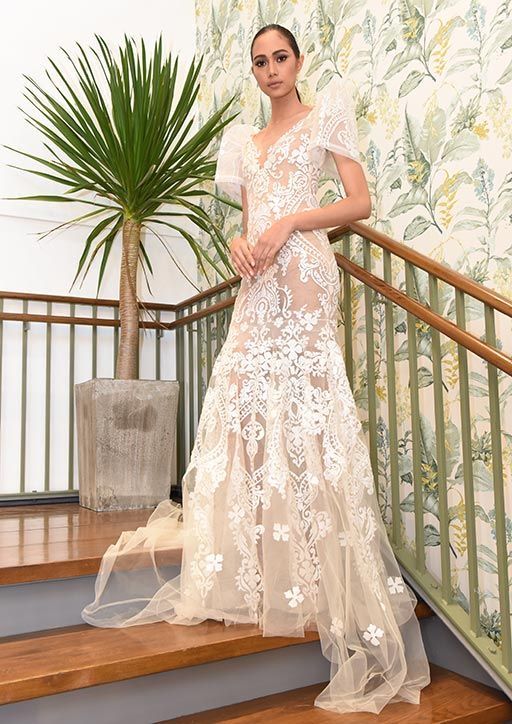 source: https://www.pinterest.ph/pin/797770521498072558/
This modern Filipiniana wedding dress capitalizes on the fabric's sheerness to make the piece look sultry but still elegant. The thoughtfully placed embroidery also adds to the wedding gown's tasteful appeal. The dress has an A-line silhouette, which hugs the body's curves in all the right places without making the wedding gown look too sexy.
This type of dress is perfect for Filipinas who have a simple taste in fashion but still want to look ethereal on their wedding day. It also suits brides who want to be comfortable enough to move around in their dress during the ceremony and reception without having to sacrifice the piece's beauty.
Minimalist Filipiniana Wedding Dress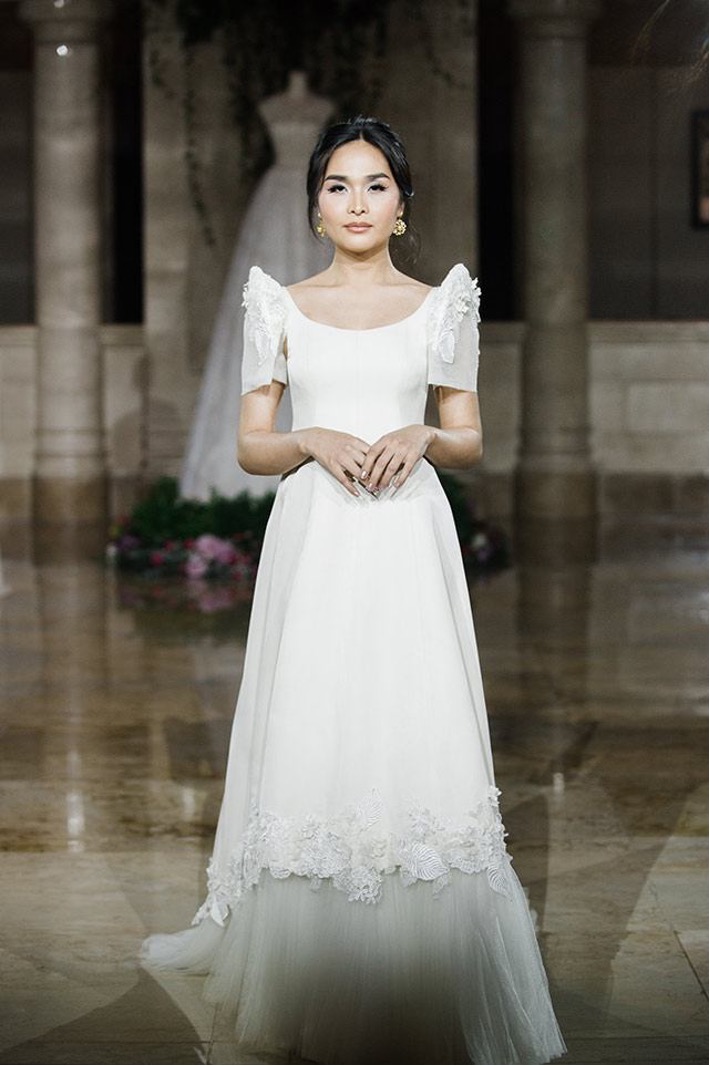 Source: https://www.preview.ph/fashion/filipiniana-wedding-looks-a00300-20200714
Another simple Filipiniana wedding dress in this list is this minimalist piece that has very few designs. The only embellishments on the gown are the elegant embroidery on the butterfly sleeves and hem and the tulle underskirt that adds a unique quality to the gown.
Although this wedding gown has minimal details, it still goes with your Filipiniana-themed wedding. It actually is a great representation of Filipinas: simple, elegant, and graceful.
Show-Stopping Filipiniana Wedding Ball Gown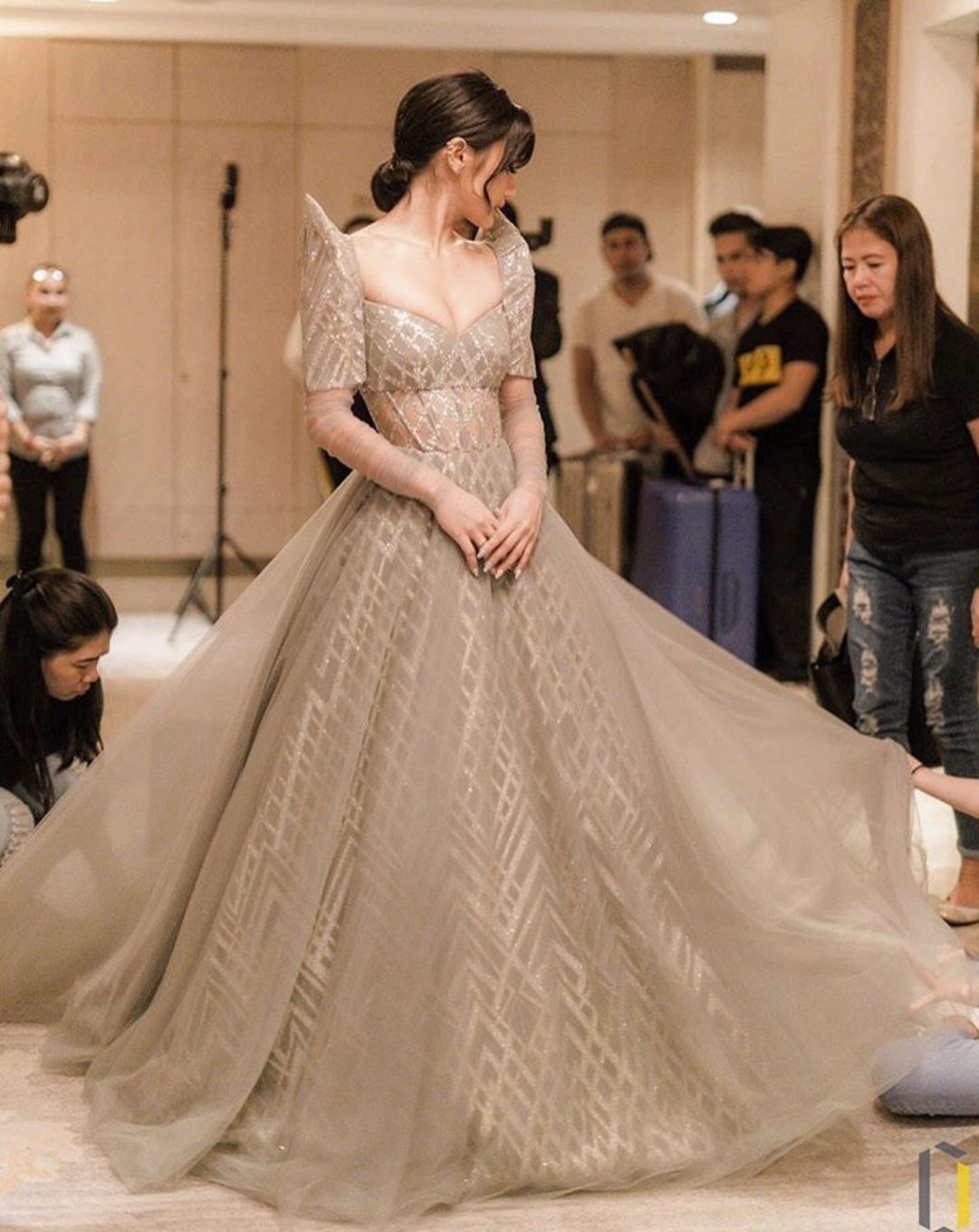 Source: https://www.pinterest.ph/pin/26599454040620282/
If you want to make sure that all the attention is on you on your wedding day, then you should go for something similar to this eye-catching, non-white gown. This piece will easily match your grand theme and make your big day even more memorable.
It has beautiful gold details all over the bodice and skirt, which makes the gown look magical. The Filipiniana wedding gown also features a sheer overskirt that contributes to the garment's gracefulness.
This style of modern Filipiniana wedding gown is ideal for brides who have dreamed of having a fairytale wedding ever since they were little. The standout style of this wedding gown will surely make the bride who wears it feel like a princess.
Beaded and Beautiful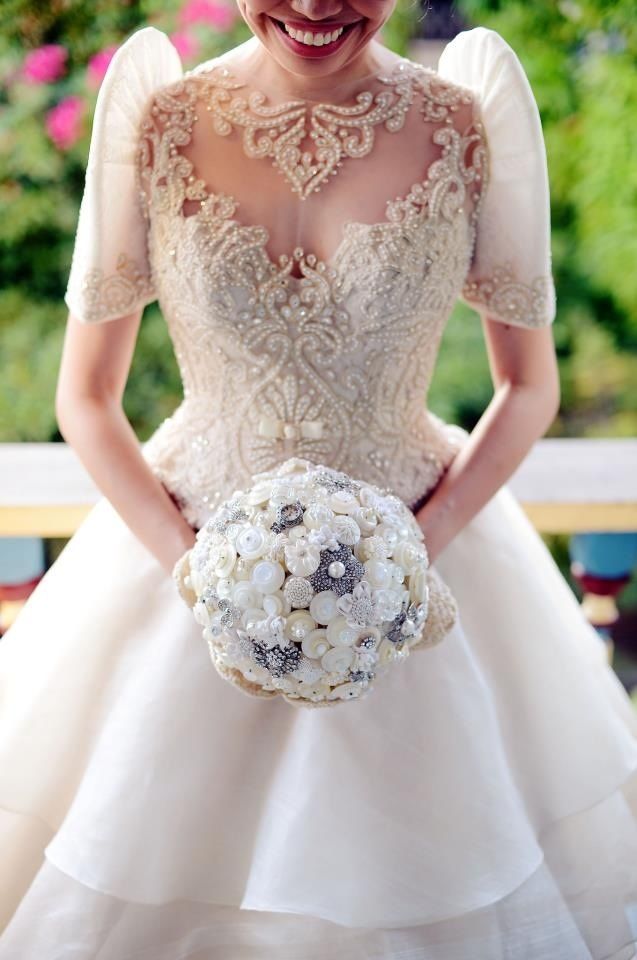 Source: https://www.pinterest.ph/pin/468374429978473910/
Elevate your simple Filipiniana wedding gown by adding beautiful and elaborate beading on its bodice. When done properly, you will have a classic, but still eye-catching, dress that you can proudly wear on your wedding day.
Aside from improving your wedding gown's bodice, you can also work on your Filipiniana-inspired wedding dress's skirt. You can request to have the skirt of your wedding dress altered to have tiers. Doing this will help your wedding gown look more unique and elegant.
Fun and Flouncy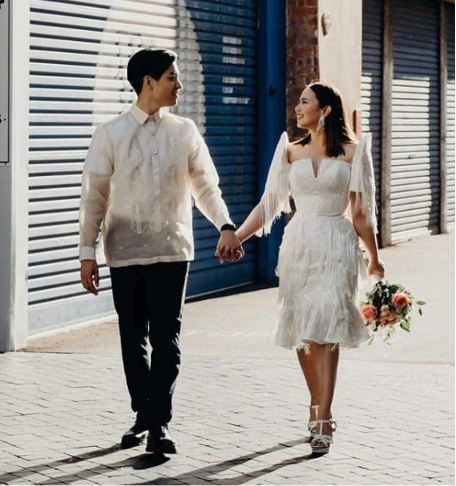 Source: https://www.instagram.com/p/BxbYEqllESt/?utm_source=ig_embed&ig_rid=27773c75-cd55-419d-88de-347fb6f182d8
This interesting piece was designed and created by Filipina bridal designer, Mara Chua. She is known for producing modern, sexy, and feminine wedding gowns and dresses.
You can use the piece she created as inspiration in adding some fun to your modern Filipiniana wedding gown. Similar to what Chua did, you can add some fringes to your wedding dress and give it a retro or disco vibe. Just imagine how fun it would be celebrating with your family and friends while having your dress's fringes move around with your body.
The piece by Chua also features a shorter skirt, which will allow you to move around more comfortably. With this length, it would be easier for you to groove your heart out and rock your fringes on the dance floor after exchanging I Dos with your partner.
Look Like the Girl Boss You Are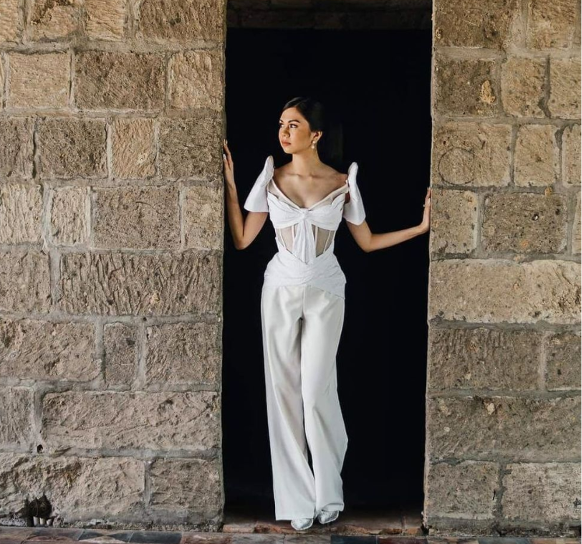 Source: https://www.instagram.com/p/CSZELsCFbG8/
If you are not a fan of skirts, then you would like this piece that was also made by Mara Chua. This design allows you to take the modern Filipiniana wedding gown and turn it into a jumpsuit.
This style of wedding apparel best suits Filipinas who are adventurous and would want to have maximum comfort during their big day. Because the outfit has pants instead of a skirt, you will find it much easier to move around during your ceremony and reception.
You do not have to worry about looking too masculine in your jumpsuit on your wedding day. Similar to what Chua did, you can have an elegant corset made to add definition to your curves. Just remember to add butterfly sleeves to your top to make it look like a Filipiniana.
With the right fit and attitude, you will surely stand out on your wedding day. Some may even consider you a girl boss for choosing a jumpsuit instead of the traditional wedding dress.
Stunning and Sophisticated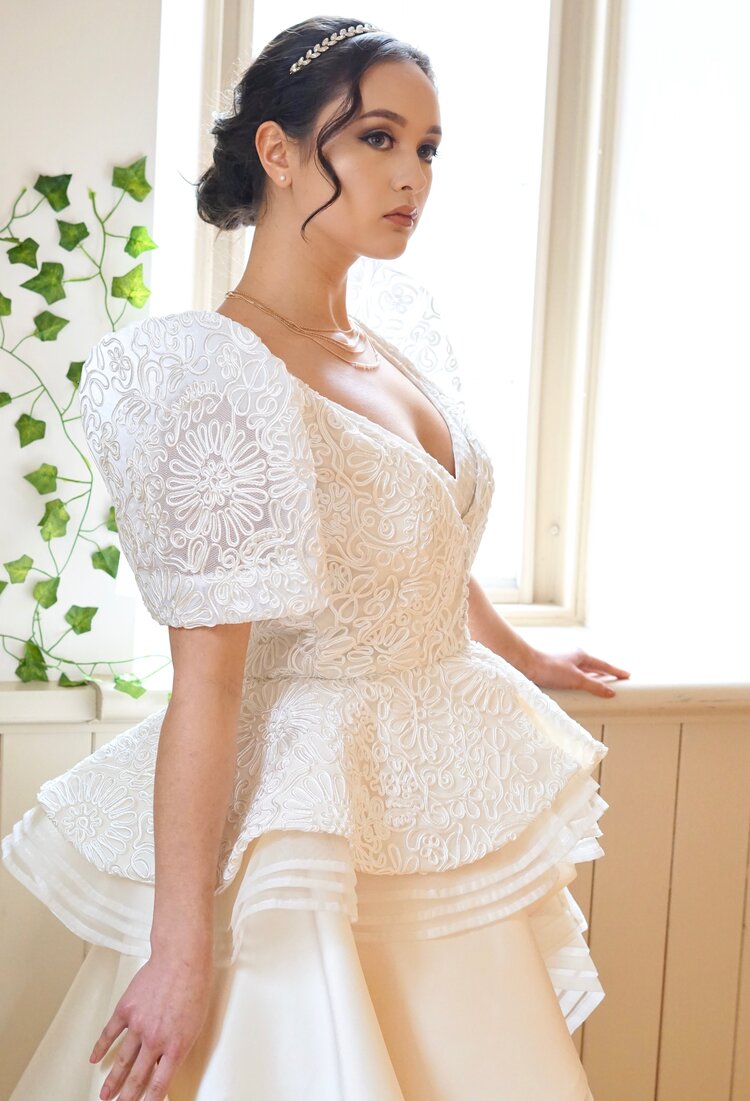 Source: https://www.jillianjoyhc.com/blog/2020/1/9/behind-the-seams-the-terno
This stunning modern Filipiniana wedding gown was designed and created by Jillian Joy, a passionate fashion designer who aims to make beautiful, well-fitting dresses for everyone. The piece pictured above is a part of her collection that features the combination of Filipiniana and current bridal gown trends.
One of the most eye-catching pieces in her collection is this Filipiniana wedding gown with a delicately embroidered bodice. It also has a peplum skirt that adds to the dress's gracefulness and uniqueness.
Additionally, the piece features a cutout back that adds personality to the wedding dress. This simple detail makes the piece suitable for a modern Filipina who wants to show off her beauty while still being proud of her heritage.
Short and Practical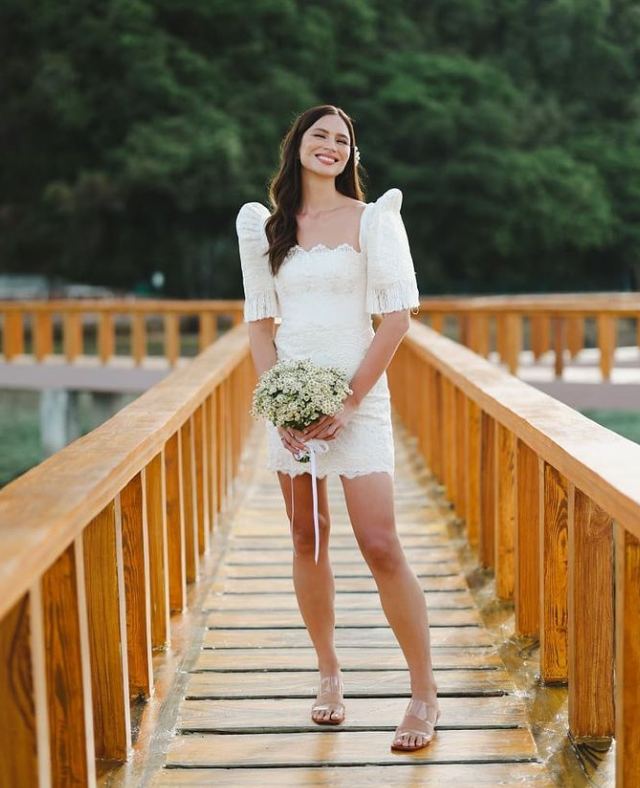 Source: https://www.instagram.com/p/CQlHceoFIo5/
The short and sweet-looking Filpiniana wedding dress pictured above was designed by Vania Romoff. This piece was worn by model Jess Wilson at her wedding in Palawan.
Her embroidered modern Filipiniana wedding gown features a short skirt that is ideal for brides who do not want to drag around a long skirt all day but also don't want to wear a jumpsuit. Because of its length, this piece is perfect for beach weddings where walking around with a long skirt is not that easy.
If you do not want to have a simple dress on your big day, you can add embellishments that suit your style and personality. You can have your gown embroidered or beaded to add some charm to it. You can also opt to add fringes on your Filpiniana wedding dress's sleeves to make it more unique.\
Do Not Forget to Enjoy Yourself
It is a known fact that searching for the perfect bridal gown is a stressful part of preparing for a wedding. However, you should not forget to have fun when shopping with your friends and family. Remember to use this time with your bridesmaids and family members to create memories that you will cherish in the years to come.
Additionally, you should not hesitate to try out several dresses—even those that you are not sure will look good on you. Who knows, maybe you will find the perfect dress in the one that you have never seen yourself wearing.
For more tips on bridal gown shopping and wedding planning, do not forget to watch out for our new articles.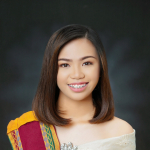 Janeree Coria is a digital content writer and a full-time fur parent to Bindi (a mini dachshund) and Gunther (a guinea pig). Aside from playing with her pets, she enjoys napping, watching ASMR videos, and snacking.