During wedding receptions, wedding guests and the newly married couple are expected to interact, be it the usual table-to-table conversations, dancing or through fun interactive wedding games. Filipino receptions are joyous, entertaining, and unforgettable for a lot of obvious reasons, and we're all very dedicated to our idea of fun and excitement.
Wedding games are now becoming increasingly popular in receptions to keep guests entertained all throughout the night. In some cases, wedding games can even help guests meet each other – especially when they belong to different sides of the family.
If you're planning on doing a few of these, we've compiled some of the most exciting Filipino wedding games to add to your wedding reception program: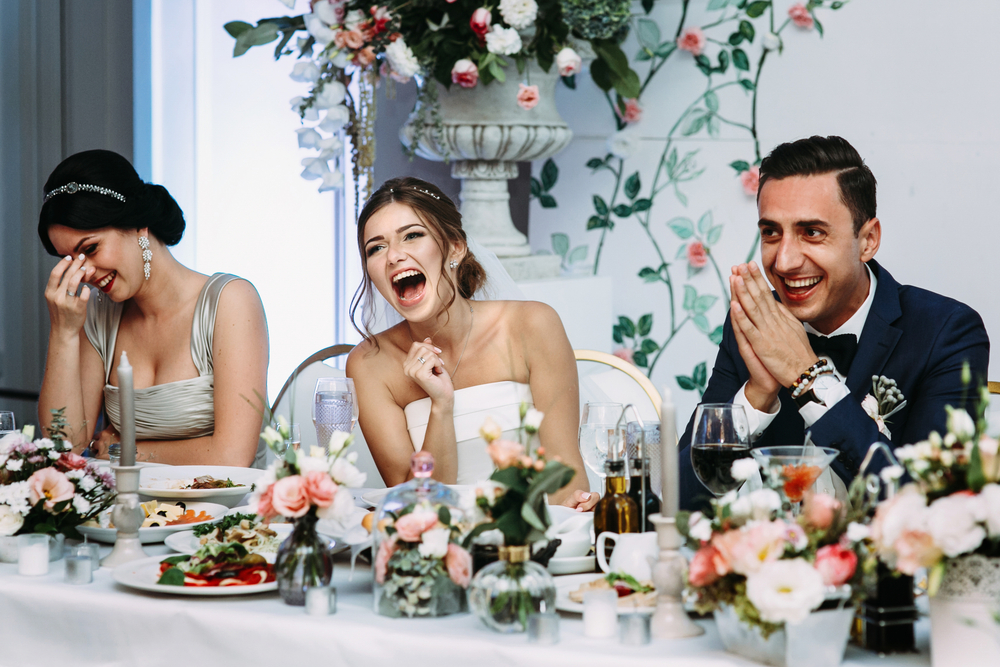 8 Fun (and Funny) Indoor Wedding Games for Your Reception
Wheel of Wedding Fun
Think Wheel of Fortune, but instead of prizes, you get to list down things you'd want your guests to do. You can ask a person to roll the wheel at random times during the reception and do whatever the arrow points to. Include things like, "Sing a line from the couple's theme song," "All couples kiss," or "Dance to the tune." There's no limit to what you can include in the wheel – the more options, the better.
Trip to Jerusalem (Challenging Version)
A Filipino party isn't complete without parlor games, which makes Trip to Jerusalem a great wedding game if you're looking for a fun and funny activity for your guests. However, the creativity of Filipinos has spawned multiple variations of this popular game, such as a version where a banana is put between a single guy's legs and the single ladies are tasked to touch the banana when the music stops to avoid getting eliminated. In the "challenging version," however, the banana is exchanged with smaller and smaller vegetables to make it harder. This game will surely get the crowd wild with laughter.
Shoe Game
As far as wedding games for the bride and the groom goes, the shoe game is probably the funniest, since the couple would be answering questions about themselves without the other one knowing the answer. The game starts with the couple giving a shoe to each other. They are then asked to sit back-to-back so they wouldn't know what the other's answer is. They are then asked a series of questions, from "Who first said I love you?" to "Who's the neat freak?" They'll then raise one of the shoes they're holding depending on their answer.
Find the Guest
Find the Guest is a cute activity that everyone can participate in. Give your guests a list of random characteristics that can refer to people around the room, such as "who's the only child," "who's left-handed," or "find someone who can play the piano." The more random, the better. Maybe you'll even learn something new from your guests after reviewing all the answers!
Name That Tune
What's something that Filipinos love? Music and singing, of course! This makes Name That Tune a perfect wedding game for all guests, whether they're young or old. Come up with a list of songs from different genres and years and it's all up to your guests to guess the songs as fast as they can with just a few notes.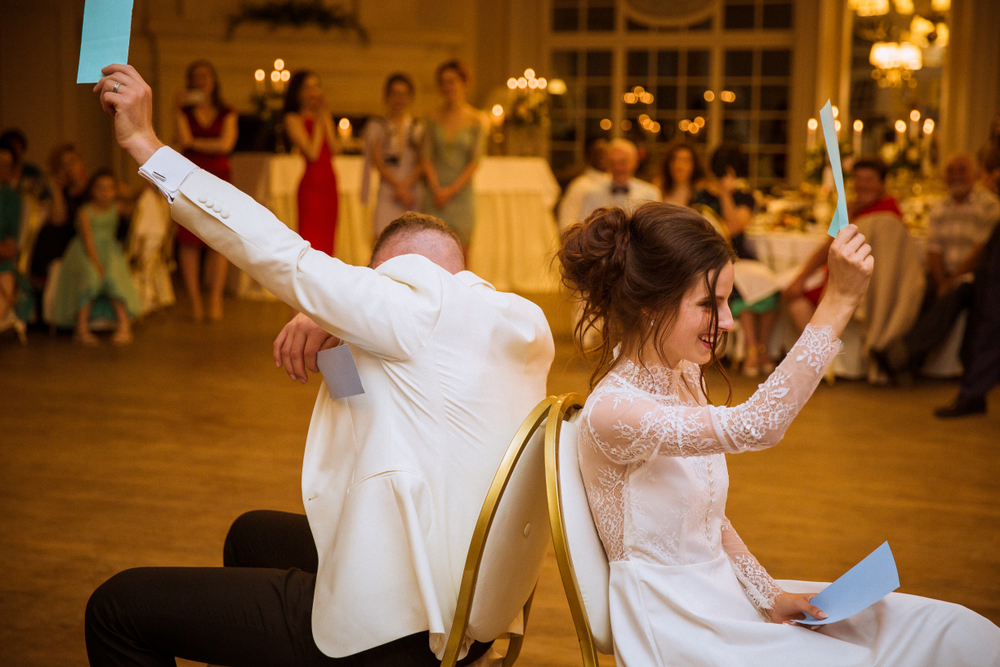 Pinoy Henyo or the Whisper Game
Pinoy Henyo is a fun addition to your lineup of wedding reception games and will surely trigger the competitiveness of your guests. You can split your guests into multiple groups and let them decide who are going to be the representatives. List down things that are related to your wedding or your reception to make the guessing easier.
For a funnier version, you can try the Whisper Game wherein two guests are fashioned with headphones with blasting music to block out noise. Give them words that they would need to mouth (or scream) at their groupmate until the other one gets it right.
I Spy (Wedding Edition)
I Spy is a great wedding reception game that will keep your guests occupied and on the lookout for things you've listed down. Before the reception, give away a list of things that your guests can take pictures of during the reception dinner or brunch. They can take pictures with their cameras or phones, or you can even hand out disposable cameras and get them developed after the wedding. Not only will your guests be entertained, but you'll also get a fresh perspective after the photos are developed. You'll see how everyone spent and enjoyed the night.
Bring Me
As far as wedding games go, Bring Me is one of the staples of any Filipino party, from birthday parties to wedding receptions. It doesn't matter because it's entertaining to watch guests scramble for that one thing that you're asking for during the game. Maybe you can even add a person into the mix to make guests run to them and maybe drag them to the stage.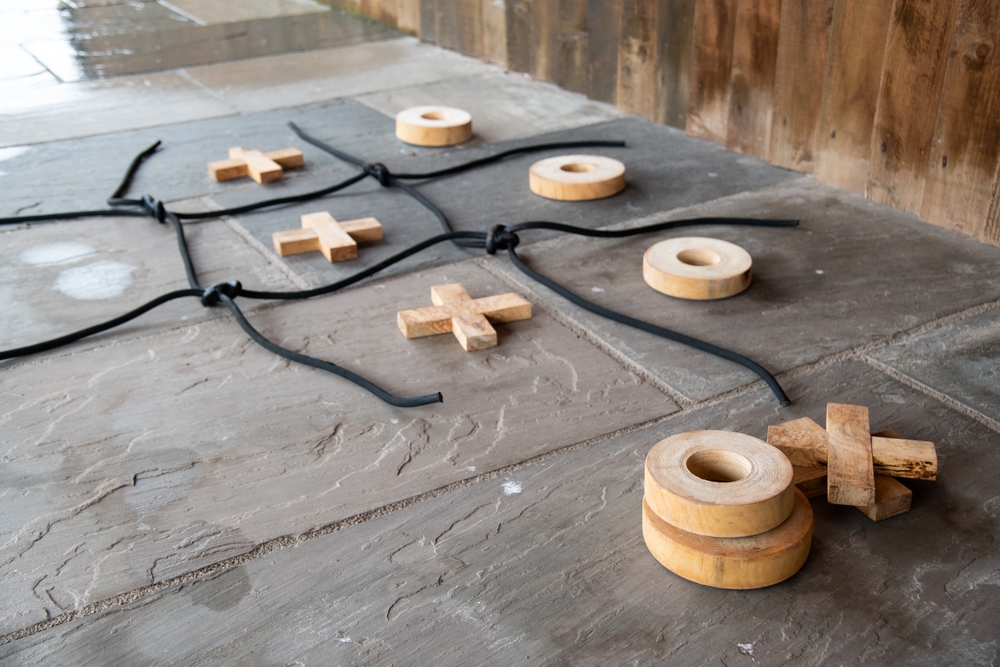 Wedding Reception Games You Can Play for Outdoor Weddings
For outdoor weddings, like beach weddings or garden weddings, you can also add stations where guests can play outdoor wedding games and compete. Here are a few wedding game ideas you might want to add to your reception plans:
Bocce Ball
Bocce ball or pétanque is a game that originated from France and Italy, wherein people are given boules that they need to throw as close to the cochonnet or target as possible. While this might seem like a boring game, it's not, especially when you get the hang of it. The great thing with this wedding game is it's played out on a terrain, be it on grass or sand – perfect for outdoor venues.
Giant Chess and Checkers
Lay out a giant chess board or checkers board and let your guests play the XXL version of these famous board games. Let them practice their chess or checkers strategy and keep your guests busy with these fun games.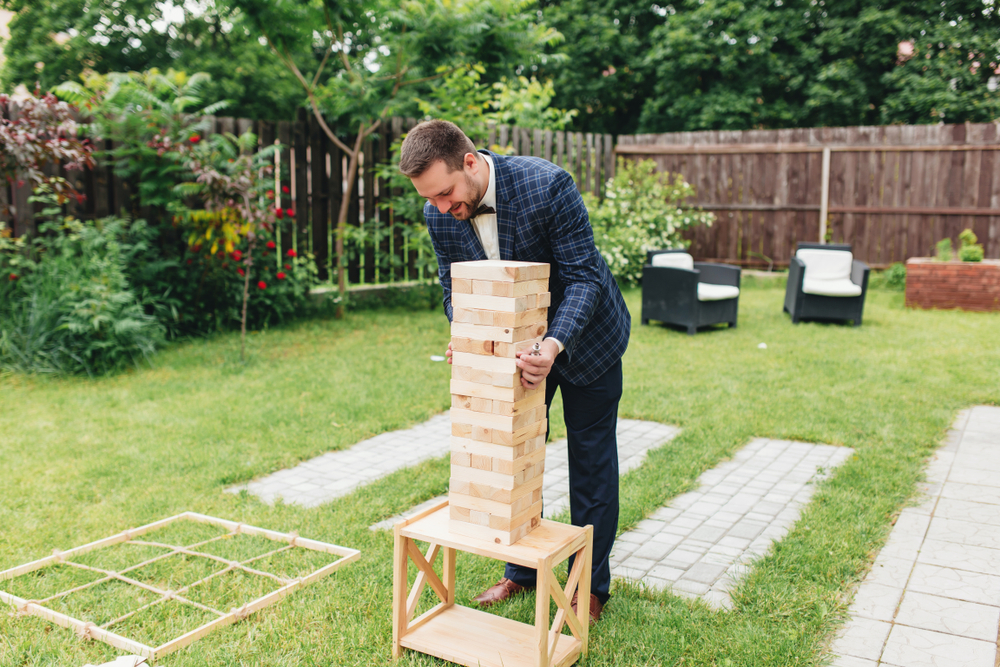 Giant Jenga
What's better than a game of Jenga? Giant Jenga! Watch as wedding guests try to remove pieces of the Jenga tower without toppling it over. The laid-back nature of this wedding game also makes it appropriate for people who are in dresses or suits since it wouldn't get them too dirty or sweaty.
Games for Virtual Wedding Receptions
The pandemic has made a lot of differences for couples who want to get married, with a lot of wedding plans getting canceled and rescheduled. The lockdowns and limited guest numbers allowed to celebrate weddings have made it almost impossible to let everyone important to you witness one of the most important days in your lives. However, out of sheer necessity, a lot of couples now choose to have intimate weddings and home weddings. Their guests are invited over at Zoom or any other video call client to let them be part of the wedding even though they're not physically there.
If you're one of these couples who are now planning on holding a virtual wedding reception, here are a few fun wedding games you can do through video so that you can still interact with them even if it's only through a computer screen:
Bring Me (Virtual Edition)
Just like the usual game, you'll be asking for random things that your friends and family may have lying around their homes. The first one to hold it up to the camera wins the game. While your guests won't be running around a venue, it'll still be fun watching your friends running around their homes trying to find the items that you're looking for.
Charades
Split your wedding guests into two groups, and then let them assign a representative who's going to act out the phrases they're going to be assigned. Give the groups a few minutes to come up with a strategy, such as signs that would state whether the phrase is in English or in Filipino, or how many syllables there are. Watch as everyone tries to yell out answers, which are sometimes wrong, that often warrant funny (and frustrated) reactions of their representative.
Charades is probably easier to facilitate virtually if you ask me. What with the mute and deafen buttons, the person assigned to act out the phrases or words wouldn't accidentally blurt out the answer.
Emoji Pictionary
Emoji Pictionary is played by flashing a series of emojis that represent a movie, a book title or anything general that can be described through images. Your guests are tasked to guess the titles correctly as fast as they can, with the winner being the one with the highest number of titles/phrases guessed.
Keep Kids Engaged With These Wedding Games and Playtime Stations
When it comes to wedding guests, making sure everyone is having fun is probably at the top of your priorities list. This includes the cute kids and children accompanying their parents, your ring bearer, the flower girls, and the pages. We all know children can get a little fussy during long ceremonies and dinners, so to keep them happy and busy during the reception, here are a few wedding games and stations you can add to the venue: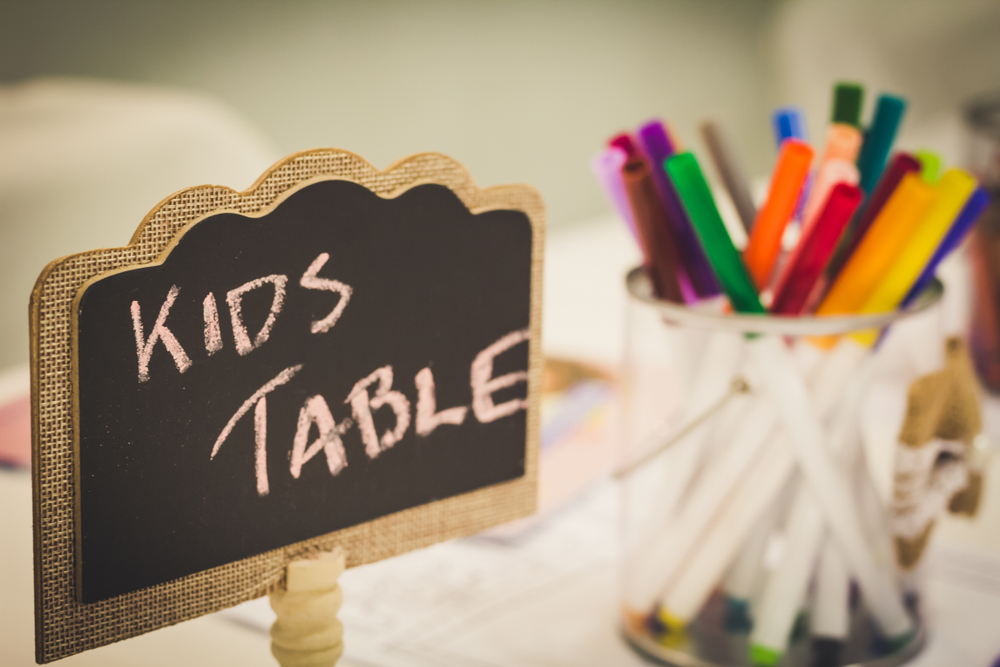 Coloring Stations
Kids love expressing themselves with colors, and what better way to keep them engaged than providing them with coloring stations where they can choose unique sheets and coloring materials? You can even give them coloring books as their keepsakes for the wedding.
Lego Playpens
Tap into children's interests by setting up a Lego playpen where they can build whatever they want with building blocks – be it a plane, a house, or a robot. This would be a great way to keep kids busy for hours on end.
Kiddie Movie Rooms
If you want kids to relax and just have fun while watching children's movies or series, you can set up a movie station or a movie room where they can just sit back and watch some of the best animated movies.
Personalize Your Reception Wedding Games for a Unique Experience
While wedding games aren't really part of the Filipino wedding traditions, it's a welcome addition since it helps guests be part of the celebrations and makes the reception a fun and unforgettable experience for everyone. If you want everyone to interact with each other – be it your friends or family – wedding games will surely get rid of any awkwardness that comes with being around strangers. Choose from any of the wedding games we've listed above, and maybe add a few tweaks to make them more personalized and unique for everyone. Good luck, and we hope that you and your guests enjoy the reception night!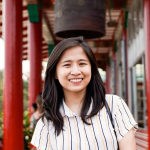 Donna spends 50% of her time writing, and the other 50% napping, snacking, or befriending stray cats.