Being asked to be the maid of honor at your best friend's or sister's wedding is a thrilling experience. You get to make her wedding preparations more exciting by helping her host a bridal shower and bachelorette's party, choose her wedding dress, and plan everything she needs for the wedding rehearsal and ceremony. Although all these tasks happen before the wedding, this does not mean that your duties end once the couple exchanges their "I dos." You still need to learn how to write a maid of honor speech.
One of the biggest responsibilities of a maid of honor is giving a speech. It is delivered during the reception and paints your relationship with the bride. It also allows you to share any fun or inspiring stories you have about the couple.
If you're still trying to draft your speech, here's a guide on how to write the best maid of honor speech.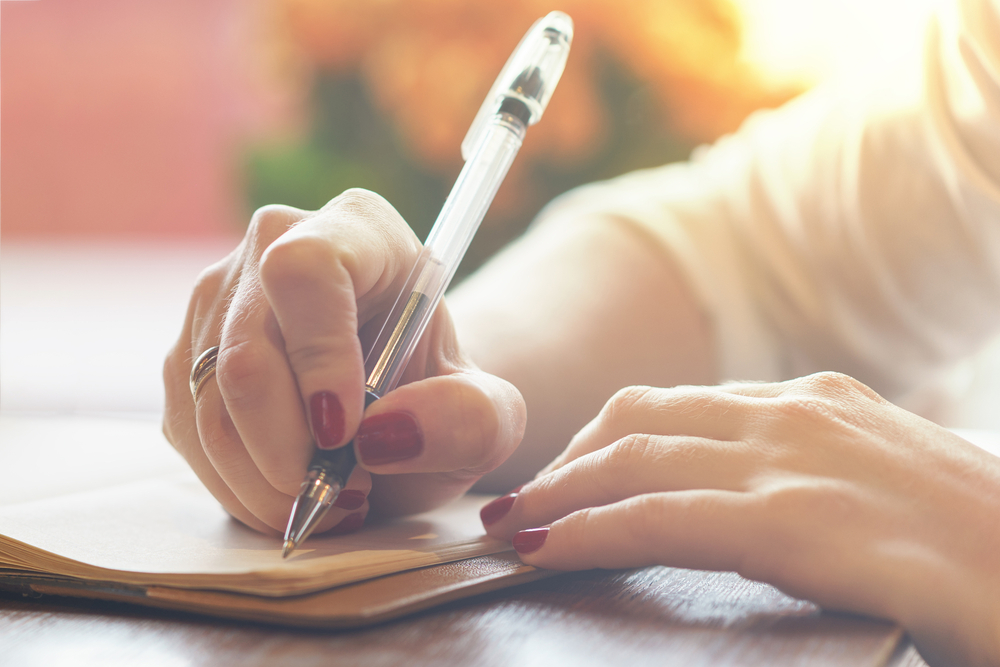 When to Start Writing a Maid of Honor Speech
Although your maid of honor speech will only take about two to five minutes, you still need to give yourself enough time to write it. After all, it's your best friend's or sister's most important day. So, you want to ensure that your speech is heartfelt and meaningful.
Start writing your speech at least a month to three weeks before the wedding. This gives you enough time to think about what you're going to say, choose the perfect words, and make sure that everything is in order. Plus, it also allows you to practice your delivery until you are ready for the big day.
You should also try writing your maid of honor speech when you're feeling inspired by or sentimental about your relationship with the bride and the couple. These emotions will help you unleash your thoughts and even recall stories that can make your speech more memorable.
Maid of Honor Speech Template
One of the things you need when trying to write a good maid of honor speech is a foolproof template. You can use this as your guide and just fill in the blanks.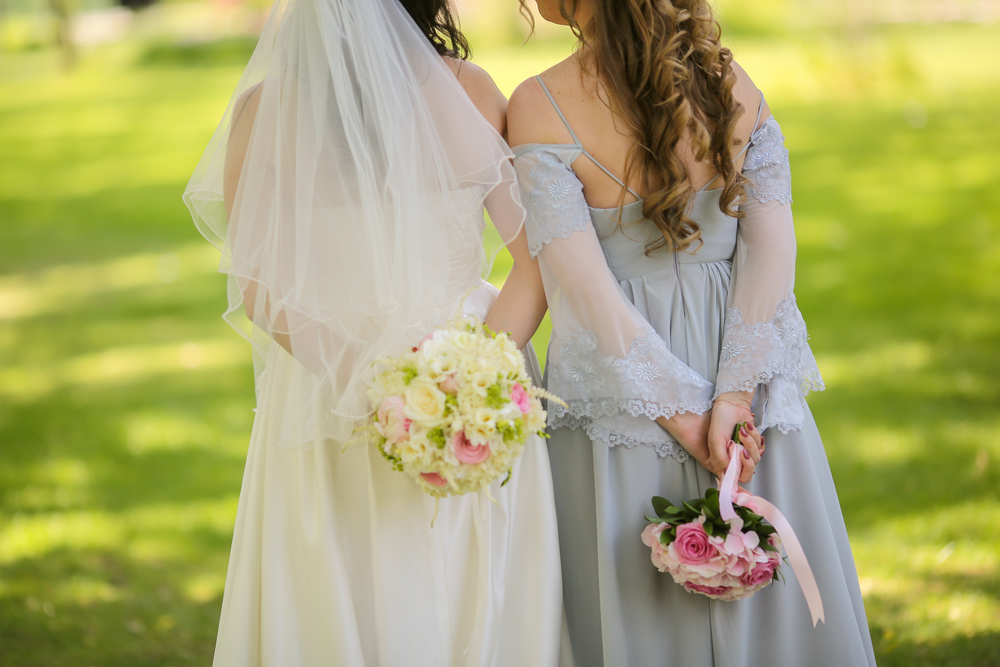 Introduce Yourself and Your Relationship With the Bride
Start by introducing yourself and how you know the bride. This will give the attendees an idea of why you're the one giving the speech.
While introducing yourself, you should also thank the people who are important enough to be mentioned. This may include the couple's parents, other family members, wedding party members, and even the couple's friends.
Talk About the Bride
Once you get the introductions out of the way, you can start to get into the more personal part of your speech. You can begin by talking about your relationship with the bride and how the both of you met.
You can also choose to tell a story that sums up your friendship or when you realized that the bride would be your best friend. Additionally, you can talk about how the bride has changed over the years and how you've seen her grow as a person.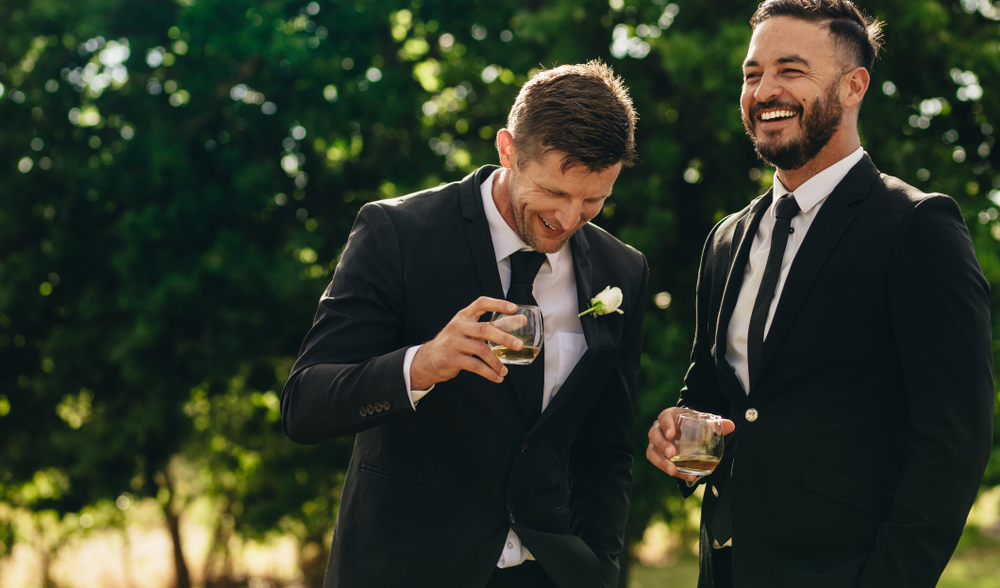 Talk About the Groom
When trying to write a wedding speech for the maid of honor, it's important not to forget about the groom. Make sure to talk about how you met the groom, your thoughts when they first started dating, and what great qualities he has that made the bride fall in love with him.
Doing so shows your support for their relationship. Additionally, it helps create a connection between the couple and yourself.
Tell Stories About the Couple
Now that you've established your relationship with the bride and groom, you should start talking about the couple. You can tell stories that prove why they are a great match for each other or how their relationship has always been an inspiration.
If you want a tip on how to write a funny maid of honor speech, you can also talk about a hilarious memory that involves both of them. This will give the wedding reception program a more light-hearted feel.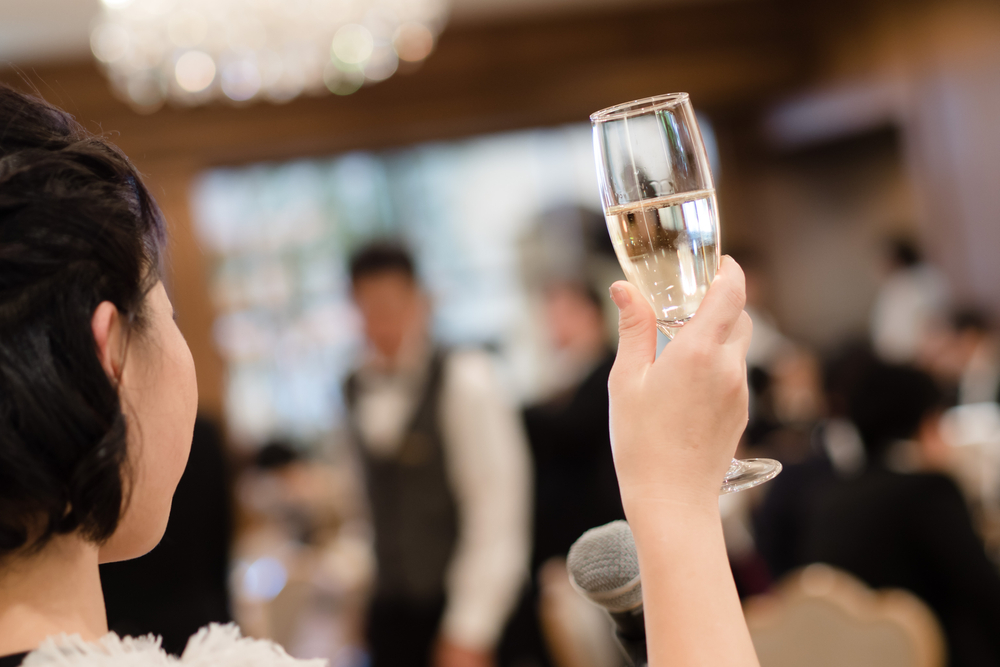 End With a Toast
Finally, you should end your speech with a toast. Wedding speeches should always end on a positive note. It's your way of wishing them good luck and letting them know that you support their marriage no matter what.
You can raise a glass and wish the couple nothing but happiness in their future together. This can be anything from a simple "Cheers!" to more meaningful words like "May your love remain strong for years to come."
What to Avoid in Your Maid of Honor Speech
Now that you've tackled the basics of a maid of honor speech, it's time to talk about the things you should avoid. Taking note of these will allow you to make sure your speech is appropriate for the occasion.
Exes
This is a wedding speech, not a time to tell stories about the bride's or groom's exes. Leave out any mention of their exes or any other people who may have caused pain in the bride or groom's life to avoid dampening the mood and making the event awkward.
Embarrassing Stories
This is a special day for the couple, and you should keep your speech appropriate. Avoid telling embarrassing stories or inside jokes that only a few people may know. Doing this will leave a lot of the guests feeling left out and confused.
Insulting Jokes
While funny stories are welcome, avoid telling jokes that are too insulting or offensive. This will make the bride and groom feel uncomfortable and may even cause fights between family members.
Secrets
No matter how close you are to the bride or groom, avoid spilling secrets that were meant to remain between the two of you. This will create a sense of mistrust and break the bond that you have with each other.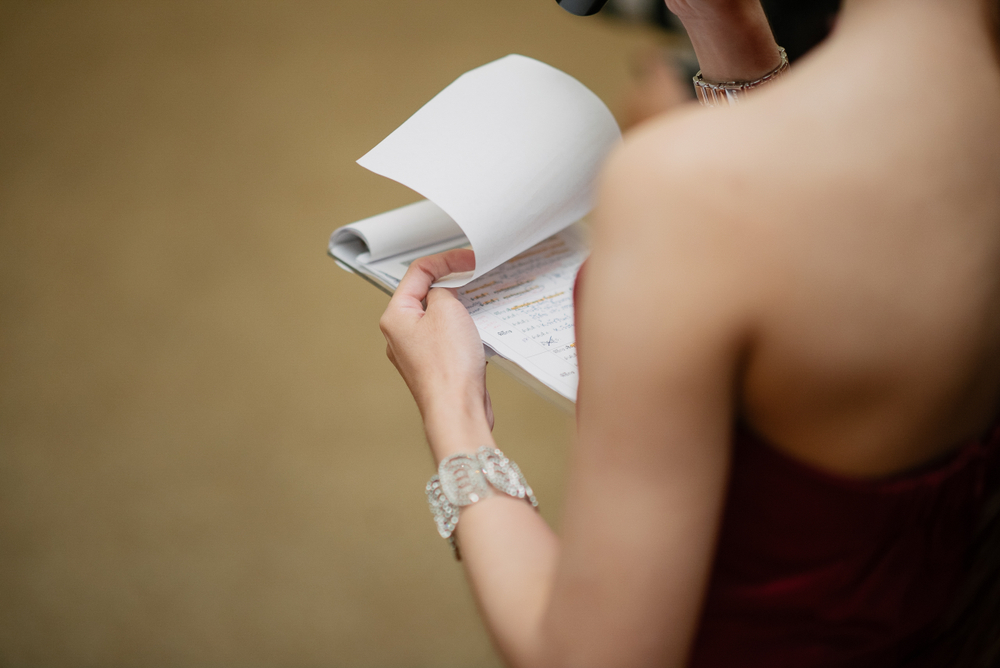 Tips on How to Write a Wedding Speech for a Maid of Honor
Here are some tips to better prepare your maid of honor speech:
Try Free-Writing
To get some ideas for your wedding speech, try writing without censoring yourself. Allow yourself to write whatever comes to mind and don't worry about finding the perfect words. Once you're done, you can begin to organize your thoughts and create a draft for your speech.
Keep It Short
The attention span of your guests will vary, so make sure to keep your speech short and concise. Stick to an outline or bullet points that highlight the main points of your speech. Additionally, try to keep it under five minutes so you don't lose the attention of your audience.
Practice Makes Perfect
Once you have a draft of your speech, practice it out loud. This will help you get comfortable with what you are saying and allows you to make changes if necessary. Ask family or friends for their feedback to ensure that your speech is as effective as possible.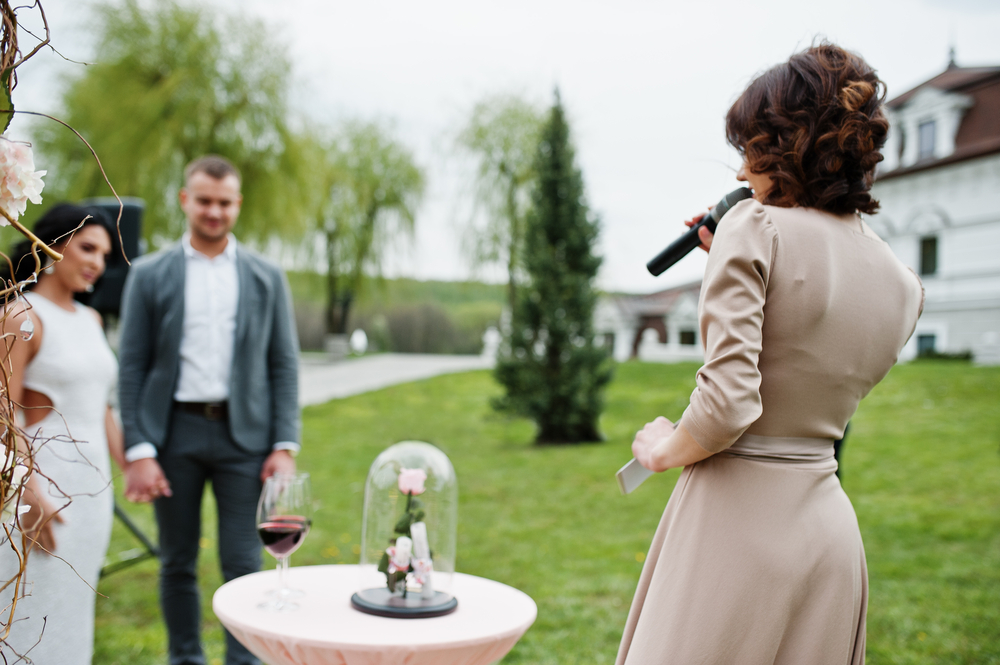 Getting Ready to Give the Perfect Maid of Honor Speech
Giving a maid of honor speech shouldn't be daunting. With proper preparation and practice, you can give an amazing speech that will leave the bride and groom feeling honored. All it takes is a bit of organization and some practice to perfect your delivery.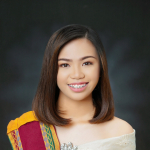 Janeree Coria is a digital content writer and a full-time fur parent to Bindi (a mini dachshund) and Gunther (a guinea pig). Aside from playing with her pets, she enjoys napping, watching ASMR videos, and snacking.