https://www.pinterest.ph/pin/496099715208131288/
https://www.pinterest.ph/pin/388646642829285823/
https://www.pinterest.ph/pin/315603886378384375/
https://www.pinterest.ph/pin/310959549282177774/
https://www.pinterest.ph/pin/709105903839227753/
https://www.pinterest.es/pin/960040845537094455/
https://www.pinterest.ph/pin/794392821776736158/
When we talk about fantasy and magic, there are a handful of books and movies that we automatically associate them with – Harry Potter being one of the most well-known. From the time that it was first published, it has carved an almost permanent mark on every child's heart and consciousness. As a generation, we've experienced unparalleled magic and adventure with every Harry Potter book and movie released. This is why a lot of couples choose to relive this fantastical feeling by incorporating a Harry Potter theme into their wedding, from rings engraved with Harry Potter quotes to magical wedding décor for the wedding reception.
In this article, we will help you plan out a Harry Potter-themed wedding that will perfectly encapsulate the world of witches and wizards with creative decorations, castle-like venues, and small details that can add to the magic of it all.
Harry Potter Themed Wedding Venues and Prenup Locations
After your significant other pops the question, you're in for a flurry of wedding planning. It's normal to feel overwhelmed at first, but it's useful to start deciding on the theme first. If you're here reading this article, chances are that you're toying with the idea of a Harry Potter wedding theme, or you've already decided. The next step for you then is to find the perfect venue that can mimic the rambling castles of Hogwarts or at least a reception place that is flexible enough for you to design the perfect Harry Potter-themed reception or wedding. Here are a few wedding venues we've found that you can consider for your future wedding:
Stilts Calatagan Beach Resort
When you think of Harry Potter, a beach setting probably wouldn't be one of your top choices, especially since the majority of the books and movies were set in castles, big open areas, and enchanted forests. However, there is a specific location that not only evokes a calm vibe, but also a romantic one – the Shell Cottage. While it was used as a point of escape for Harry when they were on the run, the shell cottage worked as the home of Fleur and Bill as newly-weds, offering a safe space away from the war.
If you're looking for something similar to the shell cottage, one of the possible venues that you can go for is the white sand beaches of Calatagan at the Stilts Beach Resort. With Stilts' beautiful, serene water and quiet environment, you can remake the tranquil setting of the Shell Cottage.
Casa Manila De Patio
Hogwarts is known for its wondrous and timeless appearance of an old castle, complete with turrets and tower spires. While we don't have full-blown castles as you've probably seen in Scotland and London, we do have a few wedding venues that can emulate the old-time vibe of Hogwarts.
One of which is Casa Manila de Patio, a Spanish-inspired place known for its open gardens and old-world charm. It's probably the closest thing in the Philippines to the Hogwarts courtyard, with its bare walls and arched doorways.
Whitespace Manila
For couples who would rather find a blank canvas so that they'll have complete freedom with the Harry Potter-themed wedding decorations, Whitespace Manila may be the best option, with the high ceilings and white walls and floors. The bare space actually reminds me of King's Cross Station when Harry was in Limbo. But because of the expanse of Whitespace Manila, you'll be free to add long tables, large Hogwarts tapestries or even hanging lanterns to simulate the floating candle lights of the Great Hall.
Invite Your Guests With Magical Harry Potter-Themed Wedding Invitations
Looking to share the excitement of a magical wedding experience the moment you send out your wedding invitations? The great thing about this magical universe is that it offers a wide array of ideas that you can use for unique Harry Potter wedding invitations. Here are just a few off the top of our heads:
Howler Wedding Invitation
Name a more iconic letter in the Harry Potter universe than the howler letter, with its distinct red envelope and deep crimson ribbon. For Harry Potter lovers, the howler letter is a funny and memorable accessory and will probably get your guests a few chuckles once they realize what it is. For a unique invitation idea, consider designing your save-the-dates and your formal invitation this way – but minus the screaming and the bursting into flames!
Hogwarts Acceptance Letter
As 11-year-olds, we've all probably wanted a Hogwarts acceptance letter to magically be sent to our mail as a testament to our magical origins and potential. But alas, the Harry Potter universe did not choose us to enter Hogwarts. Instead, why don't you incorporate your wedding invitation with something similar to the Hogwarts acceptance letter to replicate the wonder and excitement of finally receiving one? Complete your invitation with the Hogwarts crest and a wax seal.
Marauders Map Wedding Invitation
The Marauders map is one of the most recognizable pieces in Harry Potter, from the moving footprints to the detailed blueprint of Hogwarts. Use the Marauders as a pattern for your wedding invitation. You can use it as a background to your wedding invitation, or you can even copy the layout and put the names of your guests on the scattered footprints for a cute and unique wedding invitation.
Make Your Guests Dress Up as Their Favorite Harry Potter Character!
Instead of the usual formal attire of weddings, you can ask your guests to dress up as their favorite Harry Potter characters. You can give them guidelines or ideas so that you can help them narrow down their choices. Here are a few options you can toy with for Harry Potter-themed wedding attires: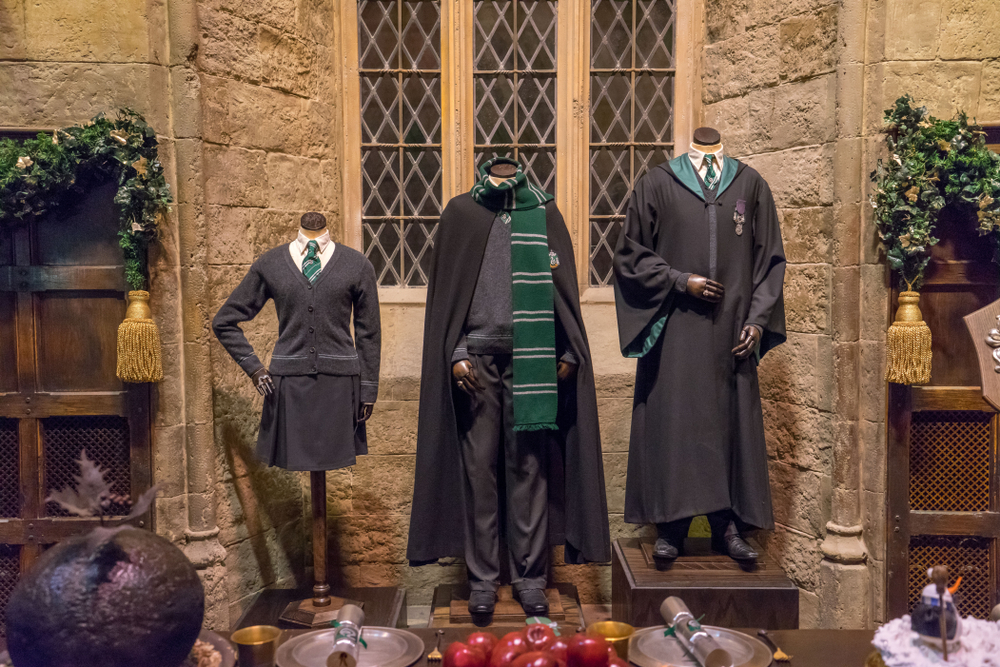 Hogwarts Student Uniforms
Ask your guests to wear the traditional uniforms in Hogwarts and proudly wear their house crests and scarves. You can ask them to wear cloaks, neckties, and vests for a near-authentic Harry Potter experience.
Yule Ball Formal Dance Attire
If you're looking for a more formal option, though, you can go for a Yule Ball-inspired wedding attire option for your guests. Ask them to wear traditional dress robes, formal dresses, blood-red robes of the Durmstrang Institute, or if they're feeling more daring, the frilly dress robes of Ron. Just give the girls a heads up so they can stake their claim on the iconic Yule Ball dress of Hermione!
For the groom and the bride, you can also add accessories to your wedding suit and wedding gown to be as consistent as possible with your Harry Potter wedding theme. You can throw in Deathly Hallows cufflinks, golden snitch brooches, or even use Rowena Ravenclaw's diadem as a unique headpiece in lieu of a tiara.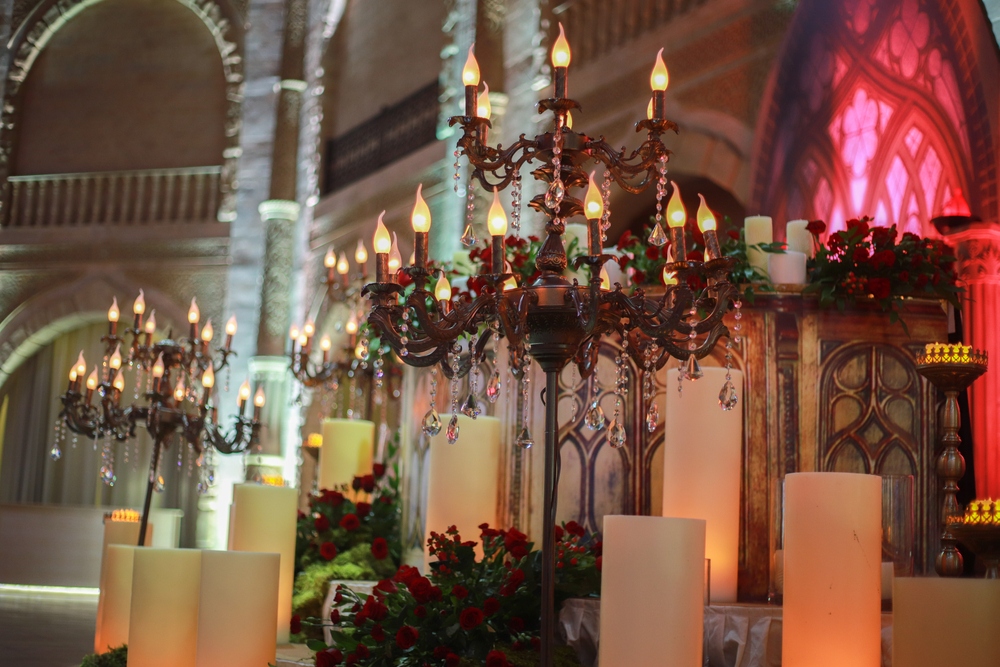 Enchanted Harry Potter-Themed Wedding Decorations and Accessories
Lastly, a Harry Potter-themed wedding wouldn't be complete without the eye-catching and magical decorations that you can adorn your wedding reception with. Here are a few décor and centerpiece ideas you can add to your Harry Potter-themed wedding:
Harry Potter-Themed Ceiling Décor and Wedding Table Centerpieces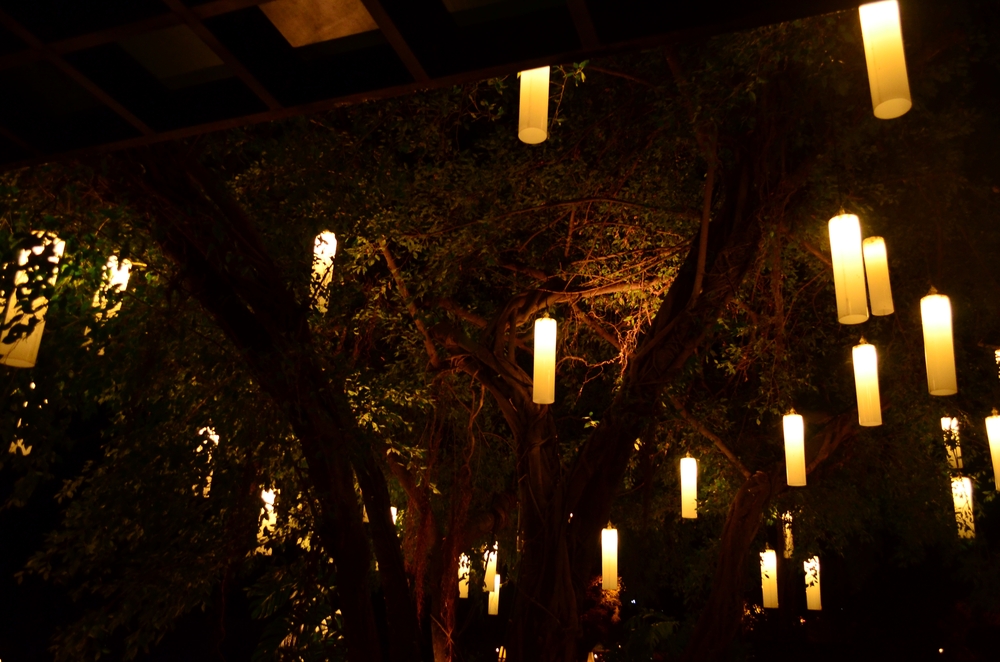 Great Hall Floating Candles
Simulate the enchanted floating candles of the Great Halls of Hogwarts by hanging electronic candles on the ceiling using thin strings or wires that can hold their weight. With dimmed lights, these floating candles will give your wedding not only a magical vibe, but also the romantic appearance of candlelight.
Enchanted Winged Keys
Similar to the floating candles, you can hang up enchanted winged keys around your Harry Potter wedding venue to mimic the flying keys we all saw in the Philosopher's Stone. While they did end up attacking Harry after he took the old one, these are still beautiful options to add to the magical vibe of your wedding. You can even hang up an old key replica and ask your guests to find it during your reception for a special prize.
Triwizard Tournament Dragon Egg Centerpieces
During the Triwizard Tournament's first task, Harry Potter and the other Triwizard Champions were asked to retrieve a replica of a dragon egg. With its golden, unique appearance, this will make a fine choice to add to your magical wedding centerpiece ideas.
Goblet of Fire Centerpiece
Want a wedding centerpiece that you can also use for an interactive reception activity for your guests? Add a Goblet of Fire centerpiece to every reception table at your Harry Potter-themed wedding and let your guests write down their names and throw them into the goblet. You can then pick names out of the pool and let them participate in a wedding reception game.
Fun Harry Potter-Themed Wedding Cake Toppers
Patronus Cake Toppers
If you and your fiancée are both Harry Potter fans, you probably know what your Patronuses are. Get customized Patronus figurines and use these as your fun wedding cake topper. Not only are these unique, but you can also use them as decorative figures for your home after the wedding.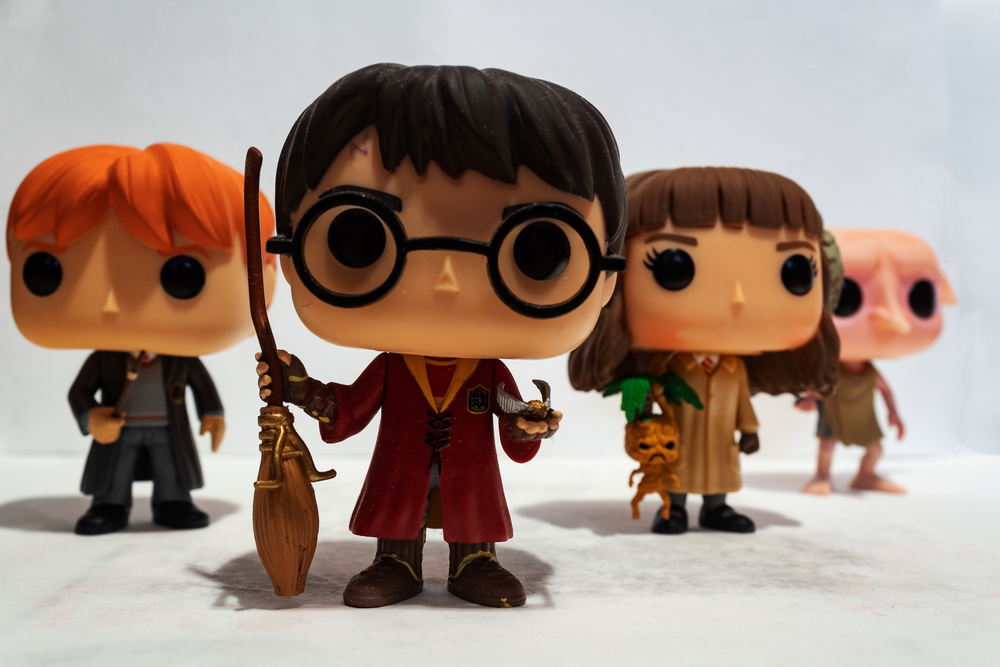 Harry Potter Character Wedding Cake Toppers
Want to use a Harry Potter couple as your wedding cake topper instead of the generic bride and groom ones? You can use Funko Pops or customized figures of the most popular Harry Potter couples, from Harry and Ginny to Fleur and Bill. You can even use Arthur and Molly for a cuter option!
Relive the Magic of Harry Potter at Your Wedding
When it comes to deciding on your wedding theme, there are hundreds or even thousands of options you can choose from. From a more formal and solemn ceremony and reception to fun and casual celebrations of love, couples around the world use their wedding as a means to express themselves freely as they usher in a new life. Because of this freedom, it's not surprising that a lot of couples choose Harry Potter wedding themes, since it's probably one of the few series that has left a mark on our generation.
If you're planning a Harry Potter-themed wedding, we really hope that you found a few fun ideas that you can use, whether for your décor or for your wedding venue. Let us know how it goes, and we can't wait to see what your Harry Potter wedding looks like!