Sometimes, it's the little things that make a huge difference. When it comes to your wedding, the same rules apply. It could be the lighting, the flowers, or sometimes it could be the wedding ring pillow that tie your wedding together!
Wedding ring pillows or cushions are usually carried by ring bearers down the aisle. They're not exactly the most noticeable detail, but incorporating elements that you hold special in even the smallest details make your wedding more special. So, make sure that everything is tied up with your theme and have your ring bearer carry the perfect wedding ring pillow down the aisle.
If you're looking for more inspiration, check out this article to get answers about commonly asked wedding pillow questions and see more stylish wedding pillow designs!
Are Wedding Ring Pillows Important?
The tradition of having ring bearers carry a cushion down the aisle can be traced back to the Medieval Era when wealthy families presented the rings of the couple on a pillow carried by a page boy as a symbol of their wealth. When the Victorian Era came, this practice was further popularized and the ring bearers were given an outfit quite similar to what is more common today.
In a nutshell, wedding ring pillows are merely a symbol of an old tradition. Today, the pillow (and the ring bearer) won't actually hold your wedding rings! After all, it's quite difficult to entrust your rings to a young child. Even more interesting, the use of pillows aren't restricted to ring bearers alone as your coin bearer will also need one while walking down the aisle. While the wedding ring cushion isn't the most significant part of the ceremony, it's one that can be styled and repurposed to fit you and your partner's story even more!
How Do You Put A Wedding Ring On A Pillow?
Even though you're not putting your real wedding rings on the ring bearer pillow, there are ways to secure the fake rings on the pillow so you're adorable ring bearer won't have a hard time carrying the cushion down the aisle.
Here are some ways to keep the rings on the pillow: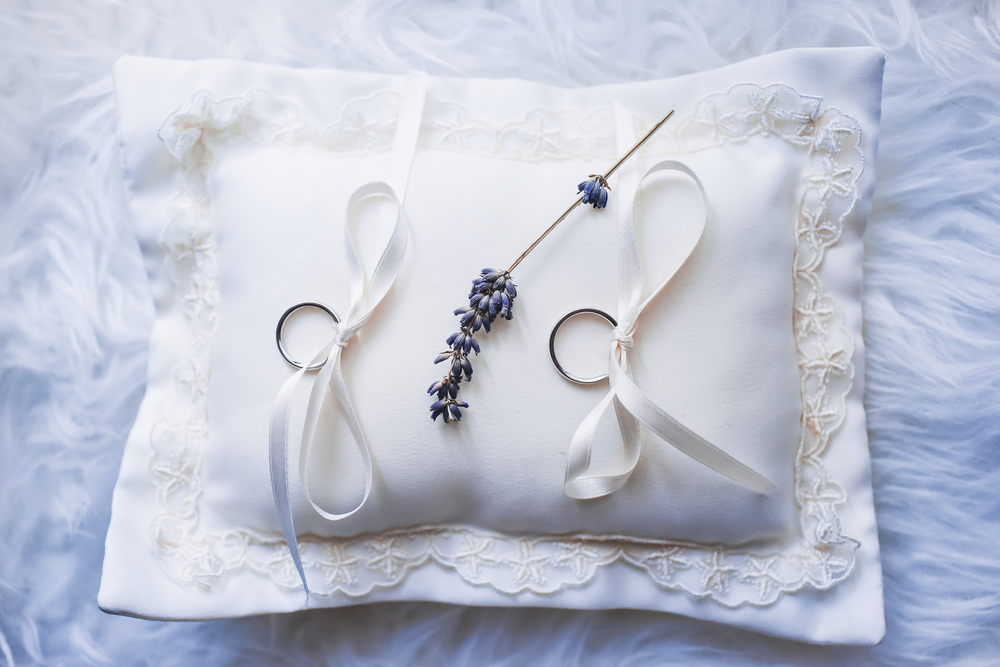 Tie it up with a ribbon
Some wedding ring cushions already have a ribbon on the design to make sure that the rings stay put. Find one with a pretty ribbon that won't get in the way of your ring bearer.
Stitch the rings on the pillow
This one is a common method for pillows that are quite plain and small. Sometimes, ribbons aren't available and the next most secure thing is to have the fake rings be stitched onto the pillows. Just make sure that you're using a complementary or similar thread color to make the stitching look clean and polished.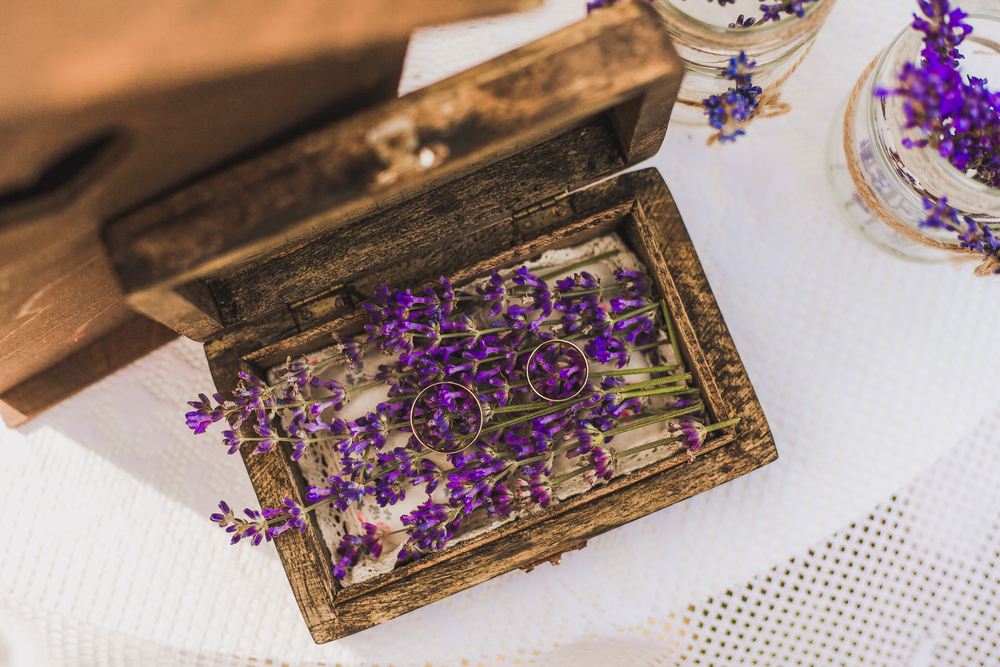 Use wedding ring pillow alternatives
Sometimes, wedding ring pillows aren't pillows at all but small, elegant containers for your rings. If you and your partner decide to use something else, consider getting a small, lidded container that the ring bearer can carry easily. You won't have to worry so much about the rings falling off and you get a unique piece for your wedding!
Wedding Ring Pillow Designs
Keep everything thematic and aesthetically pleasing with these cute, elegant, and clever wedding ring pillow designs that you and your partner will love:
For the simple, yet elegant couples
Sometimes, you don't need a lot of frills or pomp to represent you and your partner. Try out a single ribbon wedding ring pillow that's sleek, elegant, and simple. Keep it all white or add a splash of color on the ribbon. Either way, this is a cute option for couples who want an understated yet sophisticated theme.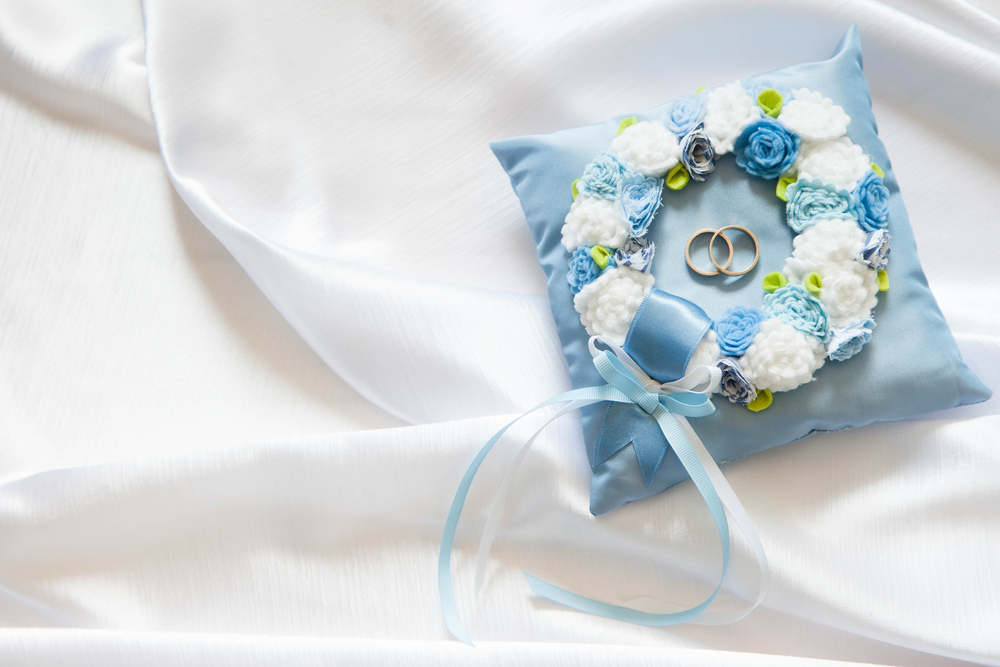 For those looking for more flowers
For floral lovers,try incorporating flowers into your wedding ring pillow designs! Stitch in some of your favorite flowers on the side of the cushion or try out this amazing floral-themed wedding ring cushion.
For the quaint, rustic couple
Try out a wedding cushion that's made of burlap or a similarly textured material. Rustic weddings aren't complete without a bit of wildflowers, so you can definitely try incorporating some floral accents in your wedding ring pillow designs!
For those with wanderlust
Travelling the world with your partner is a dream and you can definitely incorporate that in your wedding ring pillow design. Use an embroidered world map as a design or have something from one of your travels printed out.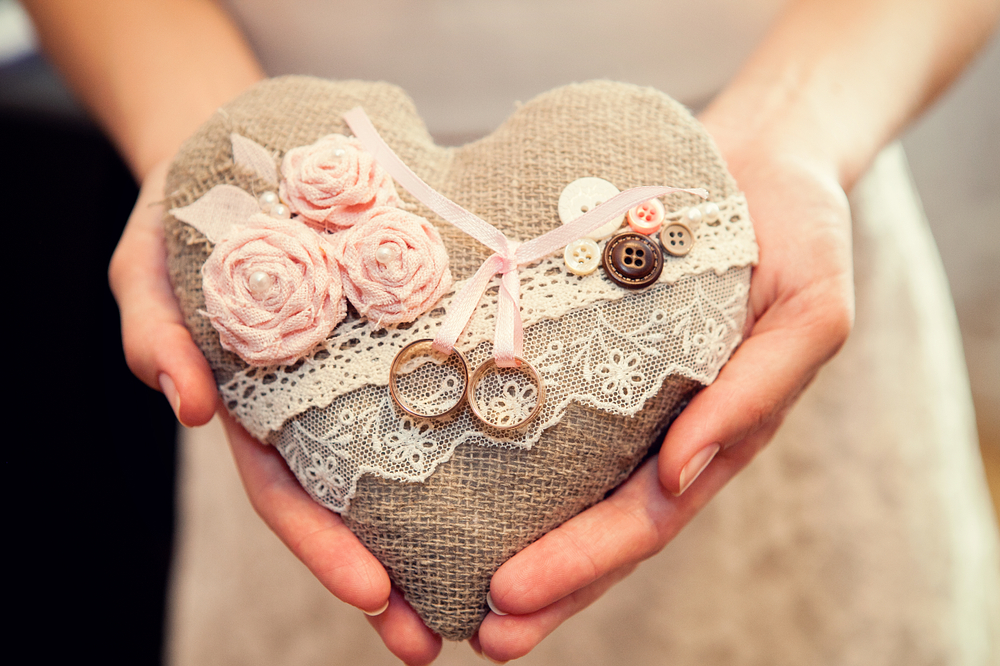 For those who want a unique spin
For couples who really can't find anything, you can always opt to get something customized. Perhaps a special date wedding pillow or a monogrammed wedding ring cushion can be something you add to your wedding to make it even more memorable.
Alternatively, you can also try out a carrier that's not a pillow at all to store the rings. A small jeweled box or a family heirloom makes an excellent wedding detail and it also adds to the solemness of your day!
Selecting the Perfect Wedding Ring Pillow
Although it's a small detail, a wedding ring pillow makes your wedding extra special if you give it enough thought. After all, sometimes it's the little things that make it count!
While you probably won't spend an exorbitant amount of money on a wedding ring cushion, it's always nice to put in some extra thought and effort in the little things. As long as your cushion goes well with your theme, represents you and your partner, and most importantly makes you happy, then by all means go ahead and choose that wedding ring pillow!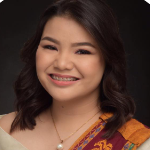 Joey Cole is a digital content writer from Laguna. When she's not looking at her task list, she's probably obsessing over another anime show, looking at pictures of food, or adventuring all over Faerun with her online DND friends.