Are you almost done preparing for the big day? Have you picked the perfect nail art for your wedding?  Beyond the obvious, like the dress, countless little details must be attended to while preparing for your wedding. Everyone at the wedding will look at you, from your dress to your face to your hands. 
So, what better way to get more glammed up than securing the bridal accessories for your wedding? It's choosing the nail art suited for your fashionable bridal look! Check out these stunning nail art designs ideal for every type of bride.
Get Glammed with Bridal Nail Art Designs
Painting your nails with a design ideal for your wedding look is something you should ponder on. The most fabulous designs are the ones that resonate with your unique personality while offering you comfort and style. Here are bridal nail art designs suitable for any wedding look.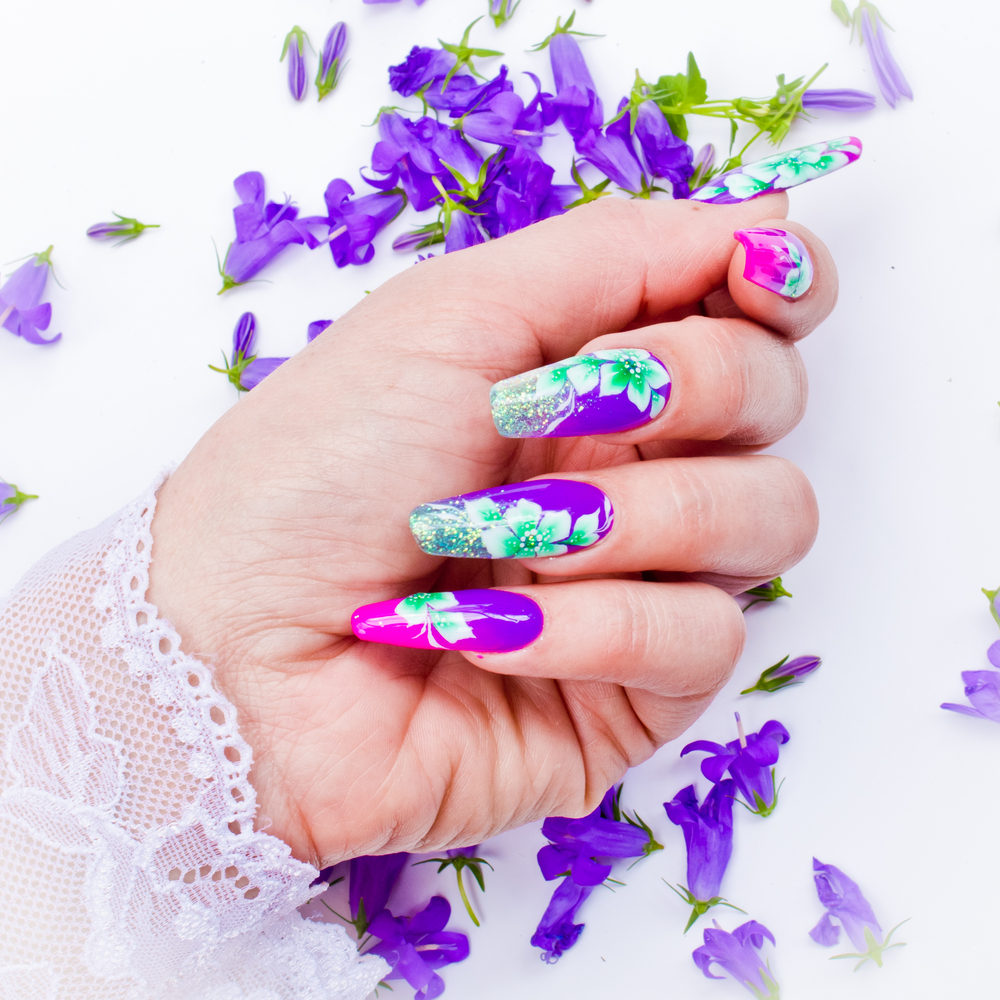 Floral Fantasy
Floral nail art for weddings is one of the best designs out there!
Flower nail art can be done in different styles. Nothing could go wrong when brides opt for dainty and simple floral designs or go for bold ones like pressing actual flowers in their nails. Blooming flower designs look better on nude nail polish, so your blossoms will be the center of attention. You can even pair it with our flower crown tips to show off your love for all things floral.
With this design, your wedding venue won't be the only one blossoming with gorgeous flowers, but your fingernails too.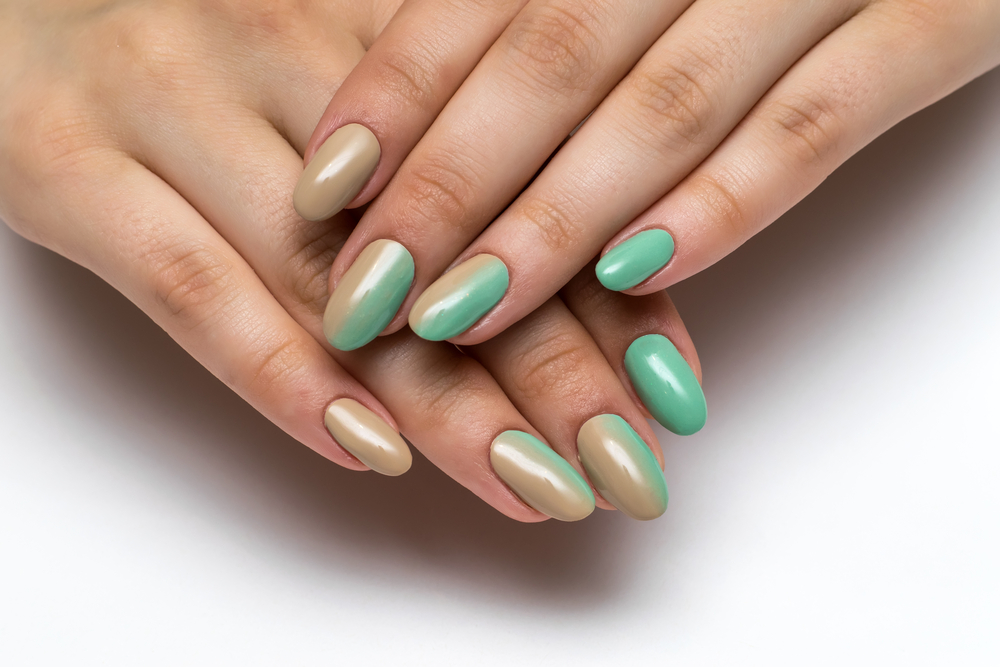 Ombré Effect
Can't decide between two colors? Why not try mixing them, then?
Ombré nail art is excellent for brides who are fond of blending colors together. These designs create a shadowy effect complementary to your nails. Oftentimes, ombré nails are done with dark and light colors to generate that extra sophistication. You can top your ombré design with little details like adding jewels or even go for a multicolored type of ombré.
This nail art is also easy; you can do it at home if you don't have time for salon appointments. Did you know that you only need a makeup sponge in addition to the usual nail polish and tools? Follow these simple DIY Ombré Nails steps to bring that ombré effect to life.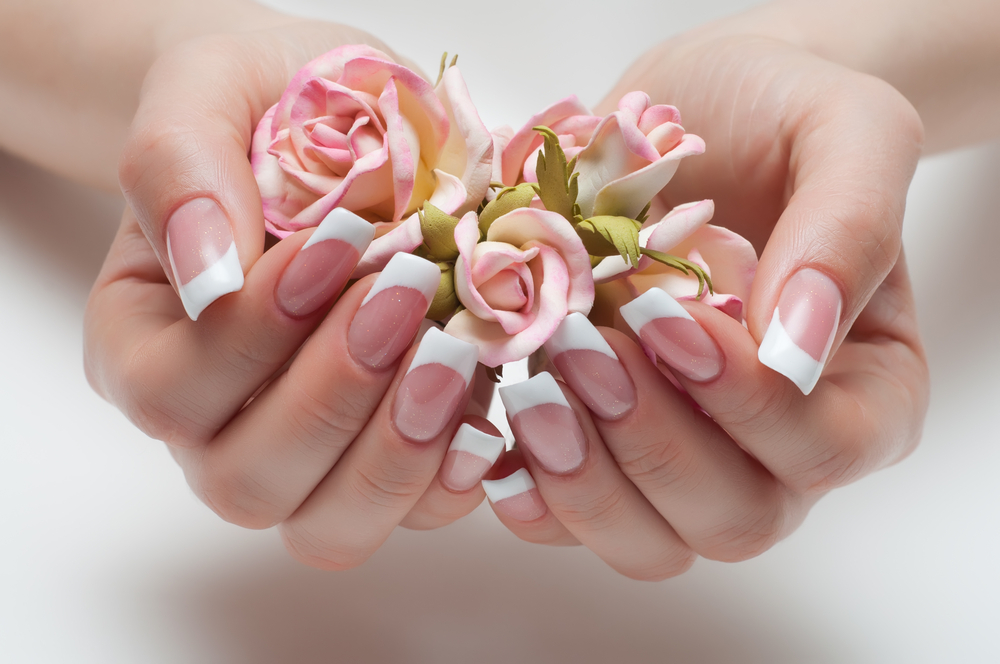 Leveled-up French
French tips are classic. So, why not dazzle that tip even more?
French tips have been popular for so long that they have become one of the most common bridal nail art designs. Throughout the years, more styles were created to elevate French manicures. Today, French tips aren't just classic white anymore. 
They can be as colorful and intricate as you want. You may try a reverse French tip that's getting popular these days or go for something psychedelic and add jewels or more hue.
If you're looking for experts who can give you an elevated French tip, the nail artists at French Tips Organic Nail Lounge can absolutely create the designs you desire!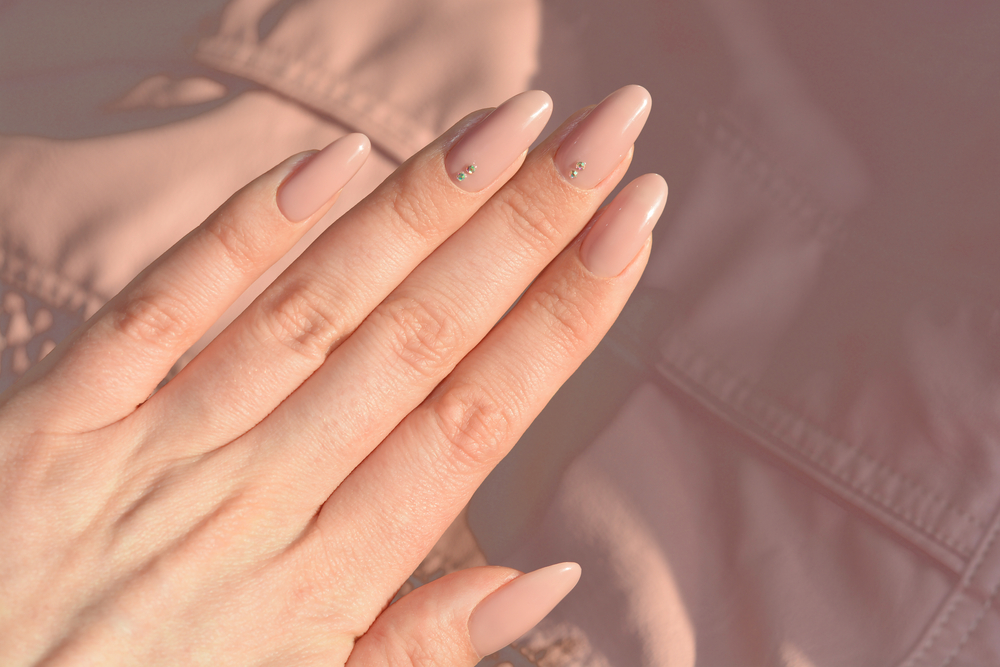 Au naturel
Don't want something flashy? Go for an au naturel design!
Au naturel or nude nail art designs are perfect for minimalist brides and weddings. Besides simplicity, nude colors show finesse and sophistication. Nude nail designs often focus on the minimal art it carries. 
It's an excellent match for colorful wedding dresses with its stylistic yet minimalist approach. Natural nail colors with neutral, cool, and warm feelings are ideal for any type of bride. You can also play around with gel nail polish to have a more posh natural look.
Experiment with nude nail arts in any way you like, and make sure to have fun adding glamour to your nail beds!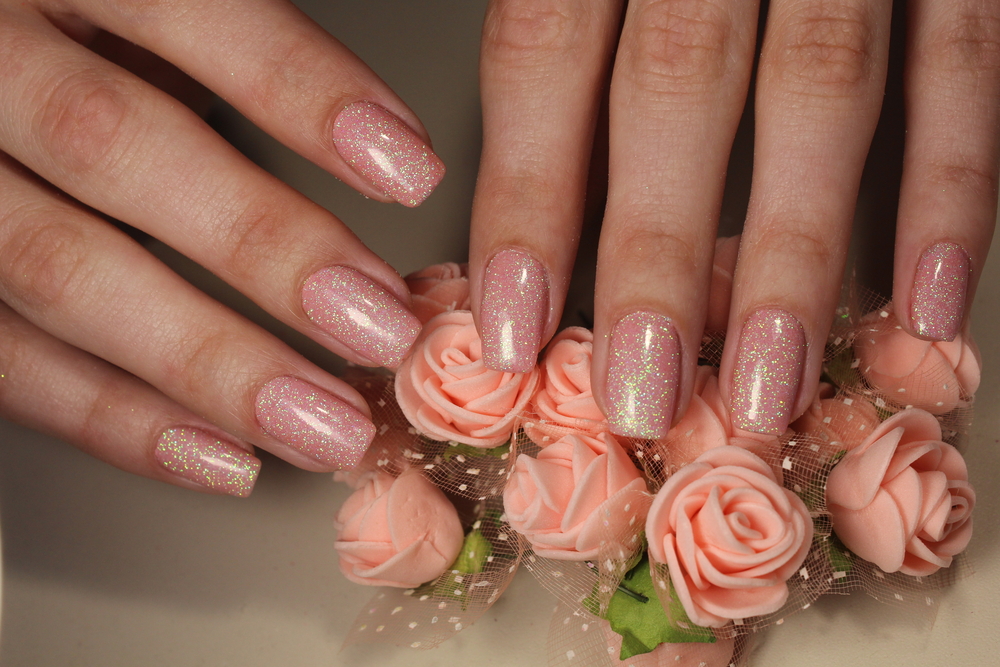 Sparkle Surprise
A sparkly wedding also calls for sparkling nails!
Sparkling nail art will always be in fashion. Adding glitter to your nails makes your whole wedding look more festive. This nail art idea also accentuates your hand and can even compliment the shiny engagement ring you're wearing!
When picking a glitter nail polish, you may opt for single-color or multicolored designs depending on the look you want. Nowadays, glitter nail art doesn't necessarily need covering your entire nail. You can do a French tip with the glitters, paint it around your nail bed, or simply add jewelry art to your nail polish to get that sparkly surprise.
Bring radiance on your wedding day when you wear a glittery nail art design!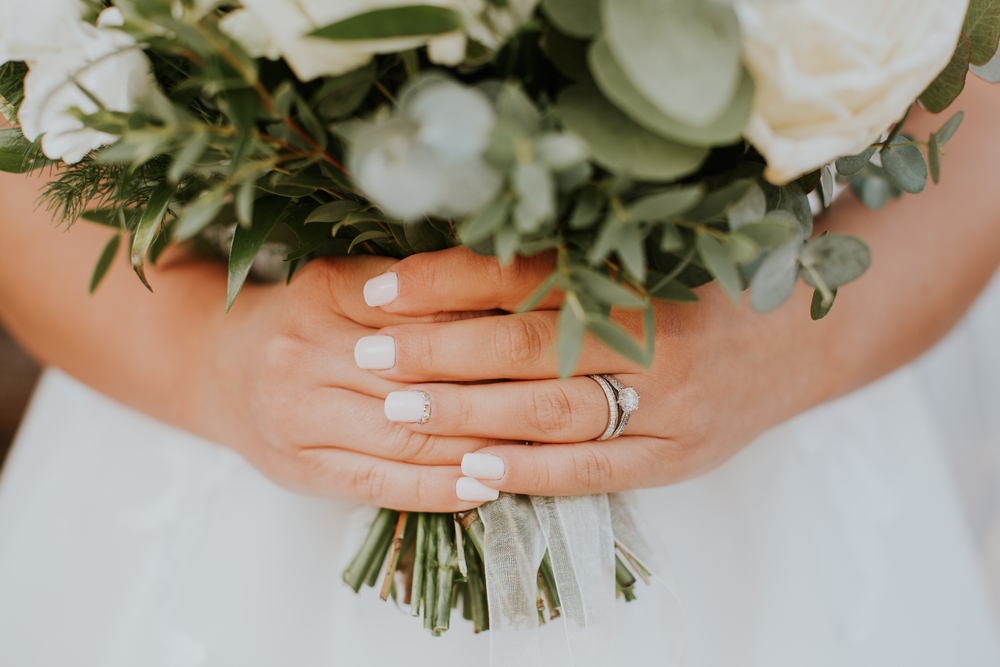 White Elegance
Go with a simple yet elegant white nail art design on your big day. After all, white is the favorite color for most weddings. It's traditional for brides to wear white gowns for the ceremony, so why not pair all things white, including your nails? 
The color white symbolizes cleanliness, purity, and simplicity. If that's a spot-on description of your wedding day, then you should definitely try out this design. Donning white nail art for your wedding look complements your dress and your wedding ring.
White nail art may seem lifeless for some, but you can have a splash of fun in it when you add different styles. This nail art looks great on clear nail polish combined with white patterns. You can also accentuate your white nail polish by adding designs with a dash of gold or black.
Get those picture-perfect hands when you don white nail art on your big day!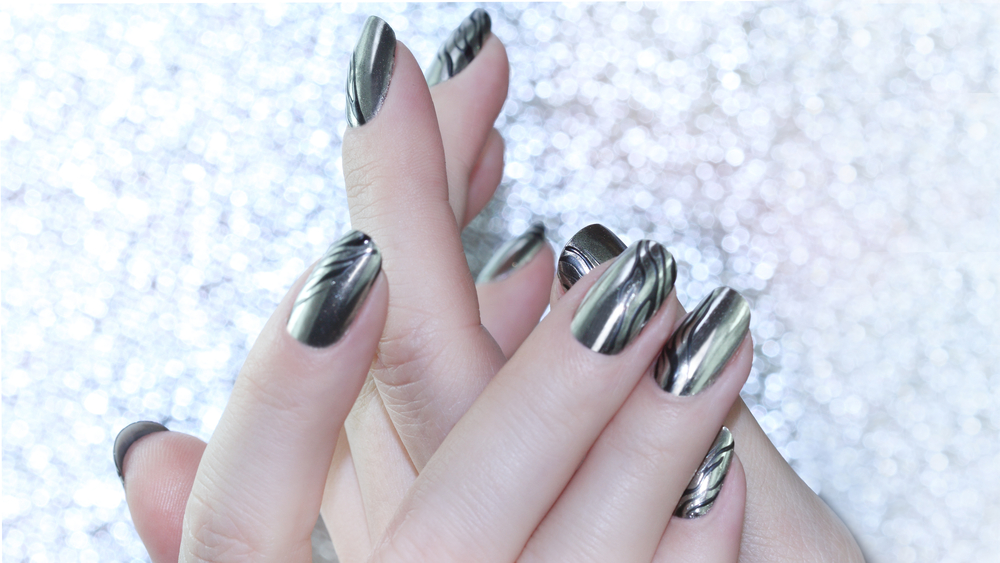 Metallic Shine
Shine on your wedding day with metallic nail art design!
Metallic nail art is a good choice for brides who want to add more eye-catching factors to their look. This nail art goes with bolder and more unique wedding styles. Metallic nail designs also have that shiny mirror effect that's an ideal pair for your wedding ring! 
To get that fabulous metallic look, make sure your nails are well-tended before applying any base coat. A clean and dry manicure will make your nail polish spread evenly to your nail beds. When choosing a metallic color, try a mix of black glitter and white nail polish for a simple metal shine, or go for a blend of copper and yellow to achieve a metallic gold effect.
If you're going for metallic chic, then nothing's wrong with trying this nail art. Check out these metallic nail designs ideal for rocker chic brides.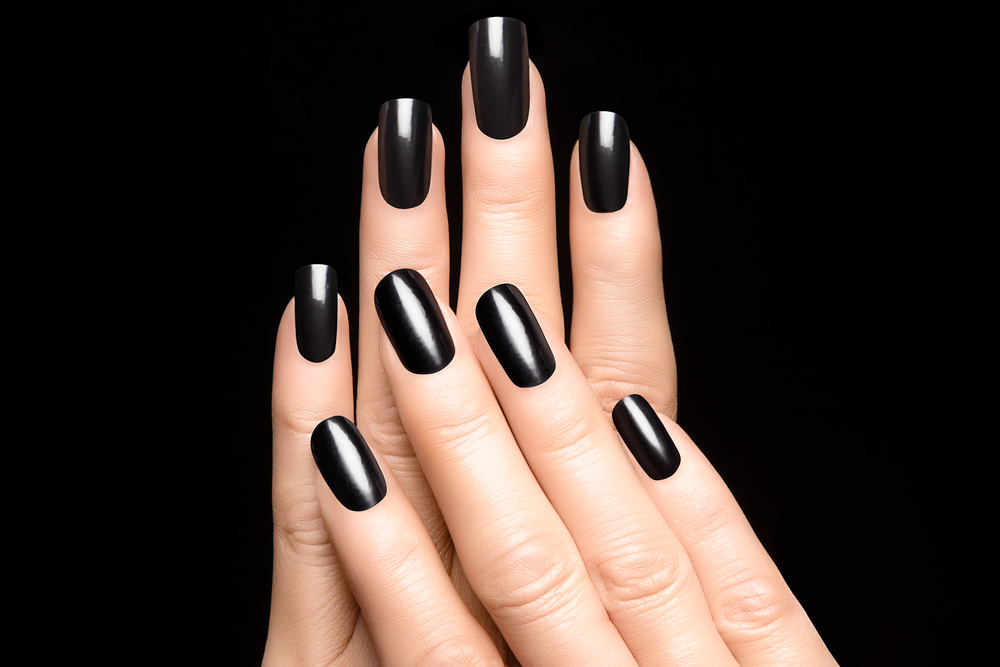 Dauntless Black
Emphasize your white wedding dress by pairing it with a dauntless black nail design!
Black nail art is a timeless nail design for brides going for a dramatic look. This nail color is never dull and is a daring way to express fashion. For brides wearing white or light-hued dresses, black nail art perfectly complements their wedding gowns and shiny wedding bands. Style the black nail art with minimal light jewels or paint to emphasize its color, creating a sophisticated effect.
Brave enough to wear black nail art on your big day? Check out these stylistic black nail art designs for a dauntless wedding style.
Finding the Finest Nail Art For Your Wedding
Choosing the right nail art for your wedding can be daunting, but when you think of it, it's fun to see that many styles fit you. Now, what nail art do you think suits your bridal soul?
After deciding what nail art you'll wear, make sure to double-check other details you already have and see if these also fit the nail design you want. It is essential to make sure that every last detail, no matter how tiny, is cared for before your wedding day.
So, find the best nail art for your bridal look and start your wedding journey with glamour!
Aldaia brings ideas to life through writing. Her love for writing began when she finished the pentalogy novel Percy Jackson and the Olympians. When she isn't writing, most of her time is spent watching movies and TV series, playing video games on consoles like Valorant, Horizon, The Sims, and GTA V, hanging out with friends, and sleeping.