Weddings During Lent
Weddings are special occasions and dates serve as historical markers. For one reason or another, let's say your scheduled wedding date is going to happen during Lent, a 46-day (Sundays included) season reserved for many Christians to reflect. It is a six-week-long celebration that starts with Ash Wednesday and ends a night before Easter Sunday, the resurrection of Jesus Christ. Technically speaking, it is a 40-day fast, wherein Sundays are excluded, and serves to remember Jesus' journey.
Here are the activities practiced in observance of the Lenten season:
Prayer
Mortifying the Flesh
Repentance of Sins
Almsgiving
Simple living
Self-denial
With these in consideration, is getting married during Lent a good idea?

Can You Get Married During Lent?
As mentioned, it cannot be avoided that Lenten weddings happen. As a holy sacrament, Catholic weddings during Lent is allowed except on two days:
Good Friday
Holy Saturday
So, in case you were wondering if Catholics can get married during Lent, the answer is: yes, in accordance with the Code of Canon Law, but it depends. If one were to ask a priest to allow a wedding on any of the two abovementioned days, the immediate response is going to be a no. This is in line with the 1988 "Circular Letter Concerning Preparation and Celebration of Easter Feasts." However, there are specific instances that may merit approval.
What are these instances? When there is an imminent threat to one's life, such as death knocking on one's door, lifting matrimonial restrictions is a possibility.
But Why Can't We Get Married on Good Friday and Holy Saturday?
Save for the two days, weddings are allowed during Lent. That being said, when a pastor approves a schedule, the couple seeking the sacrament of matrimony must be informed that they be mindful of the season. This means minimal décor in the church, such as flowers and tulle.
As for Good Friday, here's what the 1988 Circular says about getting married:
Good Friday commemorates Christ's crucifixion and death, which warrants a day dedicated to penance, abstinence, and fasting. This means that the Holy Eucharist is not allowed to be celebrated on this day as well.
All celebration of the sacraments are not allowed, except for penance and anointing of the sick. By default, this means marriage is not allowed. Meanwhile, funerals are to be celebrated without music, singing, and bells. Silence is strictly observed.
Here's what the same letter writes about a Holy Saturday marriage:
As the day that reminds us of Christ's laying in the tomb, Holy Saturday is still a day for mourning. In the Philippines, the day is also referred to as "Black Saturday" – merrymaking, noise, and activity are still kept to a minimum.
Similar to Good Friday, all celebration of sacraments are not allowed, including marriage. The Church abstains from celebrating the sacrifice of the mass, and the holy communion is only given as a viaticum, which means it's reserved for the dying. Again, only the sacraments of penance and anointing of the sick are allowed on Holy Saturday.
All forms of celebrations, traditions, and festivities in relation to easter should be celebrated on easter night and the days that follow.
Knowing why celebrations like weddings cannot fall on these two days will help provide context when choosing a date to get married.
Easter Sunday can also be a tricky date to choose for a wedding date. As the entire Church will be focused on celebrating Christ's resurrection, it is unlikely for a pastor to approve a wedding scheduled on Easter Sunday as well. However, there is no directive in the circular letter about prohibiting Easter Sunday weddings.
To have an enjoyable celebration truly befitting of the occasion, it is advisable to choose dates outside Lent, and do not schedule your wedding during Holy Week.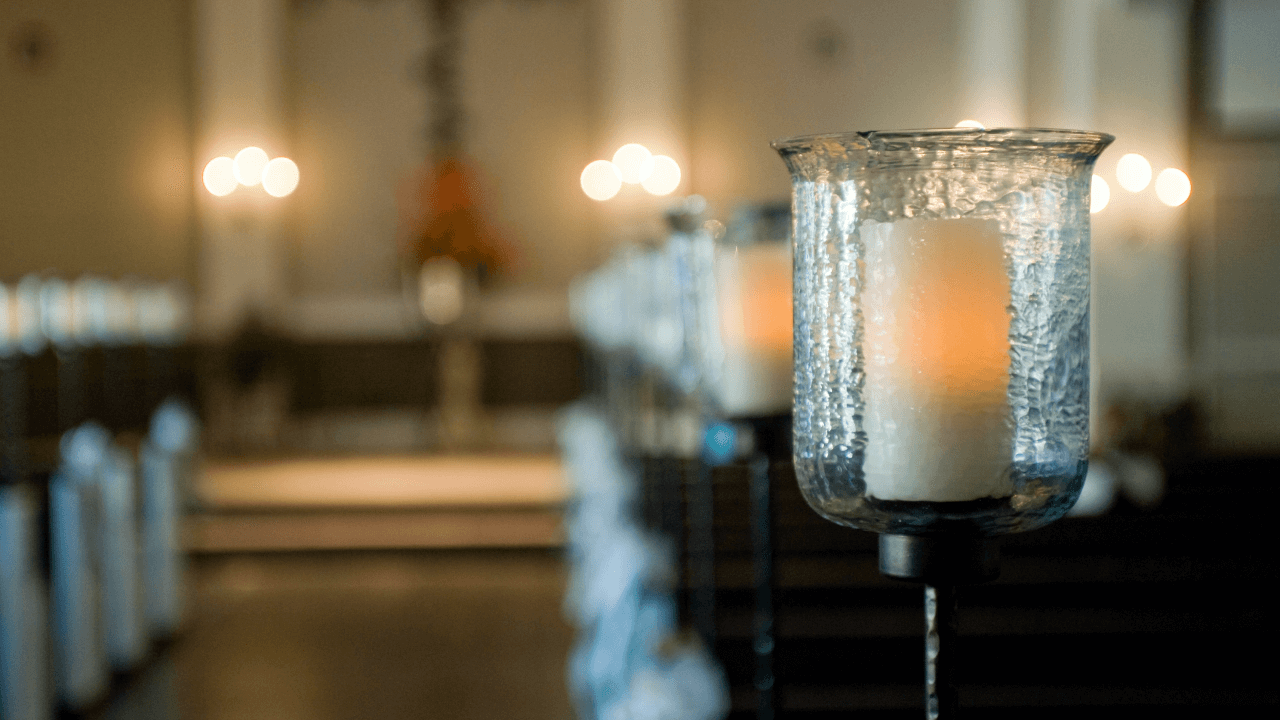 Why Get Married During Lent?
If a marriage during Lent must happen, then what the couple has going for them is spending less. As earlier cited, the 1988 Circular Letter provides directives on how weddings are to be less decorative.
With that in mind, a couple can save up on their budget by leaving a church bare of the usual white tulle and flower arrangements along the aisle. A wedding during Lent will also miss the singing and a full Catholic mass, or at times, the wine. You will also have to avoid meat in the reception, should your wedding day fall on a Friday during Lent.
If a couple is looking for a reason to not spend on those things (no judgment), then maybe it's a good idea to get married during Lent. If budget is a looming concern, it also helps to know how to plan a small and intimate wedding to save up on extra costs.
For Catholic Weddings in the Philippines in 2021
For couples looking to marry in 2021, here's a comprehensive wedding planning guide in the Philippines. Starting with drawing up a budget to deciding on hiring a wedding planner, the guide will help you check for Catholic Church wedding requirements and evaluate wedding ceremony and reception venues. The guide also provides some insights into floral arrangements, food and catering, documentation, wedding fashion, and the whole hullabaloo.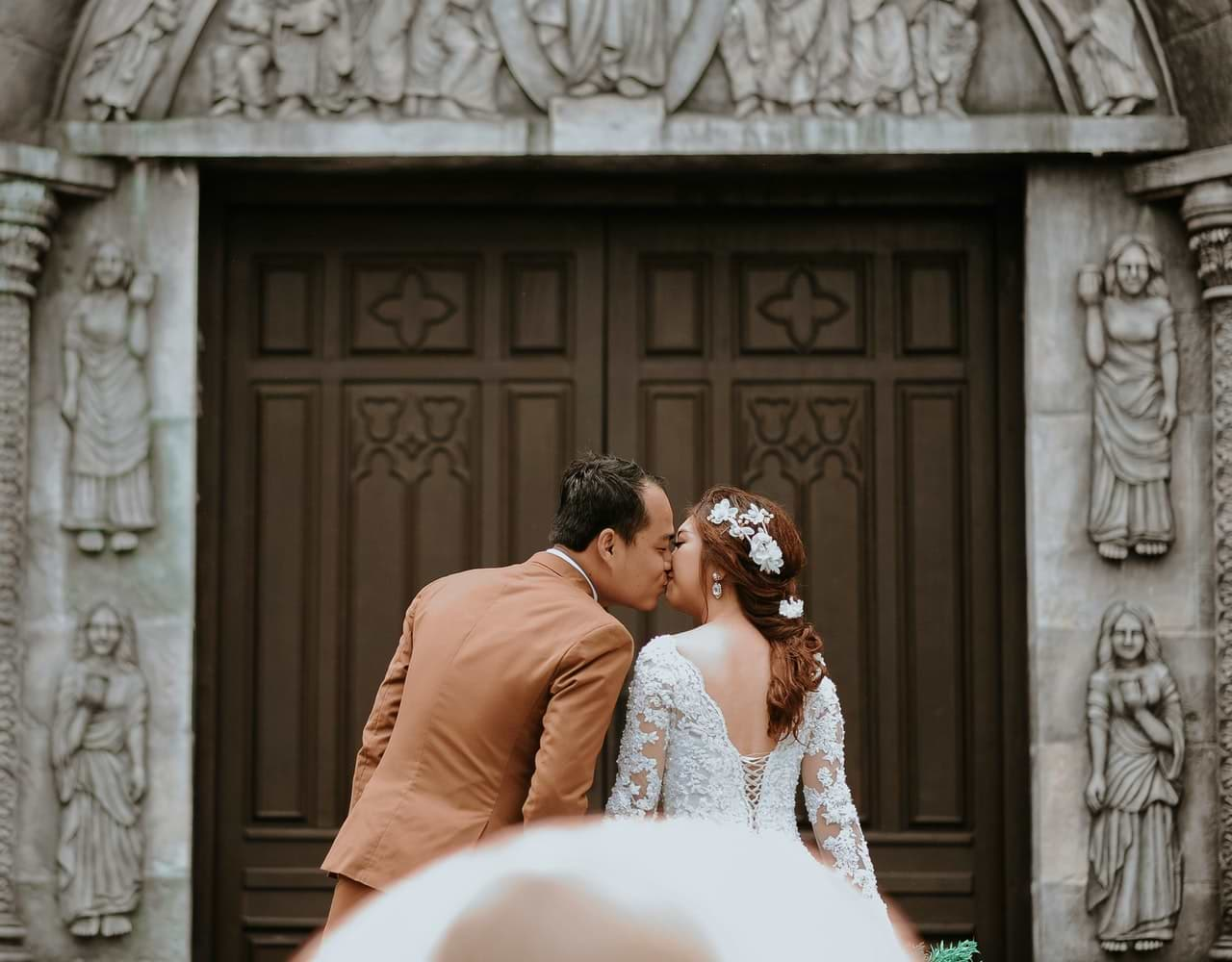 So, can you get married in the Catholic Church during Lent in 2021?
In the Greater Manila Area, Philippines, quarantine restrictions have been put in place to minimize the spread of the coronavirus. From March 22, 2021 to April 4, 2021, which covers the remainder of Lent and the entirety of Holy Week, the government has placed another travel ban on Metro Manila and its surrounding provinces and cities; Bulacan, Rizal, Cavite, and Laguna. On top of the general community quarantine (GCQ), the new regulations also include limiting weddings, baptisms, and funeral services to 10 persons.
Among other, more pressing concerns, limiting your wedding guest list for a Lenten wedding can be a tricky thing to work around. Due to the surge of positive cases, getting married in the Philippines in 2021 might prove to be quite a challenging feat. For all the couples caught in this predicament – worry not, as your wedding will still be a special day, maybe just without all the fanfare.