This is a question that many brides face: church vs civil wedding, which one's better? And which one should they go for? While the answer may be easy for some, for others it takes a lot more consideration before they reach a decision.
The indecisiveness is understandable because while both options serve the same purpose, there are striking differences between the two. Many couples want a grandiose church wedding for the celebration of a lifetime while others choose to lay low with a simple civil ceremony.
To help you decide on which one's the best for you, we're going to look at the pros and cons of each option.
Church vs Civil Wedding in the Philippines: The Major Differences + Pros and Cons
First things first, before we delve into deeper civil wedding vs church wedding nuances, let's discuss the basic differences between the two.
The simplest definition of a civil wedding is that it's a non-religious ceremony. While church weddings are usually set in churches with a priest who presides over the ceremony, civil weddings are typically set in city halls or other non-religious settings. Heck, you can even have them in your backyard! This doesn't mean it's not a proper marriage, it's still completely legal as long as you've completed your civil wedding requirements.
On the contrary, I'm pretty sure you've been to at least one church wedding in your life. Typically hosted in a Church, it involves Bible readings, an entire entourage, and sacred wedding vows. Probably the big difference between a church wedding vs civil ceremony in the Philippines is that getting married in a church isn't automatically legal in nature. To make it legal, you'll have to obtain your wedding certificate and other church marriage requirements before or after the ceremony. You'll also be required to attend a canonical interview, which is basically an interview that lets the parish determine your knowledge of the duties, doctrines, and responsibilities of a Catholic marriage.
Now that we've got the basics down, let's dig deep into the actual pros and cons.
The Venue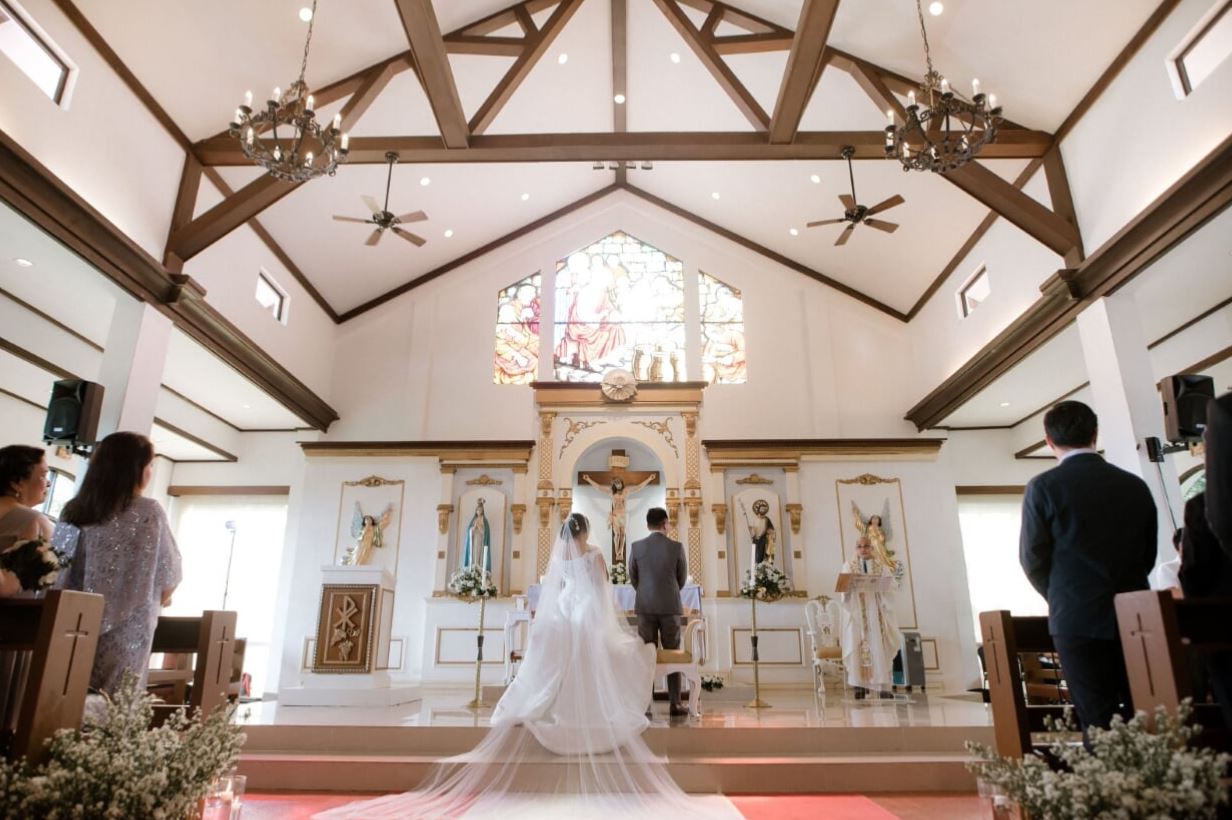 True to its name, church weddings take place in spaces of worship — particularly in, well, churches. The upside of getting married in a church is that the venue alone is already beautiful. I mean with stained glass windows, an ornate calendar, and rows upon rows of pews for your guests — it's the complete package already. Even just a few floral decorations already set you up for an elegant ceremony.
But of course, all of these come at a price. Church wedding fees can cost anywhere from Php5,000 to as high as Php20,000. Some churches charge extra for air-conditioning and professional musicians. Often, they also charge a penalty fee for overtime.
With civil ceremonies, there are no such restrictions when it comes to your venue, so long as your officiant confirms to the legalities of civil marriage in the Philippines. While many couples tend to get married at the city hall courtrooms, the Mayor's office, or even at the local marriage registry, common civil wedding venues include garden venues, a beach resort, a restaurant, or even at the comfort of your own home.
Freedom of Choice
When it comes to a discussion on church vs civil wedding in the Philippines, many tend to overlook the amount of freedom each option provides to couples. However, this is an important thing to tackle if you want a wedding that's more personalized.
Though many church weddings are a little more relaxed today compared to those in the past, most religious ceremonies allow little flexibility. So for church wedding ceremonies, you'll have to stick to a fairly standard format. Expect a pastoral speech, hymns, Bible readings, and largely religious vows. If you're lucky, you may be able to slightly edit your vows and walk down the aisle to the Lord of the Rings OST. That is if you're lucky.
Civil ceremonies, on the other hand, leave you a much wider room to be creative. So as long as you adhere to the laws of your jurisdiction, you can pretty much personalize the ceremony any way you want. If you're not one for formal affairs, then a civil wedding is definitely much more up your alley.
Perhaps the fact that civil weddings provide couples with more freedom is the reason why it's rising in popularity among millennials. In 2018, 38.2% of the total number of marriages in the Philippines were contracted through civil ceremonies, which has seen an upward trend since the start of the decade.
Attire
Of course, when talking about civil marriage vs church wedding, we can't forget about the attire. Clothing is an important consideration when choosing between a church vs civil wedding because many brides dream of wearing a beautiful floor-length dress on their special day.
While you can still wear one to a civil ceremony, it might be a bit outlandish to pair it up with a veil and a train. You'll also be overdressed if you end up wearing a ball gown if that was ever in your bucket list. Of course, if you're a free spirit, you're free to wear whatever you want! That's the best thing about civil wedding attire. It's a less formal atmosphere so basically anything goes as long as you look presentable.
On the other hand, churches have a dress code that pertains to respect and modesty. While you won't be covered from head to toe, you can't exactly wear a Darth Vader tie or incorporate elements for a sci-fi themed nuptials. Those won't go too well in a house of worship.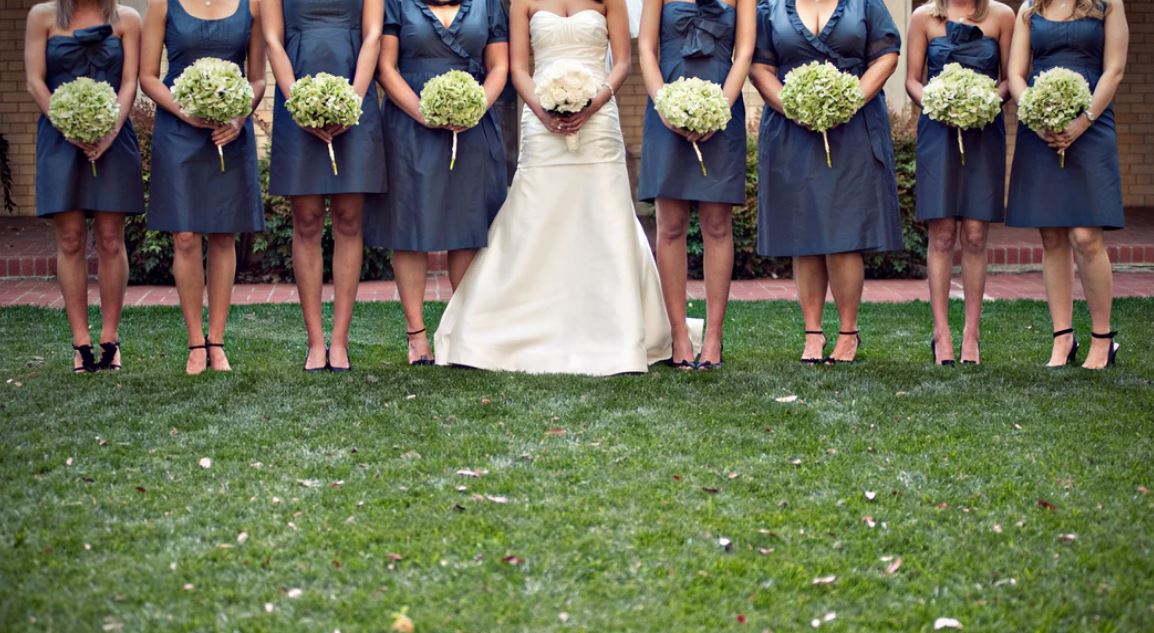 Cost
There's no set cost for a wedding ceremony in the Philippines, but in theory, it can cost anywhere from Php50,000 to Php500,000. It really depends on the decorations, photographers/videographers, bridal designers, makeup artists, and other miscellaneous wedding shenanigans you plan on getting for your big day. Of course, you have to count in the fact that you're reserving the place for at least 50 people and you have an entire entourage with dresses and suits to pay for. Churches also have set fees, which can range from Php7,000 to Php25,000. And as mentioned above, you'll likely have to pay for air-conditioning and the choir.
For a civil wedding ceremony, if you add up all of the documentary requirements, they're only going to cost around Php3,000 to Php5,00 collectively for you and your partner. That means you'll definitely have more than enough left on your budget to have an awesome wedding reception program after the ceremony.
Civil Wedding vs Church Wedding in the Philippines: Which Should I Choose?
There are multiple reasons why you might choose one option over the other. Couples with a religious background and who have a close relationship with God typically want a proper Catholic ceremony in a church. For them, it's the right thing to do — honoring their religion by getting married under the watchful eye of God.
But that's not to say that everyone who's not religious doesn't want to get married in a church. There are also couples who want a church wedding because it's traditional and they like the idea of having a traditional wedding. That's perfectly fine too. After all, many brides dream of wearing a beautiful wedding gown and walking down the aisle to an altar where their groom is waiting.
However, if you're not religious, don't have the budget, or simply do not want to get married in a church and going through the whole ordeal, a civil wedding will definitely suit you more. Not only do you save on a lot of money, but they're also much quicker too. You can book a date and get married within a few weeks without going through months of stressful planning. It's fast and ideal for people who simply want to get married and can't wait any longer. You can also create your dream ceremony without worrying about restrictions.
Key Takeaway: Go with your heart's desires
To end the civil marriage vs church wedding debate, it really boils down to two premises:
• Church weddings are for religious couples and those who want a traditional ceremony. For many couples, following religious customs and receiving sacraments is a great honor and something that they may have looked forward to since childhood. Most Filipino families also expect couples to get married in a church and to have a wedding entourage. It's the perfect time to incorporate religious tokens or familial traditions that past generations have used at their wedding days.
• Civil weddings offer couples a ceremony that's quicker, free from religion, and can be personalized to their tastes. It also offers greater flexibility on venues, attire, and wedding vows. If you've always wanted to use a poem you've written to be your wedding vows or to wear a dress that resembles your favorite anime character, you can do all these and more with a civil wedding.
At the end of the day, choosing between saying your vows in a church or getting hitched at the city hall ultimately depends on you and your partner. Both options are great! What matters is that you both love each other and that after the ceremony, you'll continue to do so for the rest of eternity. Chryss loves ice cream, literature, and East Asian pop culture. She would like to pet your dog.