It's that time of year again! The tinsel is up, the lights are on, and everyone seems to be in a festive mood. For newly married couples, your first Christmas together can be both exciting and daunting. You want to create newlywed Christmas traditions that are special to you, but you might not know where to start.
We've got you covered. Below, we've outlined eight creative Christmas tradition ideas for newlywed couples. So, grab a cup of hot chocolate, put on your cozy socks, and get ready to get into the Christmas spirit!
What Are Christmas Traditions?
Christmas traditions are a set of customs or rules that people follow during the Christmas season. These traditions include exchanging gifts, decorating Christmas trees, and attending church services. However, there are also unique Christmas traditions that families and individuals practice – whether this consists of special menu items only prepared during the holidays or outreach traditions to share blessings. They're also a great excuse to spend more time with your loved ones. In a way, special Christmas traditions can make the holidays all the more special for families – and especially for newlywed couples who want to start Christmas traditions that are uniquely their own.
8 Christmas Tradition Ideas for Newlyweds
Have you recently gotten married, and you're planning on creating Christmas traditions to mark each holiday season you spend together? We've come up with some creative Christmas traditions that may be the perfect addition to your holiday celebrations as a newlywed couple!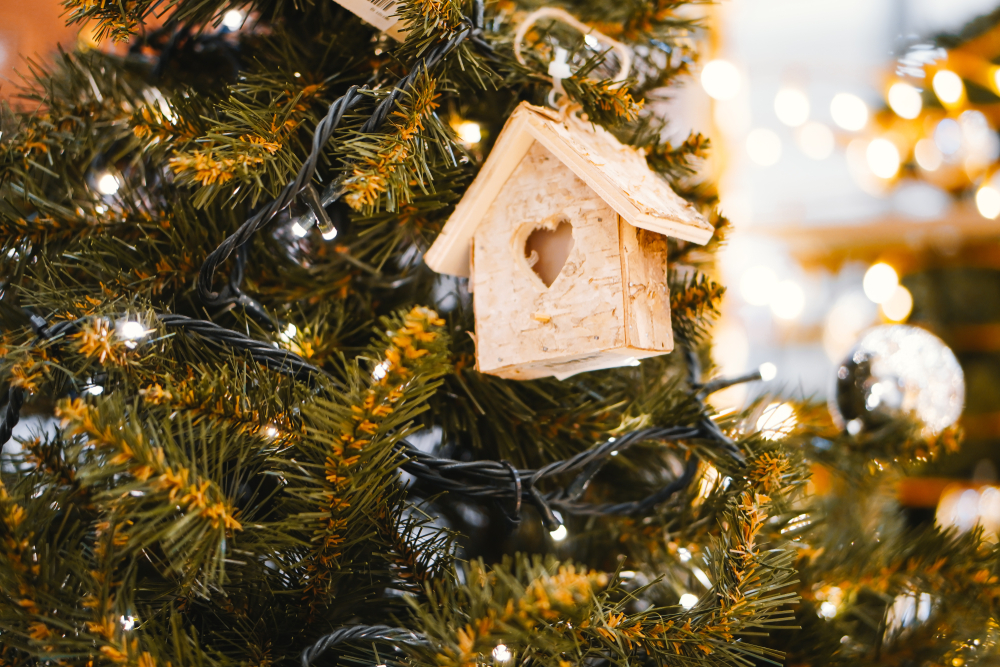 Create Custom Ornaments
One of the best Christmas traditions to start with your new spouse is creating custom ornaments. This is a Christmas tradition that can grow each year, and it's a great way to commemorate your first Christmas together.
Here's how it works: you and your spouse each pick out an ornament (or several if you're feeling crafty) and get to work personalizing them. You could write your name and the year on them or come up with other fun designs. Once they're finished, hang them on the tree together and enjoy watching them become more and more special as the years go by.
Host a Holiday Movie Marathon
Why not host your own holiday movie marathon? It's the perfect way to get into the Christmas spirit and spend some quality time with your new spouse. Gather your favorite movies, snacks, and decorations and make a day (or night) of it.
There are all sorts of fun variations on this newlywed Christmas tradition. You could choose a different theme for each movie or set a festive mood by playing Christmas music in the background. You could even compete to see who can stay awake the longest!
Go Caroling Around the Neighborhood
One of the most fun Christmas traditions for newly married couples is going caroling around the neighborhood. It's a great way to get in the holiday spirit and spend some quality time with your partner.
To make it even more fun, dress up in your favorite holiday clothes or costumes. And don't forget to bundle up—it can get pretty cold outside during the winter months!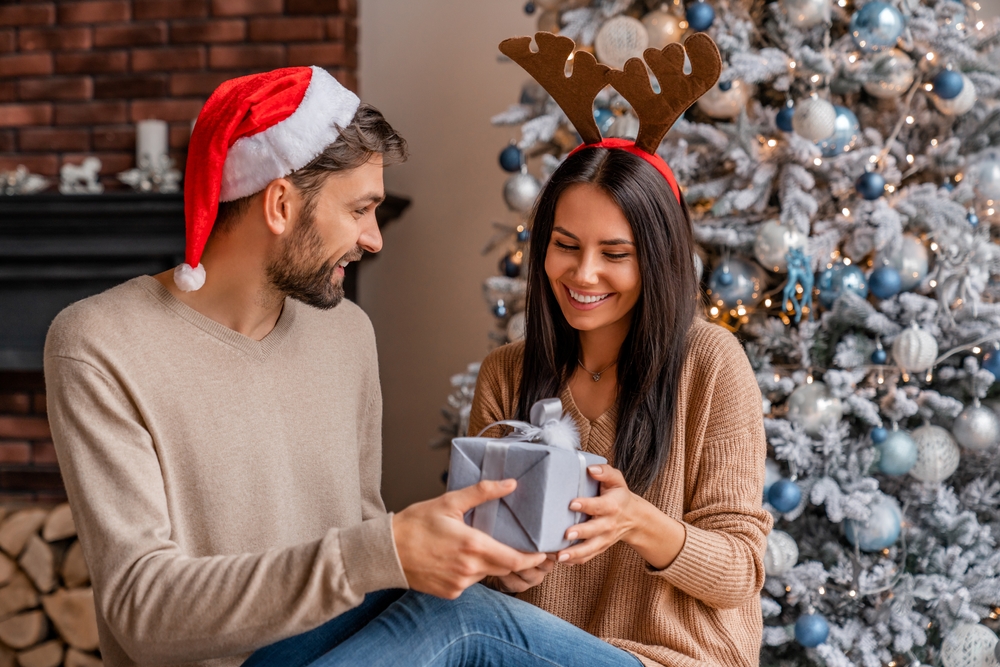 Start a Couples' Gift Exchange
When you're newly married, there are so many decisions and new Christmas traditions to establish– why not make them fun and festive? One great activity for couples to do each year is to create a couples' gift exchange.
This can be done in a few different ways. You can start a gift lottery: put your names in a hat and take turns picking out who buys a gift for whom. You can also choose Secret Santas, assigning each other specific gifts. Or you could even decide to exchange cards or letters expressing why you love one another. Whichever way you decide, it's sure to be lots of fun and create lasting memories that are unique to your marriage.
Volunteer at a Local Charity
Volunteering at a local charity during the holidays is a great Christmas tradition for newlyweds to spend some quality time together and give back to their community. The holidays can be a difficult time of year for many people, and volunteering is one way to spread joy while making memories and doing something good.
You can research charities that are near and dear to you or find nearby volunteer opportunities listed online. Before committing, ensure that the charity aligns with your personal beliefs or values. Once you have chosen an organization, decide what each of you would like to do—whether it's sorting donations, handing out holiday meals, or wrapping gifts for families in need.
No matter where you choose to volunteer, the important thing is that you're taking time out of your busy holiday schedule to serve those who are less fortunate than yourselves; this is sure to make your season extra special. Besides, volunteering together will create memories and stories that you can share for years to come.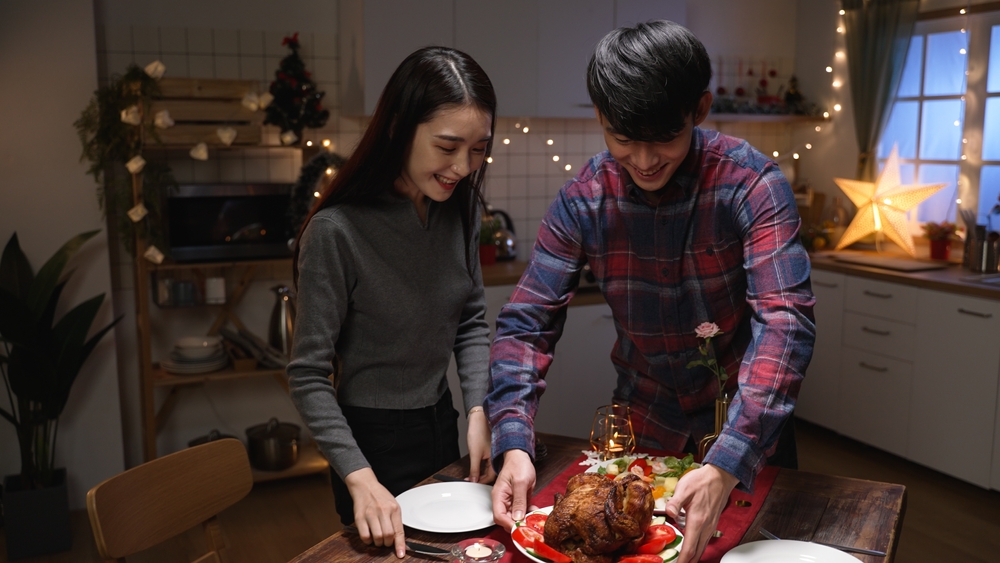 Make Christmas Dinner Together
Cooking has always been a great at-home activity for newlyweds, and nothing brings people together like a holiday dinner. Make your holiday feast preparations extra special by adding this to your list of Christmas traditions for your first holiday together as a married couple. Start by deciding on a menu, which can be anything from traditional holiday dishes to more modern recipes. Have some fun in the kitchen and make something that you can eat together.
It doesn't have to be fancy or complicated unless you want it to be. Whether you plan a full dinner with multiple courses or just a light snack, make sure to add something special. It could be as simple as setting up a romantic dinner table with festive decorations and cozy lighting or baking cookies together as part of the dinner experience. The important thing is that you take the time to enjoy your meal—and each other's company—together.
Create a Christmas Gift-Wrapping Marathon Tradition
Aside from the glistening Christmas lights and the cold December breeze, the holidays also usher in the season of giving. Most families hold gift exchanges with other relatives and close friends. If you think that gift wrapping during the holidays feels like a chore, make it much more enjoyable by making it into a newlywed holiday tradition with your husband or wife.
Allot one specific day before Christmas when you and your significant other can go on a gift-wrapping marathon. Complete it with a few snacks, drinks, and rewards so that you face your gift-wrapping day with enough motivation!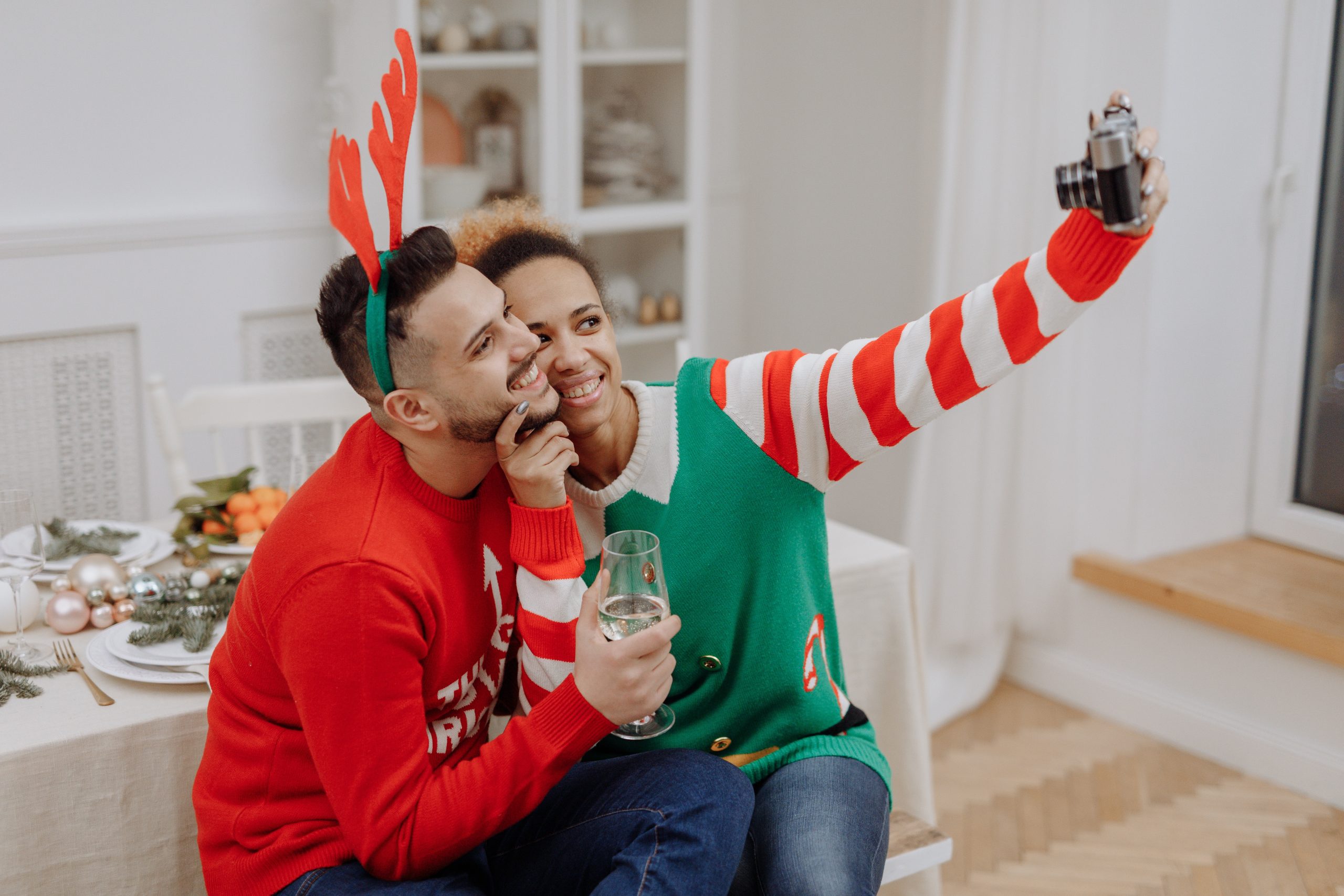 Start Taking Yearly Christmas Polaroids
Holiday pictures are some of the most festive photographs that people can take in their lifetime. Make this a Christmas tradition with your husband or wife by taking special polaroid pictures each year. Whether you're at home or you're on a romantic honeymoon trip in Asia, capture a single moment with your wife or husband. This is a great way to help you look back on your previous holidays together when you get to compile all pictures together. You can even decorate each Polaroid so that they can double as Christmas tree decorations!
Newlywed Christmas Traditions Can Help You Build Better Bonds
If you and your spouse are looking for ways to make the holidays special this year, consider starting a new tradition! Try one (or all) of these eight creative Christmas traditions for newly married couples. From watching holiday movies together to surprising each other with heartfelt gifts, these traditions will help you create lasting memories together, build stronger relationships, and get you into the holiday spirit.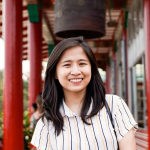 Donna spends 50% of her time writing, and the other 50% napping, snacking, or befriending stray cats.