While planning a wedding, a lot of anxiety is usually centered around dress shopping — especially for plus-sized women. Finding a stylish outfit that you feel confident in can be difficult, even just for normal everyday clothes, and searching for the perfect wedding gown if you're a chubby bride can bump the anxiety by a few notches.
Short and chubby brides have to ensure that they choose the perfect gown — one that makes them look slimmer, highlights the slender parts of their body, and covers the bulges they're not exactly confident about.
The desire to look beautiful on your wedding day is natural. Here are some tips on how to choose the best wedding gowns for chubby brides.
What type of wedding gown is best for chubby bride?
If you're on hunt for the perfect wedding gowns for chubby ladies, there are excellent options to consider that will best suit your style. Get your search started with these favorite flattering wedding dresses for short and chubby brides.
A-line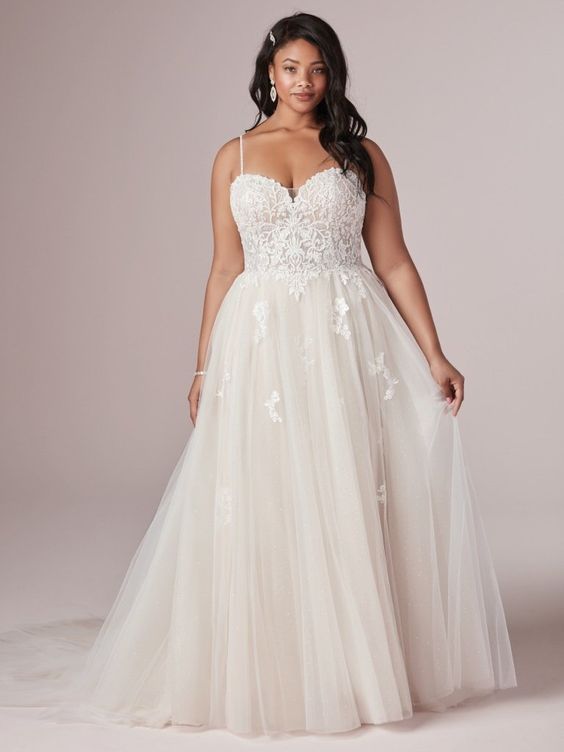 Any dress that's A-line, especially one with an empire waist, is incredibly flattering and will give you more coverage. Since the waist starts right under the bust line and goes out into an A-line, it's the ideal wedding gown silhouette for short and chubby brides who want to be more discreet.
Ball gown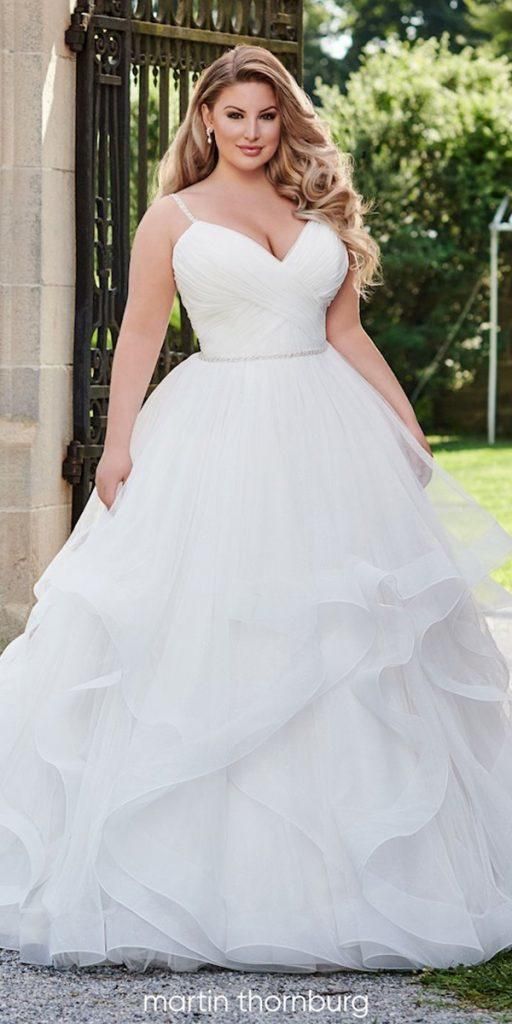 A timeless ball gown will highlight your torso's most slender part — your waist! It's also an excellent wedding gown for chubby ladies with pear-shaped bodies as it shows off your small upper half with plenty of fabric on the bottom. Plus, it will make anyone feel like a princess, including those with flatter and fuller figures.
Wedding gown with a drop waist

Looking for a dress that will hug your curves in all the right places? A drop waist dress will accentuate your hips in the most flattering way and let you have some fullness at the bottom of the gown. The bodice top will accentuate your shape and help create curves.
Mermaid wedding dress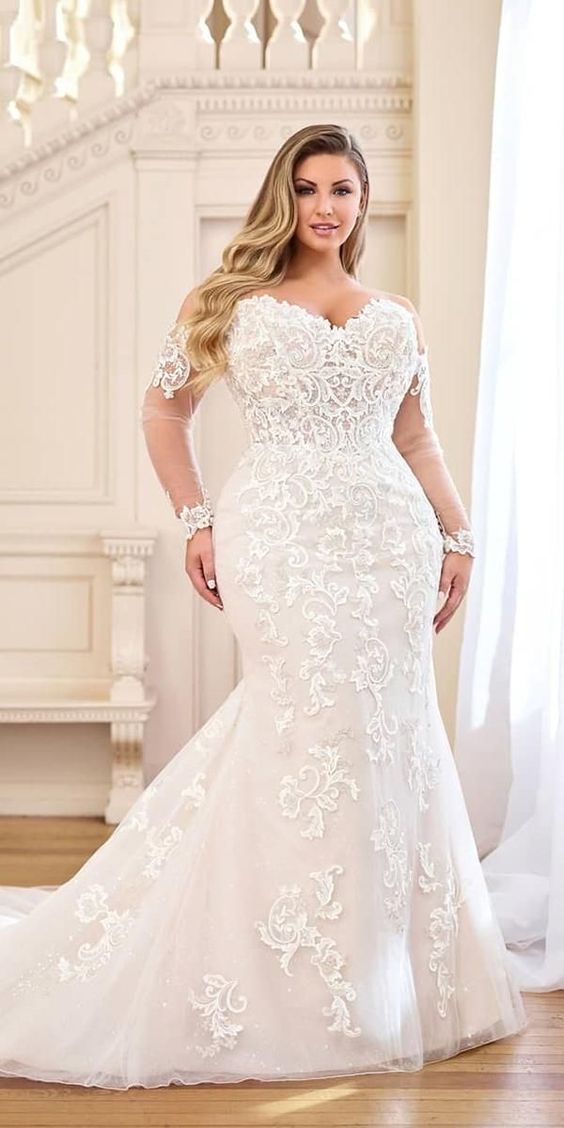 This features a curve-hugging silhouette that flows or flares out toward the bottom of the gown. As specific attention is paid to the waist and hip proportions, the mermaid dress is ideal for fuller-figured brides. Moreover, the dresses are not only flattering, but also comfortable.
Corset wedding dress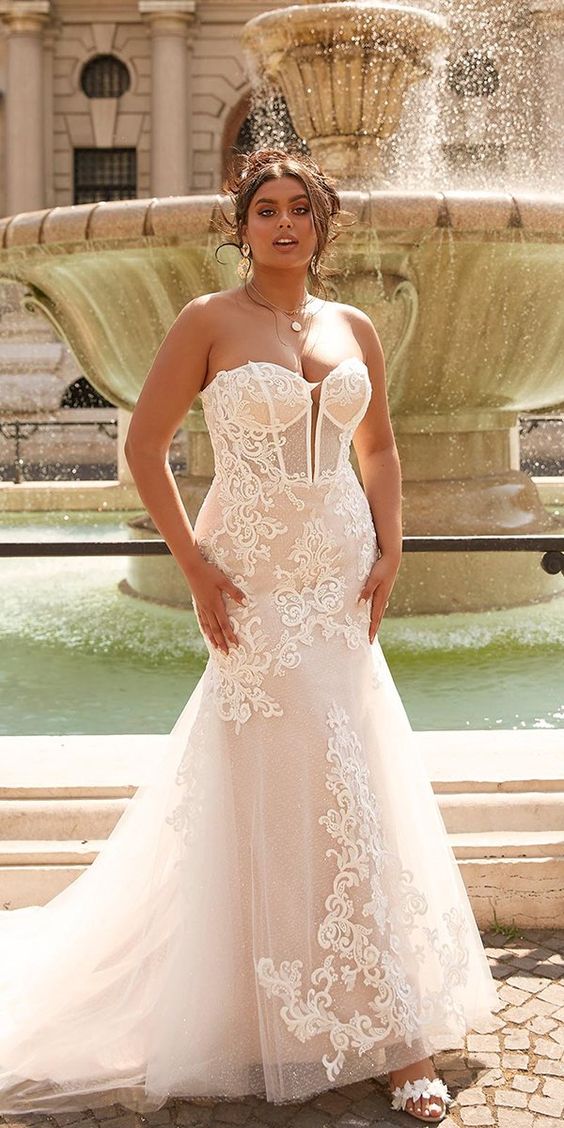 A gown that comes with a built-in corset automatically shapes your body, giving you the appearance of a bigger bust and a smaller waist. As it provides a lot of support and emphasizes the waist, it will carve out a gorgeous figure — making it a beautiful wedding gown for chubby brides.
Dresses with a High Neckline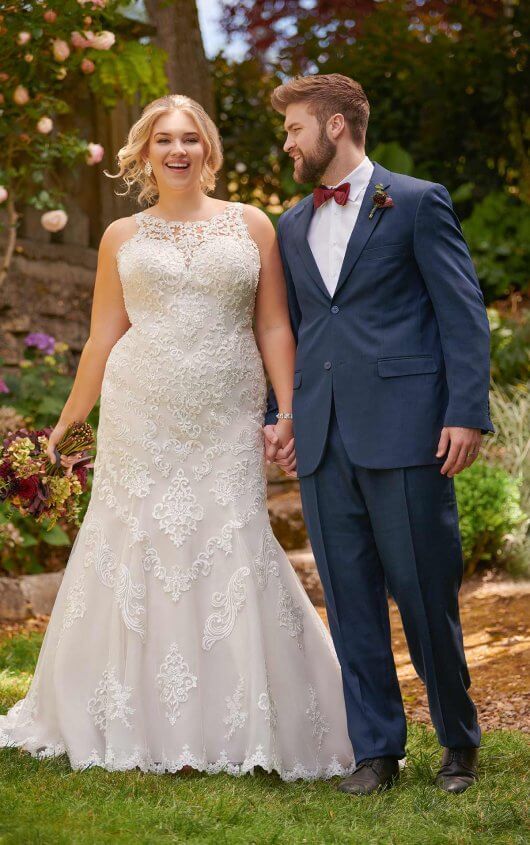 For any plus-sized bride looking for flattering yet fuss-free gowns, a high neck wedding dress is the best choice. The overall effect is feminine and layered, not to mention very flattering thanks to the long and lean high neck line.
Do's and Dont's When Choosing a Wedding Gown for Chubby Brides
Now that you know the most popular types of wedding gowns for chubby brides, you're totally ahead of the game when it's time to go dress shopping. However, you'll need more than just basic knowledge about the perfect wedding gown styles for chubby ladies. Here are a few more tips to help you find the perfect plus-sized wedding gown.
Do Opt for a Bigger Size
If you're shopping off the rack, have it in one size bigger than your actual measurements. It's easier and simpler to have the dress altered to be smaller than vice versa. Never buy one that's a size or sizes smaller in the hopes that you will lose weight. It will only stress you out and ruin the fun of preparing for your big day. Plus, if ever you do trim a few inches off your waist, you can just have it easily altered to a smaller size!
Don't Be Discouraged If Your Dream Wedding Dress Isn't in Your Size
If it appears that the dress you've fallen in love at first sight with doesn't come in your size, don't give up! You can have the designer create another one for you in your actual size. They might charge extra for making the dress in a bigger size but if you have your heart set on it, then it will be more than worth it.
Do Look for Asymmetrical Details
We recommend looking for gowns with asymmetrical detailing, which is not just artistic and unique but also very flattering. The asymmetrical hem will draw the eye downward and create a sense of fullness at the bottom of the gown. It also helps balance out fullness on the mid or upper portion of the body.
Don't Go for a Piece-Meal Dress
Avoid gowns that look like they've been pieced together. For instance, the bodice is one style and skirt or hip is a completely texture or fabric. Different fabrics and shapes that don't transition seamlessly will visually cut your figure in unflattering ways. It doesn't mean the whole dress has to be the same material or fabric. Just make sure each section segues fluidly and smoothly flows together.
Do Make Sure the Dress is Comfortable
You may have found the perfect dress but when you try it on, don't just stand and look in the mirror. Walk around in it, sit down in it, and check that it doesn't bulge out in unsightly ways. Also, make sure that you can dance with it and that it looks nice from the back. The more you pore through every single detail of the gown, the more confident you'll be that it's the perfect one for you.
Don't Be Afraid to Break Wedding Color Rules
An all-white wedding gown for a chubby bride isn't always flattering. You might want to consider wearing wedding dresses for chubby brides in shades of ivory or cream instead of a stark white. Or any color that reflects your personality! You can also play around with the colors of the ruffles, bows, and beading. If there's ever a time that you can wear something that you love when it comes to fashion, it's definitely your wedding day.
How to pick/wear a wedding gown if a chubby bride wants to hide her belly fat?
Are you wondering how to hide your belly fat when wearing your wedding gown? Many brides attempt to lose weight before their big day, but some things just don't work out. That's fine!
If you want to hide your belly fat in your wedding dress, here are some tips and tricks to keep in mind.
Wear a bridal waist belt
A bridal waist belt on your wedding dress slims down your chubby middle body part and perfectly highlights your waist line. Just make sure the belt isn't too thin, too thick, and too tight. You can also go for a gown with a bigger flowy skirt and a defined waist like a ball own. The gown's poof and drapes will take all the attention.
A-line and empire cut dresses are your top choice
If your main concern is hiding belly fat, steer clear from mermaid gowns and other dress styles with tight fits. Your best bet is an A-line gown that's tight on your bust line but flowy when it comes to your belly.
Wear the right Spanx or corset
If you're not wearing a corset gown, wear a corset or Spanx underneath to make your tummy appear slimmer. Choosing the right corset size and style will easily hide your belly fat. However, if your wear the wrong size or fabric, you might feel uncomfortable and even suffocated during the ceremony. Make sure to try the corset with your wedding gown first to see if it's just right for you or you need to buy another with thinner material.
Stay away from certain fabrics
Thin fabrics like stretchy lace, chiffon, satin, and silk charmeuse will not help in slimming down your tummy while wearing a bridal gown. These types of fabrics just skim the body and can magnify every tiny detail. Flattering fabric choices that are ideal for wedding gowns for chubby brides include organza, duchess satin, lace, and tafetta.
Distraction works!
The accessories you wear along with your wedding gown will help you hide belly fat. For instance, if you wear a gown that has a halter neck or a dress that's off-the-shoulders, this will divert attention from your belly. If you also decide to wear dangling earrings or a statement necklace, the attention will be diverted to your jewelry.
Finding the perfect wedding gown for chubby brides takes trial and error, and plenty of patience. Chances are, the first dress you try on won't be perfect, and you'll have to devote some time to searching for the perfect one. But don't get your hopes down! Even though it can be challenging, there are so many different styles to choose from.
Plus, you can always choose to have a designer create a bespoke wedding gown for you. It might be more expensive than buying one off the rack, but at least you know it will fit you in all the right places. Just make sure you take into account everything we've discussed in this article and you'll be wearing the perfect gown when you walk down the aisle, with your curves to flaunt. Chryss loves ice cream, literature, and East Asian pop culture. She would like to pet your dog.