Once you've got the planner down or have a tentative wedding date in mind, it's time to book your ceremony and reception venue. Traditionally, that means booking two different places: a Church for your wedding ceremony, and then a second venue of your choice for your reception. However, if you're having a civil ceremony or know a priest or member of the Church authorized to perform a wedding outside of the Church, you can have both in one venue. It saves you money and it's convenient for your guests, too!
This should be the first thing you book before moving on to anything else. Not only is it hard to book a venue (especially if it's a popular wedding venue, on a weekend, and during peak wedding season), but you can't really book anything else until you know for sure where and when your wedding is going to take place. As much as possible, reserve your venues at least a year in advance.
With that in mind, here's what you need to know about booking your venue.
Booking a Church
Booking a church for your ceremony is the traditional choice for your wedding. After all, the Philippines is a dominantly Catholic country, so you'll have plenty of choices on which church to hold your wedding. It'll be much easier if, prior to wedding planning, you and your partner are already both Catholic and have undergone the sacrament of confirmation. Some churches are strict about holding Catholic-only weddings, so if you or your partner practice a different religion or no religion, you might have a harder time finding a church to accommodate you.
Requirements for Booking a Church
The tricky part about booking a church for a wedding in the Philippines is getting the requirements done. Churches that are popular for wedding ceremonies (e.g. the Caleruega Chapel and the Don Bosco Chapel on a Hill) require at least a reservation at least a year in advance. However, part of the requirements of reserving these churches is a marriage license, which is only valid for 120 days or around four months. And some churches require the marriage license at least three months before the wedding, so you'll have to get it four months in advance. If this sounds confusing, this will be much easier if you have a wedding planner to help with your legal documents and other requirements.
Different churches, chapels, and cathedrals have different requirements and lead time for reservations. Some churches may have different fees ranging between P5,000 to P25,000, inclusive of use of the church, lights, sound system, and other amenities. In some cases, this fee also includes a pastor or priest, but in case it isn't, it's common to give around P5,000 to P10,000 as a token of appreciation.
To find out the complete list of church wedding requirements, call the church directly as they may have additional requirements other churches don't. However, expect them to ask for the following:
Marriage License
Baptismal Certificate
Sacrament of Confirmation Certificate
Birth Certificate
Certificate of No Marriage (for those who have never been married)
Death Certificate of Previous Spouse (for those who have been widowed)
Annulment Clearance Form (for those whose previous marriage has been annulled)
List of Sponsors (some churches have a limit)
You will also be asked to attend a canonical interview with the parish priest or a representative and attend a church-sponsored seminar for couples about to marry. You may also be asked to provide the names of your parish and parish priest to announce your impending marriage and see if anyone objects. Because of all these requirements, the church may pose a deadline on when you should have submitted all these requirements.
P.S. Wondering about the legal processes of obtaining a marriage license and the requirements for a church wedding? Check out our FAQ section!
Booking a Venue
The cost of booking a venue starts at around P20,000 and can go up depending on the venue's location, popularity, package rates, quality, and additional amenities. However, if you're looking at the venue alone, high-end wedding venues that can hold hundreds of guests comfortably may cost upwards of P150,000.
If you're booking a church, your venue should be relatively close to avoid inconveniencing your guests with long and traffic-filled drives to the reception. And if you're booking one venue for both ceremony and reception, the venue should be big enough to accommodate both.
Some wedding venues offer additional amenities at an additional cost. For example, some venues offer accommodations for the bridal room or for the entire bridal party. Others offer catering and venue styling services. That's why it's always important to know whether you're paying for the venue alone or for any additional perks you may or may not want.
What to Know When Booking a Venue
You want your wedding reception to be convenient and easy to travel to for both your vendors and your guests. Your location can affect your guest's decision on whether or not they'll be attending your wedding. If it's in a remote place inaccessible by public transportation, it's highly likely that your guests with no way to drive there may not attend.
You wouldn't go to Tagaytay if you want a beach wedding, nor would you go to Boracay if you wanted a cold wedding theme you should have done in Baguio. And you wouldn't book a venue known for hosting rustic garden weddings if you wanted a posh hotel wedding. The point is, you'll want to find a place that, even while it's bare, you can see the wedding you want coming to life.
Do you want to enter your reception from a grand spiral staircase? Or do you imagine your wedding photos to have a forest backdrop? Most venues will have a unique selling feature, and if you feel like you want that to be a part of your wedding, consider what you're getting by hosting your reception there.
While some couples want to get the cheapest possible venue, it may not be possible if they're having a wedding with over a hundred guests. The bigger the venue, the more likely it's going to cost more.
I used to think how romantic it would be if I held my wedding reception in the same place my mom had hers when she married my dad. But if I were to do that, I'd be holding my reception in a run-down hotel that's now in the shady part of Manila. Before booking a venue, you need to visit and notice the quality of the reception, staff, food, and overall cleanliness of the place.
When comparing prices, it helps to know what you're getting. For example, Venue A offers a stunning venue alone for P500,000. Venue B, on the other hand, offers a slightly simpler venue but also offers venue styling, catering, and hotel accommodations for the bridal party for the same price. If budget is a factor, you'll probably be more likely to go to Venue B. But if money isn't an issue and you want a venue with that wow-factor, then you'll most likely want Venue A.
Types of Wedding Venues
A room, hall, pavilion or any closed-off venue where the outdoor weather will have no effect on the party indoors. Great for weddings during the rainy or hot season. Most indoor wedding venues offer the use of air-conditioners.
A popular choice for Filipino weddings because most hotels offer all the services for a wedding. These include pre-wedding and wedding night accommodations, bridal car, catering, wait staff, reception venue, venue styling, and more. However, these can also be the most expensive option, especially for five-star hotels in urbanized areas in the Philippines.
Cheaper than hotel venues since most halls just offer the venue. However, some also offer venue and catering packages.
Ancestral Home or Family Home
The venue is free if your family owns a large enough home or ancestral home that can hold all your guests indoors. If you don't have one, there are plenty of ancestral homes you can rent in Ilocos and Manila if you want an Old Filipino theme to your reception.
Plenty of restaurants have function rooms that can cater up to 100 guests or less. It can kill two birds with one stone (catering and venue), and you won't have to deal with a lot of the preparations, so it's ideal for those on a budget.
If you or your family are members of an exclusive country club, you can opt to reserve one of their function rooms for your wedding. The advantage is that there are less people trying to book in a club, though membership fees are high.
Perfect for picturesque outdoor scenes, depending on where the wedding is held. While it is tricky to do in the Philippines due to the hot and cold weather, if timed perfectly, it can be a wedding to remember. Just rent a tent or book a venue that also has a contingent indoor venue in case of rain. In case of heat, some venues provide air coolers.
Perfect for those who prefer the outdoors and want a rustic wedding in a covered or open wedding.
Perfect for couples who want a beach wedding. But if you're going to schedule your wedding in the summer, you'll be fighting to reserve one weekend with other weddings and other events planned for the summer, so book your venue in advance.
Hiring a Venue Stylist
Assuming your venue's rate doesn't include a venue stylist, you have the choice of leaving the venue as is (either the venue or the caterer will provide the chairs), you or your bridal party deal with the styling the night before, or you hire a venue stylist to take care of all the aesthetics.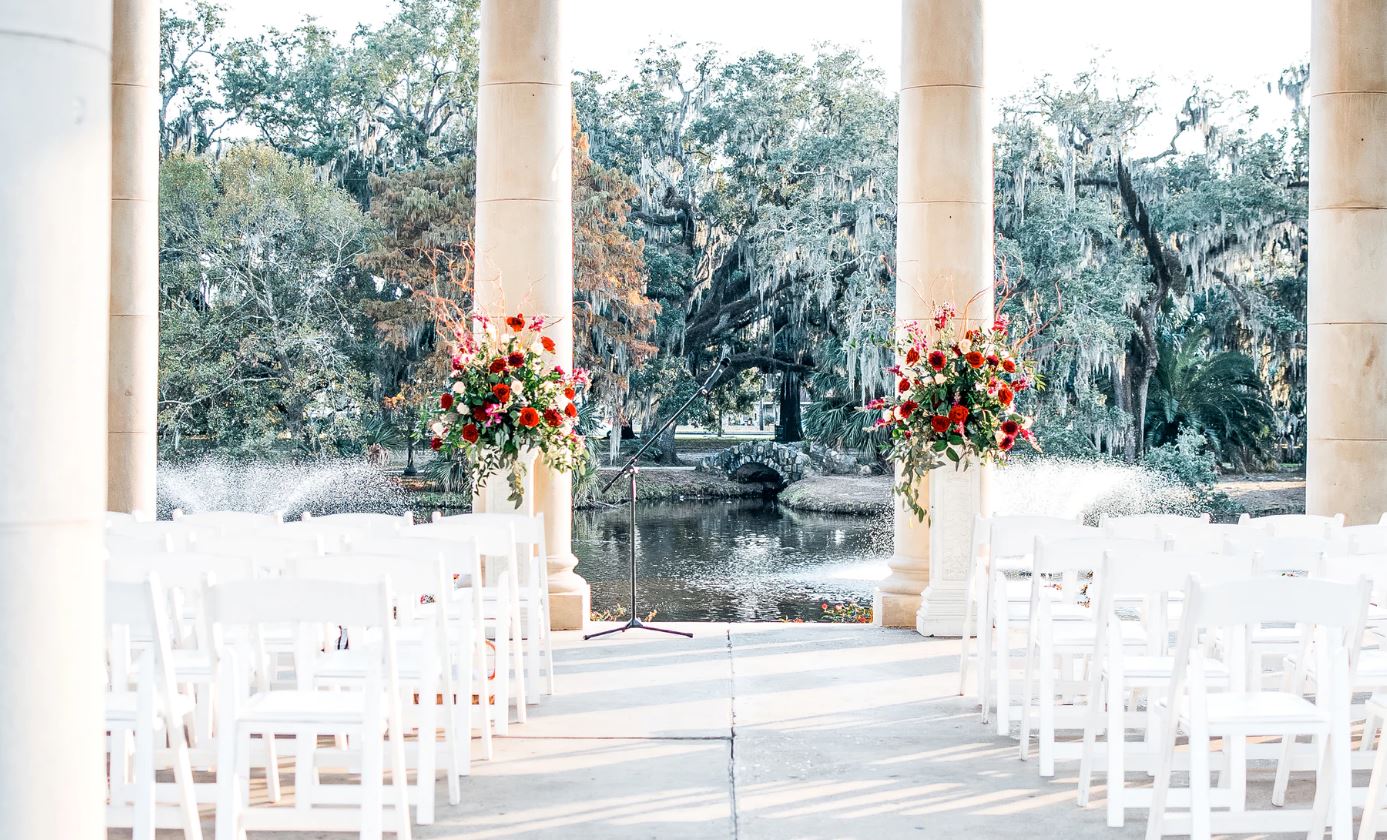 If you've looked at wedding reception ideas in the past, you might have seen how stylists can turn a bare room into a simple or grand reception. If you're thinking elegant and sophisticated, imagine multiple chandeliers handing above and rows of tables with infinity chairs and glass candelabras. Or, if you're the romantic type, imagine a ceiling full of flowers and vines. Or, if you're looking for something sweet and simple, fairy lights and bouquets scattered around the room.
You'll find plenty of wedding venue stylists in the Philippines. On average, a simple venue styling may start at P15,000 and can go higher depending on how grand your venue peg is. The cost will include the stylist's talent fee, flowers, chair and table rentals, lights, and other décor.
Take note, however, that venue stylists aren't your fairy godmother. If you want hanging vines to cover the entire ceiling of your venue but the venue isn't equipped to do that, your stylist will let you know if it's impossible. They will, however, let you know what your options are to best achieve your desired venue. Justine loves costumes, puns, horror films, and blue dresses. A literature graduate from the south, she writes online content for a living but is super shy about others reading her fan fiction.