The most popular time for a wedding in the Philippines is a Saturday or Sunday evening, but that doesn't mean you can't get married at other times of the day — like at 9'o clock AM! If you and your partner love brunch above anything else, why not celebrate your big day with a morning wedding?
Morning weddings aren't exactly the norm here in the Philippines, but that doesn't mean you can't pull one-off. And while they can certainly be more affordable and relaxed than an evening celebration, they still require creative planning.
Here are our top tips for planning morning weddings that are every bit beautiful, romantic, and charming.
Reception
When choosing your morning wedding reception, keep in mind that brunch weddings are typically more intimate and casual. That means you don't have to book a hotel or a resort. Popular morning wedding reception venues include gardens, beaches, and private rest houses. Someplace rustic with lush greens works well for morning weddings and makes the event feel like fun yet formal picnic.
A word of advice: before booking the venue for your morning wedding reception, visit the place during your reception's scheduled time. This will let you see how the lighting and shadows lend themselves to stunning photographs. And since the Philippines is a tropical country, you can also decide if you'll need additional cooling systems to keep your guests comfortable, especially if the venue isn't equipped with aircon.
Also, look into the other events that fall on the same day as your wedding. Unless the venue has no time restrictions, morning weddings have to end at a certain time as the venue likely has an evening event scheduled.
If you don't have a place in mind yet for your morning wedding reception, we've got a great list of small and intimate wedding venues.
Timeline
The biggest difference between an evening and a morning wedding is the timeline. A couple, their wedding entourage, and guests can easily spend an entire morning getting ready for a 2 p.m. or a 4 p.m. ceremony, so having a call time at 9 a.m. or 10 a.m. means getting creative with timing — and having a very early start.
If you're having your ceremony at 9 a.m., here's a general timeline that you can adjust accordingly, depending on your morning wedding's venue, how many makeup artists and hairstylists you have, how big your wedding entourage is, how grand you wedding setup will be, and other factors.
Morning Wedding Timeline
4:00 a.m. Wake up, shower, greet the vendors, and facilitate the start of setup.
5:00 a.m. Get your hair and makeup done. Slip into your wedding dress!
7:00 a.m. First look photos (solo shots, couple portraits, family photos, and entourage photos).
8:30 a.m. Guests start arriving.
9:00 a.m. Ceremony starts.
10:00 a.m. Ceremony ends. More photos!
10:30 a.m. Program starts. Introduction of newlyweds and first dance.
11:00 a.m. The brunch reception starts. Toasts, cake cutting, and photos with each table.
12:00 n.n. Cake and dessert time! You can also have wedding games and other activities for people to mingle.
1:00 p.m. Couple and guests depart. You can also start breaking down the setup.
2:00 p.m. Vendors out.
Of course, you don't have to follow this morning wedding timeline hour per hour, but it's a good estimate of how much time you need for each activity.
Attire
Although you and your partner have the final say on the dress code, the proper attire for morning weddings is inherently more casual. Fancy cocktail dresses and floor-length gowns would look strange on guests before noon. A safe clothing choice for your guests would be floral sundresses for women and slacks with a short-sleeved polo shirt for men.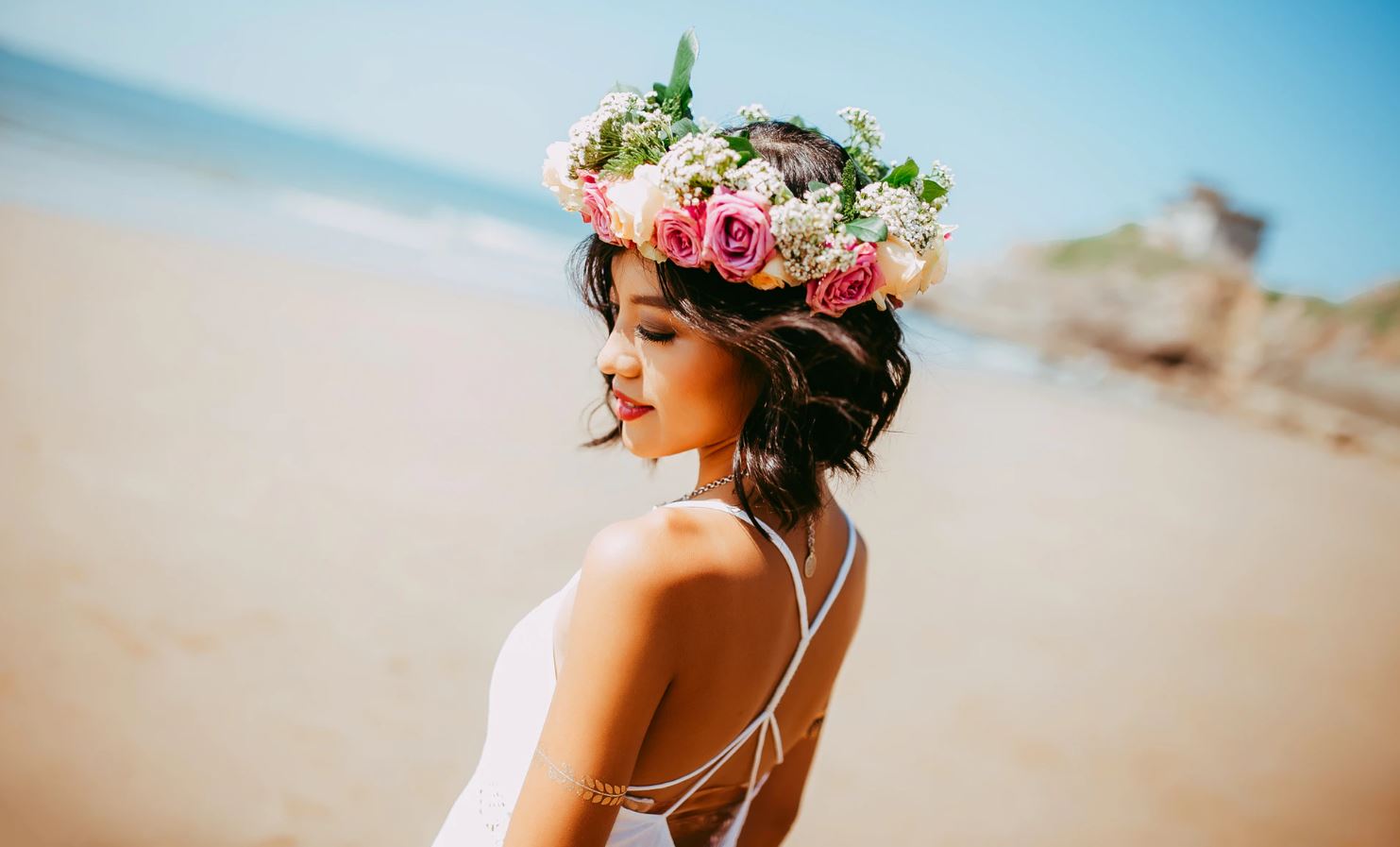 For brides, you can choose to wear a more relaxed gown — one that's made with a casual fabric and has a shorter length and minimal train. You can even skip the veil and go for a flower crown! You can have your bridal entourage wear sundresses that fit the theme and color motif.
For the groom, he can wear a lighter colored suit like powder blue, light brown, or gray. The same goes for his groomsmen.
Food
For tips on planning a morning wedding menu, couples can certainly get creative with their food items. Guests probably don't need a hearty meal only a couple of hours after waking up, so you can serve a light brunch buffet with a mix of different breakfast and lunch food items. Classic breakfast staples like sausages, eggs, and French toast never go out of fashion, but you can also add fun items like a cereal bar, a waffle station, and mini breakfast sandwiches.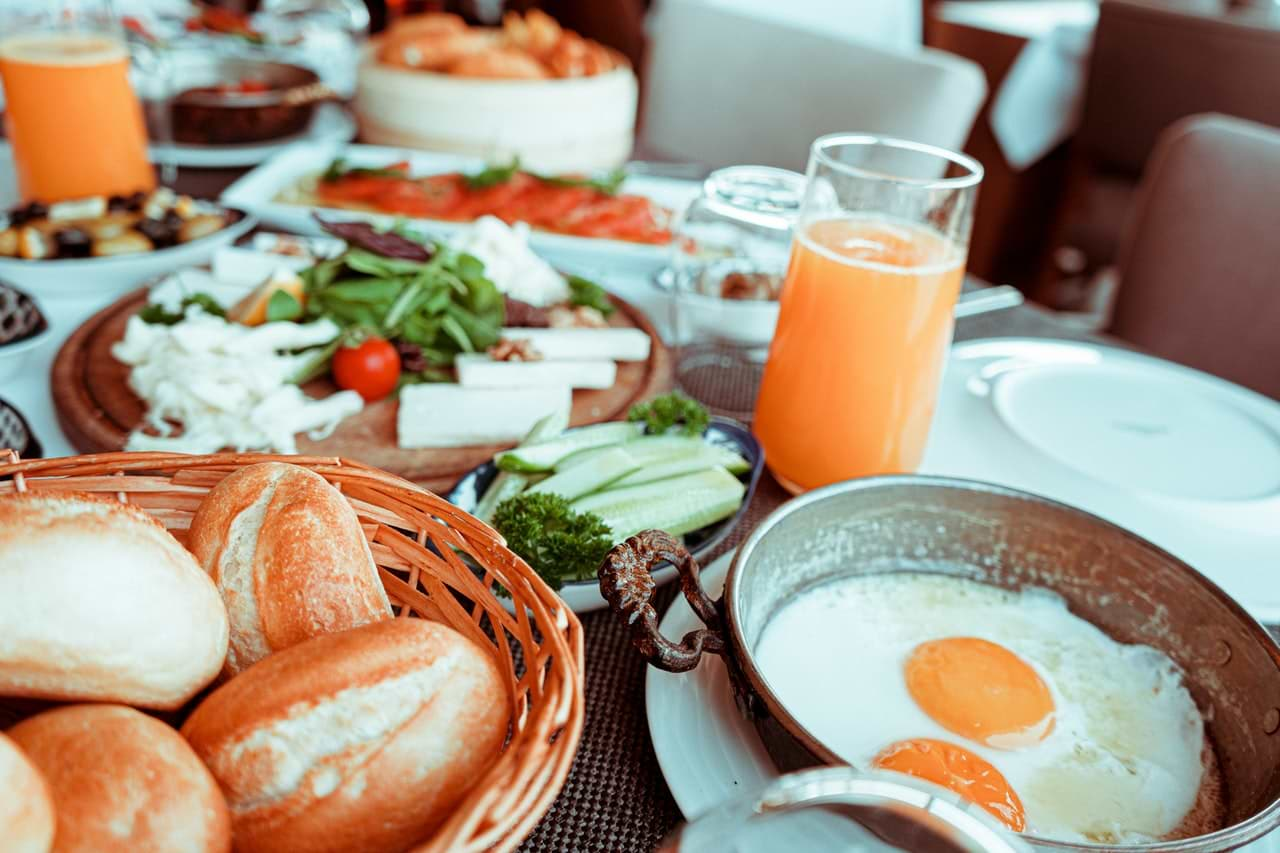 For morning weddings, you can also opt for a sit-down meal instead of a brunch buffet. Usually, for a brunch meal, you can include two entrée options: one that's definitely breakfast like an omelette, and one that's more lunch-y like fish fillet or a light chicken dish.
If the venue of your morning wedding reception doesn't have a brunch menu, you can tap the catering services of famous brunch restaurants like Via Mare and Rustic Mornings.
Drinks
Since most guests aren't really up for day-drinking, you don't need a full open bar (but if you want one, go for it!). Instead of serving tequila and rum with coke, go for brunch-friendly cocktails like margaritas, mimosas, sangria, and Bloody Mary's.
Also, make sure you have drink options for guests who don't want alcohol. Consider having mocktails, espresso shots, smoothies, lemonade, and juice. Cutting down on hard liquor will save you a lot of money too.
See Also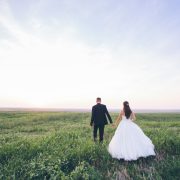 Music
Need some tips on planning the playlist for your morning wedding?
Morning weddings tend to feature less dancing than evening celebrations. After all, it's hard to get rowdy just after noon. While you can certainly play pop music and show tunes, we recommend cool and mellow songs to fit the atmosphere of a brunch celebration.
We found a fantastic list of the most chilled-out songs that you can play on your wedding day. It's got everything from The Beatles and Jack Johnson to Adele and Bruno Mars.
Fun and Games
Since morning wedding celebrations don't really center on dancing, you can still plan other activities to fill the time. You can have simple wedding games such as Bring Me, Trip to Jerusalem, or trivia about the bride and groom. Of course, you can't forget about the bouquet toss for single female guests and the garter toss for unmarried gentlemen.
Having other festivities, like a photo booth, is also just as fun at morning weddings as they are during evening celebrations.
Are Morning Weddings Ok? Can I Actually Pull One-Off?
Admittedly, the call-time of morning weddings may be tough to handle, but it's actually the only downside to having a brunch celebration. If you're still doubtful and going over the thought, "Are morning weddings ok?" we've rounded up the amazing benefits of getting married during the early hours of the day.
Most suppliers and venues give discounts for morning weddings and any event that ends before the afternoon. The menu itself will also be more affordable. Serving brunch often allows you to substitute expensive dinner items with simple, light food. Also, if you plan on having an open bar, your liquor tab will be much lighter. After all, no one wants to get smashed before 2 p.m.
The morning light is simply unbeatable when it comes to exceptional wedding photos. Couples with morning weddings never have to worry about running out of natural light throughout the day. When they browse through their wedding album in the future, each snapshot will be as vibrant and as beautiful as the happiness they felt during those moments.
Everyone loves brunch, which makes food choices much easier for morning weddings. It's also more flexible because you can choose your favorite items from both breakfast and lunch. Think waffles dripping with syrup and savory omelets served with chicken fingers and pesto pasta. It's going to be a sweet and delicious treat for everyone!
Since morning weddings aren't usual here in the Philippines, you'll have plenty of venues, photographers, and hair and makeup stylists to choose from without worrying about their availability.
Morning weddings are perfect if you've always wanted a small celebration with only your family and friends present rather than inviting acquaintances you haven't seen in ages. You'll also feel at ease knowing you can hold conversations with each person on your guest list.
Less time stressing, more time celebrating
This is probably the best one — you'll have more time to relax. Think about it, even though you wake up earlier, your day will end earlier as well. By 3 p.m. or 4 p.m., you and your partner can already kick back, relax, and enjoy your time together as newlyweds.
While evening weddings are fantastic too, morning weddings are the unsung heroes of the wedding world. There's just something charming and romantic about waking up while the rest of the world is still asleep and watching your big day unfold as the sun rises.
If you're wondering if you can pull one-off, just follow our tips on planning a morning wedding, and you'll surely have a beautiful celebration with your partner, family, and friends. At the end of the day, it's all about sharing the love with all the people close to you, wherever and whenever. Chryss loves ice cream, literature, and East Asian pop culture. She would like to pet your dog.